Some say that the end of an email is the most important part. Is that true? Although it is a tiny part of the email, it can impact the reader in a very real way.
The end of an email is like the end of a conversation. When you are building and maintaining a relationship with someone, you do not end a spoken conversation without saying "Goodbye." Neither should you end an email without a proper conclusion.
Of course, many variables affect the end of an email, the recipient, the purpose, who the sender is representing, etc. Additionally, the audience and context dictate what is and is not appropriate.
This article will provide some advice on how to end an email professionally. We will explore why email sign-offs are critical. Also,some examples of professional email closings will guide you in your next email.
Why Email Closings are Important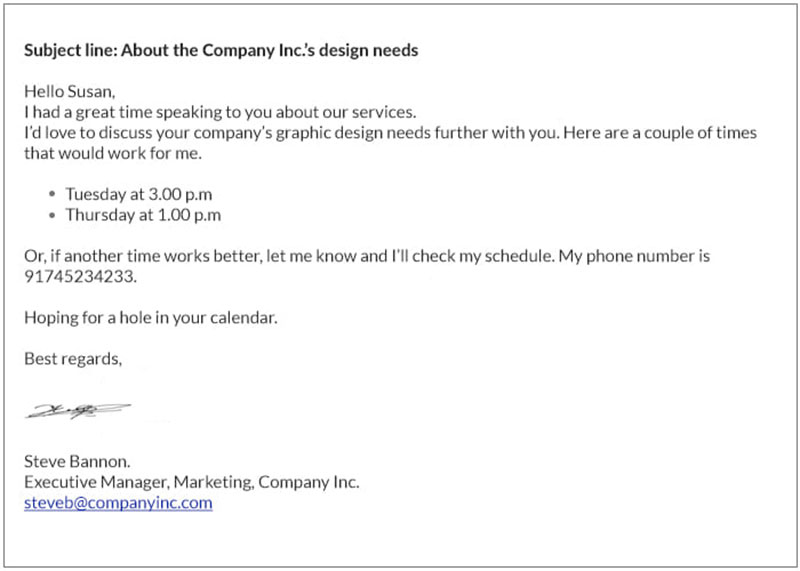 The end of a professional email is like a summary of the information provided.These are the final words the recipient will read, remember, and act on.So, it needs to be clear and motivating.
A sloppy email closing can leave the reader confused and unresponsive. A well-written and professional email closing will give the audience a positive impression and encourage them to reply.
A professionally written closing motivates readers to action, leaves a good impression, and provides necessary details for the reader to follow through.
How to End an Email Professionally - The Format
A professional email closing is not just about motivating words but also correct formatting.
Emails should follow the same formatting rules as handwritten letters. This format is basic:
Salutation
Introduction
Body
Final Paragraph
Sign-Off
Signature
Contact Information
How to End an Email Professionally- What to Include
Final Paragraph and Closing Remark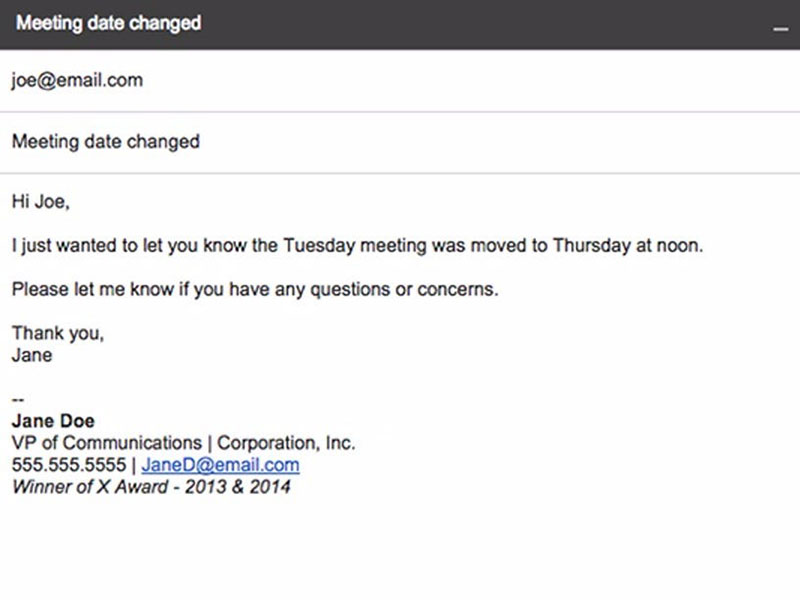 The final paragraph should briefly summarize the email and highlight the most important points. But it shouldn't be longer than three sentences.
At the end of the final paragraph, the closing remark should express gratitude to the reader and include a call to action to motivate the reader's response.
A formal closing phrase might look like this: "I greatly appreciate your cooperation with this project. Please send me the rest of the contract by Thursday, so we can complete this task".
Email Sign-Off
The email sign-off follows the closing remarks and precedes the signature. Capitalize the first word of the sign-off and follow the last word with a comma.
Signature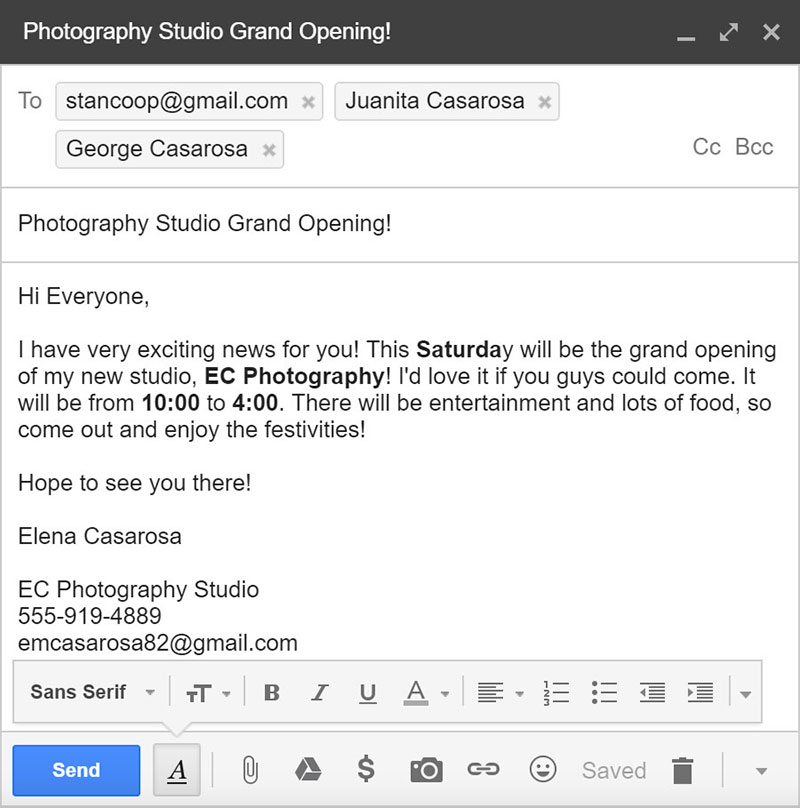 Your signature is the final touch. If you do not have a signature template,typing your first and last name will do. Avoid confusion by including your full name somewhere on the email to let the reader know who you are.
Include your job title below your name, especially when communicating on a professional level. If you are unemployed, you can omit the job title.
It's also an excellent idea to provide your contact information with the email signature. What might this include?
Contact Information
Email providers offer optional footersthat automatically attachto the end of every email.Many professionals use this footer to include contact details with their signature.
Although the recipient has your email address, you can provide alternative contact information. What details you provide depend on who you are emailing and why. So when you are composing the email,decide what information the recipient needs to respond to.
Things you might include in this section are:
first and last name
title
company name
phone number
email address
office location
your website's
URL
If you create an electronic template with your signature and contact details, know that some email apps block images. If this is the case, your contact information may not be visible. To solve this problem, write out your contact information in the email.
How to End an Email Professionally- Tips
Don't Skip the Sign Off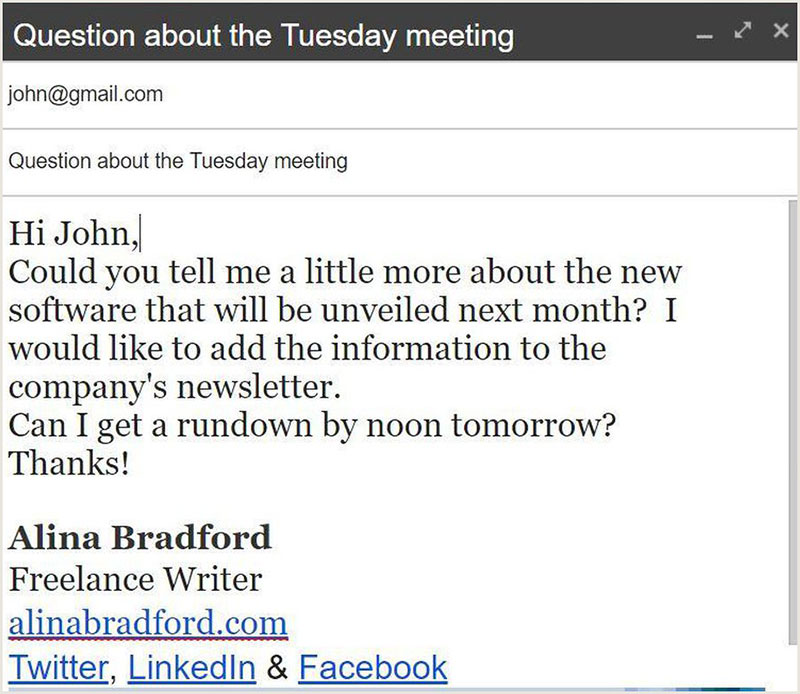 Some people believe that they can skip the closing, viewing it as a waste of time. But, as discussed above, the email closing is vital.
In fact, an email without a proper closing can sound rude. The few minutes it takes to write an ending contributes to a warm working environment and positive results.
Also, it assures recipients that they have received the entire email and nothing was cut off. This point is especially important for long email conversations.
The point is clear: always include a closing. Even if you have an email signature, make sure to include closing sentences.
Maintain a Professional Tone
Of course, the entire email should have a professional tone. Thus, writers should maintain this tone down to the very last word, which also means the closing sentences.
You can still use professional language even if you want to end the email on afriendly note. Consider the following alternative expressions.
| | |
| --- | --- |
| Professional | Unprofessional |
| Have a great day | Much love |
| Warm regards | Hugs and kisses |
| Sincerely | Talk soon |
Take into Account Your Relationship with the Email Recipient
An email closing's style depends a lot on who the recipient is. Writing to friends and family warrants an informal email with endings such as love, hugs, and see ya.
Writing a professional or business email requires a much more formal tone. Yet, even in these instances, there is wiggle room.
The sign-off needs to be balanced, depending on who the recipient is. You do not want to offend someone with inappropriate words. On the other hand, you do not want to damage a close relationship by being too formal.
Consider these examples:
A semi-professional ending is acceptable if you are writing to a coworker that is a good friend. Semi-professional conclusions include "Cheers" and "Yours truly."
Writing to your boss calls for a professional ending.
Contacting a stranger for the first timealso requires a formal sign-off.
A good rule of thumb is: use a professional closingwhen in doubt.
Be Sincere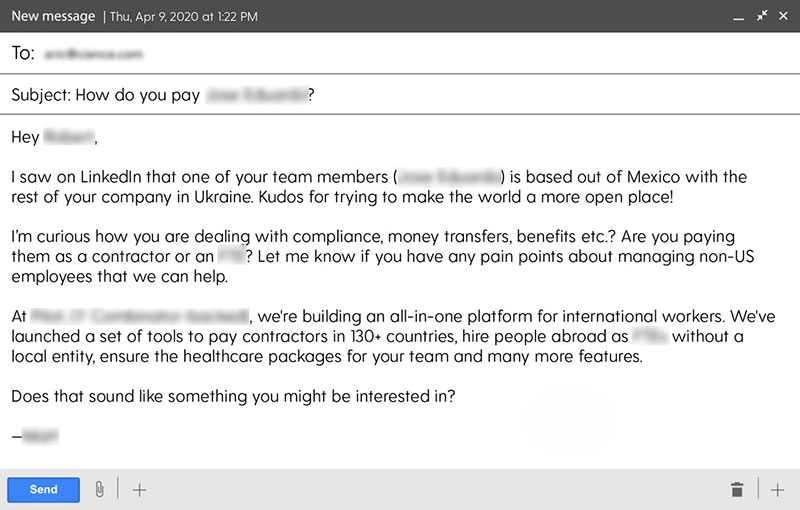 People can always tell when someone is insincere. An insincere email closing sentence could negatively impact professional relationships and cause trouble in the workspace.
Ending sincerely may require some forethought. For example, if you are writing to an out-of-town person, you should not end the email with "see you soon" unless true.
Be friendly and express gratitude to them for reading the email. Remember to treat your readers the way you want to be treated. The warm, polite, and concise language will produce a positive response.
Use Your Full Name
The very first time you email someone, you should use your full name. That serves as an introduction. It also serves as a reminder of who you are. After a few email exchanges, feel free to drop it down to one name.
Do Not Repeat the Same Sign-off in Every Email
It is easy to settle into a rut with one sign-off and then use it for every email. However, using the same closing salutation every time can come off as detached and mechanical. For a more natural tone, change the sign-off for each email.
Include a Clear Call-To-Action or a Question
The call to action is the whole reason you sent the email. What do you need the person to do? Include that in the closing.
Be motivating. Remember that encouraging words motivate better than harsh ones. Do not use convoluted or elaborate speech. Write clearly.
It is OK to Add a PostScript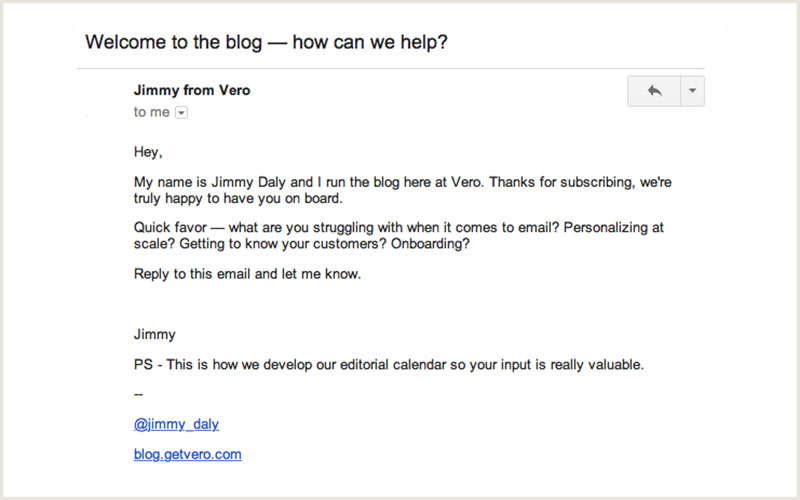 A postscript is an additional thought added after you have completed the letter. In the days of handwritten letters, a postscript allowed writers to add something they forgot. It was also often used for humor.
Since the start of emails, some people have believed we shouldn't use postscripts since it is easy to edit them. But a postscript is still a useful element.
Many view the postscript as a charming part of the letter. Have you ever not read the PS? Since email recipients usually only scan them, a PS proves to be an effective way to highlight a specific point.
Yes, it is OK to add a postscript, even in a professional letter. Just be careful not to overuse it as that tends to lessen its effectiveness.
Don't Use Oversized Logos
It is vital to include logos or company information to spread brand awareness. But oversized logos, unnecessary details on the company, and lengthy email disclaimers can distract recipients from the message's main point. Instead, use subtle and tasteful logos.
Check Spelling and Grammar
As with the entire email, make sure that your email's conclusion has proper grammar and spelling. Typos and other errors create an unprofessional and sloppy impression.
It only takes a few minutes to read over and check an email. But those few minutes can make a huge difference.
Test Your Closing
Test your closing sentences to find out which ones produce the best results. Try different closing sentences across your recipients to see which one gets the most responses.
How to End an Email Professionally- Examples
Professional Sign-off Examples:
Regards
That works in professional emails precisely because there is nothing remarkable about it. It also maintains a professional relationship with the reader. Alternatives to make this sign-off friendlier include "Kind regards" and "Warm regards."
Best
This sign-off is safe for most emails. And because it is neutral,it works for formal and personal emails. Some people simply use the word "Best," and friendlier alternatives are "Best wishes" or "Best regards."
Thank you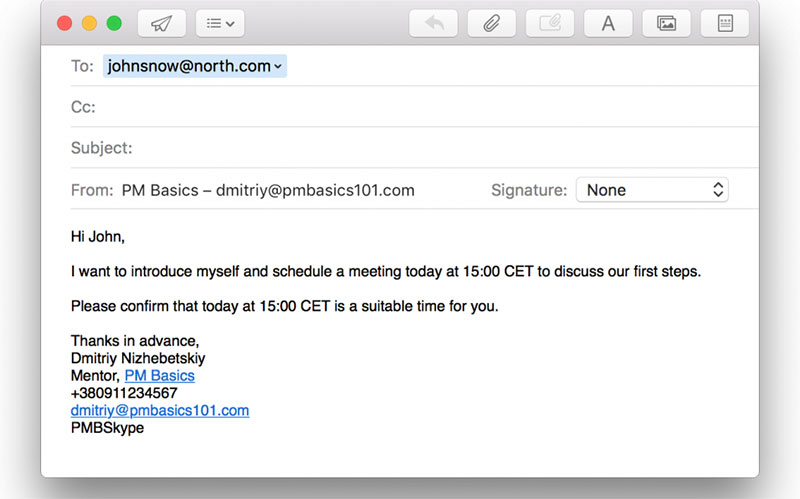 A simple thank you is a solid choice. Everyone appreciates it when someone says thank you, and it maintains a professional relationship with a friendly tone. But it can also convey a tone of expectancy. So it is best to use it when you have requested readers to do something, or you are thanking them for already doing it.
I appreciate your (help, input, feedback, etc.)
There is never a wrong time to express appreciation.
With appreciation/gratitude
This is a great way to thank someone for their collaboration with a formal tone. This email sign-off has a level of formality, but it doesn't come across as stuffy, and it stands out more than "Thank you."
Best wishes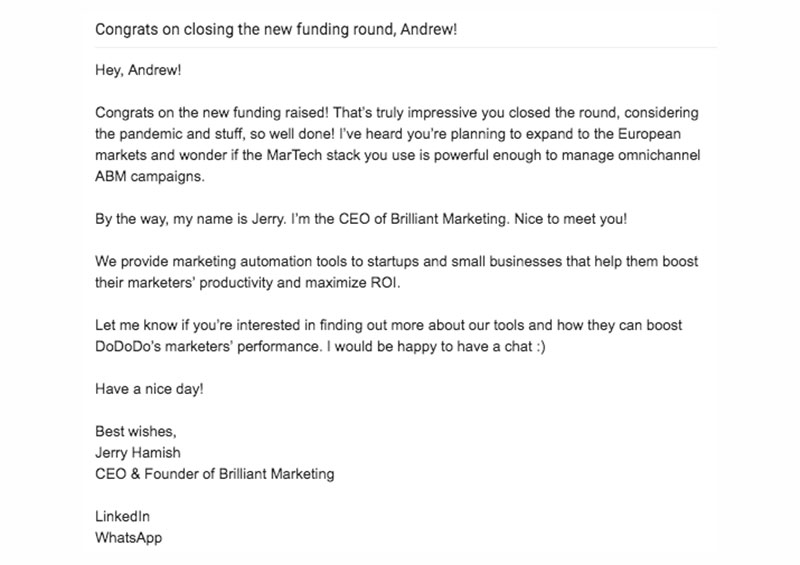 "Best wishes" blends a friendly and formal tone,making this sign-off a safe choice. However, be aware of its greeting-card vibe, and only use it when it fits your email'sstyle.
Cordially
"Cordially" is a great email sign-off, especially for a formal email. But you wouldn't want to use it after correcting a person's mistake as it might come off as sarcastic.
Email Sign-offs to Avoid in a Professional Email:
Your friend
Cheers
Peace
Talk to you later
Later
Aloha
Peace
Deuces
Thanks a bunch
Chat soon
Yours truly
Closing Remark Examples:
When you need an answer to a question:
I sincerely appreciate your help in answering my question
If you're able to reply by [day or time], that would be great — thank you!
Please help point me in the right direction, and thank you in advance.
Introductory email:
Good luck with finishing your book! I look forward to staying in touch. Do you mind if I add you as a connection on LinkedIn?
Responding to a meeting request: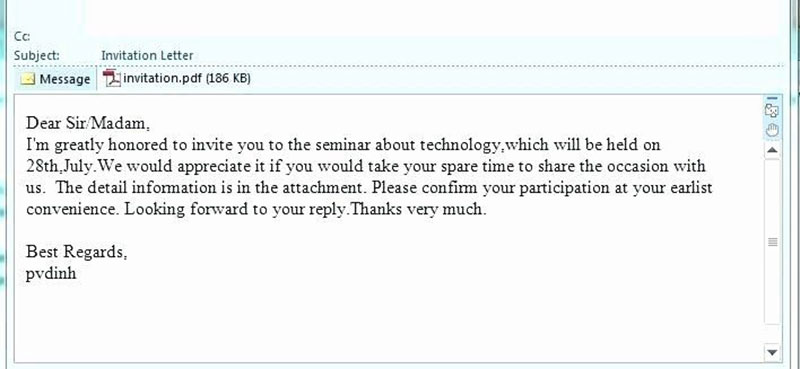 I am available next Monday and look forward to meeting with you.
I am eager to work around your schedule. Let me know what day and time works best for you
When you need feedback or a task completed:
Thanks in advance for your time and hard work
I sincerely appreciate your help
I am looking forward to your reply
Asking for an informational interview:
Would you be available for a 20-minute phone discussion any day after 4 p.m. PST next week? I'd be happy to send you a calendar invitation once we confirm a date and time.
Wrapping up a project or other type of collaboration:
It was great working with you
Thank you for your hard work
Including a call-to-action: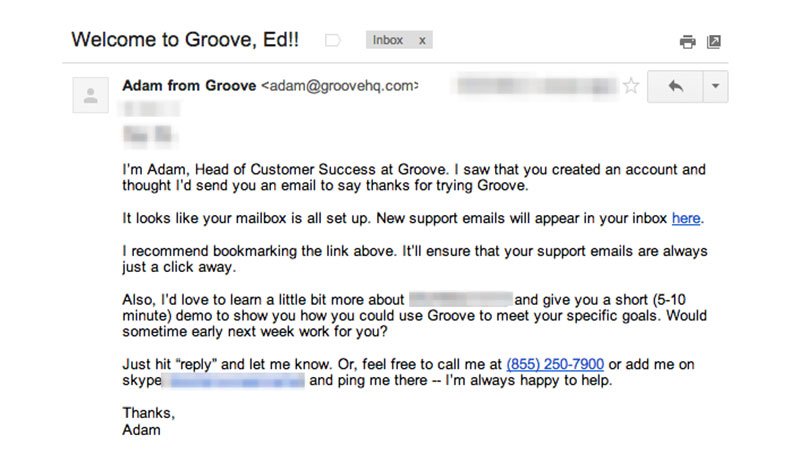 Thank you for taking the time to review our proposal. We'll need you to submit a PO to our accounting department by Friday, October 15th, as the next step. I've also attached instructions. Please let me know if you have any questions.
Asking for something:
I would appreciate any feedback you could provide. And please let me know how I can return the favor. I really value your time and hope to hear from you soon.
Would you be able to help me with this request? I'm very grateful for any insight you can provide.
Sending a reminder:
Please do not forget to [action]
Again, please [action]. Thank you!
Ending thoughts on how to end an email professionally
Whether it is an email to your boss, coworker, applying for a new job, etc., the goal of a professional email is to communicate well and create a positive impression. Email closings are crucial because they are the last thing readers see and remember.
Here are the main takeaways of how to end an email professionally:
Do not omit the email closing.
Be friendly. Email readers don't like to respond to rude people. The friendlier you are, the better the impression you will leave and the more results you will get.
Maintain a professional tone. Avoid inappropriate and overly familiar terms. Even if you are friends with the recipient, avoid informal sign-offs like "XOXO."
Be clear. Make sure the email's question, action, or purpose is clear and understandable.
May these tips and suggestions help you write professional emails that get results.
If you enjoyed reading this article on how to end an email professionally, you should check out this one about the email marketing funnel. 
We also wrote about a few related subjects like cold email software, product evangelists, social media lead generation, how to write a formal email, sales automation software, sales funnel examples, digital marketing campaigns, email marketing courses, email marketing automation, the best sales apps, best CRM for Gmail, useful elevator pitch examples, sales pipeline stages, email tracking software, and sales automation tools.