Sending and replying to emails is one of the most time-consuming things salespeople do. The majority dedicate at least a third of their time to this aspect of their job alone.
It goes without saying that many choose Gmail as their email service. Thus, the Gmail Customer Relationship Manager (CRM) software market is booming.
Many companies recognize that Gmail CRM is a great option that can be adapted to specific needs. The following list presents the best free CRM tools that work well with or within Gmail.
Basic Facts About Gmail CRM Usage
CRM may be confusing at the beginning.
Salespeople exchange many emails with customers. They also need to keep customer data and potential deals in a separate system.
CRM integration with the email service provider is crucial to saving precious time.
Gmail CRM (CRM inside Gmail, CRM for Google, CRM for G Suite) enables users to integrate CRM tools into Gmail. This allows marketers, customer support staff, and salespeople to remove many routine tasks from their list.
Google goes for a smooth user experience and simple design. There is no steep learning curve with its user-friendly, intuitive productivity tools (G Suite and Google Drive).
Google is everywhere. Many use it to communicate, schedule appointments, organize meetings, and save contacts.
It helps to nurture relationships, create opportunities, and draft new project ideas. It can set notifications and reminders for both secular and private events.
The advantages and functionalities that CRM for Gmail offers keep on expanding. These include:
CRM repository for fast and easy Google mail management
Improved client and partner relationship management with an integrated view on all email communications from the CRM
One platform for prompting replies and follow-ups for both CRM and Google mails
Send and receive Google Messages in your CRM account
Link emails with related CRM data (accounts, contacts, leads, partners, tasks)
Create fresh sales opportunities in relation to the emails
Straightforward cooperation and sharing of Gmail information via CRM
CRM for Gmail - The Best Picks
Streak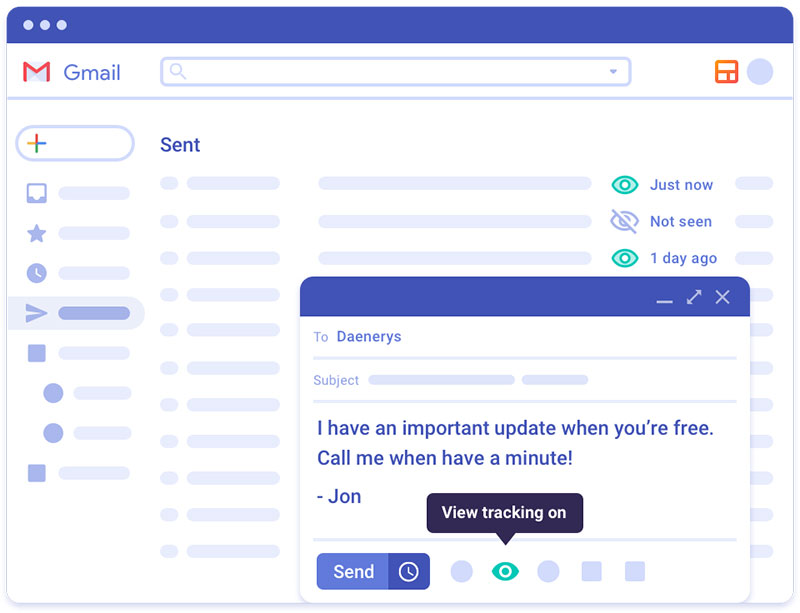 (Works inside Gmail)
Streak is a CRM software that integrates fully with Gmail. It is a harmonious extension of an already functioning workflow.
Streak is not a heavy-duty system but it comes with all the useful features such as pipeline and lead generation. It is straightforward and the basics are easy to set up.
The workflows are customizable. They also include some convenient functions like filter, group, search, and sort.
It provides automatic tracking, data capture, and pipeline details next to relevant emails.
Prices: Choose from three tiers - a free basic version and two premium options (Professional for $49 per user monthly and Enterprise for $139 per user monthly).
Copper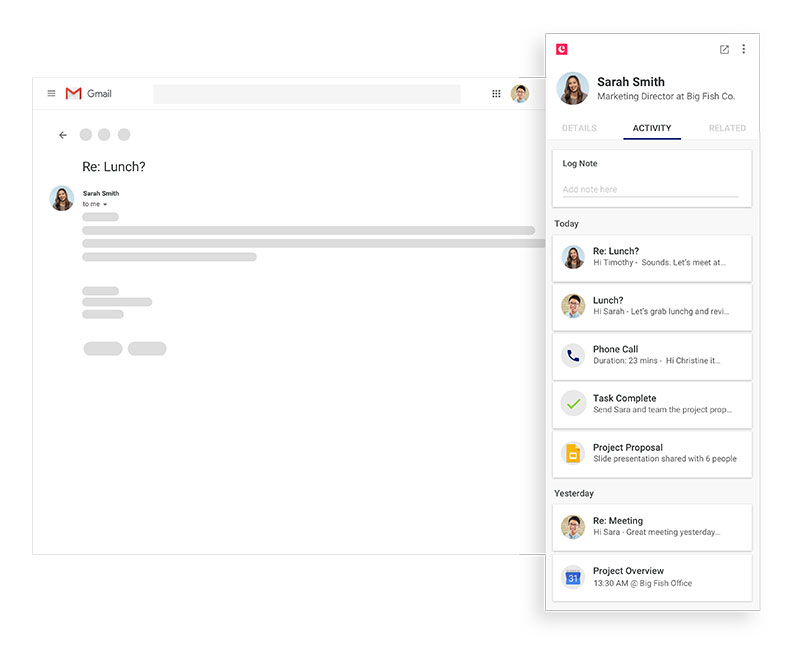 (Works inside Gmail)
Unlike other CRM systems, Copper was specifically created for G Suite.
It offers many functions, like lead management, contact and deals updates, and task tracking. All this from within the Gmail inbox.
Copper's potent automation saves time and maximizes productivity by eliminating the need for manual data entry. The system collects, records, and sorts out the information automatically.
Users can custom-build multiple pipelines utilizing lead, contact, and pipeline management features. Another time-saver is the email templates.
These can be personalized in Gmail using relevant data stored in Copper.
Prices: The basic version costs $25 per user monthly. Paid tiers start at $59 per user monthly.
DragApp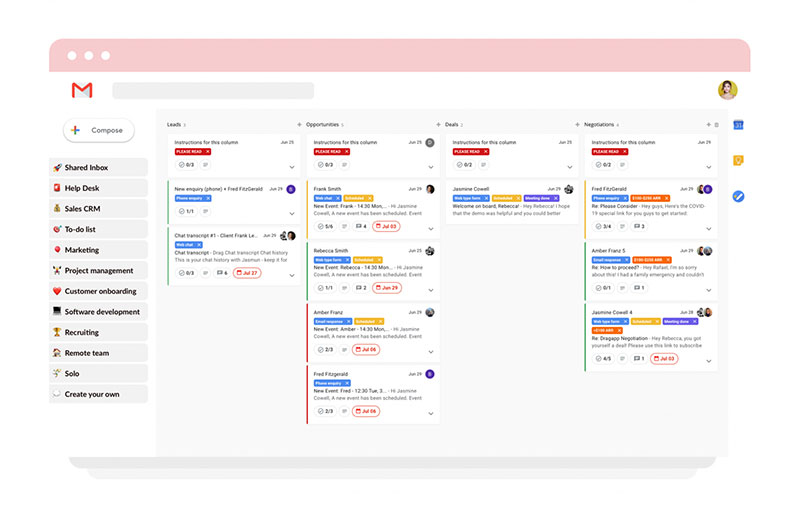 (Works inside Gmail)
Drag is a horizontal software. This means that it serves multiple ends like CRM, Help desk, Project Management, and Task Management, all in one tool.
It is very useful for managing pipelines inside Gmail.
Most deals begin and close via email. Drag removes the need to switch from Gmail to a Sales CRM and back.
There is an option to share a group email (for example sales@company.com). It also makes it possible to cooperate with team members instantaneously.
Kanban boards give a visual of the progress and help manage the workflow.
Another feature is attaching notes to email. Use them to provide additional information about clients or negotiations.
Prices: Drag comes in two options: A free version, and a Pro version for $8 monthly.
Propeller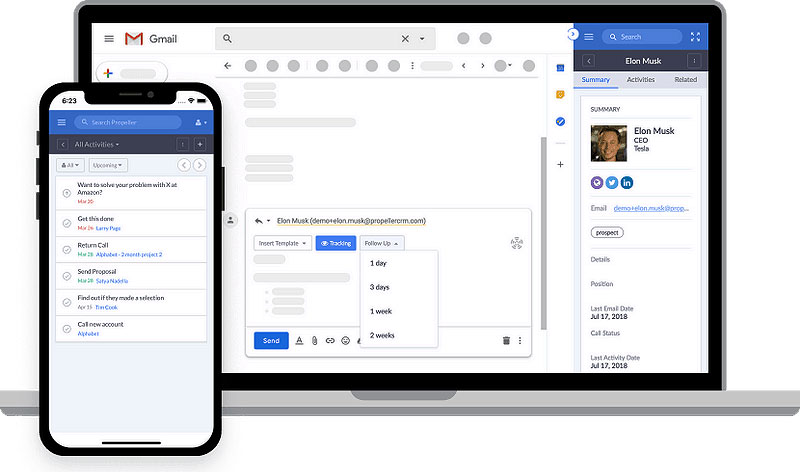 (Integrates with Gmail)
Propeller is another feature-packed yet lightweight CRM. It integrates with Gmail and provides an autonomous sales environment.
It's straightforward to set up and operate. The Gmail CRM extension has an uncomplicated interface.
On top of that, each subscription comes with a one-hour onboarding session.
New messages come with practical buttons such as follow-up, templates, and tracking. Contacts are available straight from Gmail.
Pipelines are also shown in-window. To view all the data, though, it's necessary to have access to Propeller's web app.
The most remarkable thing about Propeller is its smooth integration.
Prices: One tool, one price - $35 per user monthly.
NetHunt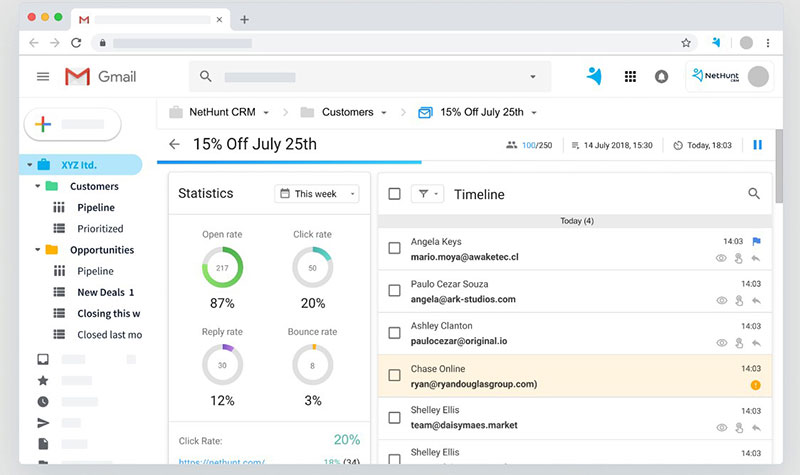 (Works inside Gmail)
NetHunts offers complete integration with a range of Google products including Calendar, Drive, Gmail, and Hangouts. It's aimed towards sales, marketing, and support.
Full integration with Gmail adds a second tab on the Gmail dashboard that holds all the CRM features. These are grouped into categories including Companies, Contacts, Deals, Pipeline, and Tasks.
The functioning of the CRM is based on "Records" - an assemblage of files, such as emails, tasks, and others. Those are then arranged in personalized groups and views.
Prices: Net hunt offers three tiers: Professional for $24 per user monthly, Professional Plus for $28 per user monthly, and Enterprise for $48 per user monthly.
Salesflare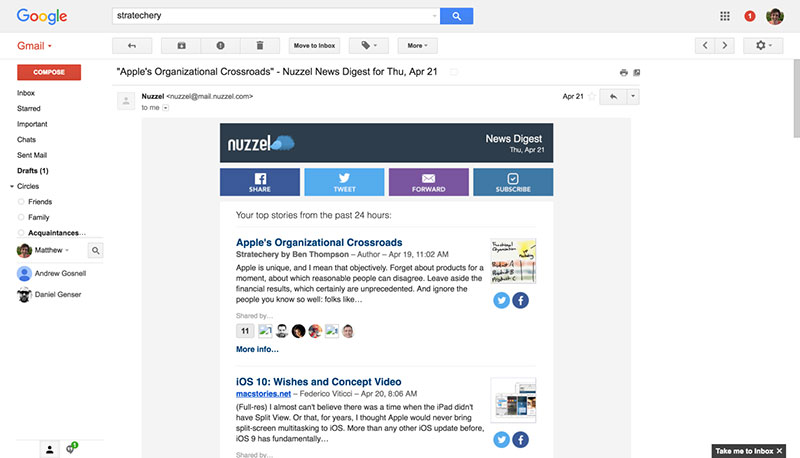 (Integrates with Gmail)
Salesflare is a feature-packed CRM system with a sharp interface. A customized view of each contact includes the timeline of communication, a list of uploaded files, and a social media feed.
It helps users to save time by auto-suggesting contacts. It also searches the web for information to autofill company profile information.
Users can monitor sales interactions and handle opportunities in the sales pipeline.
Another useful feature is the automatic meeting and call logging. It creates a document folder for each customer and keeps track of email and website activity.
Salesflare offers co-operative functions, such as internal discussion feeds and an integrated address book for teams. It integrates with Gmail and Zapier and comes with the developer API.
Prices: Between $29 and $99 per user per month, paid annually.
Freshworks CRM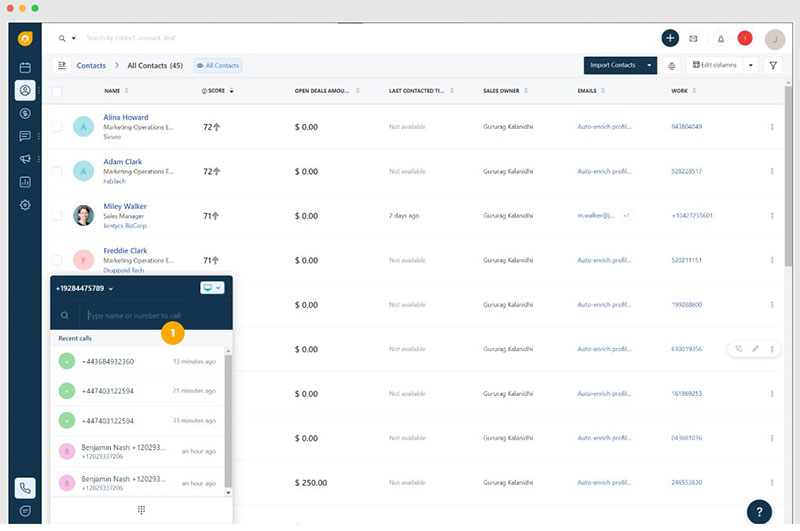 (Integrates with Gmail)
Freshworks CRM integrates with Google Workspace. It comes with a Chrome extension and offers many useful features.
Users can access their Gmail account within the CRM. They can also synchronize tasks and appointments with Google Calendar.
Team members can see customer information such as sales history, recent activities, and tasks. The deals for existing customers and new leads sit in the Gmail sidebar.
Use it for scheduling and managing appointments. Users can receive notifications for opened emails.
Freshworks can synchronize emails and import Google contacts. There is also a mobile app available.
Prices: 21 days of a free trial. Select from three options: Growth for $29 per user monthly, Pro for $69 per user monthly, and Enterprise for $125 per user monthly.
Nutshell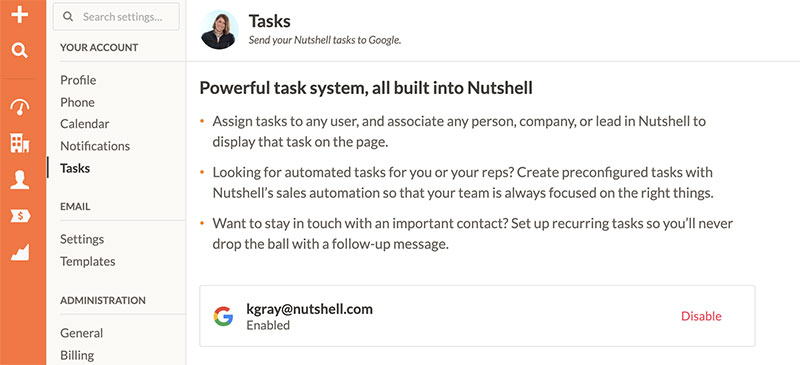 (Integrates with Gmail)
Nutshell is a time-saving tool that boosts productivity. it integrates with Gmail and Google Calendar so there's no need to switch between applications.
It claims to be "simple enough for any team, sophisticated enough for any business."
Nutshell will sync and update Google events.
Users can create contacts, tasks, and view scheduled activities. They can also track communication timelines and make notes.
It enables users to review which emails have been shared with teammates. It's also possible to share email threads and messages directly from Gmail.
Users can sign in with their Google login and password. It is a very simple tool that does not offer personalization.
Proces: There are two plans: Starter for $19 per user monthly and Pro for $35 per user monthly.
Zoho CRM for Gmail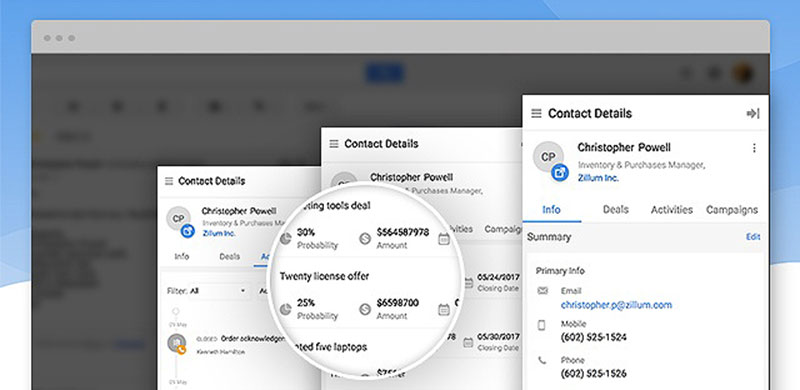 (Chrome extension)
Zoho offers the full package - from an accounting system to helpdesk functionalities. Among many things it offers is a CRM platform with email functionality.
Zoho also has a Chrome extension for Gmail. This allows users to display a customers' full profile when opening an email from them.
It puts all the necessary sales tools in one place. It links with Google Suit and enables users to access files from Google Drive via the CRM.
Users can import Google Contacts and synchronize Google Calendar with the CRM events and activities. The interface is straightforward and clear.
Prices start from $12 per user monthly.
Bitrix24
(Integrates with Gmail)
Bitrix24 allows businesses to handle their day-to-day tasks, projects, and CRM. It also provides additional functions, like a contact center and a website builder.
It does not function inside Gmail but it integrates and syncs users' email with the system.
Bitrix is free. It provides all the essential tools for effective pipeline management.
These include sales funnels, reports, 360-degree customer view, repeat sales support, and sales automation. Customer support is available via email, live chat, social networks, and other types of messengers.
Prices: Bitrix offers a free plan with an unlimited number of users and 5GB of storage space. Premium plans start from $17 per month.
Revamp CRM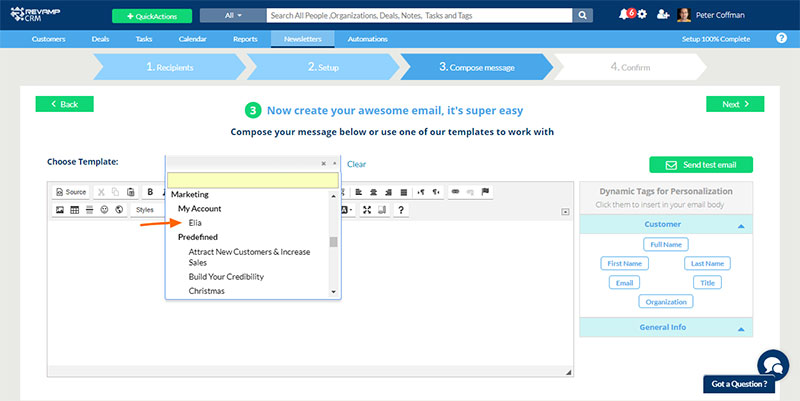 Revamp has a choice of two ready-made versions - Small Business and eCommerce. The user interface is slick and comes with marketing, sales, and collaborative functionalities.
Users can import contacts from Gmail and other email providers, as well as LinkedIn. The lead management tools allow users to segment, score, and tag.
The system provides internal invoicing and helpdesk functions. It allows for integration with Freshbooks, Zendesk, and Freshdesk.
The software puts all the information together, giving a 360-degree view of contacts. Collated information includes notes, tickets, invoices, and communication history.
The sales pipeline is straightforward and lets users rearrange opportunities in no time.
G-Suite integration displays Gmail emails within the CRM. It also integrates with MailChimp and similar tools.
The platform also provides customizable email marketing tools, sales reports, and analytics.
Prices: The Pro plan costs $19 per month.
Insightly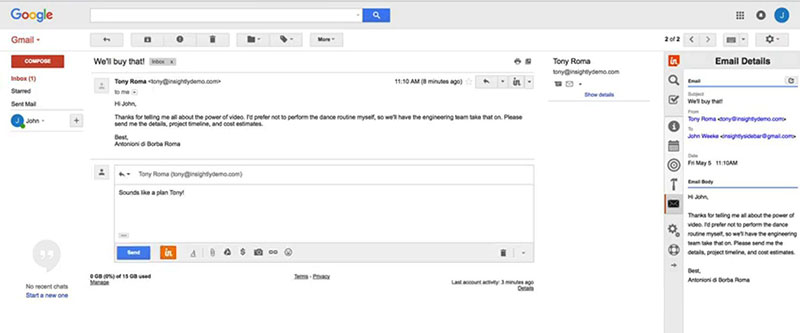 (Integrates with Gmail)
Insightly is a CRM software for professionals. It offers custom Kanban sales pipelines, custom reports, and relationship maps.
It targets enterprise-level users. However, its free plan for up to two users attracts many small businesses.
With this software, users can access Gmail straight from the Insightly inbox. Customer contact information includes email communication history.
Users can import contacts from Insightly straight to Google Sheets. They can also link contacts with Google docs and notes.
Use Google Slides to link Sales Pitches to specific contact names. This allows for quick access to meeting details.
Prices: There is a free version and also three premium plans: Plus for $29 per user, Professional for $49 per user, and Enterprise for $99 per user.
Agile CRM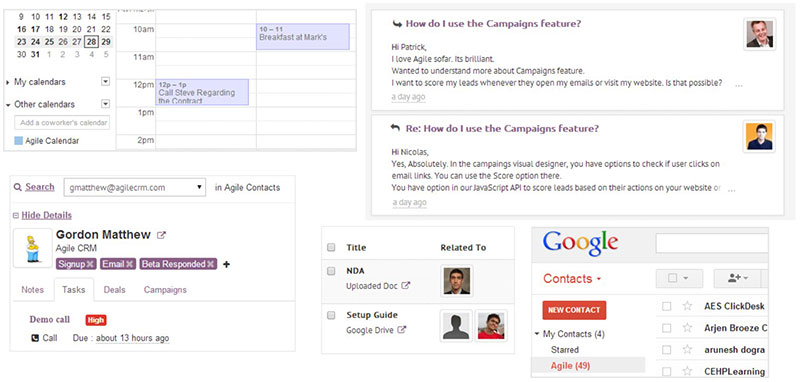 (Chrome extension)
Agile CRM is a Chrome extension. It simplifies communication between the CRM system and Gmail inbox.
The synchronization works both ways. This means users can access contacts from both systems.
It allows users to set up automatic synchronizing at specified time intervals. The contact timeline provides a chronological view of emails sent to each contact.
Contact campaign membership allows users to see which campaigns contacts take part in. They can also create new campaigns and remove specific contacts from ongoing campaigns.
The software provides many solid functions. But it requires some time and effort to learn and the integration with Gmail is not deep.
Prices: Agile CRM offers a free version for up to 10 users. The premium prices vary from $8.99-$47.99 per month.
Pipedrive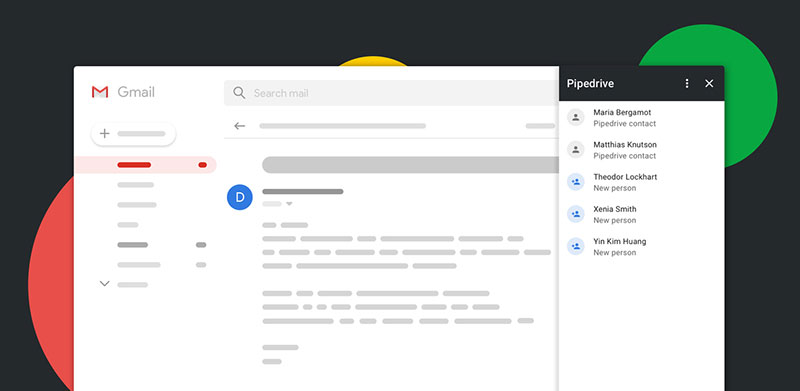 (Integrates with Gmail)
Pipedrive's goal is to improve the efficiency of the sales processes. The CRM offers useful features such as contact communication tracking.
It also offers repetitive tasks automation, custom analytics export, and pipeline deals management. Pipedrive integrates with Gmail, enabling users to carry work straight from the inbox.
It keeps the CRM data up-to-date and provides the needed information to reply to sales emails. When an email arrives from a saved contact, it shows their details, deals, activities, and notes in the sidebar for quick reference.
It also helps users prioritize tasks by generating interactive to-do lists. It works on PC's in any internet browser.
Prices: There are different plans available from $12.50 to $99 per month.
Hubspot CRM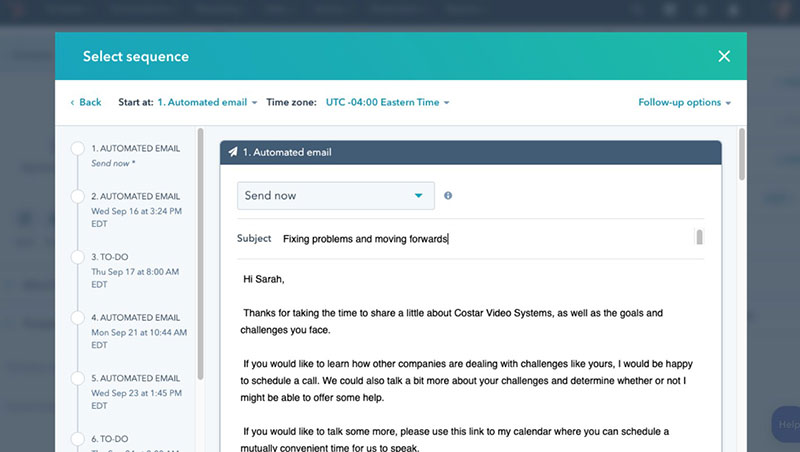 (Integrates with Gmail + Chrome extension)
Hubspot CRM is a free platform. It integrates with Gmail enabling users to view Gmail correspondence in the system.
The dashboard displays the sales pipeline and can generate various reports. These include reports on sales activity, productivity, and individual performance.
Other useful CRM functionalities include email tracking, meeting scheduling, sales sequences, and templates. Users can synchronize Google Contacts and Google Calendar with HubSpot CRM.
It's possible to log emails from Gmail to HubSpot CRM and integrate Google Maps. The Chrome extension tracks emails and provides sales productivity capabilities.
Salesmate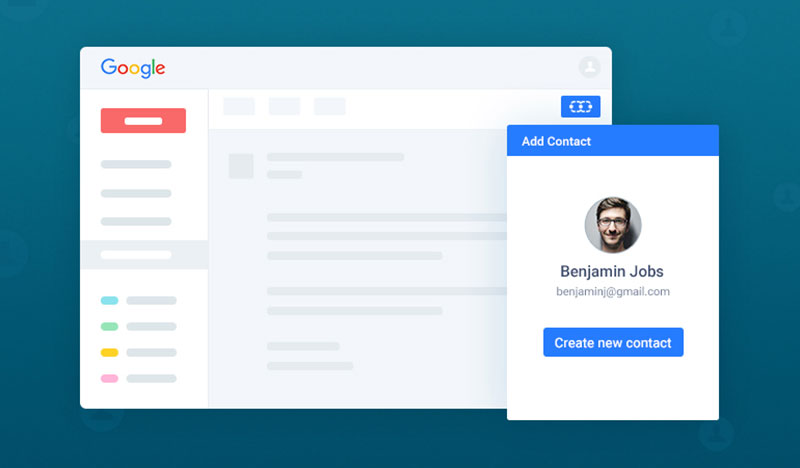 (Chrome extension)
Salesmate links the CRM and Gmail via a simple interface. It offers features such as workflow automation, email drip sequences, and a built-in power dialer.
Salesmate Chrome extension tracks when and where an email is opened. Users can monitor sales activities inside Gmail, sort sales information, access conversation history from the contact records, and add and manage Gmail contacts.
However, the contacts only synchronize from Google to Salesmate.
Prices: There are three plans available to choose from and the prices start from $12 per month.
Arcade CRM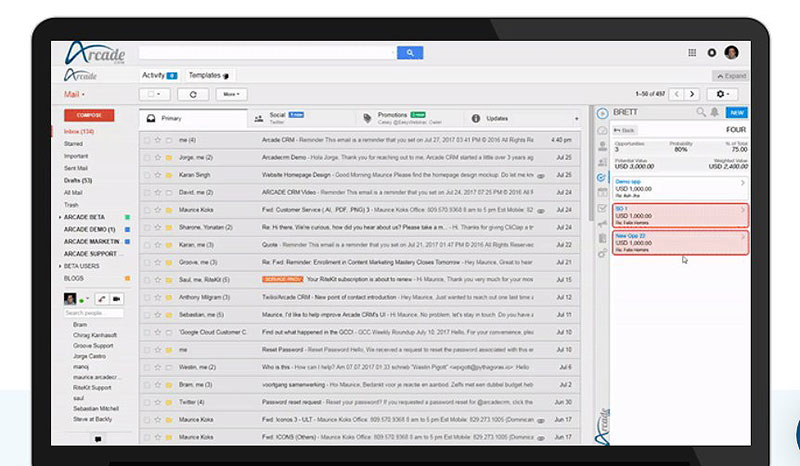 (Chrome Extension)
Arcade for Gmail is suitable for small and medium businesses. It provides basic CRM functionalities.
These include contact database, calendar integration, and document management. Also sales pipeline visualization, sales reports, and task management.
VOIP calling is Arcade's exclusive feature. Users log calls manually and then import/export numbers, logs, and scripts automatically.
The Chrome extension can create templates, track email views, and set reminders. The CRM integration with Gmail is quite close which makes it very useful.
Prices: There is one all-inclusive plan for $15 per user if paid monthly or $12 per month if paid annually.
Capsule CRM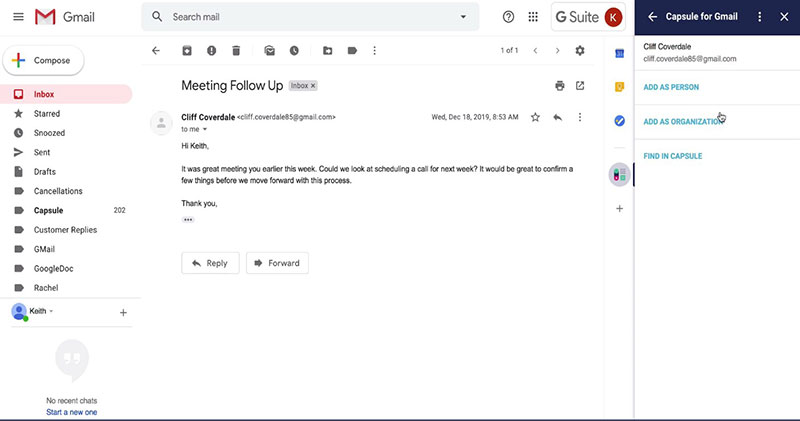 (Integrates with Gmail)
This Google add-on will add new contacts and their information to Capsule from the Gmail interface. It will also add Gmail messages to Capsule.
Every new contact in Capsule is also added to the Google address book. However, this synchronization only works one way.
From Capsule, click on a contact's email address. This opens a Gmail window, allowing users to compose and send an email to the contact.
The message then becomes part of the communication history for that contact.
Prices: Capsule offers three plans from $12 per user up. Advanced features and contact and file storage limits vary between plans.
Salesforce Essentials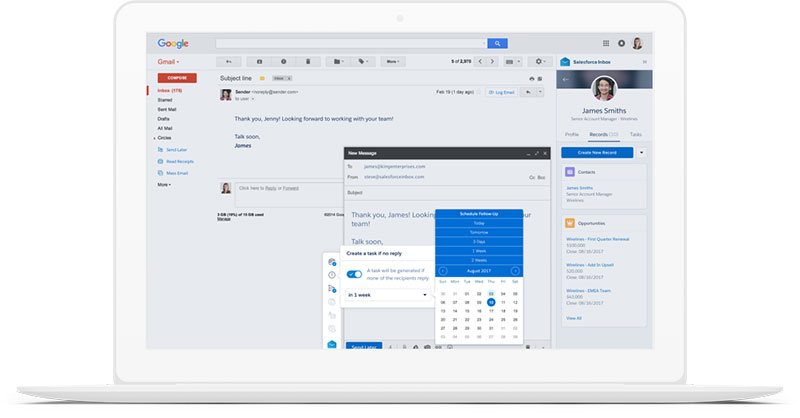 (Integrates with Gmail)
Salesforce Essentials integrates with Gmail, thus synchronizing email with CRM.
Some of the best features include:
integrating contacts to Gmail
tracking messages
logging emails into Salesforce CRM
synchronizing events and meetings from Google Calendar to Salesforce
creating targeted mass emails by event
integrating Google Maps
integrating Chrome extension with Gmail
Even though the App Exchange comes with thousands of solutions, the lack of a free plan can be discouraging.
Prices: $25 per user/month paid annually.
TeamWave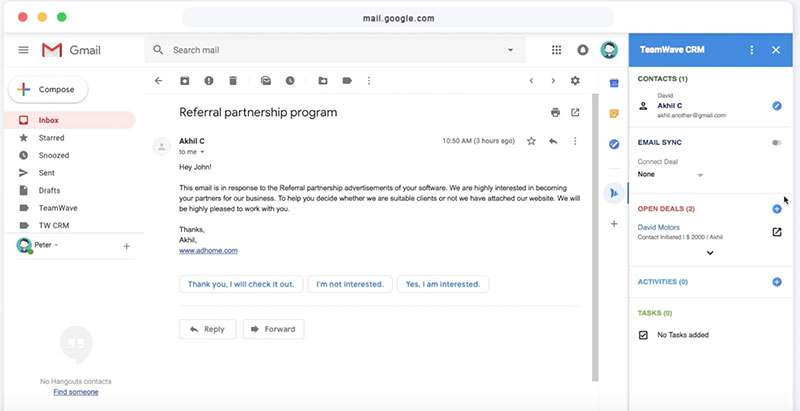 (Integrates with Gmail)
TeamWave integrates with Google Workspace, Mailchimp, Quickbooks, Xero, and Zapier.
TeamWave is a great platform for start-ups and comes with some useful features. These include contact management, pipeline management, forecasting, reporting, and more.
Users can synchronize activities, events, and milestones to their Google Calendar. Synchronize Google contacts with TeamWave, making them available to all team members.
There is also an add-on that synchronizes all the information from Gmail conversations to the TeamWave account. It works on any device and across all browsers.
Prices: The prices range from $39 to $199 per month.
Solve360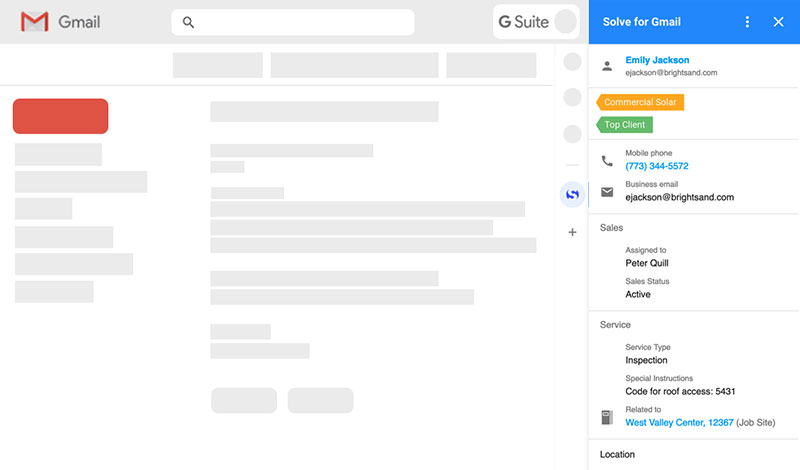 (Integrates with Gmail)
Solve360 (aka Solve CRM) is a Google Cloud Premier Partner. It comes with a two-way Google Contacts and Calendar synchronization.
Solve360 allows users to pull CRM data straight into Google Sheets, Reports, and Docs. It offers some collaborative functionalities like intelligent client email history sharing.
Activity Workflows can be performed on-demand or following set time intervals. Users can also back up, store, and export all data.
Solve360 integrates with Freshbooks, MailChimp, RingCentral, Wufoo, Xero, Zapier, Zendesk, and other tools.
It also has a mobile app and provides users with its developer API.
Prices: Solve360 offers only one plan for a minimum of four users for $25 per user per month.
Ending thoughts on best CRM for Gmail
To run a business efficiently, it's important to streamline and organize data in one place. This is what integrating CRM and Google can do.
It allows users to send and receive Google emails and manage accounts, contacts, deals, leads, and targets side by side.
This overview of the best CRM platforms for Gmail will help in selecting the one that suits your needs best.
Keep in mind the current state of the business, and the sales team's needs and expectations. Make a list of the required features and compare it with what different CRM systems offer.
Try to select one that is simple and intuitive. This will make the onboarding process quick and easy for all team members.
If you enjoyed reading this article about best CRM for Gmail, you should read these as well: