Sales reps working for top-level sales companies are constantly on the go. Using mobile sales apps can help to increase their efficiency and productivity.
It can be challenging to select the best sales app for your sales team. After all, there is an overabundance of apps for sales reps out there.
To help in this endeavor, this article lists the best sales apps sales reps need to install on their phones.
Apps for Sales Training/Learning
Mind Tools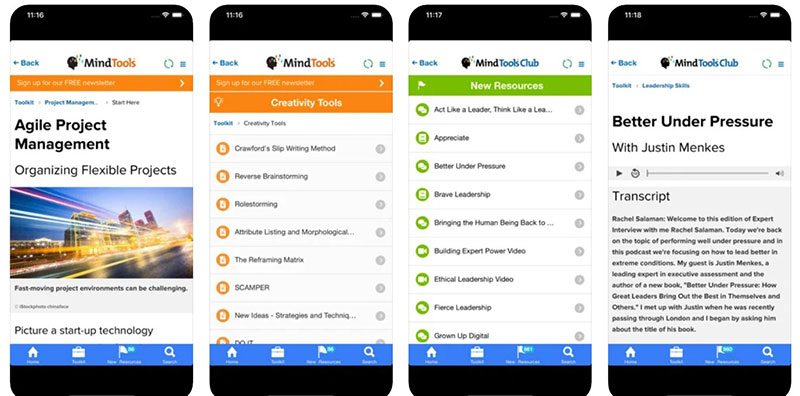 This is a globally recognizable, readily available career and management learning app. A staggering 24 million people use this app each year.
Users can learn a variety of business and personal improvement skills. These skills can help users advance their careers.
It provides access to over 2,400 resources. These include articles, book insights, expert interviews, infographics, podcasts, quizzes, videos, and more.
This sales training app can be of great help to sales reps looking to boost their career.
Brainshark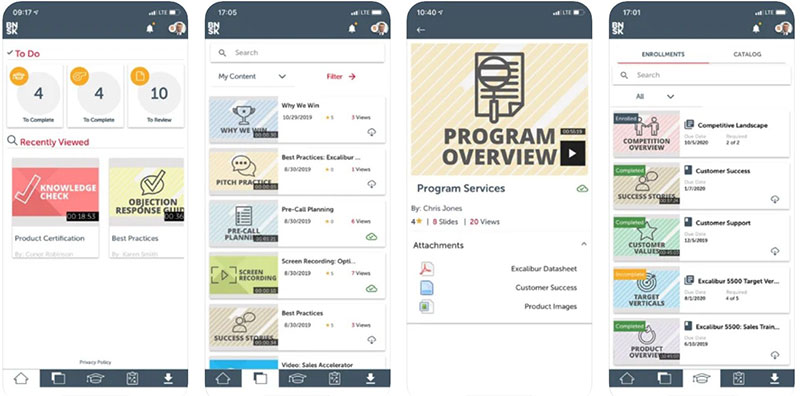 The Brainshark app stands out as having more experience than most. It has more than a thousand users.
It provides flawless integration with other platforms and CRMs.
It uses a sales team's distinctive metrics to provide specific insight. This leads to even better training results.
It's created with mobile users in mind which makes it convenient to use anywhere. Some other useful functionalities include easy content creation and sharing.
It also provides insightful analytics for sales teams.
SmartUp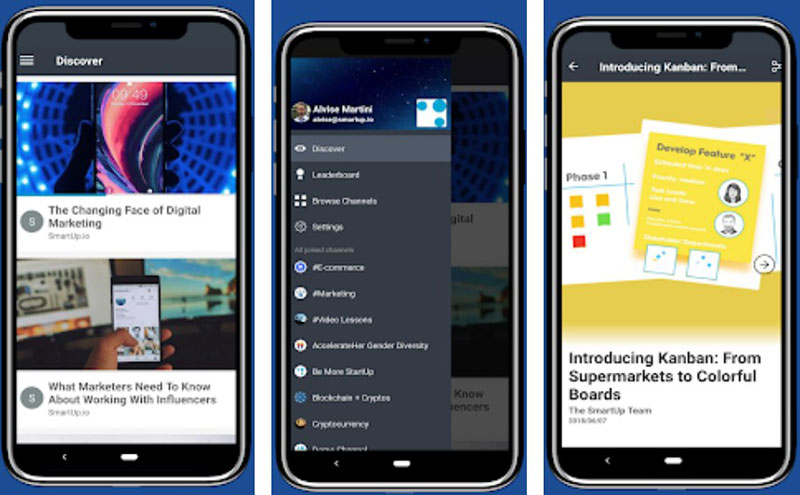 SmartUp believes that knowledge is power. It is full of informative content in the areas of business, banking, finance, and more.
There are also content workshops. These teach sales teams how to create an outstanding learning experience for their customers.
Duolingo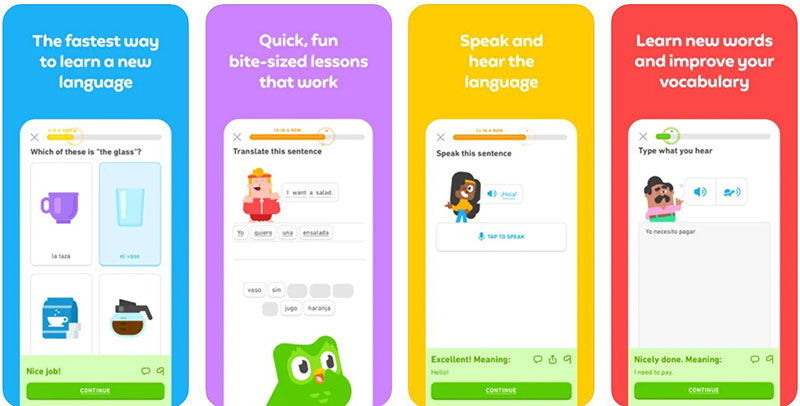 Today, it is often necessary to speak another language (or more) to succeed in the sales industry. Duolingo offers an easy way to learn over 30 popular languages online.
The lessons are pint-sized and the learning method is science-based.
Apps for Team Communication
Slack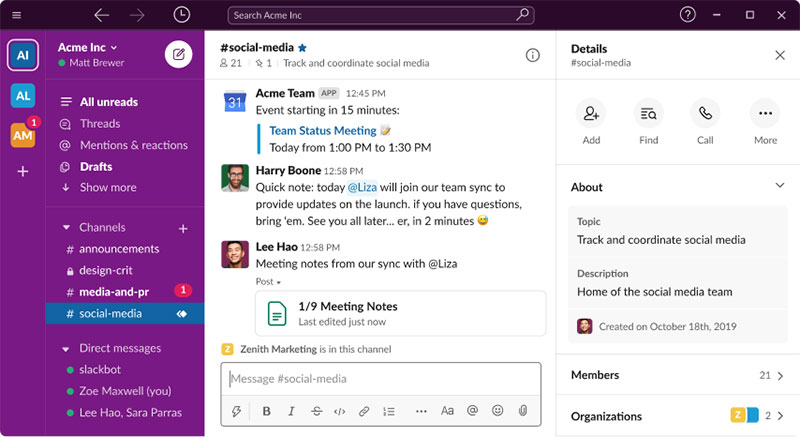 Slack is a collaboration platform for teams. It enables sales reps to stay in the loop and allows them to access important information.
The platform uses channels that allow the right people to connect. It also keeps all the necessary information in one place.
Slack allows new team members to get up to speed in no time and enables all sales reps to stay connected.
Basecamp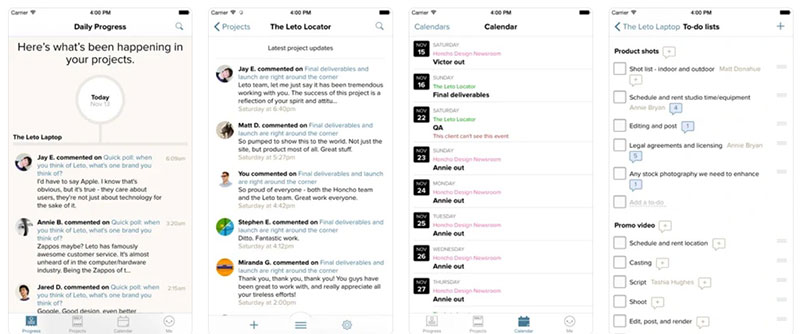 Basecamp keeps the communication between team members centralized and focused on project-related matters. Teams can brainstorm ideas, provide feedback, and collaborate with ease.
Hoopla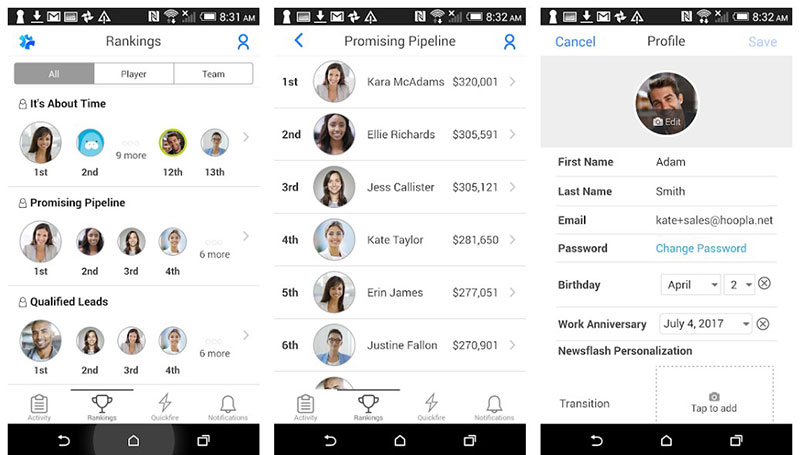 Enthusiasm is contagious and so is a lack of it. Enthusiastic sales reps will be persuasive and achieve good results.
Hoopla aims to create a healthy amount of friendly competition within the team. This motivates sales reps to achieve their goals.
This motivation and recognition platform employs fame mechanics, data analytics, and video. Thus, sales managers and team leaders can boost excitement and improve team performance.
Zoom Cloud Meetings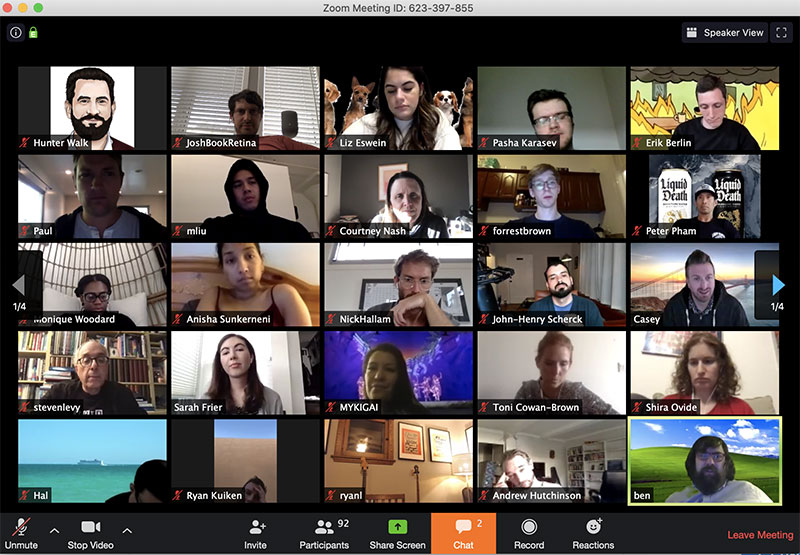 Zoom is one of the most popular video collaboration platforms. It can take online meetings to the next level with its simple way of working.
Features include:
chat
breakout rooms
workspaces
screen sharing
polls
meeting encryption
transcription
recording
an offline phone connection option
It's available for free and easy to use on any mobile device.
Apps for Prospecting
LinkedIn Sales Navigator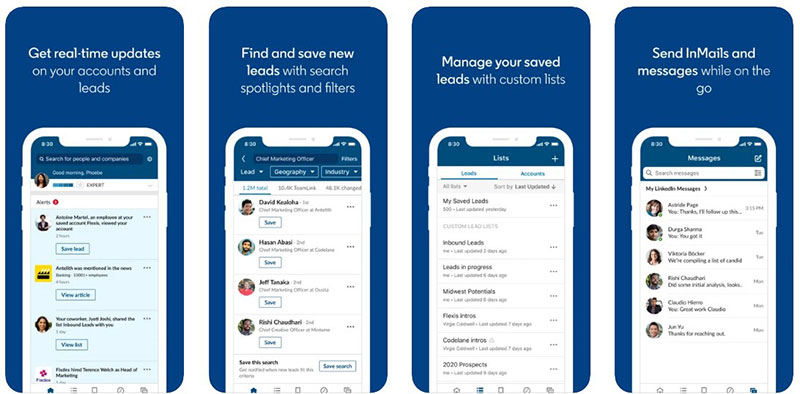 Avoid time-wasting with LinkedIn Sales Navigator. Users can search for new leads, reach out to prospects and clients, and close deals even whilst on the go.
Use its built-in search and filter features to find and reach people on LinkedIn. It connects users with decision-makersvia phone, email, or InMail private message.
InsideView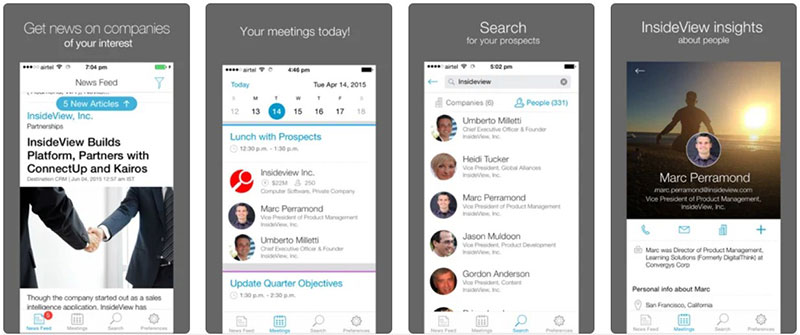 InsideView uses data and intelligence to find B2B prospects and briefings.
The app enables users to manage their data and improve its quality. It helps to clean and update accounts, contacts, and leads in real-time.
It assists sales reps to improve their productivity and efficiency at every stage of the sales funnel. It is also useful for discovering new markets and expanding reach.
ZoomInfo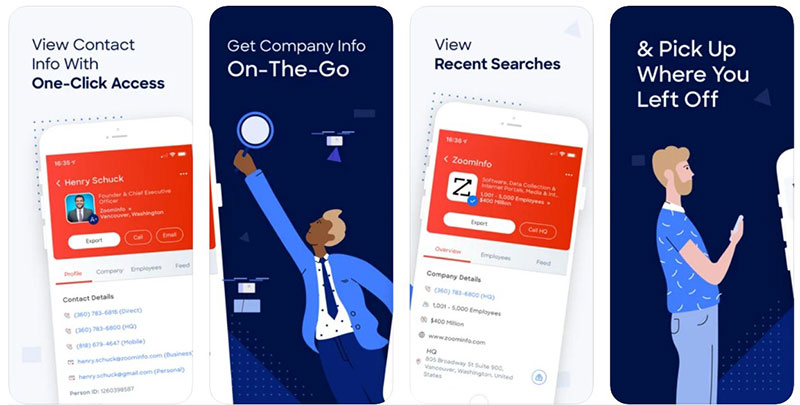 ZoomInfo provides accurate and usable B2B contact info and intelligence. It integrates with popular CRMs, including industry-standard ones like Hubspot and Salesforce.
It makes it possible to automate and schedule CRM data enrichment. It supplements databases with information such as team size, funding, technologies used, and more.
CRM Apps
LeadSquared Mobile CRM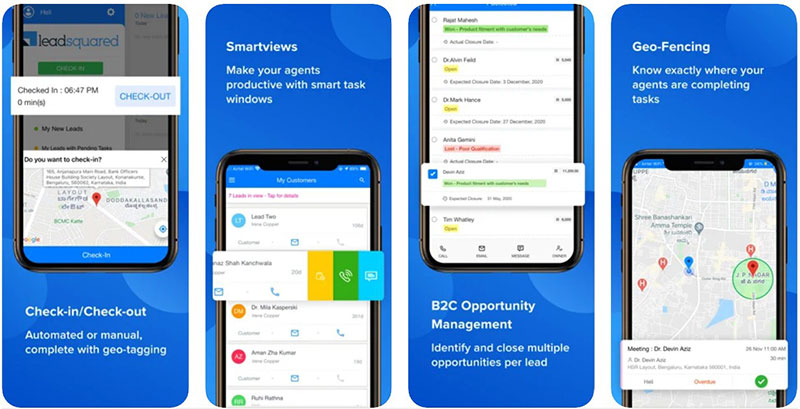 This is a great app for automating sales reps' day-to-day activities. Use it to assign leads automatically and send automatic notifications to sales reps.
This allows them to follow up on the leads right away. The reps can see a GPS map with their daily sales routes and customer locations marked.
Other useful features include automated check-ins and check-outs, as well as geofencing.
HubSpot Mobile App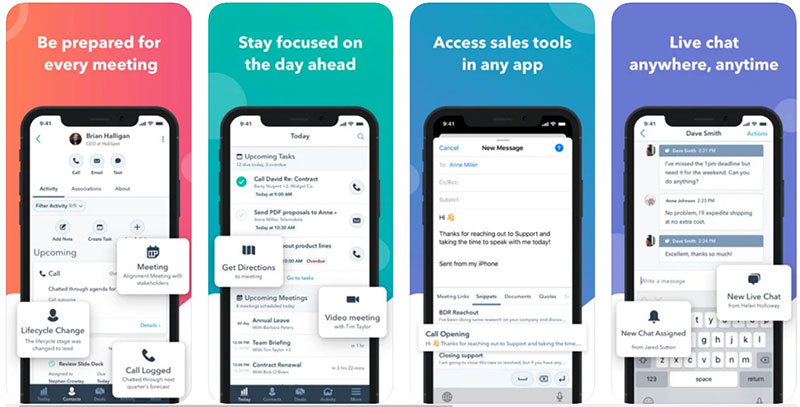 It is always a good idea to download the app associated with the company's CRM. It saves a lot of time and removes the need to update the CRM at the end of a long day in the field.
With a CRM app, users can add information after each meeting or call throughout the day.
HubSpot CRM users should download the mobile app they offer. Those who haven't used a CRM up until now should download HubSpot together with its associated app.
The basic features are free and, as the business grows, users can make use of some cool paid features.
SalesRabbit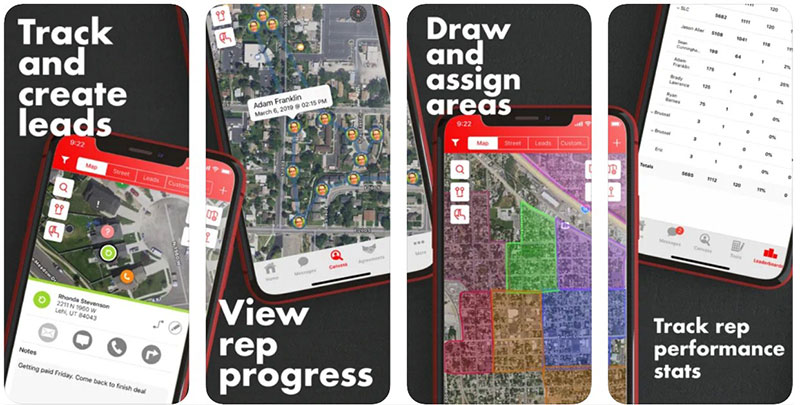 SalesRabbit is a canvassing CRM with some useful functionalities.
It enables users to track leads, assign territory, and message team members. Users can also connect the app to other online services to share information in no time.
One of the things that people love about SalesRabbit is its integration capability. It integrates with Salesforce and other top apps.
Sales Rabbit provides team tracking, sales territory planning, and digital contracts. Users can also share proposals and presentations both on- and offline.
Salesforce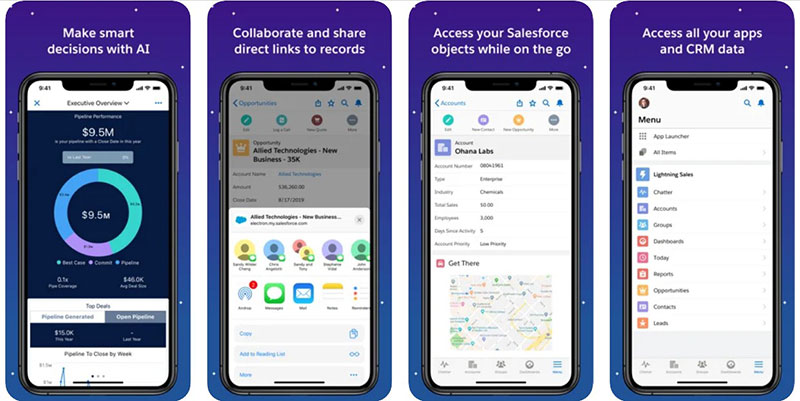 This is one of the most popular CRM apps. As a business expands, the app allows users to add features and adapt functionalities.
The app's users come from more than 150,000 companies from all kinds of industries across the globe.
Apps for Document Management
Invoice2Go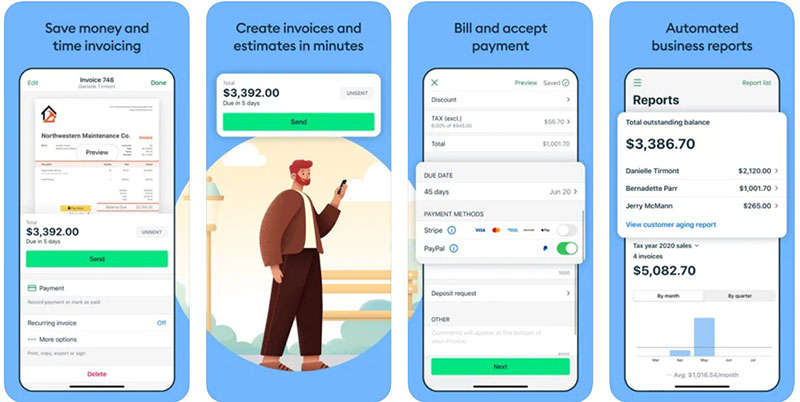 This is a great app for bill generation, saving lots of time. Generate invoices and share them with clients automatically.
Users can create and track all the invoices and payments from one place. That makes following up with clients much easier.
It also allows users to keep track of the sales team's expenses.
DocuSign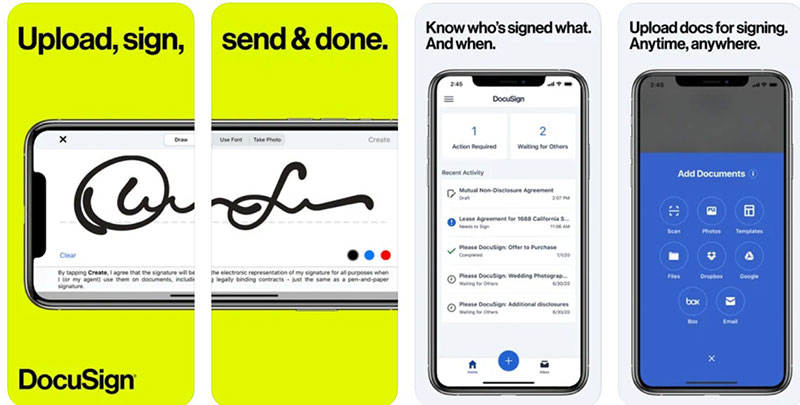 Once a prospect is ready to commit to a contract, a sales rep will do all it takes to get them to sign.
DocuSign is an e-signature system with an associated mobile app. It makes obtaining a prospect's signature easy at any place and time.
DocScan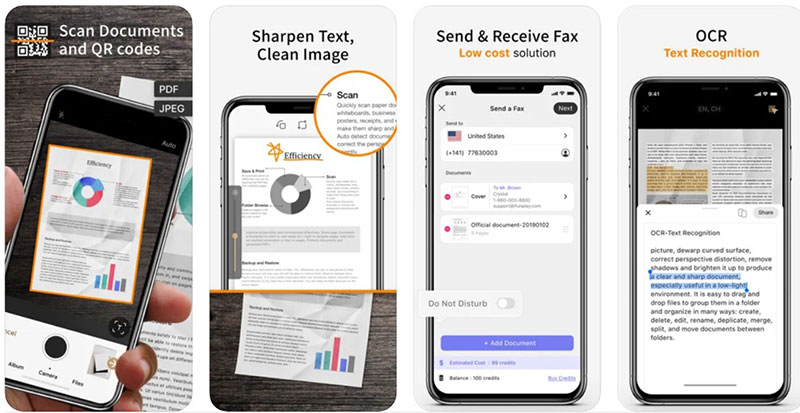 This app allows users to take a picture of a document and convert it into an attractive PDF or JPEG. It takes a few seconds to scan and send a high-resolution PDF or zipped JPEG.
Users can also annotate and draw lines on scanned documents before converting them to PDF. The quality of the image produced is similar to that of a regular-size scanner.
PandaDoc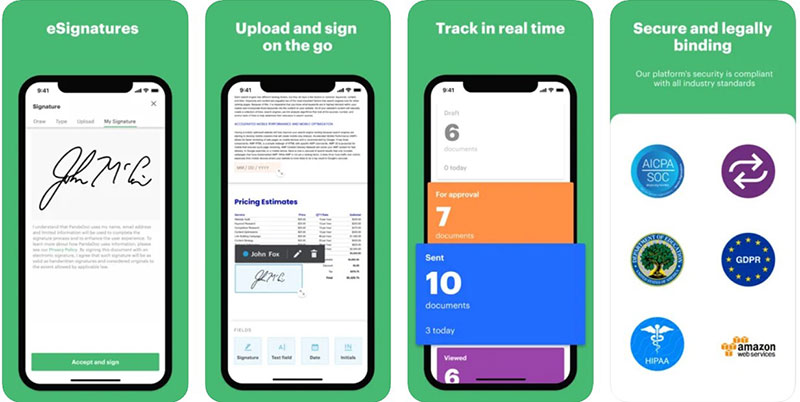 This is a comprehensive document automation and enablement platform. Create and share contracts, proposals, and quotes, and get them approved and e-signed.
It decreases any congestion that might occur in the final part of the sales process.
Dropbox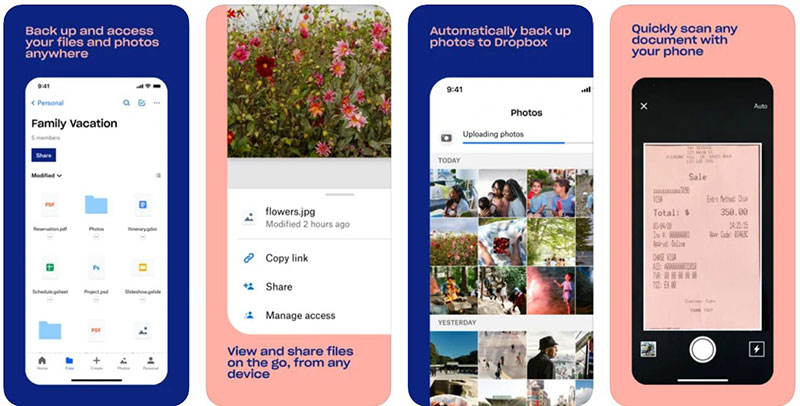 Dropbox stores different documents like contracts and proposals. It also allows users to compose new documents and invite others to collaborate on them.
With the app, users can access documents from one centralized space. Sales teams can collaborate in real-time using both desktop and mobile devices.
Google Drive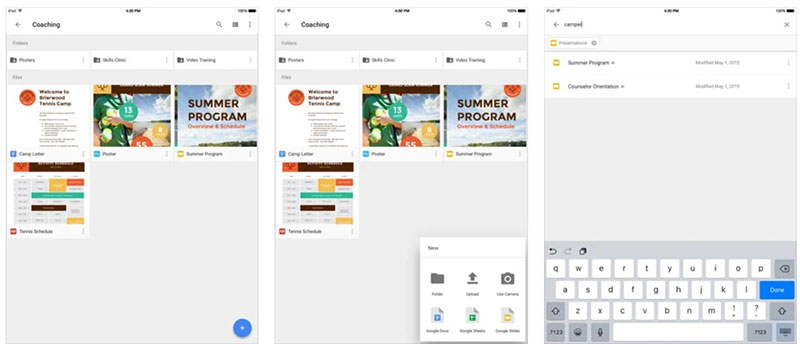 Google Drive makes it easy to create, organize, and cooperate on sales documents.
Sales teams can work together on word documents, spreadsheets, and presentations. Google Drive keeps all the important files and information in one place.
Apps for Presentations
Keynote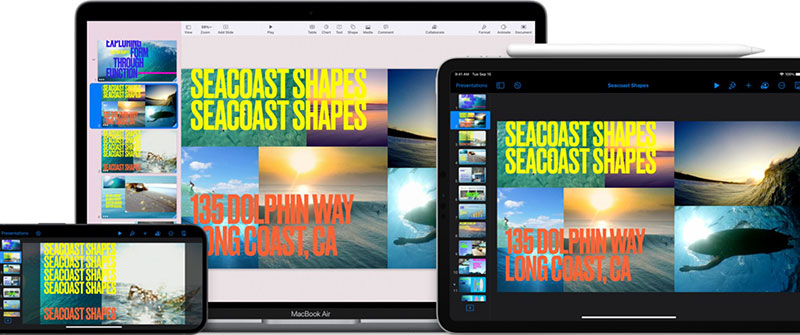 Keynote allows users to create amazing sales presentations. It provides all the tools and effects to unleash your creativity.
The app also allows team members to collaborate in real-time no matter where they are and what equipment they are using.
Prezi Viewer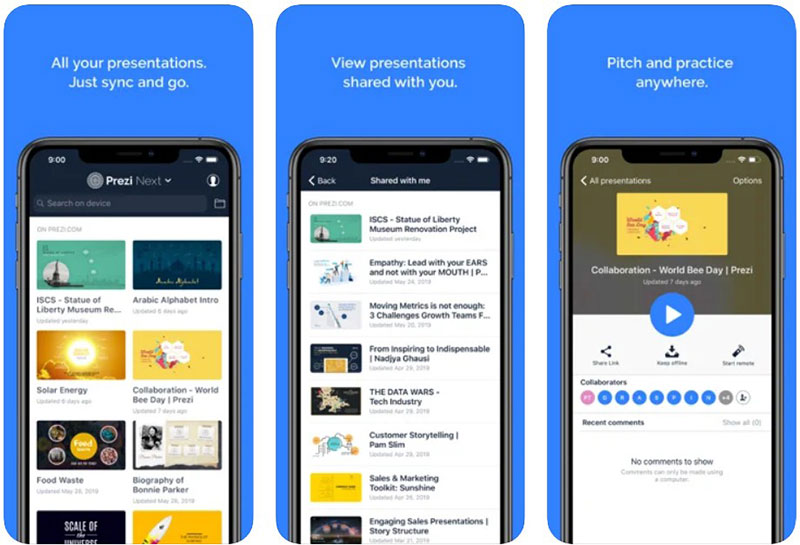 With Prezi Viewer, users don't need to carry a laptop everywhere they go. They can use it on their mobile device to review and rehearse their presentation on the road.
The app gives more than viewing ability, though. Users can add audio and video files, create timelines, embed PDFs, and more.
It works well on both desktop computers and mobile devices.
CloudApp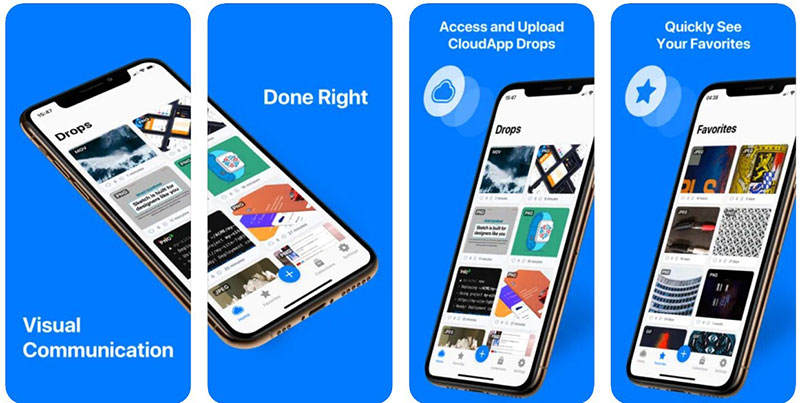 This is a screen recording app. Sales team members can create screen recording videos, screenshots with annotations, and GIFs.
They can then share these with prospects and customers. It saves time and allows users to produce highly engaging sales materials.
Reps can highlight the products and services without any technical skills. Creating amazing graphics and visuals is very easy as the app does all the work.
Apps for Taking Notes
Evernote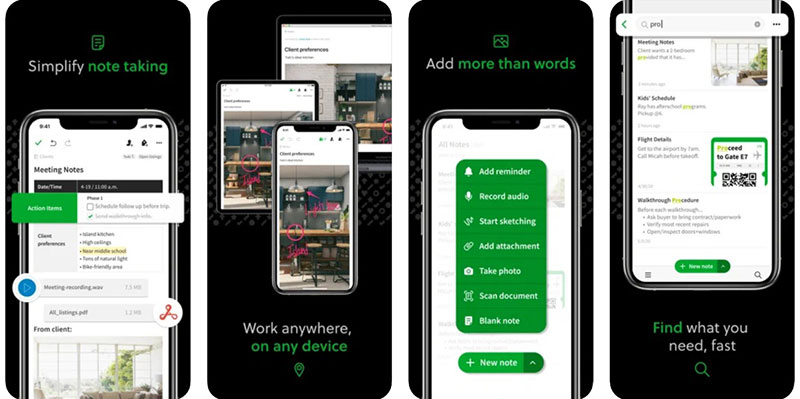 Evernote makes taking notes a piece of cake. It has a clean and straightforward interface.
This makes it simple to use while talking to a potential customer or attending a meeting or conference. The app syncs across all your devices so users will never lose any important information.
It makes it easy to manage all the notes, too.
Apart from organizing them in folders, it also tags them by location. This allows users to find any note, even those without a specific title.
Google Keep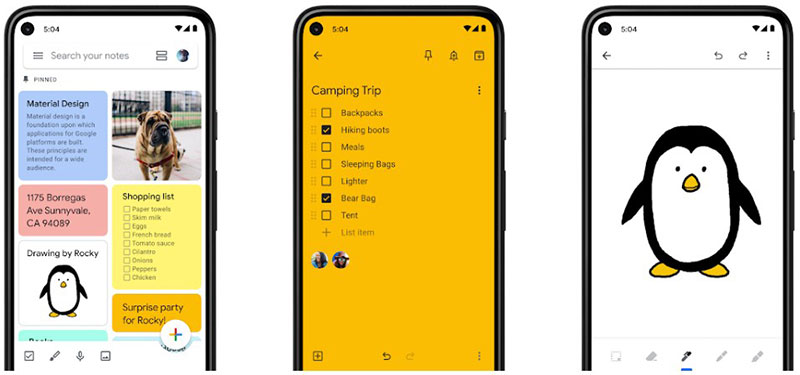 Google Keep was created by Google in 2013. It is a note-taking app with a variety of tools to create and manage notes.
It also allows users to set reminders, create event alerts, and compose to-do lists.
Dragon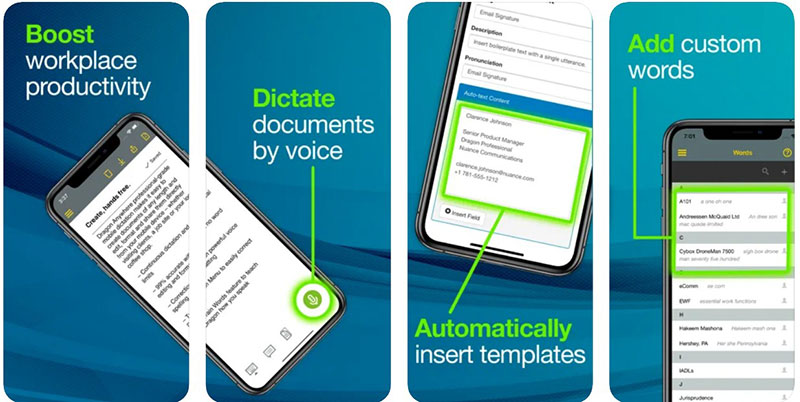 This is a wonderful tool for dictating notes, with no word input limit. It provides 99% accuracy in editing and formatting dictated notes.
Users can share their notes via email, Dropbox, Evernote, and cloud-based sharing platforms.
QuickVoice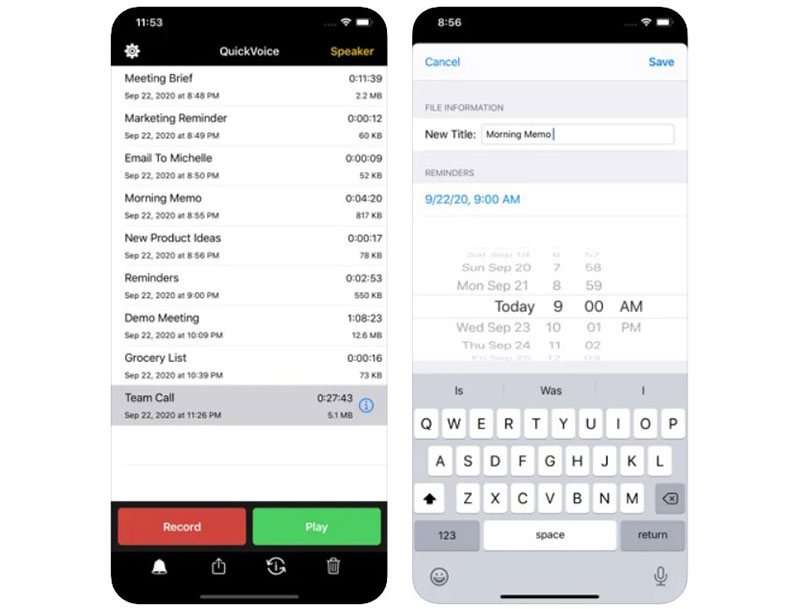 Over 10 million people use QuickVoice.
This recording tool ensures that users don't miss a word of a meeting, conference, or keynote speech. Refer to the recording and pick up all the important points.
Productivity Apps
Spotio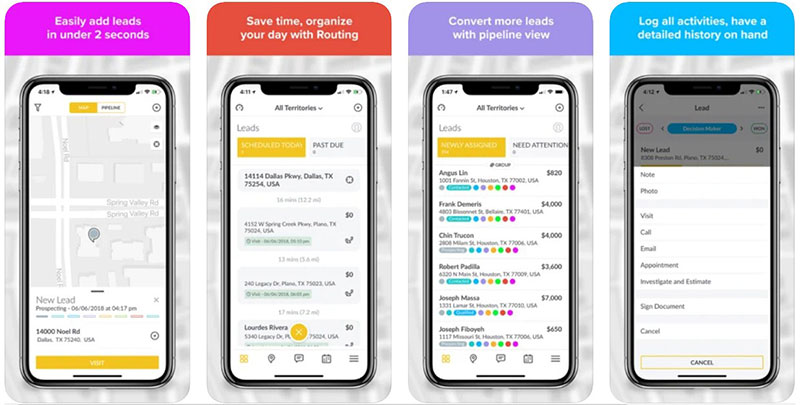 Spotio provides sales-oriented features such as e-contracts, lead tracking, and territory management. It allows users to monitor and evaluate the productivity of each sales rep.
Another useful feature is easy appointment setting. Users can schedule and hand over meetings, and add and share meeting notes while out attending one appointment after another.
Any.Do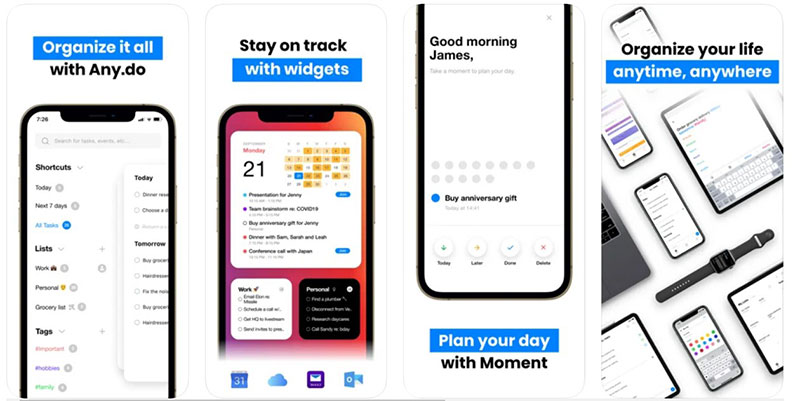 This mobile app is useful for creating task lists. Users can track progress and check tasks off the list.
It is especially useful for individual sales reps. It allows them to organize their work by breaking goals into smaller tasks.
Sales teams can collaborate on the same list, track the progress, and accomplish goals together.
Asana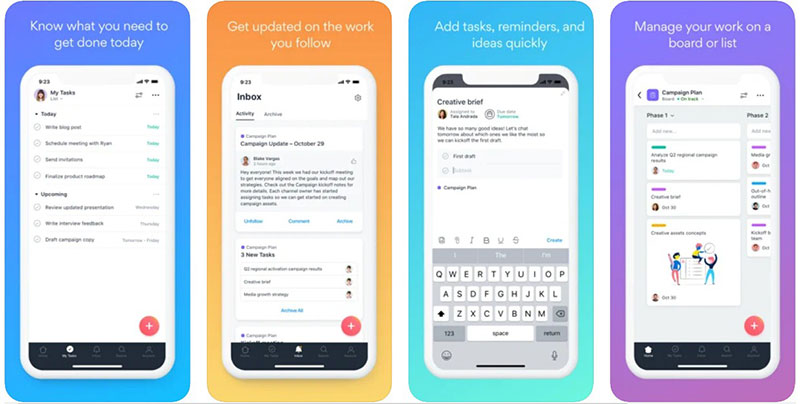 Asana is a mobile app for searching for prospects. It provides useful information about leads and users can communicate with LinkedIn contacts.
Time Buddy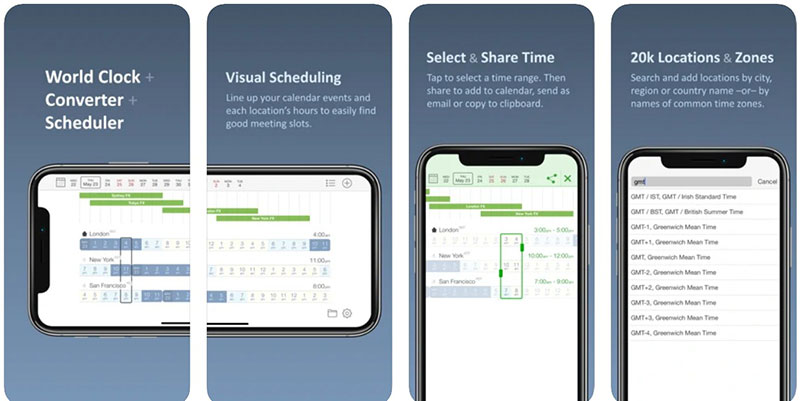 Businesses often have clients in different parts of the country, region, or world. This makes scheduling appointments tricky due to the difference in time.
Time Buddy is a mobile app that helps to schedule meetings in any time zone. The app automatically updates the timezone for each participant.
It integrates with Google Calendar. Time Buddy also works as an easy-to-use world clock and a time zone converter.
It is very useful for sales reps that travel across time zones or attend online meetings with prospects/customers in other parts of the world.
Doodle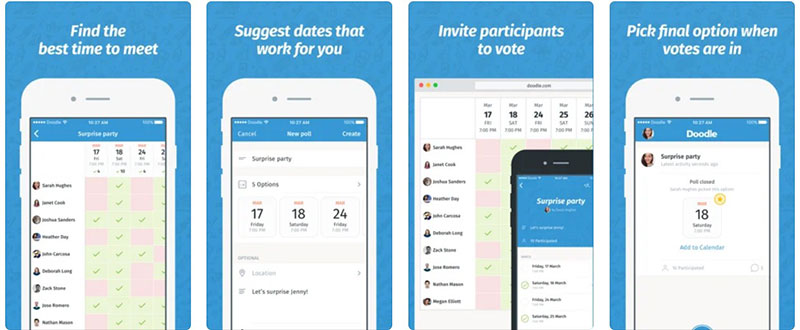 This mobile app allows sales teams to improve their productivity. They can fill the pipeline, schedule demos and meetings with prospects and clients, and cooperate with teammates.
It helps teams to find the best time to schedule a meeting. The app also integrates with any calendar and auto-adds created meetings to it.
Users can schedule multiple meetings with the same person in one go.
Apps for Travel and Route Planning
Google Maps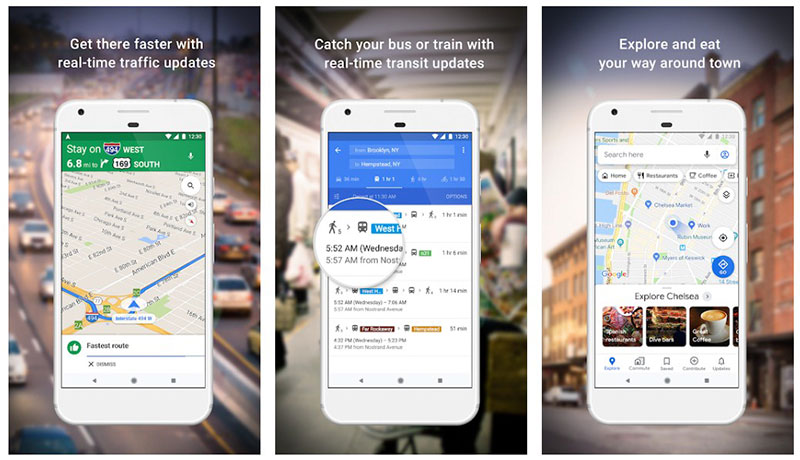 Users can navigate through traffic, avoid accidents and traffic jams, and find alternate routes. It allows users to vary the means of transportation, which increases flexibility.
Users of G Suite can quickly find the contact's address and open it on the map. They will also see appointment reminders right on the map.
Parkopedia Parking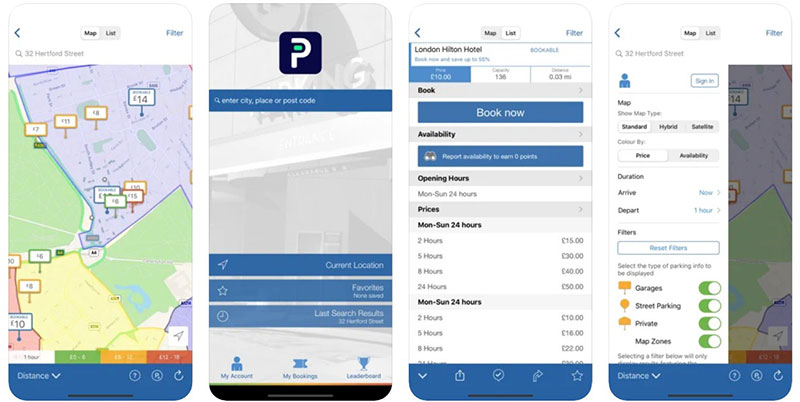 Having arrived at the destination, finding a parking spot in a busy city center may be a nightmare. Parkopedia enables users to quickly find the nearest and cheapest parking.
It shows the price, number of available spots, and the distance between parking lots.
TripIt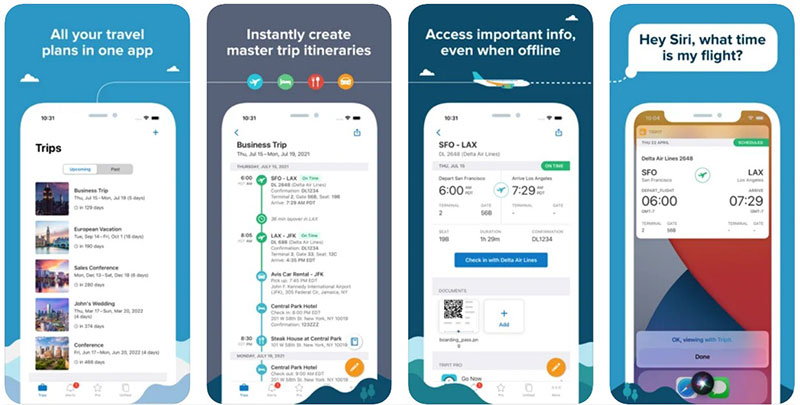 Triplt is a mobile travel planner app.
There is a lot to remember when going on a business trip. The terminal number, hotel check-in time, the meeting time and location.
Triplt makes it easy to keep track of all the details and helps users relax and focus on the purpose of their trip.
Expensify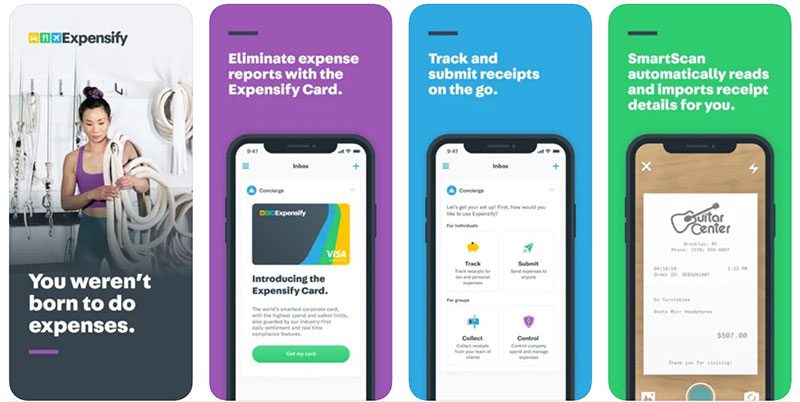 Have you ever lost a receipt or lost track of your travel expenses? Expensify allows users to keep track of all expenses and generate one-click reports.
Simply take a photo of a receipt and select which report it should be on.
Users can even analyze the company's policy and see which expenses to review and which can be approved automatically.
Uber/Lyft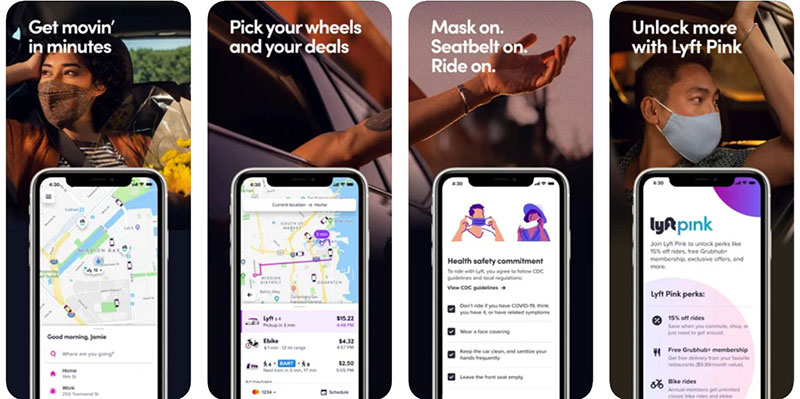 Using Uber or Lyft via a mobile app makes getting a taxi faster and more convenient. There's no need to stand and wait for an available cab to pass by.
With a couple of clicks, users can book the closest available driver to pick them up from their location.
Having enough cash on hand is also not an issue. Debit and credit card payments are welcome.
Apps for Tracking Sales
Profit Story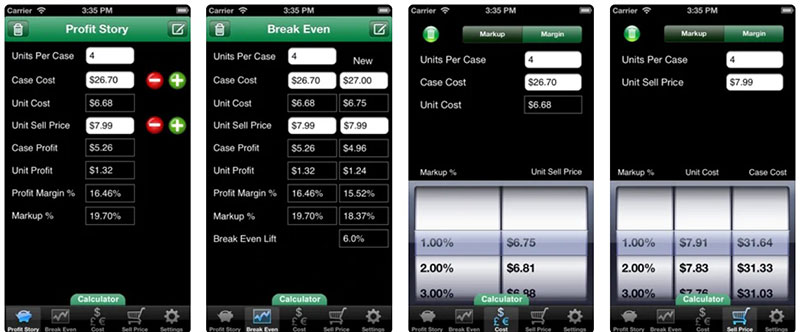 No need to wonder what the margin on each proposed deal is. This mobile app is a profit calculator.
It gives important profit-based metrics, such as profit margin, markups, suggested sell price, and suggested cost price. It also calculates the break-even percentage and the estimated volume lift needed.
Users can see how changing one variable affects other values.
Gong.io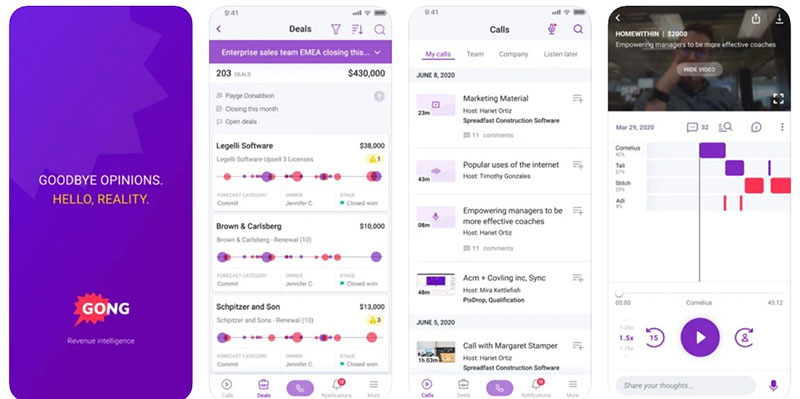 This app enables sales reps to evaluate pipeline health. It delivers insights based on customer interactions via phone, web conferencing, and email.
Sales reps can see cross-selling and up-selling opportunities and win more deals.
It is also a big timesaver thanks to additional features. These include note-taking, summing up follow-up items after each meeting, and keeping the CRM updated.
Ending thoughts on the best sales apps sales reps need to install on their phones
You may already use a desktop or web version of the sales apps presented above. Downloading the mobile versions makes them available to use any time, any place.
Mobile sales apps help users to be more productive when they are on the go.
They provide several automations and workflow optimizations. These help users to use their schedule to the fullest.
Consider the sales team's needs and examine the list of the best sales apps. Select an app that will shorten the sales cycle and minimize the manual work sales reps do every day.
If you enjoyed reading this article on best sales apps, you should check out this one about sales automation software.
We also wrote about a few related subjects like best CRM for Gmail, useful elevator pitch examples. sales pipeline stages, Cold Calling vs. Warm Calling and sample LinkedIn connection requests and templates