Have you ever marked an email as unread to deal with it later because you did not know how to respond to it? Email inboxes are full of emails that recipients find difficult to read and understand.
As a result, they are unsure how to respond to them.
Email is a pillar of business communication. Often, it is the main form of communication between a business and its employees and clients.
Now that more and more people are working remotely, it might be the only form of communication. So it is vital that a business email is not confusing but clear and respectful.
Writing a professional email is an art. It requires etiquette, style, proper format, and practice.
The good thing is that you do not need to learn how to write a formal email through mistakes. This article discusses essential tips for creating effective formal emails.
It delves into formal email format, structure, and best practices. With these tips, you will be able to write formal emails that get replies.
This article also contains real-life examples of formal emails. You can tweak these examples for your own personal use.
What are Formal Emails?
A formal email is different from a casual email. In general, casual emails are for friends and family.
The writer does not need to worry about the subject line or a formal greeting. There's no need to use professional language either.
However, a formal email goes out to work colleagues, from one business to another, or to a client. Or it is to make a formal request.
In these cases, it is important to use a professional tone. There is a specific structure and it requires the use of formal language.
The defined structure of a formal email includes a subject, a salutation, an opening sentence, a body of content, and, finally, a signature.
Of course, how you write the email will depend on the recipient of the email. So before making a draft, think about your relationship with the reader.
Are they a client or a person of authority? Are they a coworker?
Are they someone you know or someone you have never met before? Who the recipient is will determine the tone, formality, and content of the email.
Another important point is that a writer needs to understand all the features of email. For example, there is a To field, a Bcc, and a Cc field.
Writers should know what those fields do and how to make proper use of them.
Tip: Make sure to have a professional and appropriate email address. If you write formal emails from your personal email, use an email address with your name.
If you write formal emails on behalf of a company, use the corporate email. Avoid obscure, inappropriate, or unrelated email addresses.
How To Write A Formal Email
Writing a formal email takes time and consideration. Give careful thought to each element of the email.
A formal email should also contain complete sentences and proper grammar. Here are the best practices of the most important elements of formal emails:
Subject Lines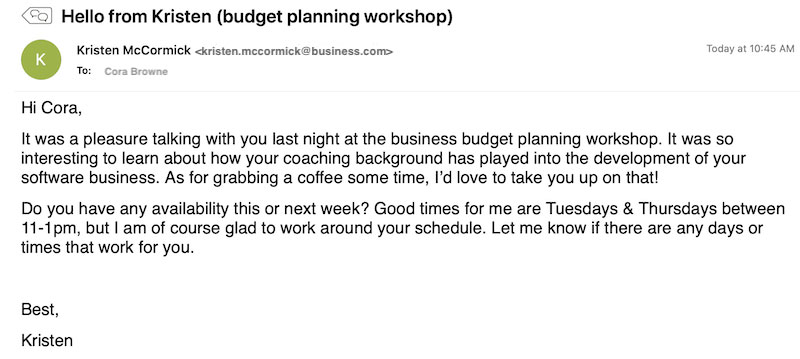 The subject line is a summary of the email. The subject is the first thing that a recipient will see, so it needs to be informative and interesting.
The words used there can make the difference between a read email and an unread one. Unfortunately, the subject line is where writers make the most mistakes.
The goal of the subject line is to get recipients to read the email without tricking them.
Putting something like "Hi" in the subject line does not offer any information. That kind of subject is fine for a casual email to a close friend, but it will not cut it in the business world.
The best subject line sums up the main message of the email.
Remember too that subject lines get cut off, especially on mobile devices. So they need to be short, interesting, and to the point.
Here are some good examples of subject lines:
Requesting a vacation for August 10-20
Question about the Tuesday meeting
Useful feedback on the New York conference
Need help with the new software
Marketing budget
Salutations
A formal email is like writing a letter, so use an appropriate salutation. Address the recipient by their preferred name.
Some people use their full name but others use their nickname. For example, someone named David might prefer Dave.
Look up the name they use on LinkedIn if you are unsure of their preferred name.
It is also proper to add the recipient's job title along with their name. If you do not know the person's name, make every effort to find out what it is.
If even after making an effort, you cannot find the person's name, you can use just their job title.
In the rare case that you do not know the person's name or title, use "To whom it may concern". However, only use that salutation as a last resort.
When sending a formal email to a group, address the entire group.
Examples:
A formal salutation for an individual with a job title: "Dear Professor Smith"
A formal salutation when you do not know the name: "Dear Director of Human Resources"
A formal salutation when addressing a group: "Dear students" or "Dear team"
Introductions
The introductory sentence lays the foundation for the rest of the content. It needs to introduce the writer, state the purpose of the email, and explain why it is important.
It's possible to achieve these objectives in three sentences or less.
Depending on the circumstances, explain how you got the recipient's information. It will put their mind to ease to know that this is not an attempt to scam them.
Convey the main point in the introductory paragraph. This will encourage the recipient to read on and reply to the email.
Remember to keep the introduction short. Be brief, clear, and to the point.
Also, make sure the opening paragraph and the subject line are related. If they do not match, it will confuse the reader and they'll assume that the email is clickbait.
On the other hand, if they do match, it will corroborate the validity of the email. Here is a good example of an introductory sentence that keeps the message clear:
My name is Jordan Smith. I am a professor of Statistics at this University. This message is for all current students regarding their grades.
The Body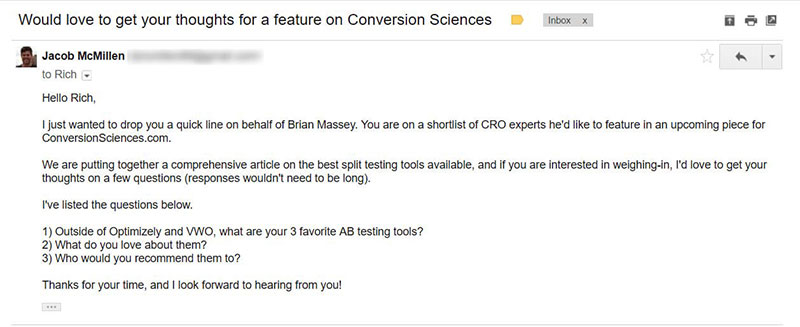 The body of the email contains the meat of the message. This is where the writer can get into details.
However, they should not ramble on and add unnecessary thoughts. Remember that email recipients have busy lives.
The body of the email needs to give enough detail so that the readers understand the information. But it should not give too much detail that the message becomes confusing and convoluted.
A good rule of thumb is to be brief and to the point. Be clear and concise so readers do not misunderstand important points.
Here are a few things to keep in mind while writing the body of a formal email:
Devote an email to one topic
If an email is about more than one topic, usually the response will only address one issue. This can be very frustrating.
So it's best to stick to one topic in each email. This ensures that the reader assimilates the information and responds to it.
Have a maximum of four paragraphs
Depending on the subject, a formal email should have four paragraphs or less. Each paragraph should contain a single main point.
Get to the point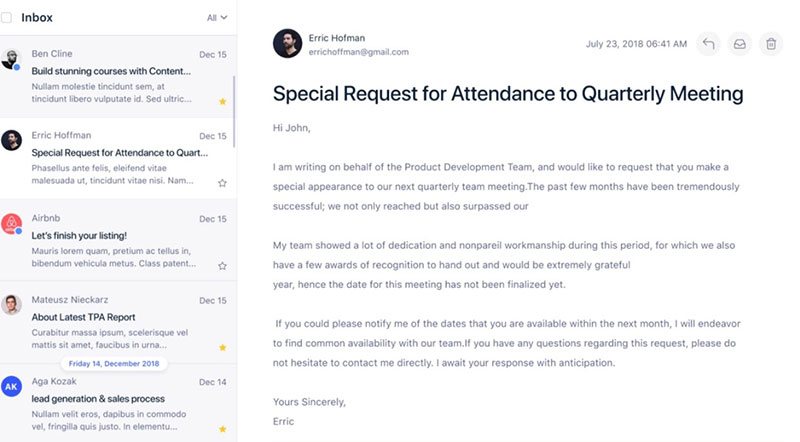 Recipients will likely skim through emails to prioritize what needs immediate attention. If your email rambles on for too long, they might completely dismiss it and never respond.
Do not waste time. Get to the point so that the recipient is more likely to respond.
Use headings
If sending a long email is unavoidable, then split up the content into headings.
This will identify the main points of the email. It will also allow readers to quickly find the information they need.
Show don't tell
Sometimes it is more difficult to explain a topic than it is to show it. If you cannot keep an explanation short, then think about how you can display it.
For example, is it possible to use a screenshot, a video, or attach a link that explains the topic better?
Use words that convey positive emotion
One disadvantage to email is that the reader cannot sense the tone of the writer. So the writer needs to convey their tone with adjectives.
When writing formal emails it is best to keep the email positive. Use words like glad, happy, ecstatic, intriguing, excited, etc.
Use questions to prompt a response
Insert a question at the end of the email to prompt a response from the reader. Make it a question that will provide the information you are looking for.
For example, ask "How would you like me to proceed?"
Put your request or question in bold
To ensure the reader does not miss the point of the email, and to encourage a response from them, put your request or question in a separate line and in bold text.
Tip: Do not use emojis, contractions, or abbreviations like BTW and ASAP.
Formal Email Closing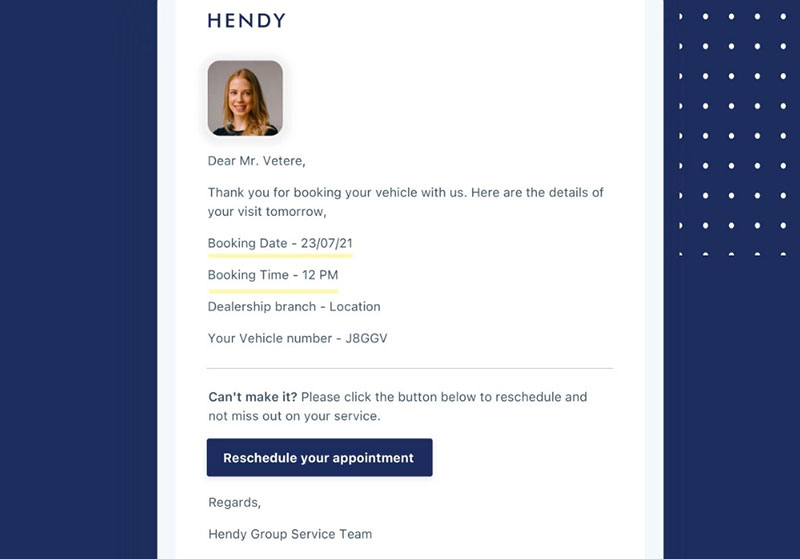 Now comes the time to close the formal email with brief and respectful words. The words used will depend on the reason for the email and the relationship with the recipient.
Closing a formal email is similar to closing a handwritten letter. The closing words tell a recipient what comes next.
Give the reader clear instructions on what you want them to do. For example, ask them to respond by a certain day and time.
Use the closing paragraph to thank the recipient, invite them to reach out, reiterate a question, or wish success. Wrap up the discussion and end the email on a friendly note.
There are many professional closing options like:
Sincerely
Best regards
Thank you
More casual closing options include:
Email Signature
Email providers include the option to automatically attach an email signature to every email. This email signature can be like an electronic business card.
The email signature is the place to add contact information and context for the reader. A simple, professional signature will create a good impression.
Some may choose to insert images and logos in their email signature. But beware of the size and how they will appear on mobile devices.
Here is a good example of a professional email signature:
Sincerely,
Jordan Smith
Professor of Statistics, XYZ College
[Email address]
[Phone number]
Email Checklist and Additional Tips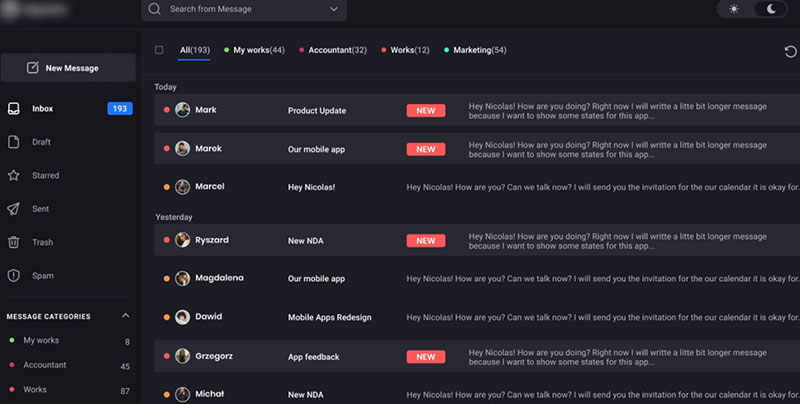 Before hitting the send button, review the email. Double-check that it makes sense and looks good.
Here are a few things to check before sending it:
Double-check the recipient's email address to ensure you write to the right person
Make sure that their name is spelled correctly
Check the spelling and grammar of the whole email
Analyze if the main point is clear
Add any attachments, links, or documents
Choose a professional font. Stick to Arial or Times New Roman
Avoid using all caps
Do not play with the colors of the font. Use black
Tip: When adding attachments to an email, make sure they are named so that the reader can identify them. Or clarify the name of the file in the email.
Professional Email Examples
Here are some examples of how to write a formal email. These example emails include all of the elements of a formal email.
Each of these examples refers to a specific scenario. But you can use them to understand the concept of a formal email better.
You can also tweak them to fit your needs.
Announcement Email
Subject: Meet the new Customer Support Representative

Dear team,

I am pleased to introduce you to [Name] who is starting today as a Customer Support Representative. She will be providing assistance and technical support to our users, making sure they enjoy the best experience with our products.

Feel free to greet [Name] in person and congratulate her on the new role!

Best regards,


[Your name]

[Job title]
Apology Email for a Client
Subject: Our sincere apologies

Dear [client's name],

Please accept my deepest apologies on behalf of [company or business name] for the poor experience you had at our restaurant.

I want to thank you for bringing these issues to my attention. Please know that we are making every effort to correct our mistakes so events like these don't happen in the future.

As a token of our apology, please accept a gift card in the amount of $50.00 for use at our restaurant in the future.

I hope to greet you again soon at [company or business name].

Yours sincerely,
[Your name and job title]
[contact information]

Reply to a Request for Information about a Product or Service
Subject: Response to inquiry

Dear [person's name],

Thank you for your inquiry about [company name]. I have attached to this email some literature on our products, including those in the alpha development stage. I have also included a sample username and password for you to try out the products that you like the best.

Please, do not hesitate to call me if you have further questions. I will be glad to have you as a customer.

Sincerely,

[name and job title]
[contact information]

Approving an Application
Subject: Application approved

Dear [Mr. or Mrs.],

Welcome! Your application to [company name] has been approved. We are proud to have you as one of our editors.

As I said before, our vision at [company name] is to be the one-stop site where business owners, marketers, and sales personnel can learn how to use technology profitably for their businesses. Our posts are well-researched, practical, and rich. As an up-and-coming blog, we always strive to provide the highest quality posts to our readers. If there is a better post about any of our areas of interest on the Internet, we are not doing our job well.

Your assignment is not only to edit the spelling and grammar of the articles but also to ensure they are of high quality and pleasant to read. I have attached the editing guidelines to this email. Please familiarise yourself with them.

Find your login details below:

Username: Don Siva
Password: *******

The entire team looks forward to a very professional working relationship with you. If you have any questions do not hesitate to ask. We are ready to support you in any way possible to serve our audience better.

Yours truly,

[name and job title]
[contact information]

Ending thoughts on how to write a formal email
A formal email is quite different from an informal one. It requires proper etiquette, structure, and tone.
Some view formal emails as overrated as the world moves to text messaging and tweets. But do not underestimate the power of a formal email.
Taking the time to write in a respectful way will always create a great impression. Here is a brief summary of how to write a formal email:
Write a short and informative subject line
Introduce the writer and state the purpose of the email in a few sentences
Add concise and understandable details in the body
Close the email with clear instructions or a question to prompt a response
Sign the email with contact details
Now you are ready to write a formal email and conquer the business world.
If you enjoyed reading this article on how to write a formal email, you should check out this one with email marketing best practices.
We also wrote about a few related subjects like sales automation software, sales funnel examples, digital marketing campaigns, email marketing courses, email marketing automation, the best sales apps, best CRM for Gmail, useful elevator pitch examples, sales pipeline stages, email tracking software and sales automation tools.