Ever wondered what happens to emails after they hit the recipient's inbox? It would be great to know if prospects open emails and which links they follow.
Finding out what content appeals to them and what they ignore would also prove useful. Would you like to have all this info and improve the quality of emails?
That's where email tracking software comes into play.
Email tracking tools do more than confirm that an email has been opened. Apart from open rates and link tracking, the best tools come with CRM and a heap of integrations.
This allows teams to get that important data without the need to use different apps. So, what is the best email tracking software for you?
This is a list of 25 email tracking tools and multi-functional software with email tracking capabilities. This overview will help readers select the one that will fill their specific needs best. 
Great Email Tracking Software For You
Mailtrack for Gmail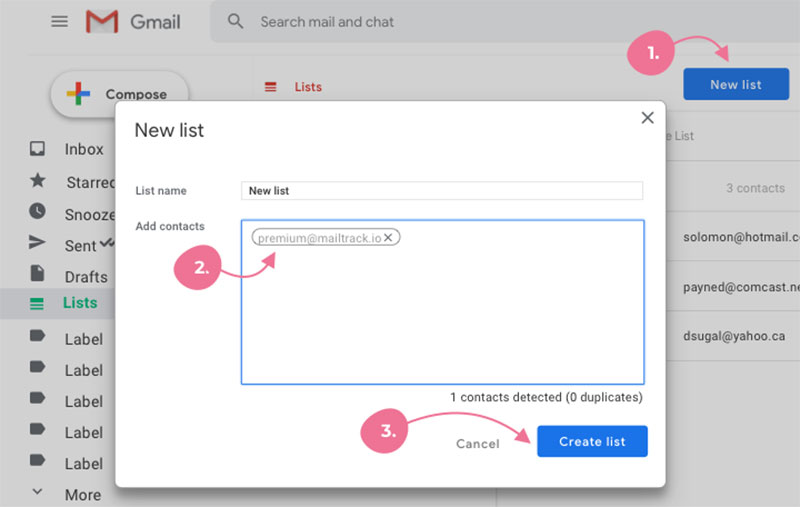 This free version of Mailtrack for Gmail uses checkmarks to show the status of an email. A single checkmark means the email has been sent and a double checkmark that it has been opened.
The premium version has useful daily statistics about emails sent the previous day. The report includes the number of emails sent, the percentage of emails read, and the percentage of links opened by the recipients.
Mailtrack works with Gmail using a Google Chrome extension on PCs. There is an add-on available for Android devices.
Right Inbox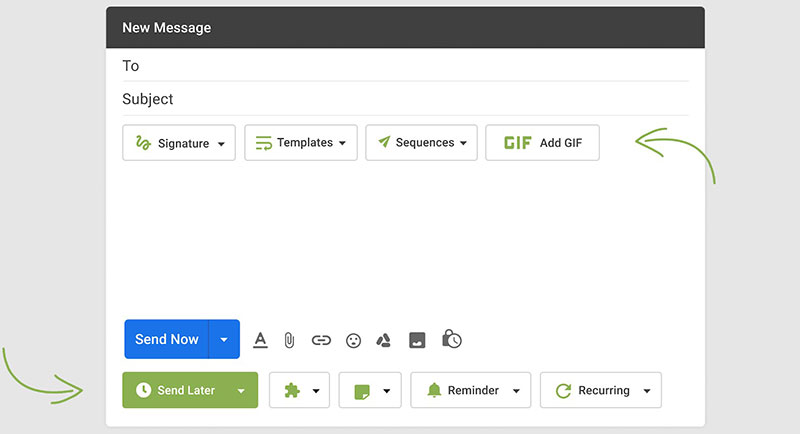 This software works in the Gmail inbox via a Google Chrome extension. It offers an email tracking feature.
It tells users if an email has been read, when, and how many times. On top of that, it also provides email reminders, sequences, and scheduling functionalities.
Features include Gmail and CRM integration, and email sequence triggering based on opens and clicks.
LeadBoxer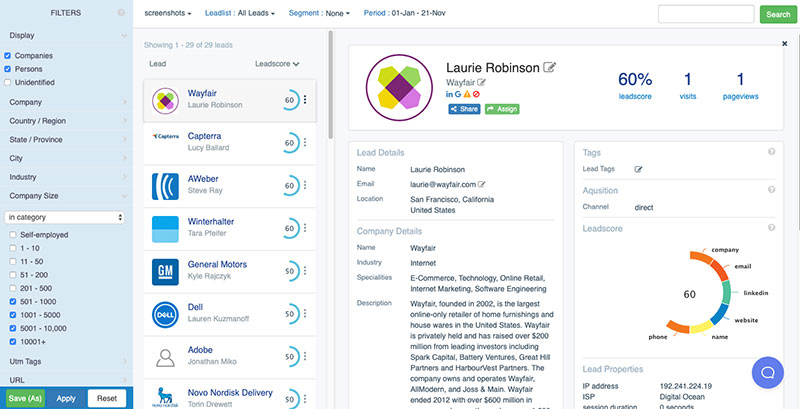 This is a lead generation and sales enablement software. It also allows users to keep tabs on their emails and newsletters.
The Chrome extension integrates with Gmail. It provides tracking capabilities for email opens, link clicks, and more.
It also qualifies and scores email recipients according to their behavior. This provides more in-depth info for future campaigns.
The software profiles prospects based on different criteria. This includes location, company size, industry, email campaigns, and more.
LeadBoxer also provides users with lead scores. It is most suitable for sales reps as it tells them which leads are most promising.
This allows them to focus on nurturing these leads and getting better results.
SalesLoft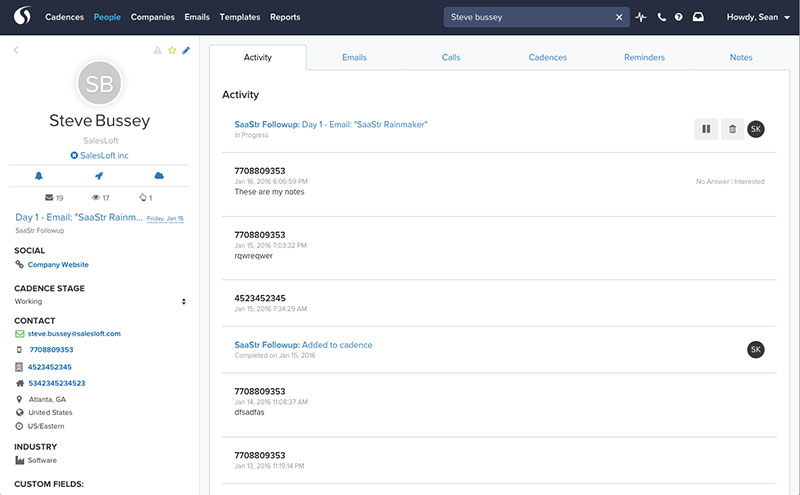 Users can create a cadence to track email and phone interactions with leads and customers. It allows personalization and tracks emails, phone, social media, and web chat interactions.
It integrates with Salesforce CRM. Users can send individual and mass emails directly from their CRM.
It also integrates with Owler and CrystalKnows. With this useful information, users can create personalized emails and boost response rates.
Another useful feature is A/B testing for all steps of the cadence, including phone calls.
Snov.io
This email tracking tool is free and comes as a Chrome extension. It allows users to switch between different Gmail accounts.
It is an email finder and validator but it also has email tracking capabilities. So users can find email addresses of prospects, confirm their validity, send emails and track open rates - all from a single tool.
The browser extension that tracks emails is free. It also sends real-time push notifications when recipients open messages and/or links.
LiveHive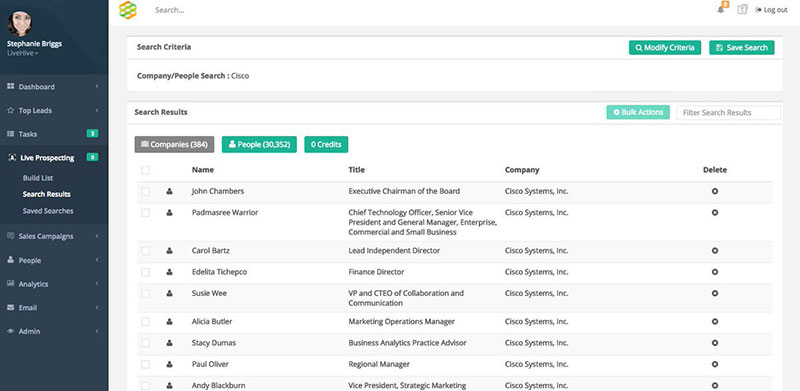 This is another very useful tool for many businesses. It is full of advanced features that assist in many ways.
The email tracker provides info like open rates and also gives insightful statistics. These show if and where emails are forwarded, how many times links are opened, and the number of downloaded attachments.
These insights can help to improve efficiency. Custom email templates provided by LiveHive can also help to boost productivity.
It doesn't offer any free plans but users can try any premium plan with all its features for free for 14 days.
Freshworks CRM (formerly Freshsales)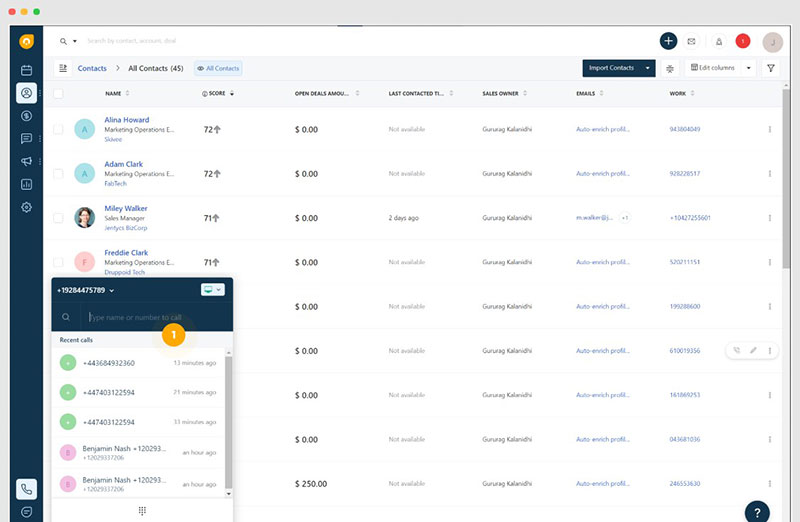 This CRM platform shows the specific actions a lead has taken and creates a lead score based on this. One of the features it offers is email tracking.
It also prioritizes leads, providing data that sales reps can use as talking points in follow-up calls, emails, or meetings. It is a robust but compact CRM with a built-in email tracking tool.
It integrates with a users' preferred email client and syncs the emails in the CRM and inbox.
Salesmate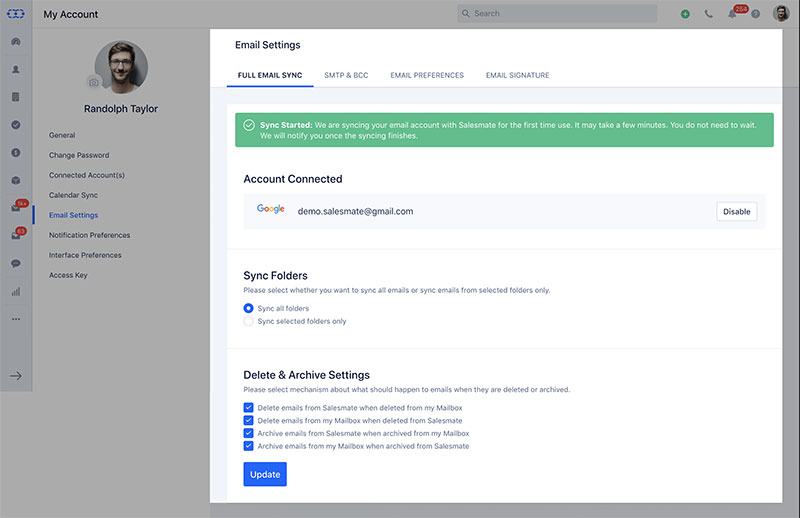 This is a comprehensive piece of software that provides email tracking capabilities. It keeps information in one place, helping users stay organized and improve efficiency.
This tool is very useful for sales teams. It tracks all emails against contacts and companies.
All team members then have a transparent view of this information. This gives teams clarity and makes discussing different leads and conversions easier.
Mailbutler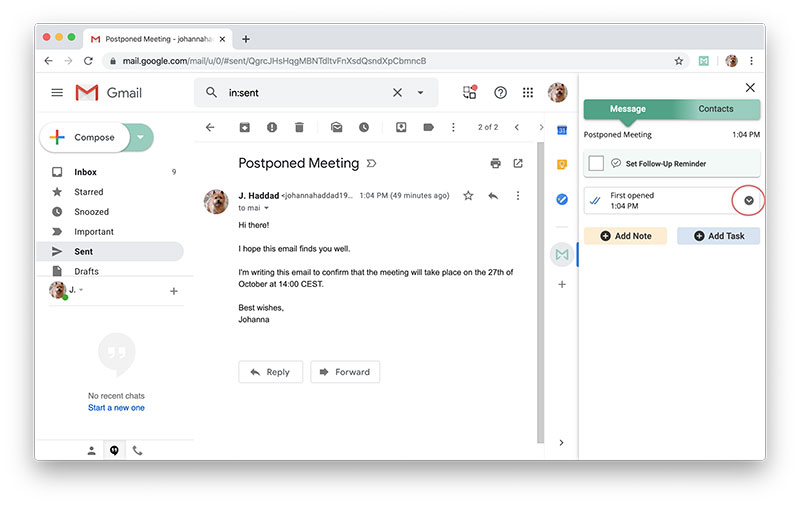 This tool is like a personal assistant that keeps track of email marketing campaigns. It sends a real-time notification when the recipient opens the email.
It also provides advanced email, link, and file tracking. This tells users how many times the recipient opened the link and when.
This is a very valuable piece of insight. It enables users to see which leads to prioritize based on their engagement.
It integrates with Apple Mail and Gmail, Dropbox, Flickr, Google+, OneNote, and others.
MixMax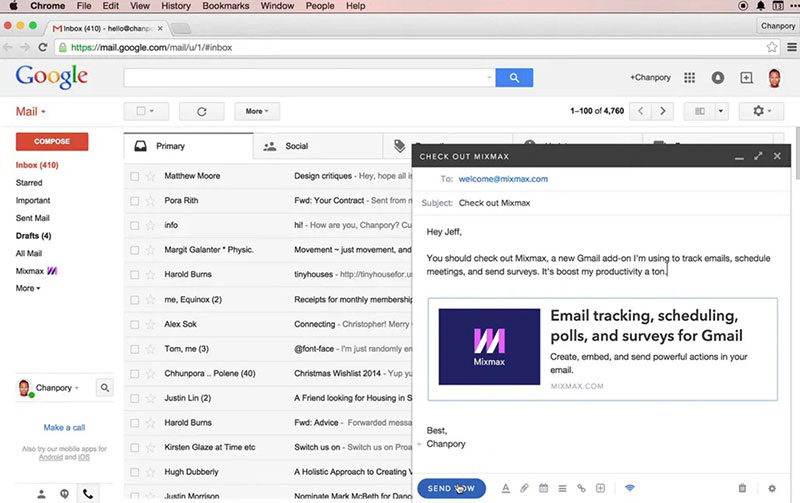 This is a robust email tracking software that shows if and when recipients read the emails.
The tool also shows when and how many times the mail has been opened. As regards group emails, users can see exactly who opened the message.
Another feature is desktop notification pop-ups.
Specify which emails to track and receive notifications about. Or turn on automatic tracking for all new emails.
SalesHandy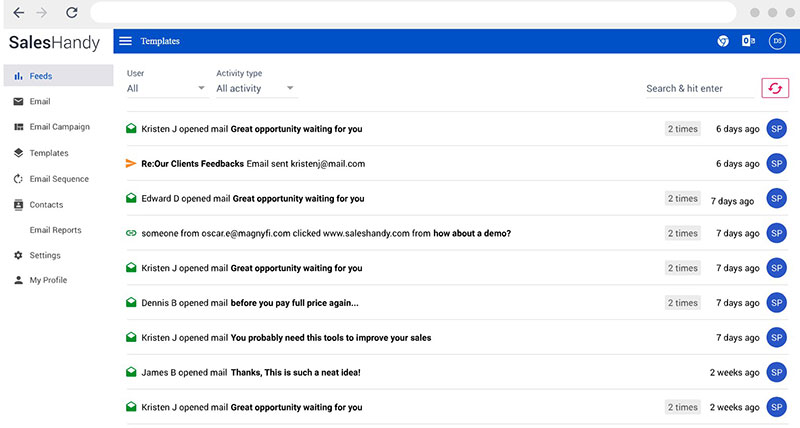 This is a unique email tracking software that provides free, unlimited email tracking and scheduling for Gmail. It also offers an Outlook email tracking add-on for Windows.
It doesn't have a branded email signature.
It helps to boost productivity by giving useful insights. It provides real-time desktop notification for email opens and link clicks.
Users can create and save email templates. There is also an option to export email analytics reports for all tracked emails in a CSV file.
It is possible to use it with any email client via SMTP configuration.
AutoKlose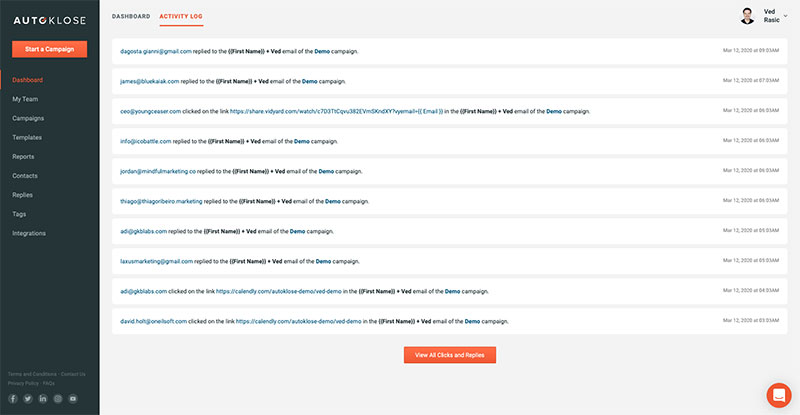 This straightforward email tracking software integrates with Gmail and Outlook.
It offers real-time tracking of email opens, clicks, and replies. This allows users to understand a prospects' behavior and habits.
Such information improves the quality of follow-up emails after the outreach email campaigns. Email sequencing automates sending follow-up emails, helping users stay focused and save time.
Yesware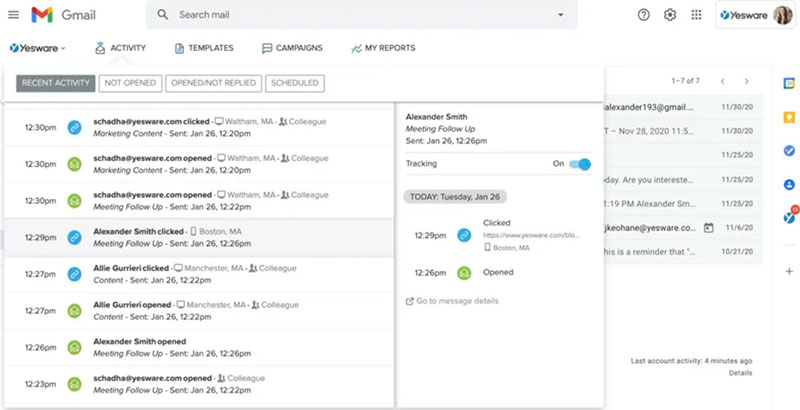 Users can find the best course of action via prescriptive sales analytics. With Yesware, users can predict the behavior of prospects and customers.
This helps to target warm leads the right way and at the right time. Contextual data reports reveal what the best sales reps do and allow the team to learn from them.
A very useful feature is the "Activity vs Engagement" report. This shows a prospect's specific engagement with the content.
It allows users to differentiate between shallow interest and meaningful engagement. Individual sales team member reports show the areas where each sales rep can improve.
The tool provides a native connection with Salesforce. This enables users to create lists of customers for email campaigns.
Bananatag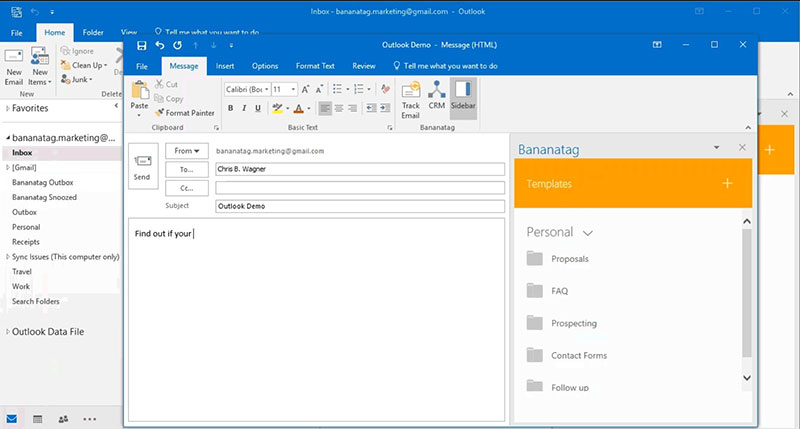 This email tracking software says when, where, and how the recipient opened the email. It gives the time and location as well as the device used to open the message.
Users get real-time notifications when the recipient interacts with the message. It also gives useful analytics on email opens, link clicks, trends, and prospect's behavior.
Bananatag provides seamless integration with Gmail, Outlook, Yahoo, and other platforms.
Create internal newsletters in Outlook without the need to write a code. This is easy to do by using the block-based email designer.
The free plan allows users to track 5 emails per day. Premium plans offer more, depending on the plan.
Rebump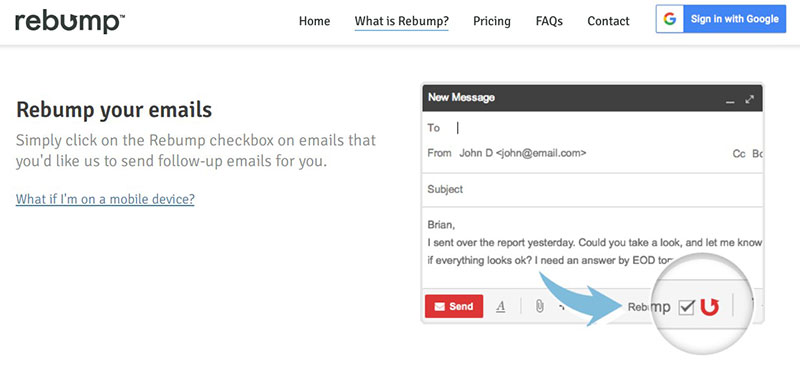 With Rebump, users can send automated follow-up emails if a response is not received within a set number of days. This will help to boost response rates.
It offers one paid plan to which users must upgrade after a 30-day free trial.
Gmelius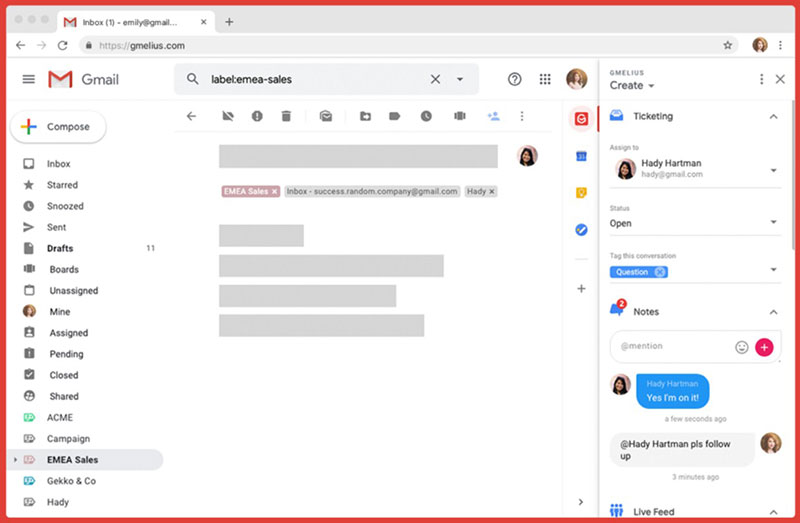 This email tracking tool works as a browser extension and tracks email interactions. This includes email opens and link clicks.
Other features include email scheduling, calendar scheduling, to-do lists, and email templates. It is most useful for sales teams that want to collaborate without leaving their inboxes.
The developers created Gmelius for Gmail. However, it's possible to use it in different browsers, including Chrome, Opera, and Safari.
Pointofmail

This email tracking software offers users the usual basic features. For instance, read receipts, sent email modification and deletion, and email attachment tracking.
The email tracker shows who opened the message, the device used, and how long they read it. If the recipient forwards the message this is also indicated.
Attachment and click-tracking shows when recipients click a link, if they forward it, and the device used.
Cirrus Insight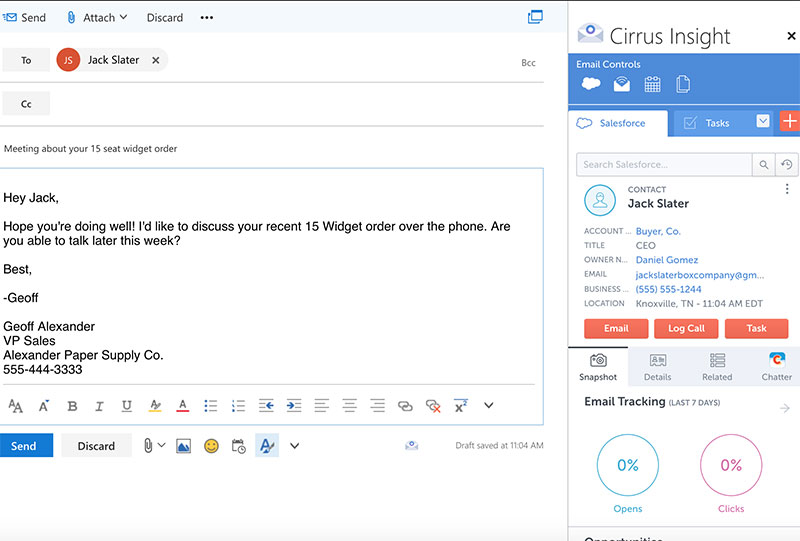 Cirrus Insight is one of the most popular email tracking tools out there.
It allows users to track emails and lets them know when a recipient opens an email. It also indicates how many times it's opened, and at what location.
It helps to track the recipient's engagement with the message and attachments. It shows who has opened the document, which pages they looked at, and to whom they forwarded the message.
This helps users to see when a lead is warm and allows them to take the appropriate action. The tool also tracks email responses.
This allows users to find out which prospects need a follow-up. It also reveals which templates are most effective and which do not work well.
Streak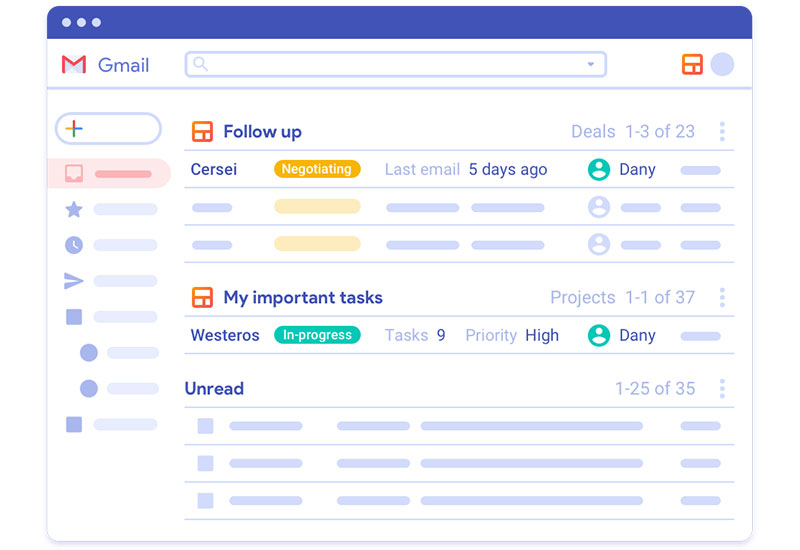 This is not a usual browser extension. Its relationship management capabilities are equal to a CRM, all within Gmail.
It enables users to track leads as they move through the pipeline. They can also engage with them using automatic sharing.
ContactMonkey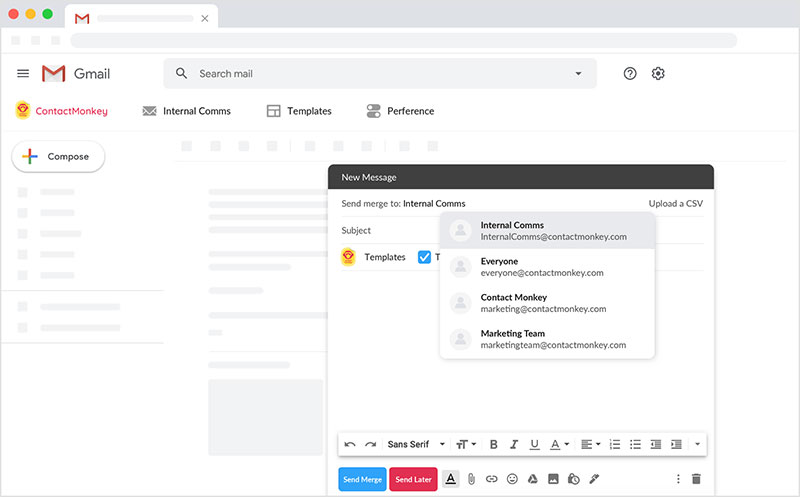 This email tracking software shows what happens to email after it leaves the outbox. All that's needed is to download and install the ContactMonkey Outlook Plugin.
It is very straightforward, has a great user interface, and fits well into Outlook mail. It also gives insightful reports including who opened the message, where, and on what device.
GetNotify

This is a free email tracking service that is a little different than the usual tools. It does not require the installation of any software.
Users sign up for GetNotify and then add ".getnotify.com" to the end of the email address. It will not be visible to the recipient.
The service sends notifications when the recipient opens the message and clicks on a link. It gives the IP address, browser, and operating system used, as well as the recipient's location.
It will also tell users how long the recipient took to read the email.
This free service is useful for smaller businesses or startups. They may not have a lot of money to spend on email marketing but need a way to track their emails.
Clearslide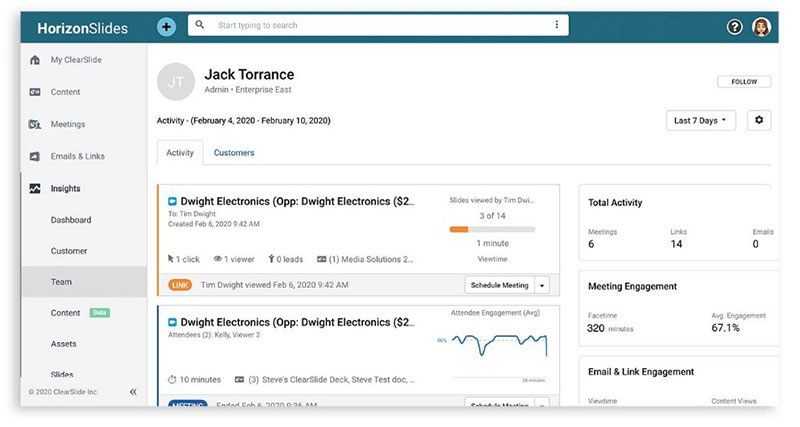 This piece of software provides easy integration with any email client. Users can use their favorite templates to create a sales library.
It provides real-time tracking of emails and customer engagement across all content. This includes your blog or website.
Auto-upload content into email templates and scale email blasts with customer segments from the CRM. There's no need to duplicate any data as all email work is automatically logged in the CRM.
Boomerang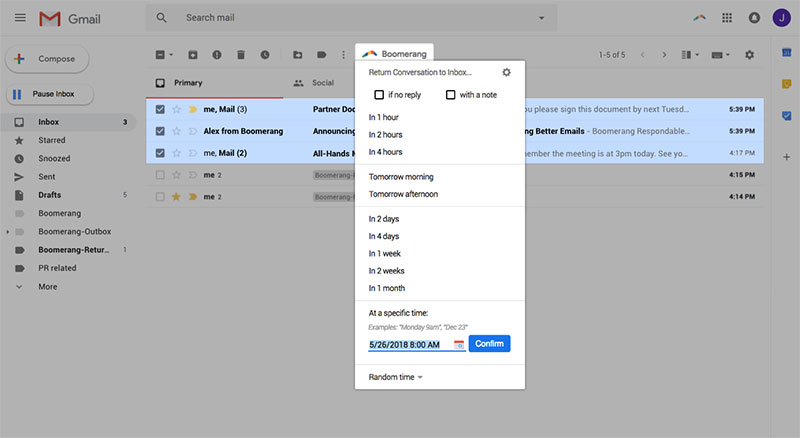 This is an email and link tracking software that provides all the needed information. It shows how many times recipients open the message, and when this occurred for the first and last time.
It also shows which links they clicked and how many times, as well as when this occurred for the first and last time.
Other cool features include Inbox pause. This stops incoming emails for a set amount of time.
It also offers email scheduling and reminders for follow-ups. If that's not enough, it also offers an AI assistant to help compose better emails.
FollowUp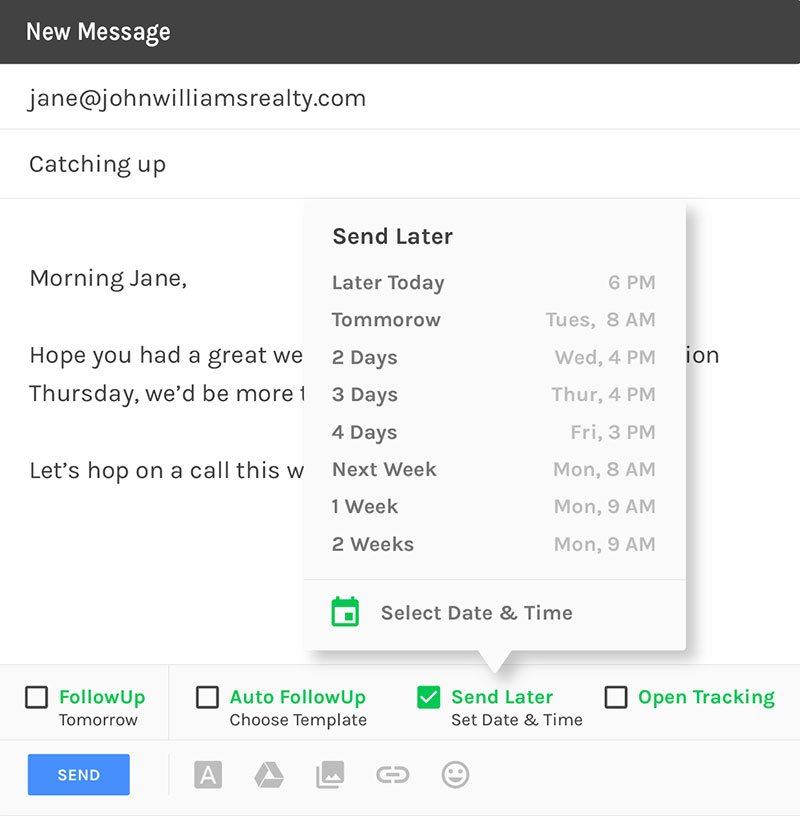 This email tracking software sends a notification when recipients read the email.
Users can set up follow-up reminders and an automatic reminder to the recipient if they haven't responded after reading the message a few times. The message sent reads: "We are waiting for your reply."
Another useful feature is email scheduling. This makes it possible to compose an email in advance and set a specific time to send it.
Mailtracker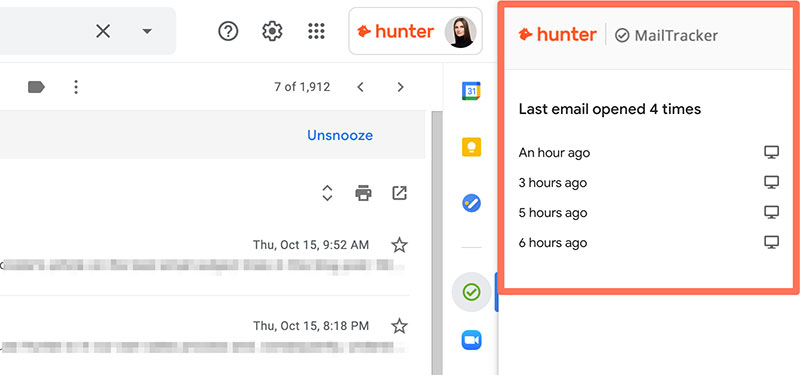 This is a single-focus email tracking tool. It shows when an email is opened, as well as how many times and where.
It is one of the products in Hunter.io's portfolio (Hunter.io is a very popular email finder).
It works with Gmail only and integrates via a Chrome extension. It is not supported by any other browsers.
This app is suitable for those who have a small budget or do not want to spend lots of money on email tracking.
Ending thoughts on best email tracking software
The above list of 25 best email tracking pieces of software shows what advantages they offer.
Most of these email tracking tools work with Gmail. SalesHandy, Outreach, HubSpot Sales, and some others also work with Outlook.
Even though it sounds like a difficult job, tracking an email is pretty simple.
An email tracker adds a tiny (1x1 pixel) image to the body of the email. The software then monitors that particular pixel.
The goal of tracking emails is to get a full, clear view of what happens with the email after hitting the send button. It boosts the efficiency and effectiveness of the follow-up processes.
The next step is to select an email tracking tool that fits your needs best and begin reaping the benefits.
If you enjoyed reading this article on email tracking software, you should check out this one about lead generation software and tools.
We also wrote about a few related subjects like sales automation software, useful elevator pitch examples, sales pipeline stages, best CRM for Gmail and sample LinkedIn connection requests and templates