Sales automation makes it possible for small businesses to compete with the big fish in the global market. It gives you a direct view of the customer journey and streamlines follow-up processes from the beginning to the end.
Sales automation tools have been using big data to save thousands of hours of manual data entry and accelerate sales by billions of dollars. The importance of utilizing such tools is most significant in B2B. It is now becoming a necessity.
Not everyone realizes how many processes can be automated. Using appropriate software, you can:
Automate email campaigns
Automate sales prospecting
Automate lead management
Eliminate manual data entry into CRM
Enrich lead database
Manage deals and contracts
Manage marketing collateral
Schedule phone calls, meetings, mailouts, and more
Streamline data processing
Granted, there is a host of sales automation tools out there. We have created a list of over 30 apps that you can choose from to improve your lead generation and conversion and boost your revenue.
Great sales automation tools to test
Zapier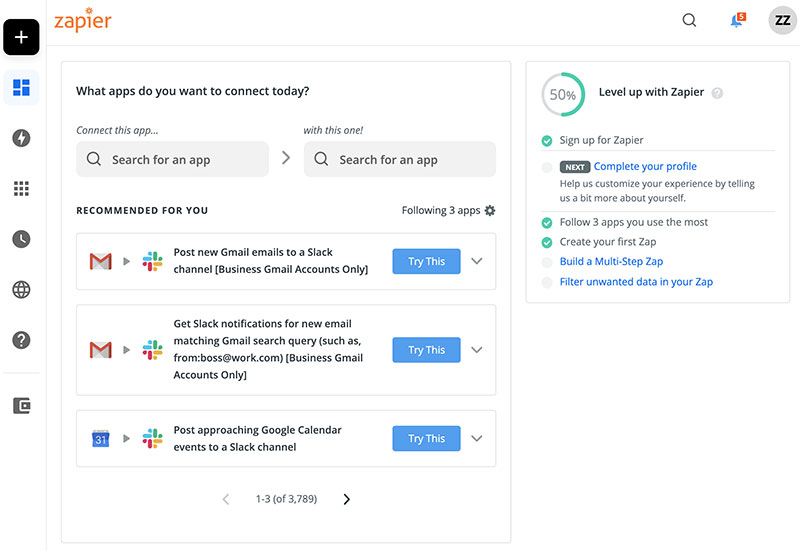 Zapier is quite a basic sales automation tool which makes it great for beginners. It will assist you as you take your first steps on your automation journey and help you develop a problem-solving mindset that is the basis of task automation.
The way zaps work is really straightforward. You need a trigger and one or several following actions. A trigger is any event that starts off your workflow and requires a subsequent action. Zaps enable you to focus on other tasks while they automate processes in the background.
Agile CRM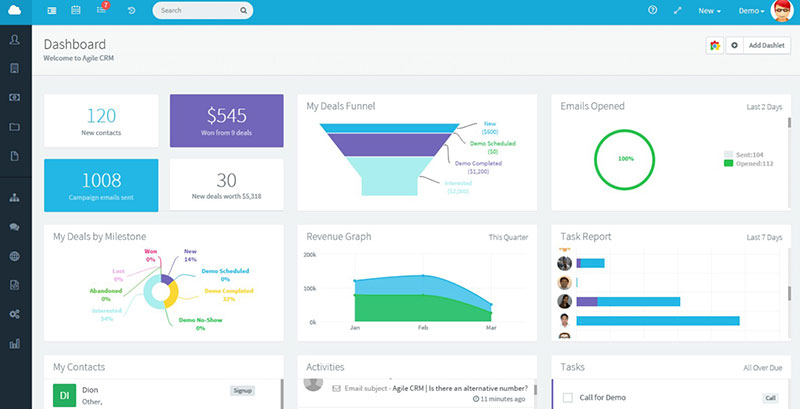 This is currently one of the top sales automation tools available. They are amongst the pioneers of using AI in CRMs and developed software that provides workflow automation for all sales channels. The AI keeps collecting data and fine-tuning the way it works to deliver more accurate results.
It boosts your prospecting processes by constantly searching for and collecting contact information about leads from their web and social media activity, and other sources. It provides automatic lead scoring and creates reports and insightful visualizations.
Reply.io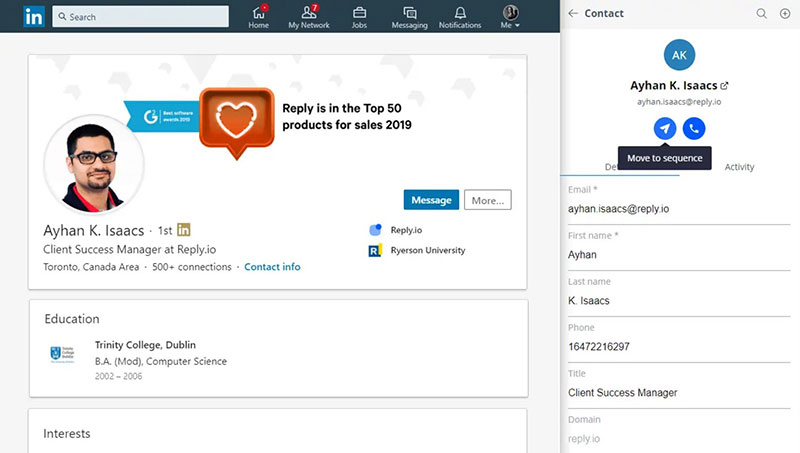 This sales engagement platform enables sales teams to automate their inbound and outbound outreach while not forsaking its attractiveness.
It assists sales reps with communication with leads and prospects through all channels, like email, phone class, LinkedIn, text, WhatsApp, and more. It automates manual tasks related to communication. It also helps to keep the conversations with potential clients personalized and engaging while maintaining the sales strategy.
EngageBay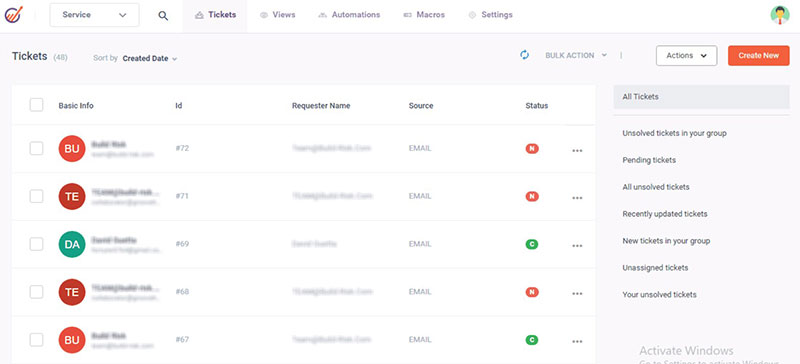 EngageBay is a cloud-based platform that comes with a module called "Sales Bay." This sales-focused module provides a comprehensive view of all communication a sales rep has had with a lead and allows you to track any current and future interactions.
This tool allows you to create a multi-deal pipeline or use different parameters, like categories, geographies, or products, to set up individual pipelines. You can use it to automate lead nurturing campaigns and keep track of each lead and they go through the sales funnel.
The "All-in-One Suite" offers marketing, sales automation, and service features in one package.
Prospect.io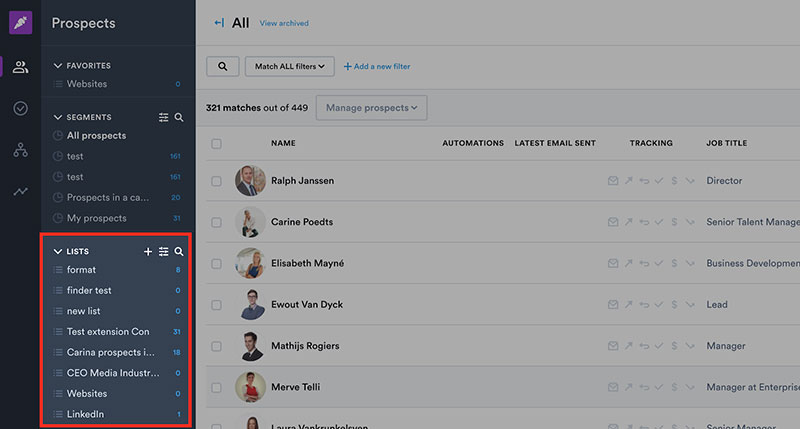 This is a comprehensive sales automation tool created particularly with sales teams in mind. It enables sales reps to customize emails to each recipient with personalization variables.
You can either add prospects manually or use enrollment automation. If you opt for the latter, a prospect will be counted when they trigger a specific event or meet preset lifter criteria.
The software also allows you to schedule emails to be sent at set times and set up triggers to stop email campaigns (e.g., when a prospect replies, takes a specific action, or converts).
ActiveCampaign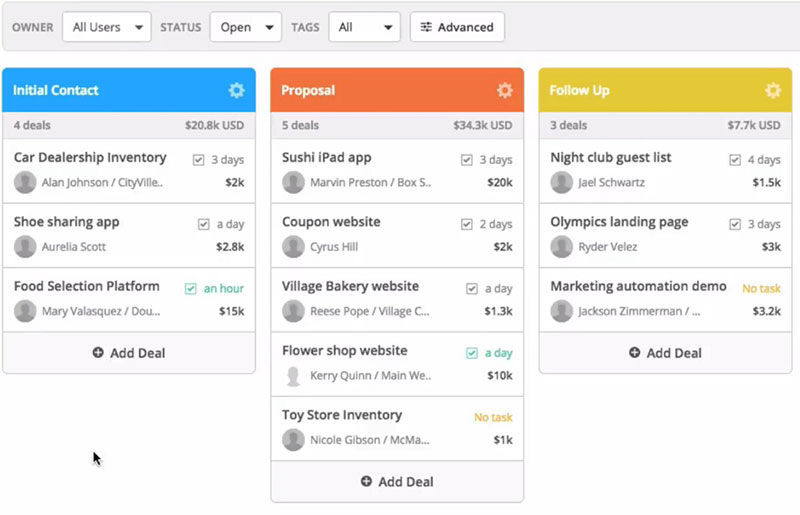 ActiveCampaign is a complete CRM packed with powerful sales automation features that will give your marketing efforts a significant boost.
Its Saas platform makes it possible to build an optimized customer experience. It's done by automating a wide range of background processes and communicating with prospects and customers via multiple channels using personalized, intelligence-driven messages.
Snov.io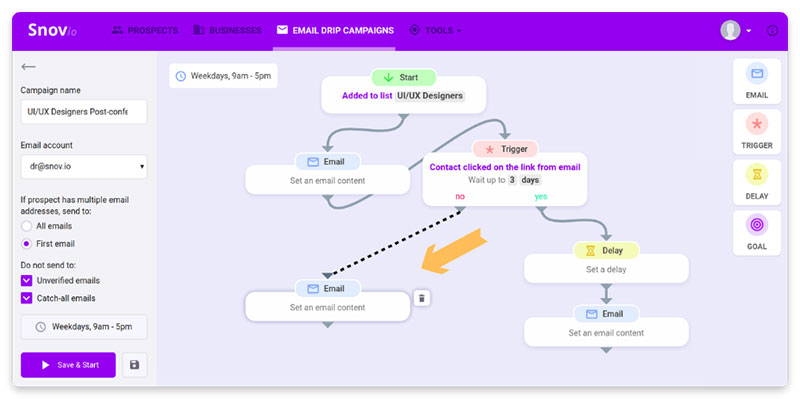 Snov.io is an excellent integrated outbound research and cold outreach toolkit used by sales teams, marketing departments, startups, and others.
This all-in-one platform enables you to compile and manage lists of prospects much quicker. It then assists you at every stage of the sales process. It automates lead generating, fills your sales funnel with targeted leads, automates lead nurturing, boosts engagement, and speeds up conversions.
The research features let you see what makes you better than the competition, where you could improve, and what new ways to convert leads into customers you could try.
Clari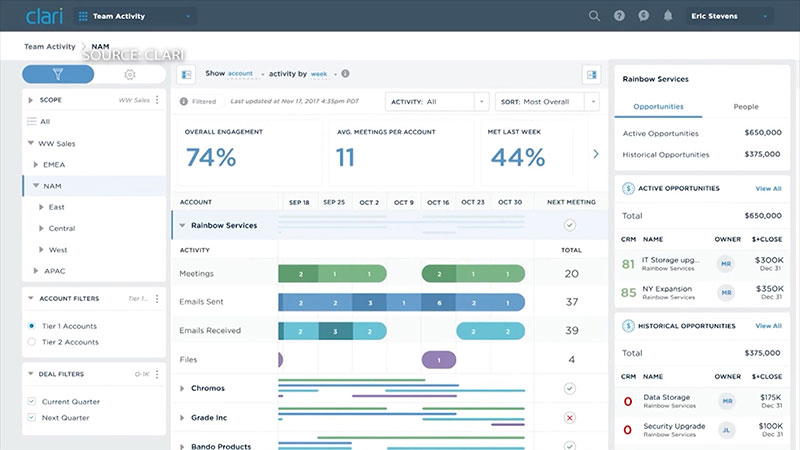 Sales forecasting and going through an infinite number of spreadsheets is a tedious and time-consuming job that usually involves making mistakes in the process.
Clari streamlines the sales forecasting process. It reduces the time needed and increases the accuracy of the reports. The predictive forecasting tool is customizable so you can adapt it to your specific requirements.
The deal inventory feature connects your sales team's deals directly to forecasted figures in a single interface.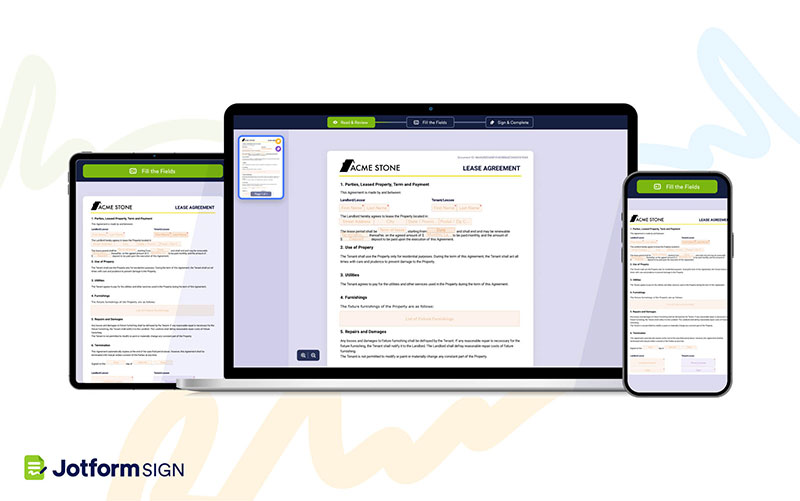 By using Jotform Sign, you can create secure documents and automate your e-signing process. Collaborate with your team by handing off your documents for them to sign. Use templates tailored towards just what you need to help you get started on your documents.
With Jotform Sign Inbox, you can send reminder emails, get notifications on your signers, and download documents from any device. Use their handy app integrations to combine your workflow with the tools you use every day.
The free plan of Jotform Sign includes a 10 signed document limit. The paid plans start at $34 per month and gives an increased signed document, forms, cloud storage, and submission limit.
HelloSign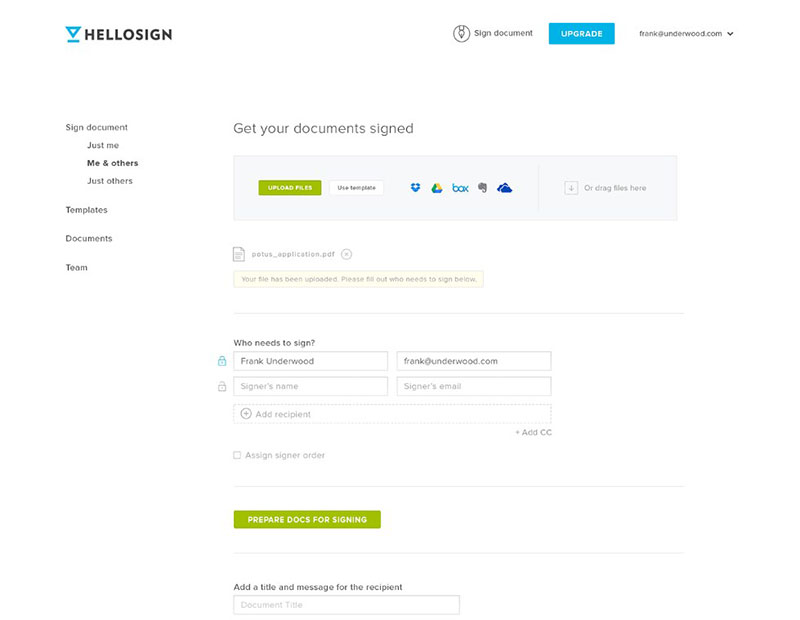 Getting legally binding e-signatures for your deals and contracts is now easy with HelloSign. The app allows you to upload documents using drag-and-drop functionality and then paste your signature on it. You can also get documents from other sources and third-party apps, including Box.com, Dropbox, Evernote, or Google Drive.
There is a free plan available that is just perfect for freelancers and independent professionals.
Keap (Formerly Infusionsoft)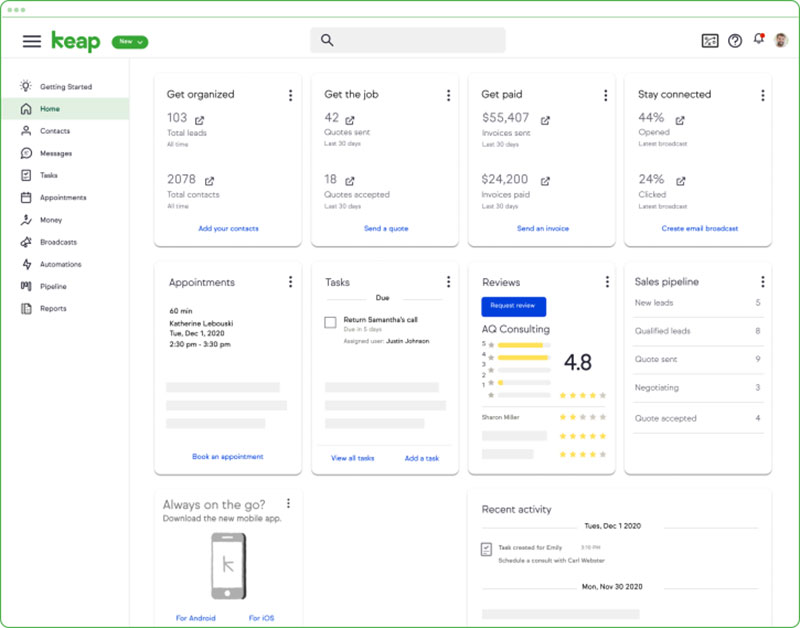 This is another big fish in the sea of sales automation. It provides useful features and a straightforward interface. It takes you step-by-step through the process of creating custom, pre-populated quotes by retrieving data from your database. The quotes you get are converted into live orders right away.
The app accelerates lead nurturing across all channels. It sends follow-up reminders when your prospect reaches key moments on their buyer journey.
The platform is 100% online so you can use it pretty much everywhere you are.
Close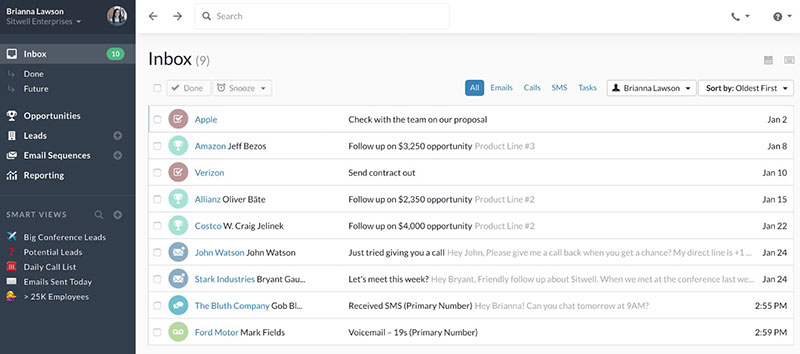 Close was created by salespeople for sales teams. It is a CRM and a sales communication platform. It has an integrated VoIP phone and email syncing. It helps you make more sales calls and close more deals faster so you don't have to worry about reaching the sales targets before the deadline.
It is a suitable CRM for both startups and SMBs. The wide array of features it offers will boost your efficiency and productivity. Insightful reports help the sales team keep tabs on the most important benchmarks.
GrowLabs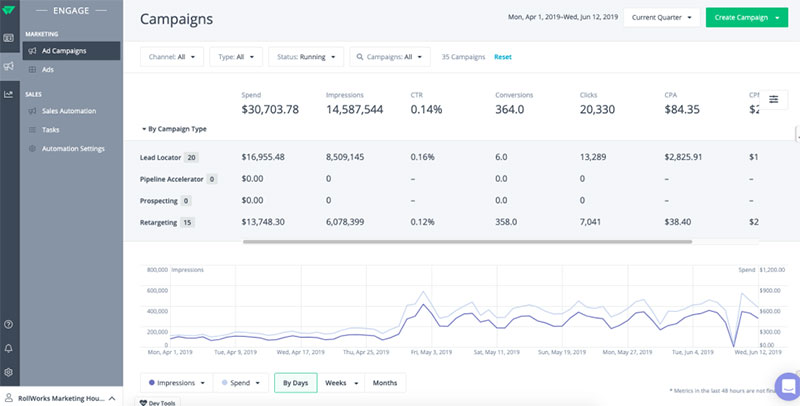 GrowLabs is not fully comprehensive sales and marketing automation software but it can be very useful for lead generation and automation. It provides lead prospecting and email automation features supported by machine learning.
Pipedrive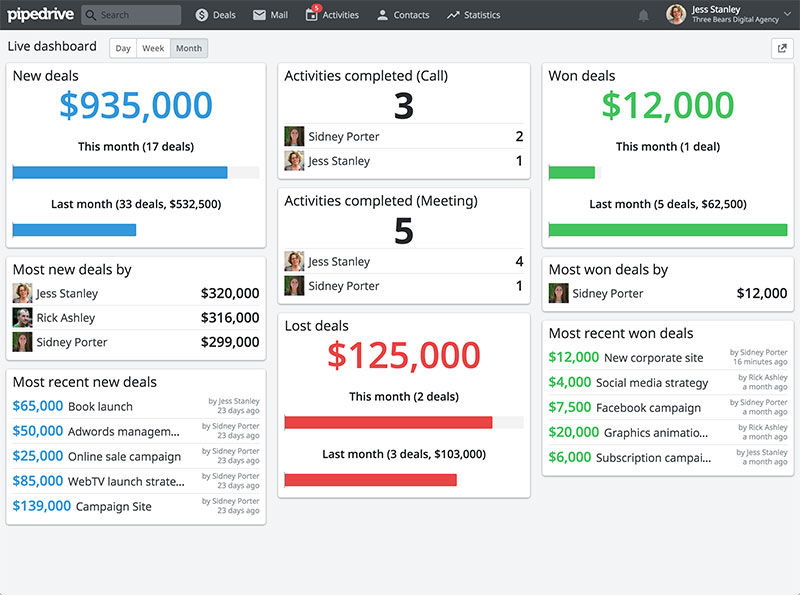 Pipedrive is an online CRM and sales pipeline management platform great for automating your sales efforts. It streamlines the sales processes, provides a visual overview, and allows you to track and nurture leads. It also enables you to manage your team's sales activities and goals.
The sales reporting feature provides insights into your sales pipeline via visual reports where you can see your sales by product.
You can customize the dashboard and use various filters to track your sales reps' performance and conversion rates.
The sales forecasting feature allows you to predict future revenue, see when certain deals are expected to be closed and notify your sales reps which deal to prioritize.
Salesforce Einstein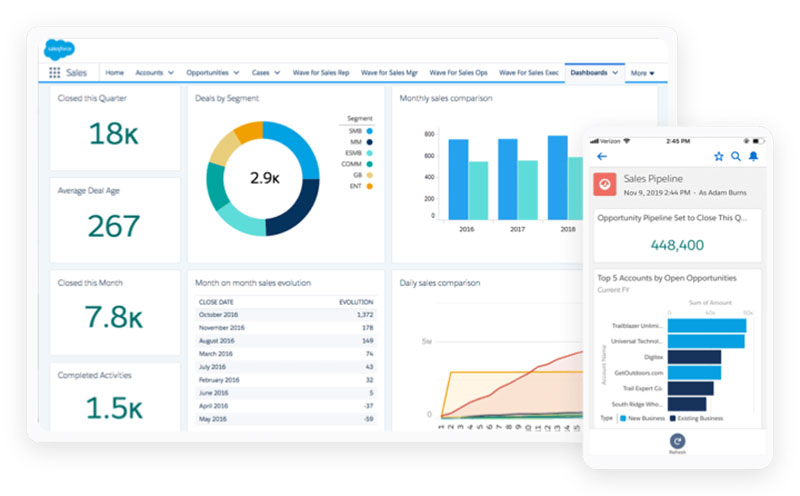 Sales data processing made easy. This AI-driven app allows you to connect with your customers on a deeper level thanks to automation features that provide in-depth insights into your customers' needs and behaviors.
The data science available will boost the sales reps' efficiency and help them manage customers better, and give the company a deeper understanding of all of its sales operations.
Mailchimp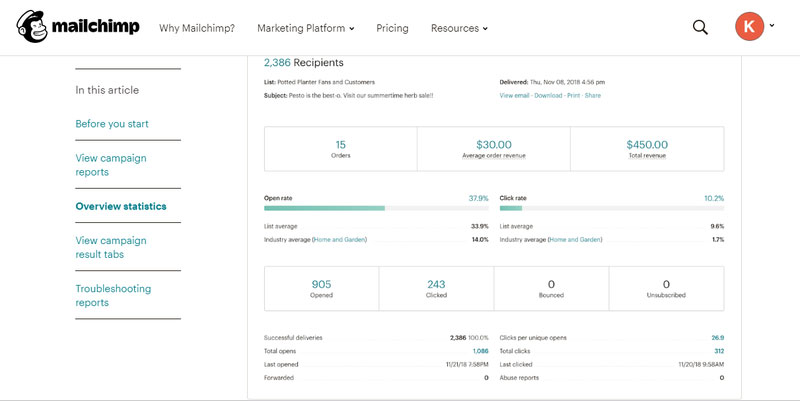 Mailchimp helps you reach your goals quicker by bringing your audience info, marketing channels, and useful insight into a single place.
The automation features enable sales teams to compose emails, social media ads, landing pages, postcards, etc., and send them to the right audience.
Audience management tools allow the sales reps to create outstanding content and automated messages.
HubSpot Sales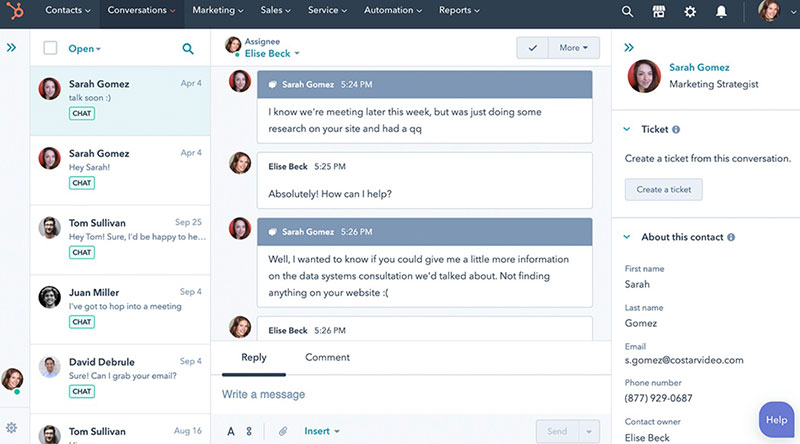 HubSpot stands alone as the brand that gave birth to inbound philosophy.
HubSpot Sales is a fully comprehensive e-commerce system that brings the best inbound sales practices together. It allows you to create automated sales processes that are tailor-made for the specific needs of your company.
The software is easy to learn, it's 100% paperless, and there is a free tier available.
All tools have simple, customizable dashboards that use your KPIs to let you see exactly where you and your leads are in your sales process.
Juro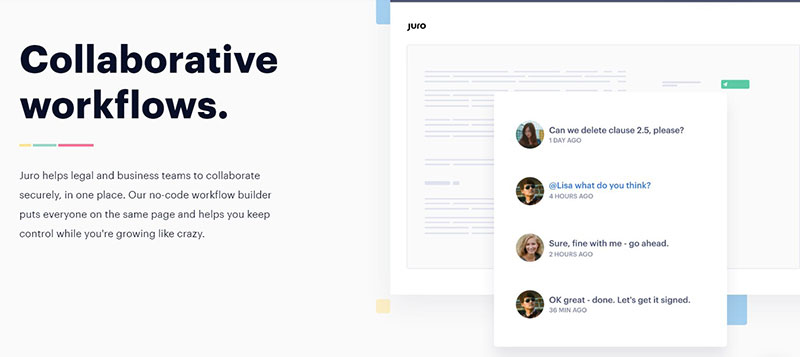 This is a contract collaboration software that provides a unified workspace where your sales team can self-serve, agree on, and manage routine contracts at scale.
Using a natural language Q&A flow allows the sales team to accelerate creating a contract from a template that is overseen by legal. Contracts can also be generated directly from Salesforce. Two-way data sync ensures that both platforms have the same version of the contract.
Contract parties can negotiate in-browser in the sidebar and then sign electronically using any device. This allows sales reps to close deals on the go.
Post-signature analytics allow you to identify and remove any bottleneck and friction in the future.
Zoho CRM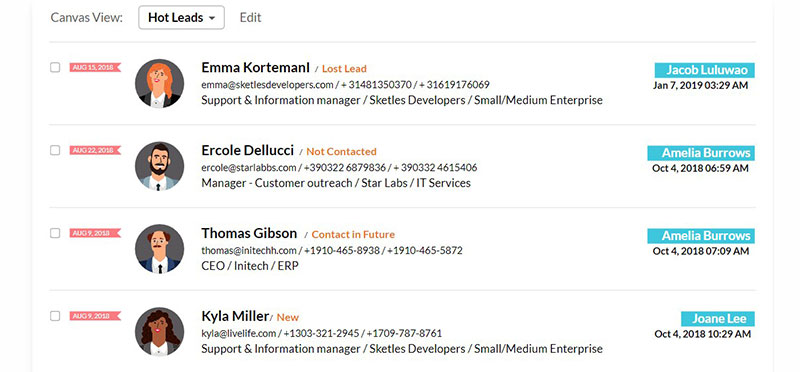 This is an online CRM platform that enables you to expand your business by attracting customers and retaining them. Simple features allow you to automate daily processes, keep track of sales, convert web visitors into hot leads, engage customers on multiple platforms, and import prospects from outside sources.
Customer account management features include: monitoring all accounts from a shared database, view customers across products, locations, accounts, and sales, track customers' purchase history and use it for cross-selling and up-selling.
The tool also utilizes historical data to identify and target inactive leads via readjusted messaging.
Marketo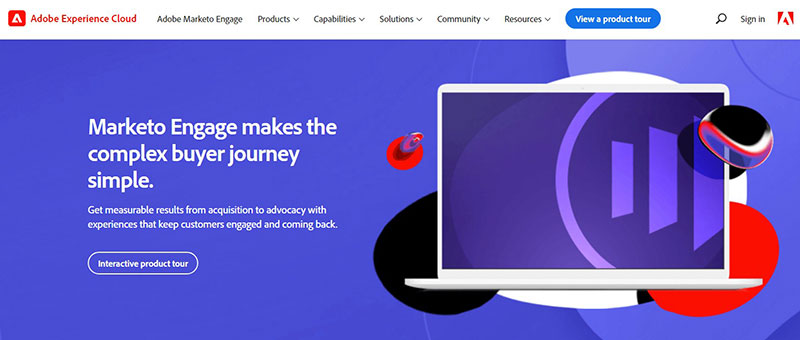 This is another robust sales automation software. Among the best features are customer base management, email management, lead management, and mobile sales. The software allows you to get rid of the need to manually perform many repetitive tasks that decrease your productivity and stifle the growth of your company.
Apart from automating sales workflows, the software also assists you with building rapport with customers. It helps you to understand your customers' needs and behavior better which enables you to trigger sales communication at the perfect moment.
Marketo automates all stages of the sales process, including generating and nurturing leads, increasing engagement, and closing deals.
Autopilot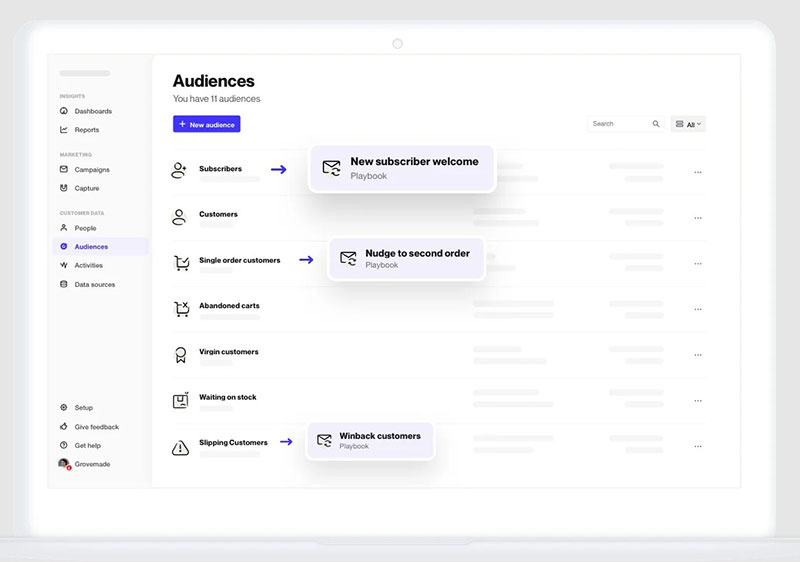 Autopilot is a tool that integrates with CRMs to provide sales automation that is still missing. The visual automation builder makes creating your own workflows quick and easy. Its aim is to assist you throughout the customer journey by providing visual automation that helps you save time and generate and convert more leads faster. It's especially suitable for visual learners.
The array of platforms Autopilot integrates with keeps getting bigger and bigger.
Pick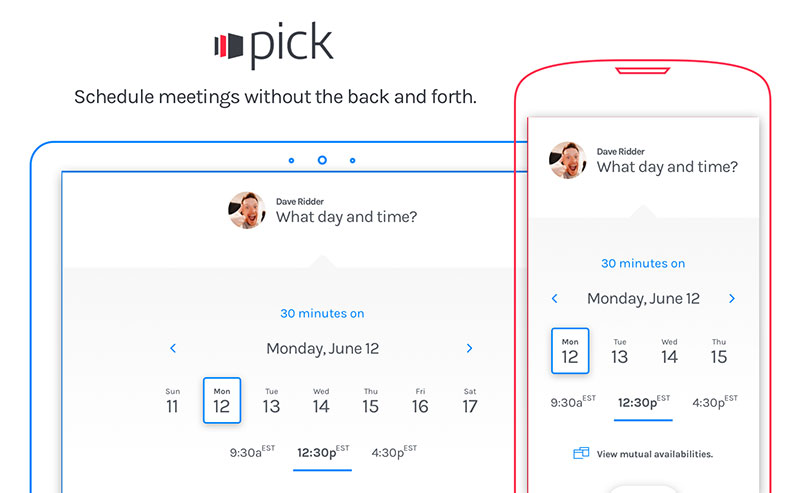 Pick is all about automating meeting scheduling. It makes it easier to schedule meetings with customers, prospects, and team members.
All you need to do is to set your available days and times, share the generated URL, and let the other party select the time that works for them, too. Once they do that, both parties receive a calendar invite with all the details.
The aim of this tool is to minimize the time needed to agree on the most suitable date and time for a meeting.
Salesforce CRM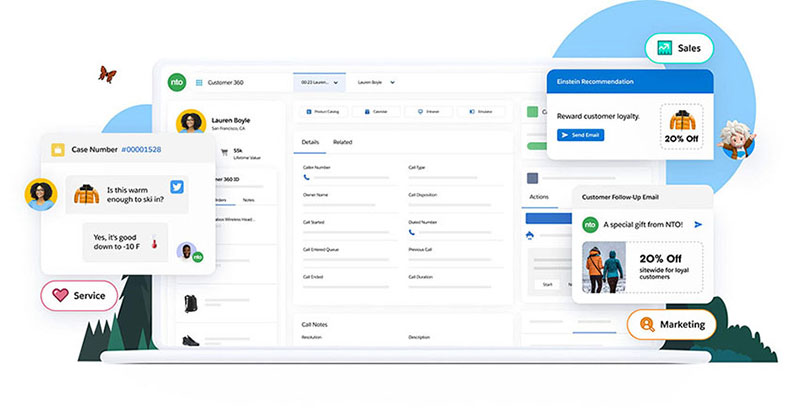 Salesforce CRM impresses with advanced AI and deep analytics. It may take a little bit more time and effort to learn but it is worth it. Also, Salesforce has created great educational resources that help customers succeed at using their sales automation tools.
Although Salesforce is a complete CRM system, it also has a separate app (called Pardot) for automating marketing processes. It is a great tool for managing and ensuring the accuracy of customer information. It can also be used for integrating sales and marketing pipelines into one single interface.
Pipeliner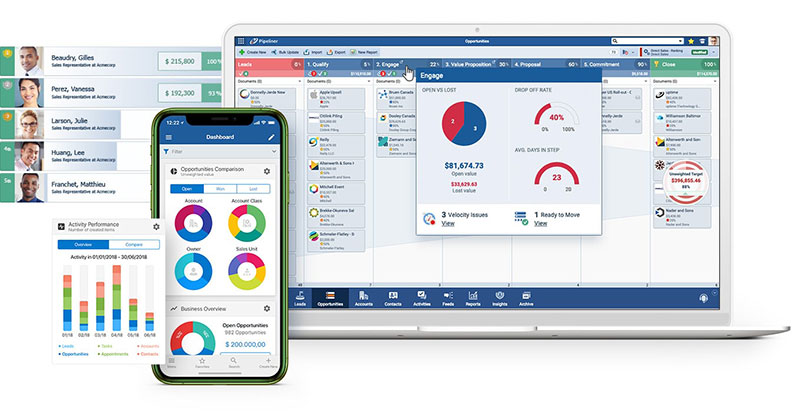 This is a CRM solution that can also be used as a Sales Force Automation tool. It comes with all basic SFA features, including managing leads and contacts, managing opportunities and activities, and managing sales tasks. It also provides the sales pipeline view and sales reports.
It assists you with social selling by using an auto-generated feed to keep an eye on your leads' social media, like Facebook, LinkedIn, or Twitter.
Their sales automation tool also provides dynamic targets displayed right off the main pipeline view. You can choose between five different pipeline views: unweighted sales target, weighted sales target, balanced target, ranked target, and real target.
Everstring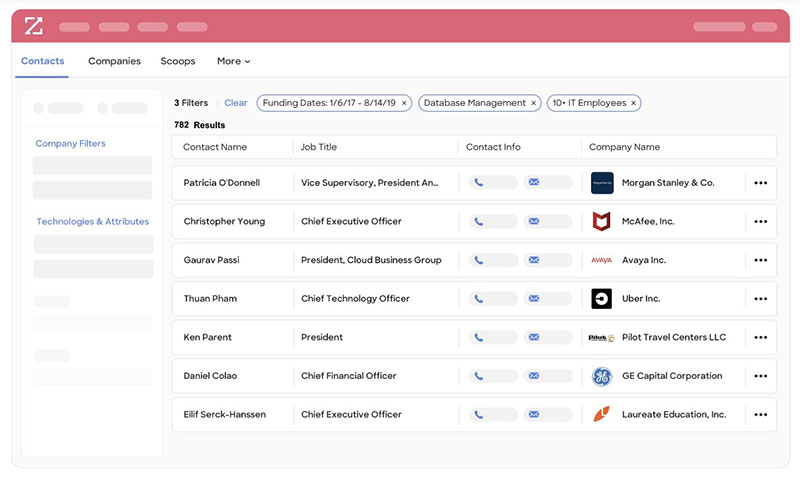 This is a powerful software that combines machine learning and natural language processing with manually authenticated data.
It not only gives sales teams firmographic and technographic data but also searches the website for additional useful info, such as funding, news, product info, and company attributes and trends.
Everstring enables sales teams to effortlessly create a list of accounts and contacts that display similar characteristics to your existing customers and are looking for a product or service that you offer.
Customer.io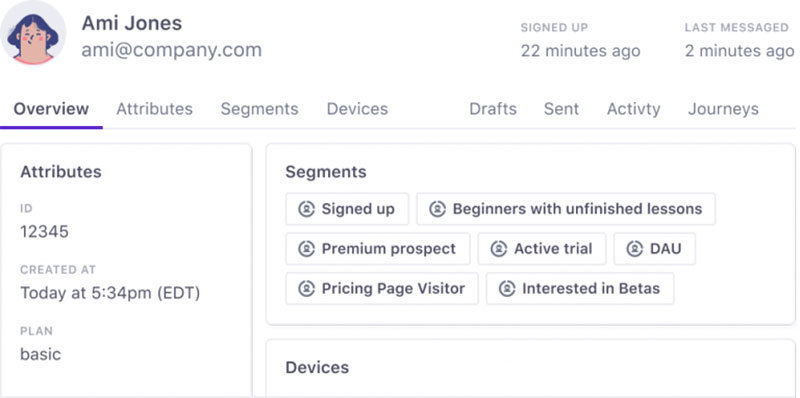 Customer.io allows you to personalize your communication with prospects and customers by triggering emails, push notifications, SMS, and webhooks.
It claims to enable sales teams to decrease churn, strengthen customer relationships, and generate new subscriptions.
HelpCrunch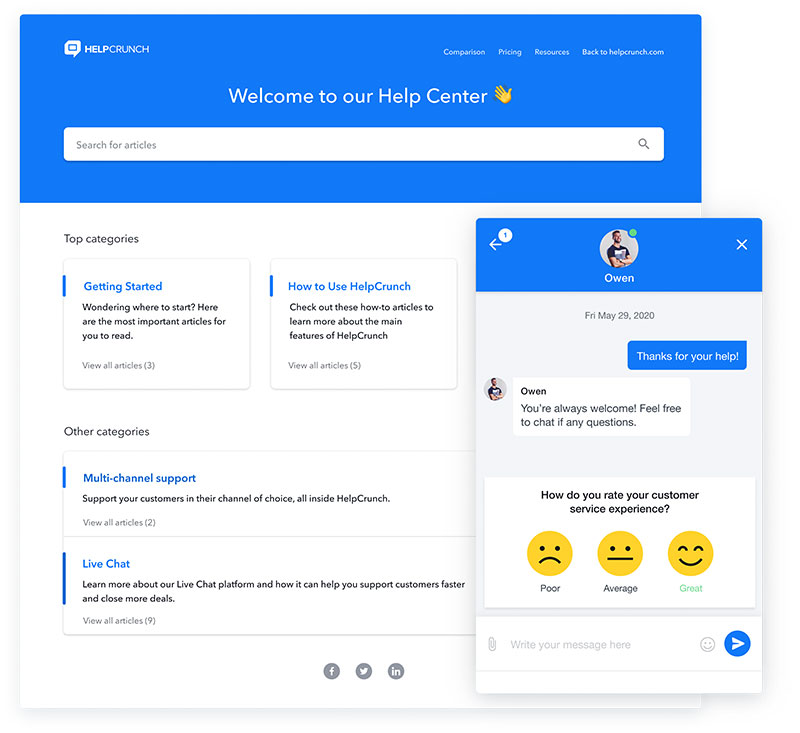 HelpCrunch is a comprehensive automation tool for customer communication. It provides automation of multiple sales processes. Inbound lead generation automation is possible thanks to its live chat widget that engages your website visitors using automatic chat messages.
You can use it to offer assistance to your visitors or initiate a conversation in selected strategic places on your website.
At the same time, live chat gathers your leads' contact info and pre-qualifies them using pre-chat and offline forms.
Copper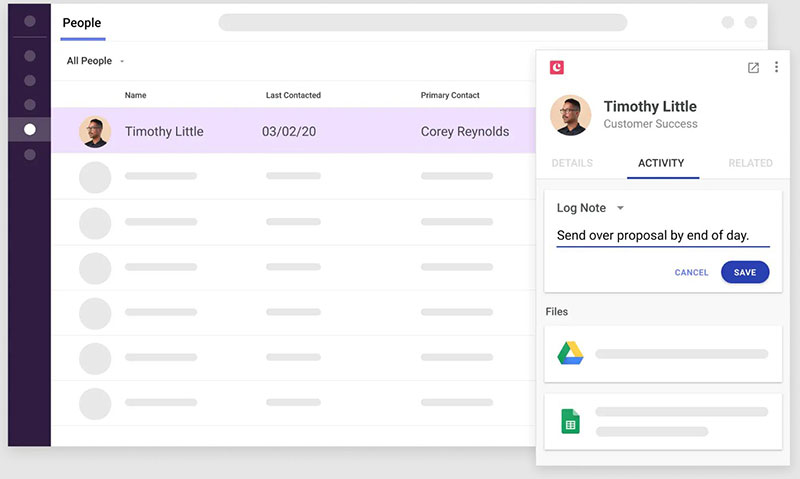 Copper is a cloud-based CRM solution that helps you to better your interactions with customers and increase the effectiveness of your digital activity. It enables you to automate important operations and improve the quality of the decision-making processes.
It allows you to automate multiple tasks, track leads, send emails, get full visibility of the pipeline, use VoIP calling, all to improve your sales processes and results.
It is optimized for mobile devices. It integrates with Google products, Dropbox, MailChimp, Ring, and Slack.
Leadiro
Leadiro is a great tool to identify, reach, and engage with your ideal B2B prospect audience. It has access to over 47 million business contacts in almost 100 countries around the world.
The tool claims to provide a minimum of 95% of contact info validity. Users can filter target contacts based on demographic, firmographic, and technographic.
Download B2B data records and use them for email marketing and cold-calling campaigns. Leadiro is a great choice for generating new leads in emerging markets.
There is a basic free option, or users can select one of the paid plans. The premium plan costs $399 per month and comes with more than 2750 contact downloads and dedicated support.
Freshworks CRM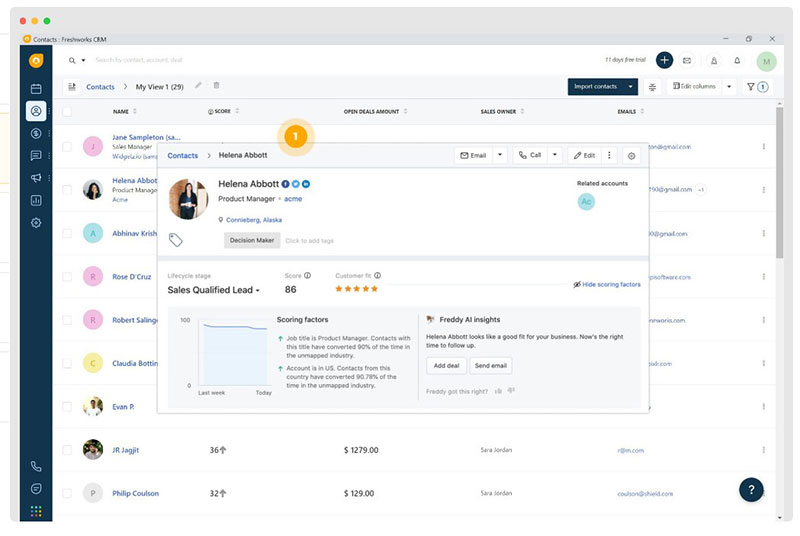 Freshworks is a sales automation software that utilizes AI. Use it to prioritize leads, communicate with prospects, analyze customer behavior, refresh pipelines, and close best deals.
It serves to improve all the important processes. These include contact and territory management, email tracking, and lead scoring.
The CRM functionality allows users to keep track of contacts and deal with any issues. The software is straightforward, easy to comprehend and utilize.
Paid plans start from $29 per user per month.
Autoklose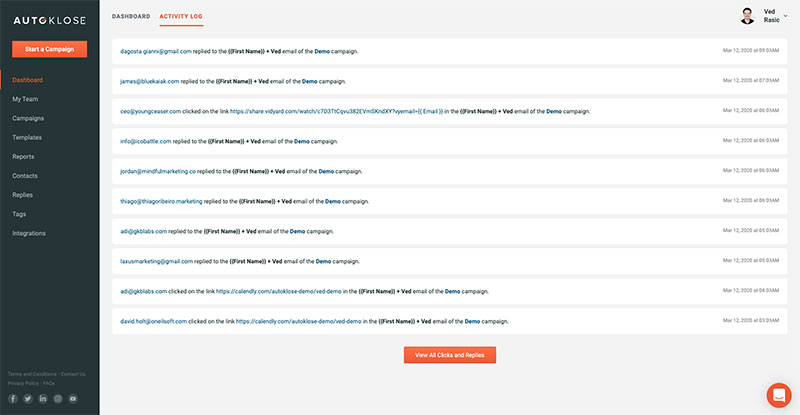 Autoklose was made for end-to-end automation of B2B email outreach processes. It helps users create, launch, manage and monitor their email campaigns.
Autoklose offers access to the lead database and provides automated email sequencing. It also provides users with a reporting dashboard.
One downfall of this tool is that it doesn't offer the widest range of integrations. However, it is among the most cost-effective pieces of software in its category.
The price: $49 per user per month. There are better deals and extra services available with an annual subscription.
Zoominfo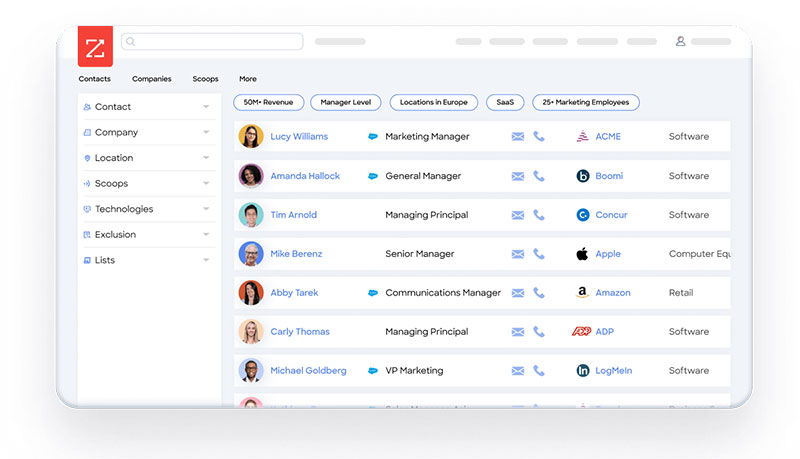 Zoominfo provides "access to more direct dials and email addresses than any other market intelligence provider". It has received much praise for the amount of data it gives about prospective customers.
It also makes it very easy to find LinkedIn profiles.
Great results come at a price, though. The tool is quite costly and certain options, such as exporting results, have an extra charge.
For companies that engage in cold calling, the biggest benefit is the ability to find direct phone numbers for prospects.
Prices are quote-based.
Pega Sales Automation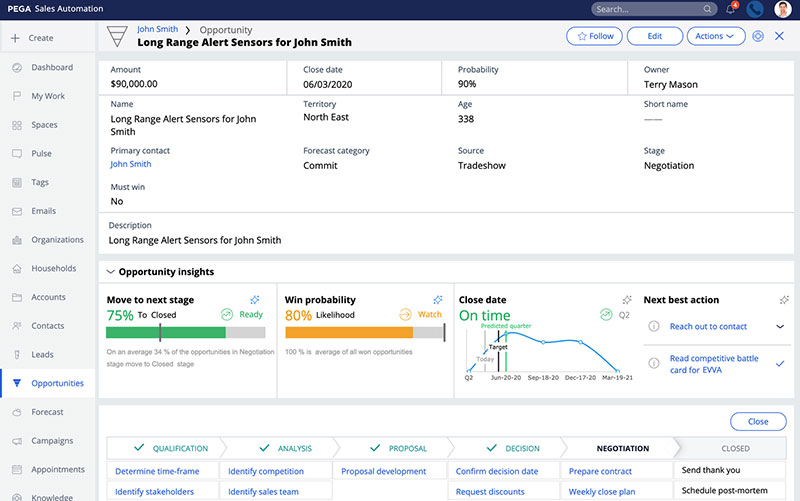 This sales automation software also uses artificial intelligence to automate precise forecasts. These are helpful for upselling, cross-selling, and repeat purchases.
It enables users to speed up their sales processes and boost the sales team's productivity. As a result, the company grows its revenue.
The AI uses lead scoring to recognize hot leads. It then accompanies the sales team through the sales funnel with the aim of a quick conversion.
Prices start from $140 per user per month.
LinkedIn Sales Navigator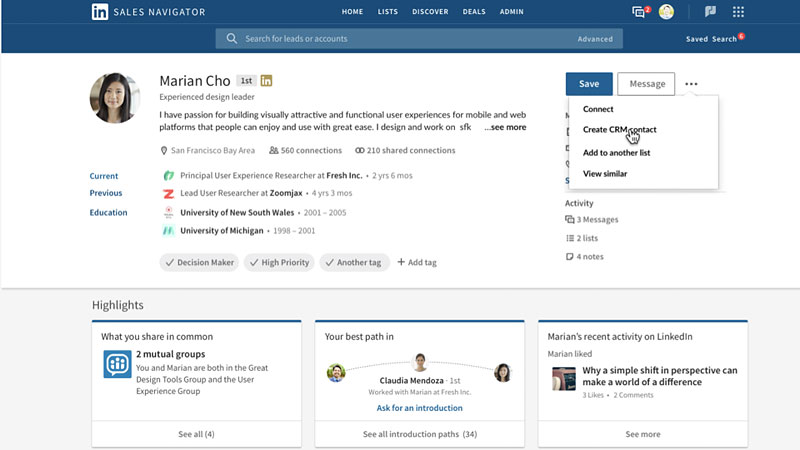 This sales automation software provides detailed information and access to many qualified leads. This facilitates accurate targeting for increased efficiency.
Its advanced search box allows users to sift through LinkedIn profiles using filters. Search based on the company name, job title, industry, education, experience, location, etc.
Another feature is action alerts. These notify users when a lead takes an action that can help to start a conversation.
Prices: Different plans with prices starting from $64.99 per month.
Growbots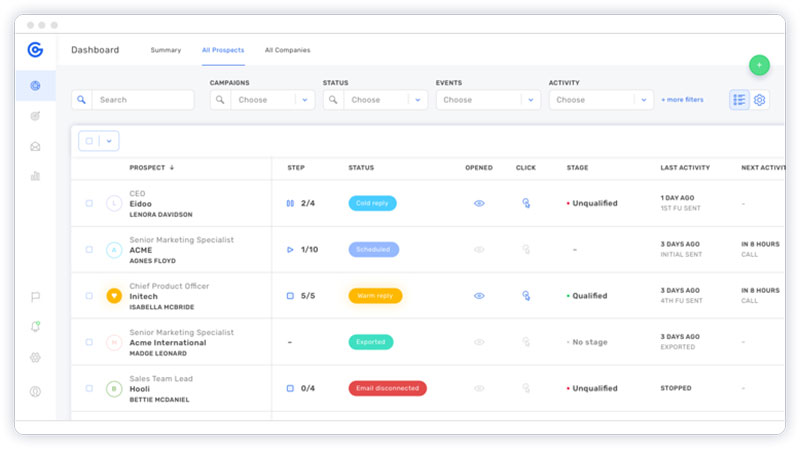 This is an automated outbound sales system with a database of 100 million influencers and decision-makers. It integrates with different CRMs.
Growbots enables users to conduct email drip campaigns using automated lead generation. It claims to boost campaign results by up to 40% within a month.
The tool aims to streamline the lead workflow and provide hot leads. These are then ready to be converted into customers with ease.
The prices of "All-in-One" plans start from $199 per user per month.
Leadfeeder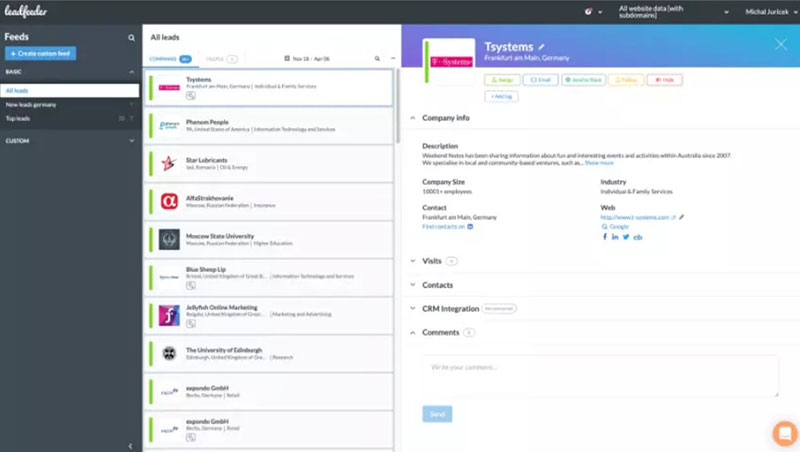 This sales automation software makes lead conversion easier and more effective by providing very useful information. It allows users to see which leads visit their website and exactly how they engage.
It also provides the company and contact data of a lead, enabling users to reach them quicker. Easy CRM integration means users can share hot leads with team members faster.
Prices: "Lite" plan is free, the prices of premium plans start from $63 per month.
Winmo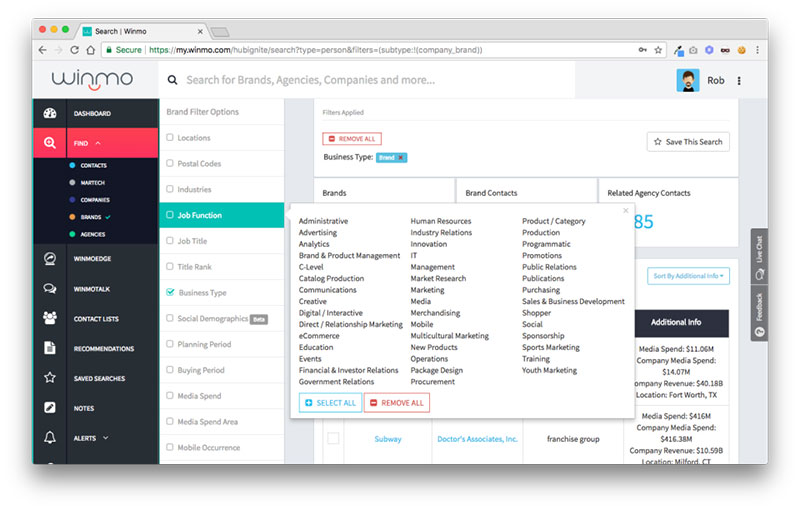 Forget the frustration of outdated contact info for leads. Winmo keeps prospects' contact info up-to-date by verifying data every 60 days.
To ensure accuracy, actual humans perform the verification process.
Winmo is well-known for its sales prediction tool - Winmo Edge. It analyzes industry shifts to predict future sales opportunities.
It is proven to do this up to 18 months in advance. This enables users to prepare well and contact the perfect leads at the perfect time.
The prices are quote-based.
Hull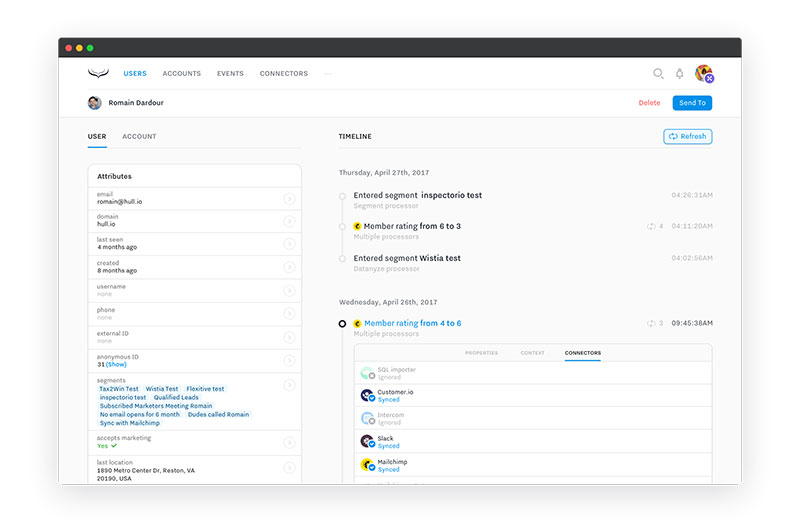 Hull is a sales automation software that keeps all the important sales tools in one place. It synchronizes customer information and other data across all tools.
This is a big time-saver as it eliminates the need to exit one tool to use another. There's no need to manually synchronize data or follow different usage protocols.
From Hull, users can access their CRM, databases, email, performance tools, and pipeline management tools.
Prices start from $950 per month.
Sales Creatio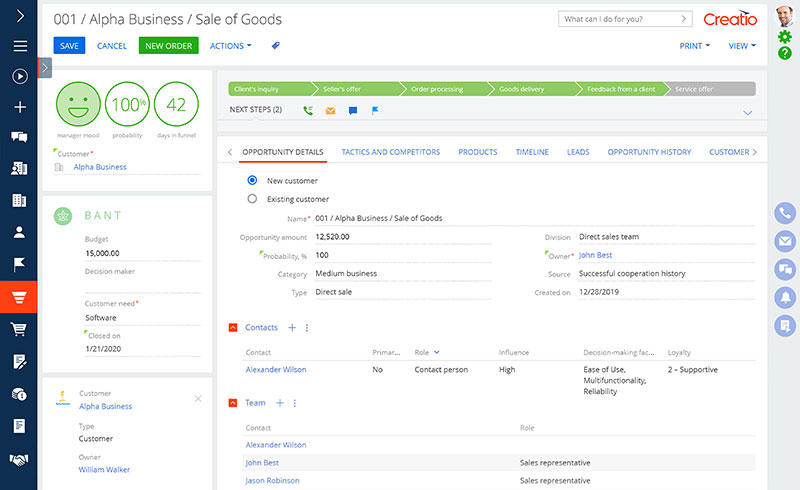 This is a CRM and sales automation software for companies of all sizes. Functions include CRM data management, invoicing, lead management, and order management.
Its pre-built SNS integrations provide additional data enrichment and sales forecasting capabilities.
Sales Creatio allows users to keep a record of contact information. This includes addresses that are viewable on the map.
Users can track connections between accounts and their relationships within the company. They can also see a comprehensive list of a contact's activities and interactions.
Prices: There are three plans available for $30, $35, and $60 per month.
Yesware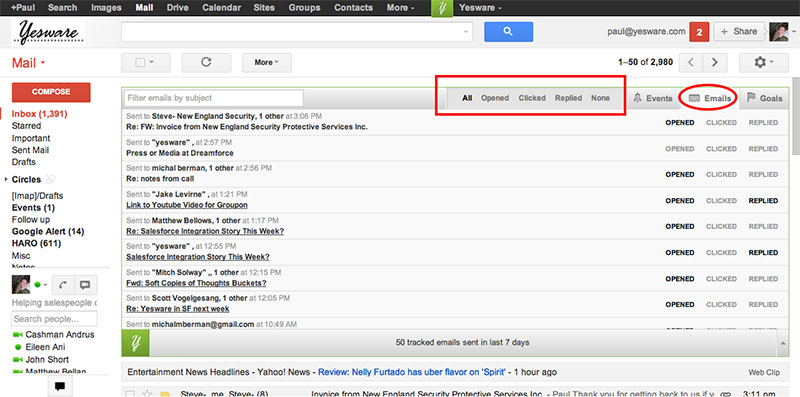 This is an all-in-one sales automation software. It is perfect for sales professionals who use a variety of ways to reach potential clients.
Yesware offers attachment tracking, presentation tracking, email scheduling, and reminder notes. It also provides templates to compose, customize, A/B test, and send emails from Gmail or Outlook.
Prices start from $15 per user per month.
Clearbit Enrichment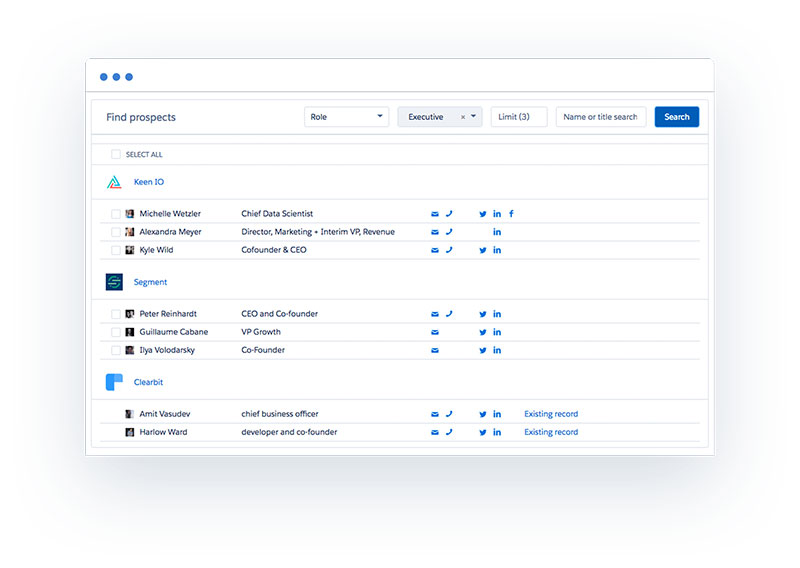 This sales automation software searches for and gathers real-time information about leads. This helps to personalize sales emails and make outreach efforts more successful.
Users type in the email address or company domain and the tool does the rest. It looks for information based on more than 85 criteria, including industry, number of employees, job title, company role, etc.
Prices are quote-based.
Outreach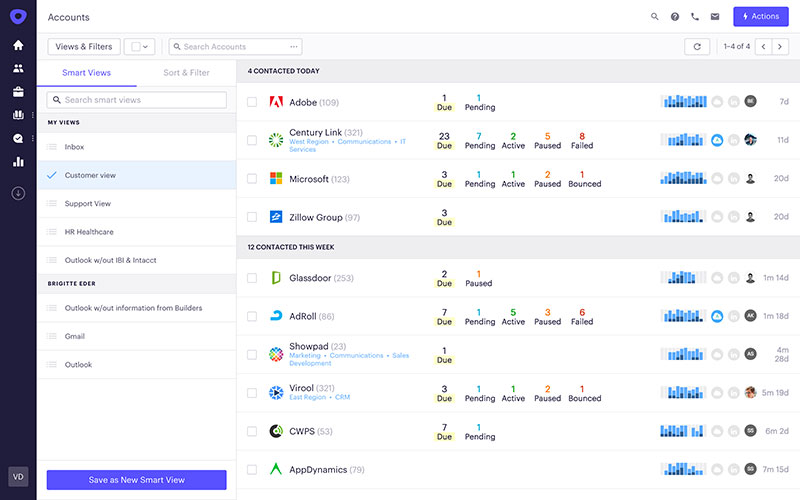 This sales automation software helps reps to get more meetings with prospects and speeds up sales cycles.
The dashboard gives all team members a 360-degree view of all important metrics. It also shows the number of prospects currently engaged, schedules, agendas, and more.
Other useful features include email tracking, meeting schedules, smart sales sequences, sales dialer, and sales texting. It automates the sales workflow and prioritizes tasks to boost efficiency. Still, there are lots of Outreach.io competitors that you can use as alternatives, especially in this very article.
LeadFuze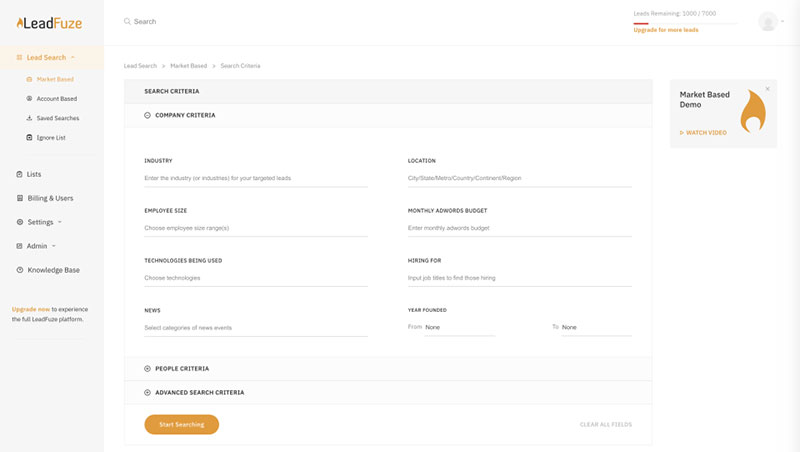 This is a sales automation software that works as a search engine for fresh leads. It offers users a wide variety of search criteria to choose from.
Next, it verifies the information found in a search. This includes things such as email address, phone number, or social media profile.
Having obtained the data, the AI assistant then helps automate the sales processes. The "Fuzebot" searches for new leads every day, verifies the email addresses, and adds them to the list.
Prices start from $132 per month for 500 leads.
Pipeliner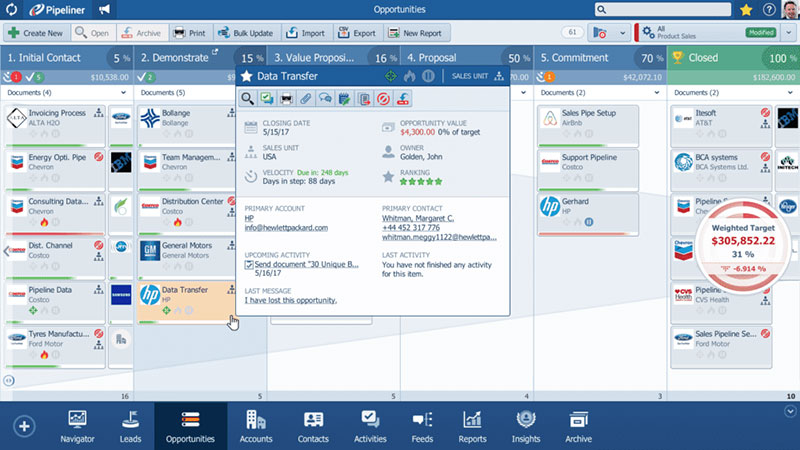 This software provides both CRM and sales automation and helps to increase adoption rates and ROI. It has a visual interface, customization features, and powerful reporting capabilities.
With a drag-and-drop pipeline UI, users can generate one-click reports and charts. Or view sales performance, including the deals created, deals converted, and deals lost.
Users can also view the respective values of won and lost deals. The dashboard further provides reports and useful insights.
The pipeline management features help to convert leads into first-time buyers, and then into loyal customers.
Prices: Starter package for $65, Business package for $85, and Enterprise package for $115 per user per month.
Pipedrive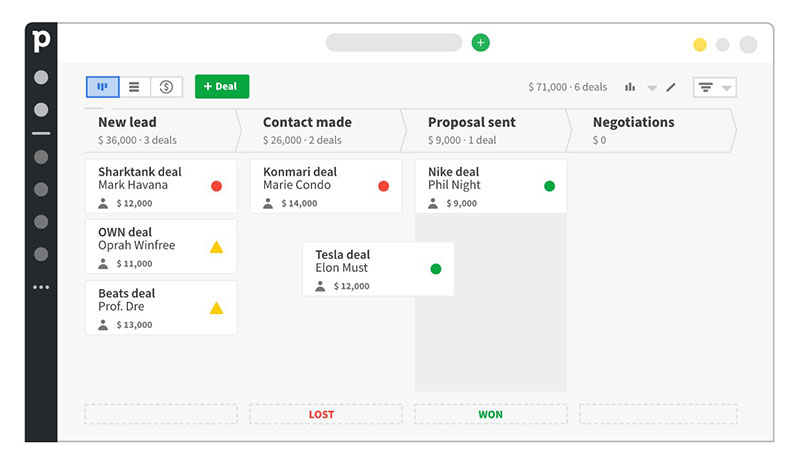 This software automation software eliminates repetitive tasks. Features include sending manual emails to leads and scheduling follow-up activities with prospects.
Pipedrive automates workflows and users can send personalized emails. It will create follow-up tasks within the CRM as a deal progresses through the sales pipeline.
There is an automatic change of ownership between team members when a deal moves to a new stage. It also automatically creates sales deals when a new contact is added.
Prices: Essential plan for $12.50, Advanced plan for $24.90, and Professional plan for $49.90.
SalesWings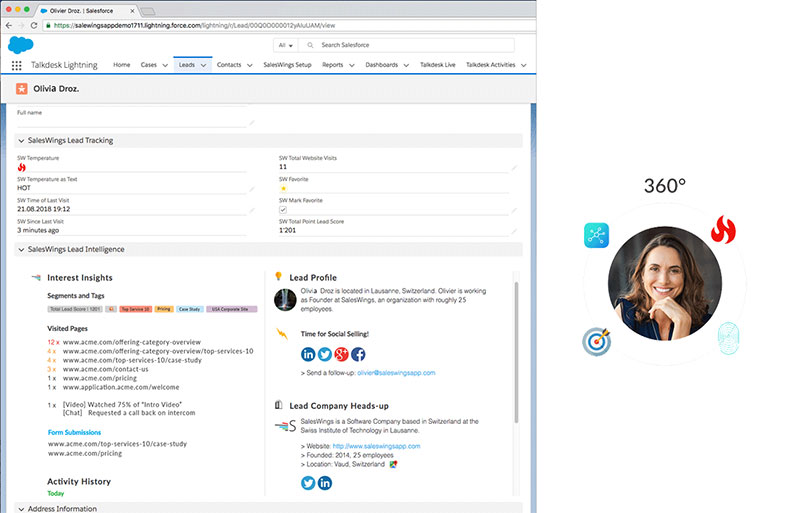 This tool is useful for real-time checking and monitoring of how prospects view your brand and respond to current messaging. This intelligence will help to create and carry out a successful engagement plan.
It recognizes a leads' actions and behaviors (for example a newsletter engagement or a website visit). It also notes specific topics or website sections they are interested in.
Those pre-determined conditions trigger instant notifications. These notifications allow users to reach and further engage prospects right away.
Prices: There are three plans. Prices are available upon request.
Prospect.io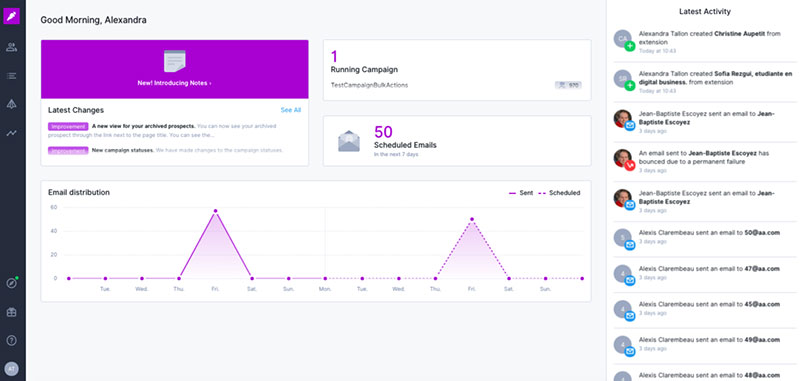 This sales automation software verifies names, job titles, phone numbers, and more. With this information, users can create accurate lead email lists.
It allows users to create powerful outreach campaigns and follow-ups using email templates. It also provides insightful statistics (from email open to conversion rates) to measure and analyze the results.
Prices: Essential package is available for $89 per user per month. This provides 250 email finder credits per month and up to 400 email sends per day.
Gong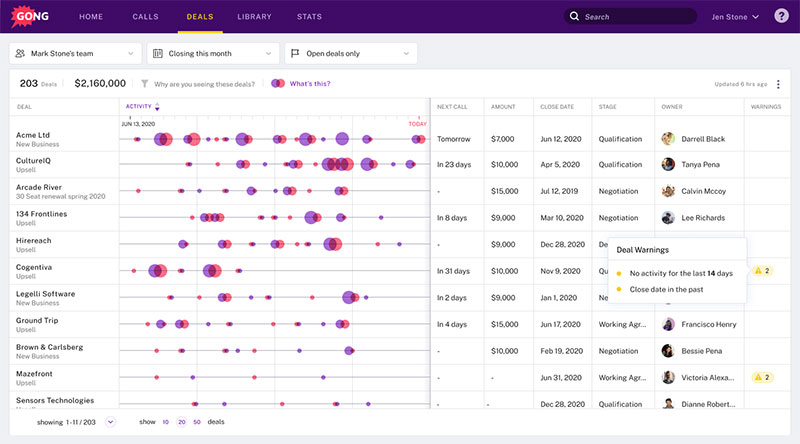 Gong claims to be a revenue intelligence platform. It provides a more personal approach to automation and allows sales managers to get the best from each team member.
The best features include AI-based sales coaching and contextual deal pipelines. It records and transcribes sales calls, creates actionable analyses, and provides insights on how to improve sales pitches.
Prices are quote-based.
Conversica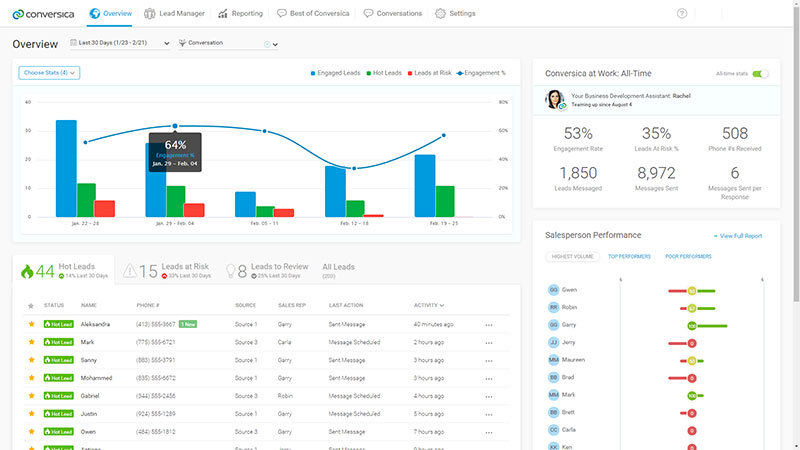 This sales automation software simplifies and improves the lead contact and qualification process. It helps users see the direct link between conversation and conversion rates.
The AI sales assistant follows and nurtures leads smartly and continuously. It uses natural language to engage and nurture prospects until they are ready for a human sales rep to contact them and close the deal.
Prices are quote-based.
PredictLeads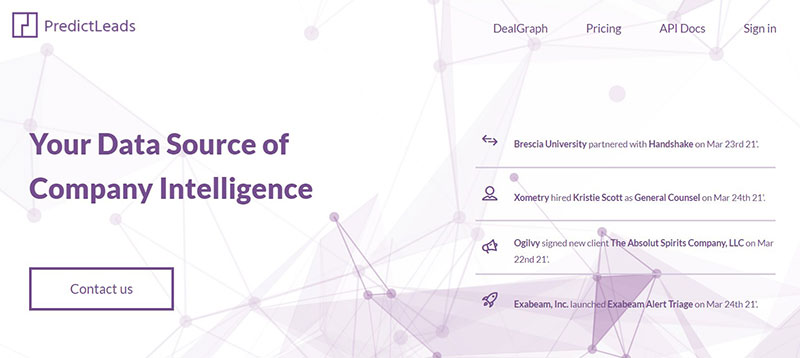 This sales automation software helps users to find new leads. It also provides needed insights to create personalized and outstanding pitches.
It constantly searches through available sources, including articles, job postings, and websites. For SaaS businesses, it offers information about what technologies different companies are using.
The AI searches for, extracts, and filters data. Then the in-house team verifies the information to ensure its reliability.
Prices: plans start from $490 per month.
Constant Contact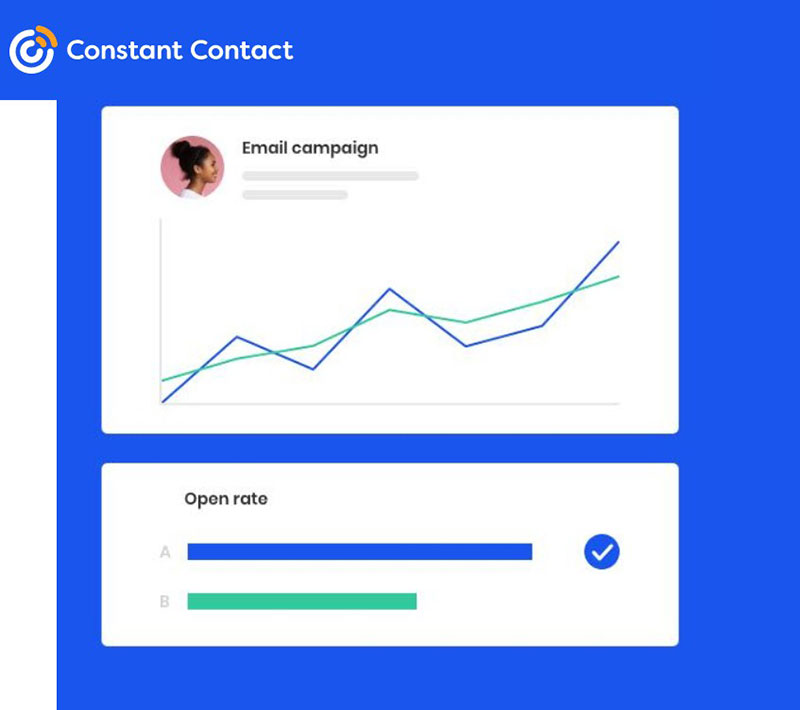 This is a robust email automation tool that streamlines your email marketing endeavors. It is easy to set it up and the interface is straightforward and foolproof.
It helps you compose and schedule fantastic emails, create sales funnels, and manage leads. It enables you to send automatic welcome and follow-up emails.
Hatchbuck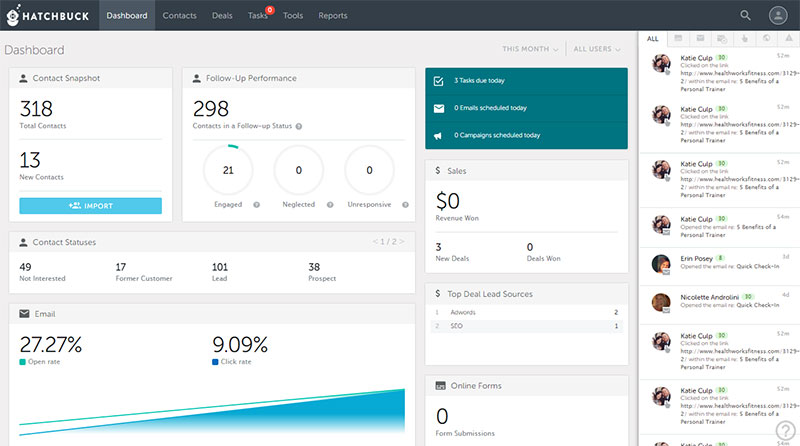 This is a sales and marketing automation solution created with small businesses in mind. It provides a comprehensive range of features, including lead capture, contact management, and email automation. It enables your sales team to convert more inbound traffic into leads, and then nurture and convert them.
Chorus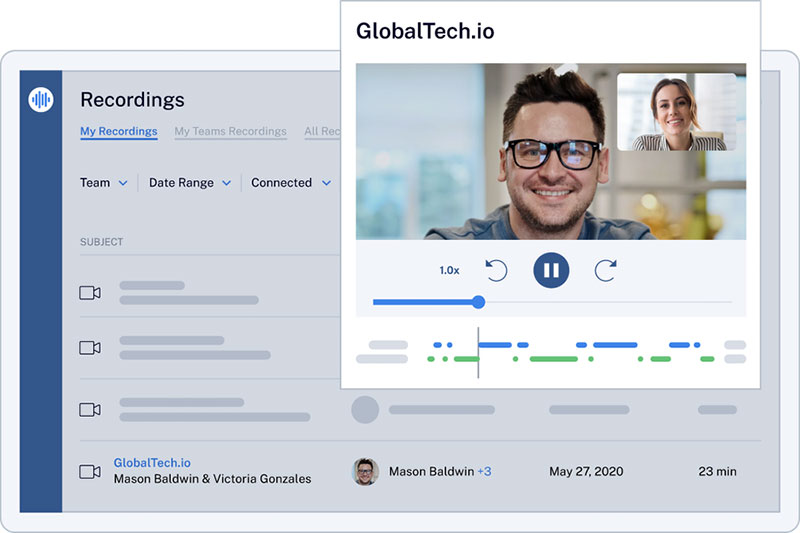 This is a straightforward tool for capturing and analyzing customer calls, emails, and meetings.
It provides insight into ways in which best performers stand out and how to imitate their behaviors to boost your team's efficiency and productivity.
The Deal Hub feature allows you to manage interactions and take actions in advance to reduce risks.
The tool also provides useful analytics that helps you see the areas that require more of your attention and focus.
Ending thoughts on best sales automation tools
This comprehensive list of sales automation tools should help you select the most suitable solution for your business.
Naturally, not all the sales and marketing automation tools above would be advantageous for your company. You need to analyze your needs and make an informed decision.
Sales automation can be of great assistance when it comes to, A/B testing, lead generation, onboarding customers, and closing leads faster and easier. It can save you a significant amount of time and money by reducing repetitive manual tasks. All your sales team needs to do is implement it to scale.
If you enjoyed reading this article on sales automation tools, you should check out this one about sales automation software.
We also wrote about a few related subjects like best CRM for Gmail, useful elevator pitch examples, sales pipeline stages, cold calling vs. warm calling and sample LinkedIn connection requests and templates.