I know you are looking for Outreach.io competitors and I feel you. We've got a few in this article. But first, let's warm up the room with some basics.
A sales engagement platform, or SEP, is software that streamlines a sales representative's workload to make client contact and close deals faster. It combines information from CRMs, inboxes, social media, in one place. This allows sales representatives to save time and stay organized resulting in better results and revenues.
Each sales engagement tool is designed differently. They need to be thoroughly researched to decide which sales engagement software will work best for you.
Outreach.io is one of the most popular sales engagement platforms. However, is it best suited for your needs? How do other sales engagement platforms compare?
In this article we'll showcase a list of Outreach.io competitors that are good alternatives:
Outreach.io competitors
SalesLoft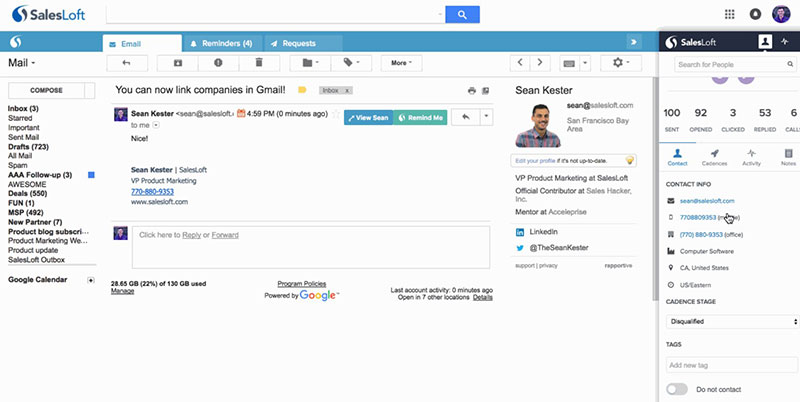 The first on this list of Outreach.io competitors is SalesLoft. This sales engagement platform helps sales teams close more deals. This platform guides and automates sales processes. It also provides insights to achieve successful outcomes. Some of its features include the following:
Easy to use
A cadence that guides sales reps through the sales process. It helps plan every engagement with a prospective customer whether through email, phone, social media, or video
It integrates with top CRMs
All activities sync to the CRM
It provides insights so sales representatives can understand and replicate actions that lead to sales
It includes a conversation intelligence solution to facilitate coaching
A dialer and messenger are included
Email templates allow sales representatives to send many emails in one day. The templates can be customized to provide personalized emails
GMass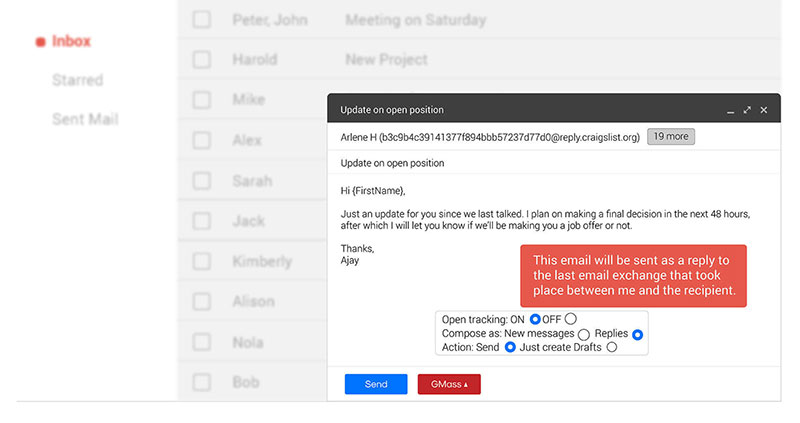 GMass is a platform that works inside of Gmail, extending the functionalities of Gmail to give marketing teams the tools to perform effectively. Startups, solopreneurs, and other institutions can also use this platform. Some features include:
The ability to set up automatic follow up emails
Able to merge with Google Sheets to eliminate the need for CSV files
Send mass emails with ease
Colabo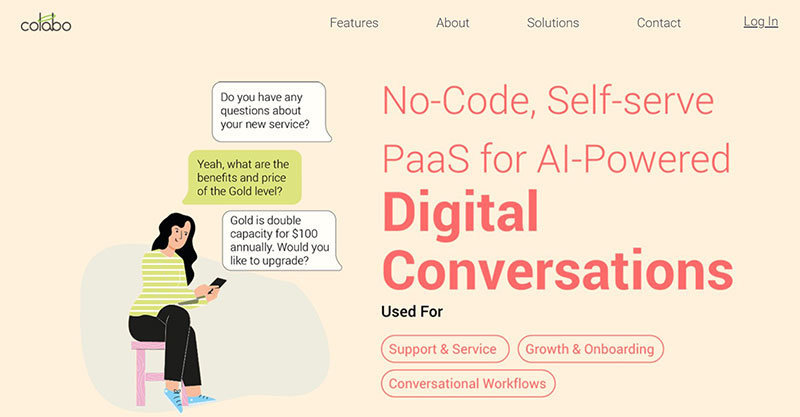 Colabo allows sales teams to engage with prospects through modern channels. It provides accurate data and automates workflows to eliminate manual tasks. Colabo is a platform that allows sales teams to be functional, productive, and keep track of leads and engagements. Its features include:
Uses AI to assist the sales team and reduce costs
Provides the tools to personalize engagements with customers
Makes use of conversations through messages to increase customer acquisition
Converses with customers using a combination of robots and humans. This allows responses to be accurate according to the data of the robot but also has a human touch
Integrates with CRMs and other platforms
Is available as a Chrome plugin
Provides automated A/B testing
ClickPoint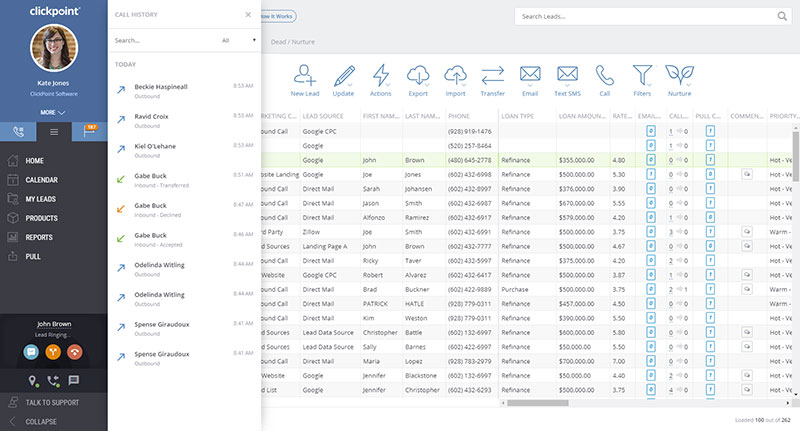 ClickPoint is another contender for Outreach.io competitors. This platform automates the sales process to help sales teams be more efficient and successful. ClickPoint simplifies sales processes, provides more leads, and guides engagements. The features of this platform are:
Automatic prioritizing of the best prospect or lead to call next based on best practice rules
Capturing and routing web leads and phone calls
A local presence outbound dialing solution that increases contact rates up to 60%
Drag and drop workflow layout to save time and effort
Text message solution to contact leads and improve lead conversion
Reusable templates available to the entire sales team to save time
Instantaneous actionable insights to separate good leads from those that should be cut
SalesHandy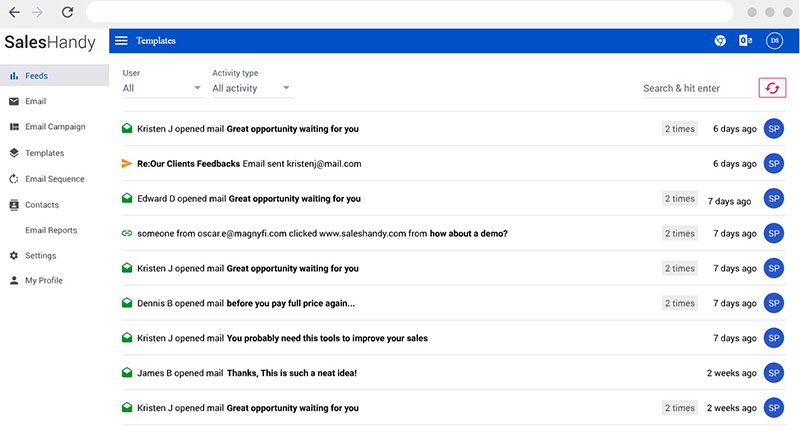 SalesHandy is a sales engagement platform that provides many free powerful tools. This platform is built for businesses of all sizes. SalesHandy allows small and large businesses to automate and track their email outreach and optimize sales engagement. Some features include:
Detailed engagement information to make more sales
Automatic follow up emails
Personalized emails
Schedule when to send emails
Save email templates
Track when emails are delivered and read
Mailshake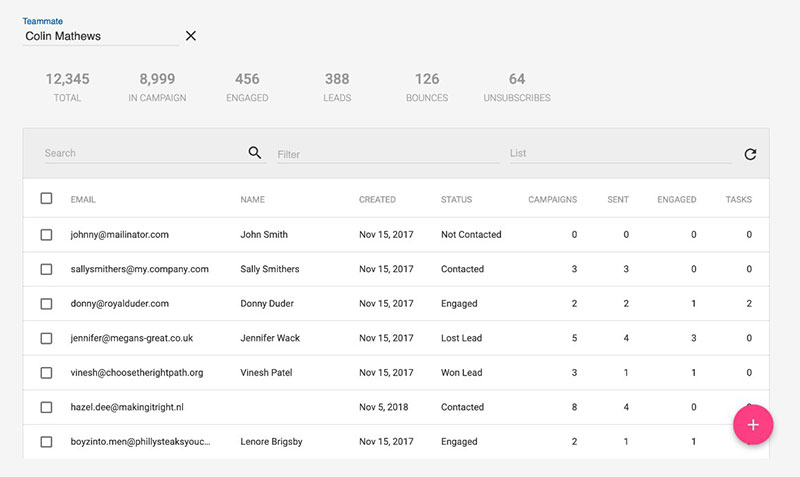 Mailshake does more than just email. This is an omnichannel platform that allows engagements with email, phone, and social media. With automation features and a sales cadence that includes social media, this platform helps sales representatives reach more people. Some features include:
Information is organized and displayed in one dashboard
Email personalization
Email templates
Automatic follow up email
Integrated phone dialer that allows users to make calls with one click and take notes on the call details
PipelineDeals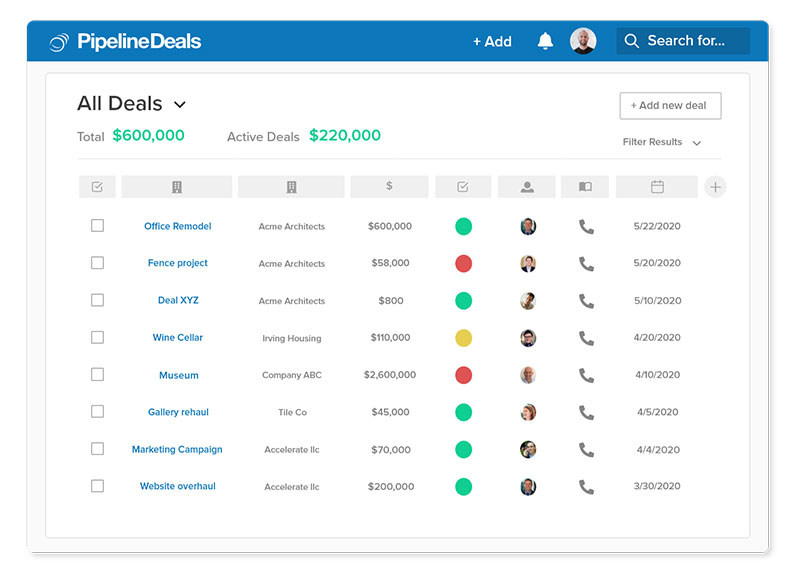 PipelineDeals is another competitor in this market. This tool was made by salespeople to deliver the best tools in the sales industry. Some of the features include:
The sales pipeline is in a central and customizable area for easy access
There is a daily agenda that builds itself while a sales representative works. Upon login, the agenda identifies what task needs to be done first.
Includes a mobile app so sales reps can work from anywhere
Integrates with other platforms
The company offers custom development to fit specific needs
Setup is easy and the platform is customizable
Groove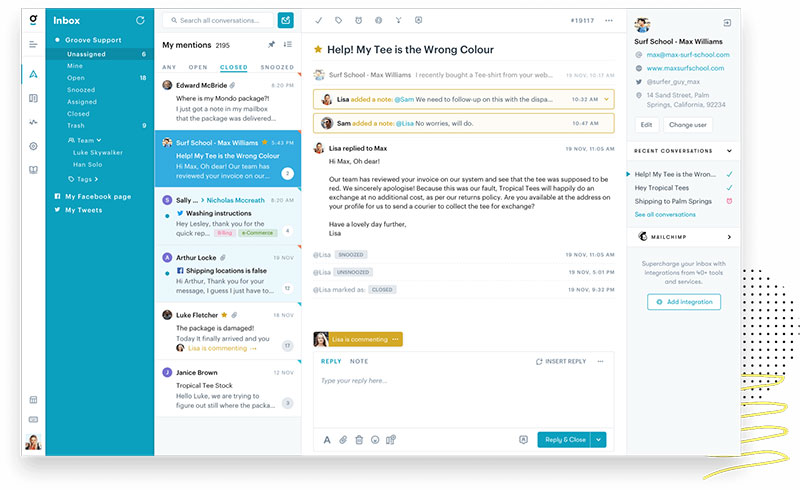 Groove specializes in creating team collaboration to convert and delight customers. This platform boasts that it saves about 20% of sales representatives time. Features include:
Team collaboration on conversations. Conversations can be assigned, given a status, and will show if a team member is conversing with a prospect to avoid double replies
Integrates with several platforms so sales representatives can still use their favorite tools
One dashboard keeps track of all communication
Detailed reports allow companies to see how they are performing
An app is available so team members can work from their smartphones
FrontSpin

FrontSpin offers interactive and intuitive tools to help sales representatives manage leads and make more sales in less time. This cloud-based platform provides an intuitive interface with several tools designed for efficient client engagement. Its features include the following:
A power dialer that allows salespeople to dial with one click. It also prioritizes calls and allows voicemails to be recorded ahead of time
Email templates that can be customized and personalized
Email tracking including notifications of opens and clicks
Cadence playbooks that streamline workflows
Salespeople can communicate with customers on social media
Integrates with and syncs information to CRMs
Data collection from calls and emails reduces the amount of manual data entry
Insights and analytics help companies have an extensive comprehension of data
Woodpecker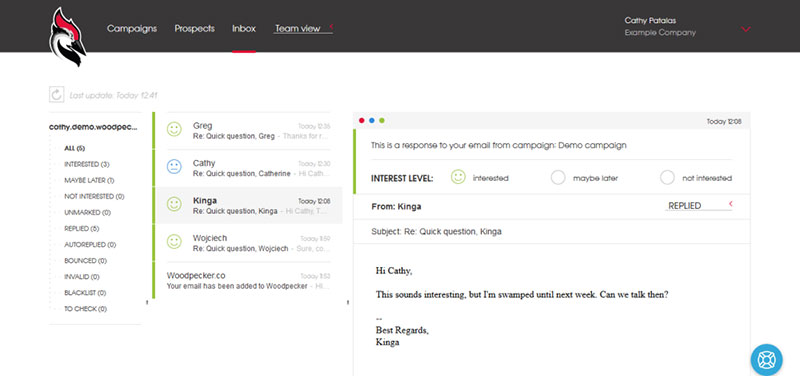 Woodpecker is an email outreach and mail-merge tool that can also be used as a lead generation tool. Its features are:
Works with many email providers and connects to custom emails
Automatically send cold emails and follow up emails
Cold emails are personalized to appeal to the recipients
Follow up emails are stopped if a recipient sends a reply
Includes email tracking and reports the opens and clicks
Makes sure teammates do not contact the same person
Integrates with other platforms
VanillaSoft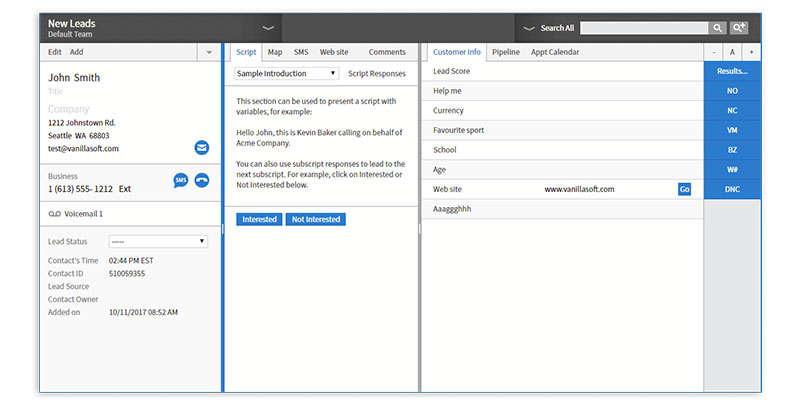 VanillaSoft is a platform that provides many automation features to improve workflow. The main features include:
Automates the priority of leads. Leads are routed to the front of a call queue so that sales representatives call the best leads first
An automatic dialing feature that collaborates with existing phone systems
Integrates with several other platforms
Calls can be recorded which allows sales representatives to receive actionable feedback and helps with coaching
A calendar feature eliminates human errors in scheduling appointments
Klenty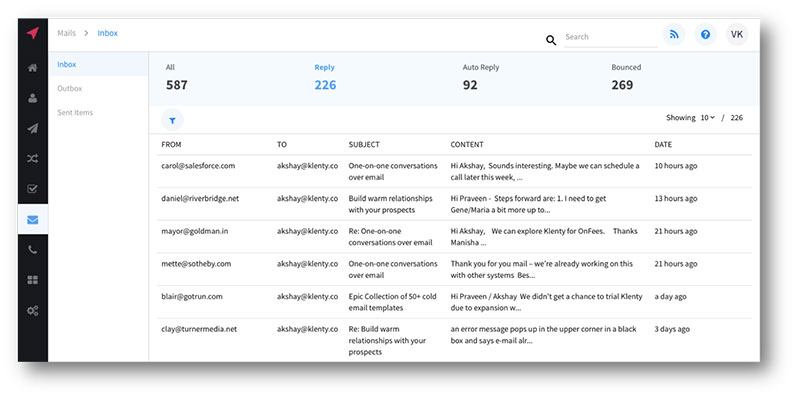 Klenty is a sales engagement platform that automates repetitive tasks allowing sales representatives to focus on building relationships. The automation features that Klenty provides also helps sales representatives save hours every day. Tools and features that it offers include:
Highly personalized emails that add specific details
Automates follow up emails
Tracks engagement metrics so users can make informed decisions
Automatically tracks replies, bounce rates, and unsubscribers
Includes A/B testing
Integrates and syncs with popular CRMs
Imports contacts with one click
Close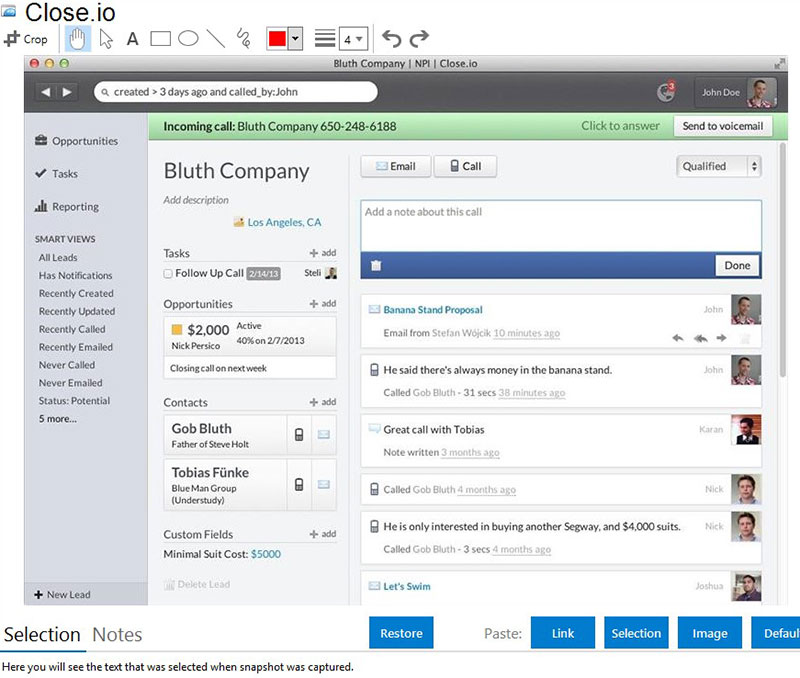 Close is another sales engagement platform on the list of Outreach.io competitors. It has incorporated many features to help teams grow sales operations overall. Those features include the following:
Integrated CRM
Multiple channel approach with email, phone, video, and SMS texting
Personalized bulk emails
Automatic follow up emails
A power dialer dials and calls the leads while a salesperson does other work
One central sales hub
Automatic logging and syncing so salespeople can avoid manual input
Performance insights are given to help sales representatives make informed decisions
Zoom and other platform integrations
XANT Playbooks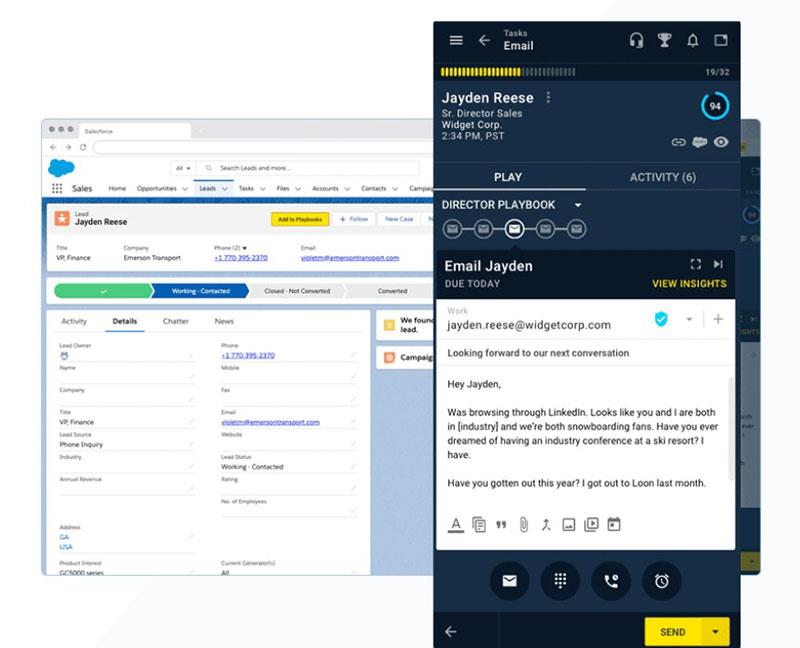 Playbooks by XANTworks smarter. This platform uses AI to enhance sales engagement and increase productivity. Its features include:
Omnichannel sales approach including email, phone, texts, social media, and video
Prioritizes leads so sales representatives know who, when, and how to engage clients
Automates tasks and processes so sales representatives can focus on selling
Provides reports and insights into performance to become more effective
Integrates with CRMs
Syncs with CRMs to eliminate manual data entry
Has strong security measures to keep data safe
Mobile accessible product allows users to work from anywhere
PersistIQ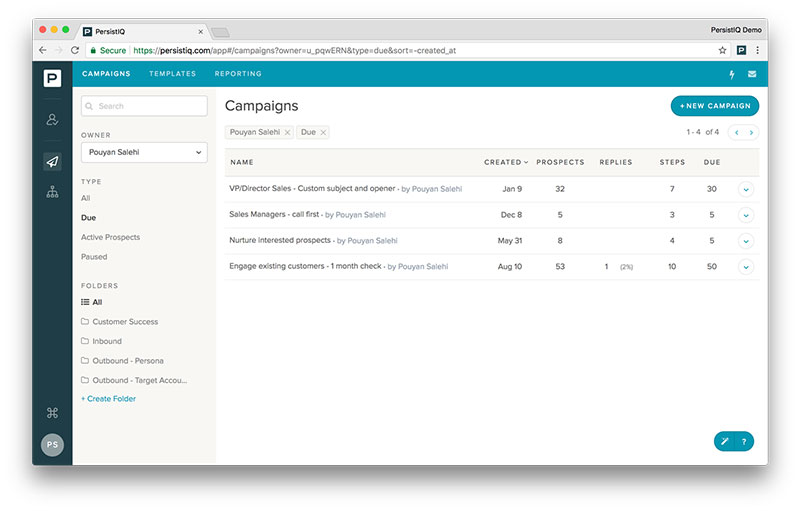 PersistIQ focuses on features that salespeople use the most and strives to make them better. The platform also enhances the human element of sales but includes intelligence to avoid mistakes. Some features are:
It has an intuitive, easy to navigate design
Automates sending personalized initial and follow up emails
Tracks analytics and email opens
Includes A/B testing
Integrates with many CRMs
Integrates with other platforms so salespeople can use their favorite tools
Users can add custom fields and filters
Easy to import lead lists
Sales representatives can set up follow up reminders
Integrates with Salesforce
Hubspot Sales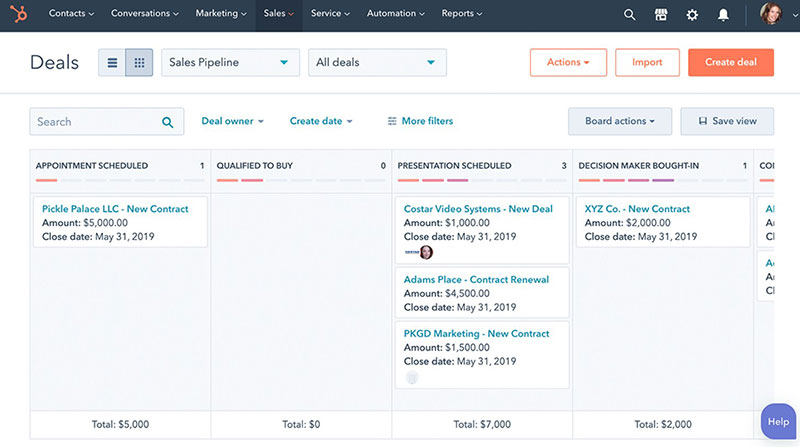 Hubspot is another software as a service (SaaS) that helps teams close deals, deepen relationships, and manage their pipeline. It provides powerful sales marketing features. They include:
Incorporated CRM
Integrates with more than 500 tools in the Hubspot App Marketplace
Email templates that are personalized with information from the CRM
Email tracking that notifies when an email is opened
Calls can be made from the browser and then logged
A live chat feature routes customers to the proper salesperson while they are engaging with the website
Reporting gives insights into performance
A mobile app allows users to work from anywhere
Attentive customer support if users have any problems or questions
Free or premium software is available
ClearSlide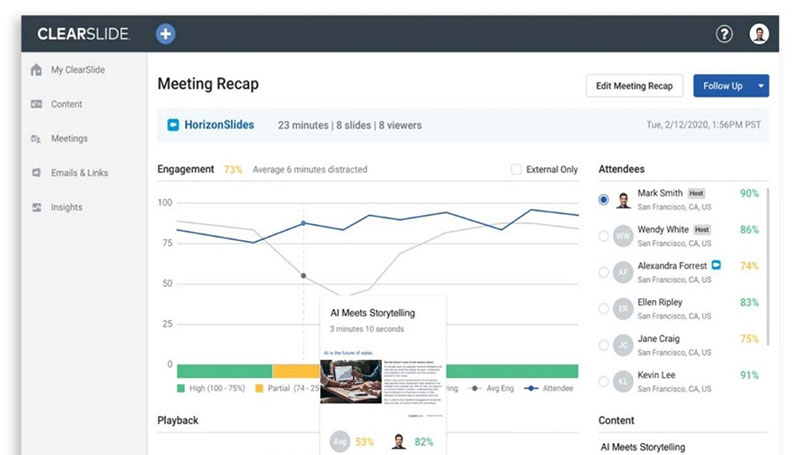 ClearSlide makes content available that sales teams can draw from when needed. Content includes presentations, email templates, slideshows, and videos. All members of the team can access the content library to deliver the right content to the right lead. More features include:
Content analytics to see what content is or isn't working
Web conferencing is included. Screen-sharing allows users to display content to the meeting participants. After a video meeting ends, data is logged and synced to the CRM
Analytics, reporting, and alerts provide insights and visualizations to help sales teams improve
Provides tools for tailored coaching
Cliently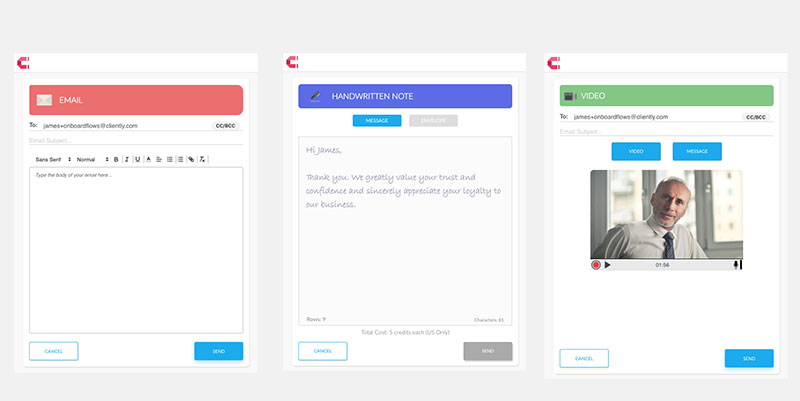 Cliently has designed a sales engagement platform to help sales representatives perform actions in under one minute. They strive to increase engagement by 50%. Cliently creates flows for each lead that details the engagements with them and provides analytics. Other features of this platform include:
Customization allows for each engagement to be personalized
Search for active and new leads in the lead database
Instant actions help sales representatives to engage with as many leads as possible
All engagements are visible in a lead card so sales representatives can work from one place
Engage through emails, video messages, postcards, handwritten messages, and gift cards
Add task and call reminders
Options for electronic and physical engagements
Detailed analytics show opens, clicks, unsubscribes, and more
Reply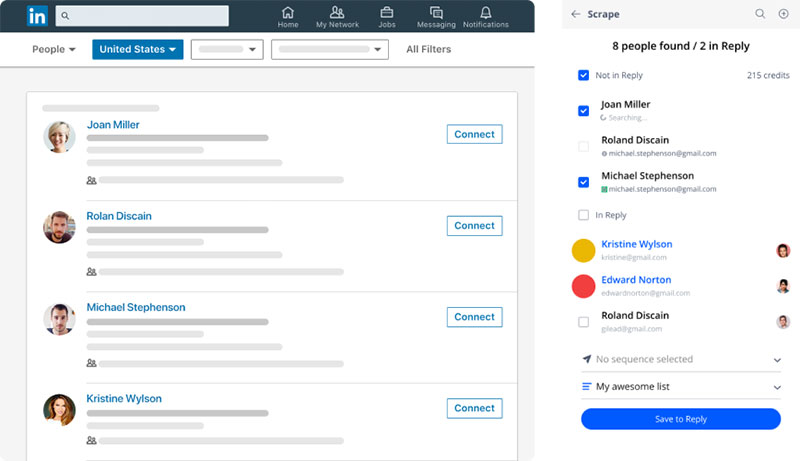 Reply is a sales engagement platform that eliminates routine work so salespeople can focus on sales. It does not have a full CRM but contains many tools to assist outbound and inbound engagements. New tools and integrations are added often to provide the best service. Some features include:
Multiple channel outreach including emails, phone calls, text messaging, LinkedIn, WhatsApp, and more
A list of tasks is generated for sales representatives to know exactly what they should do for the day and when it should be done
Analytics, including A/B testing and display data, will help sales representatives improve their techniques
Email addresses of prospects can be found on LinkedIn
Calls can be made directly from the platform
Syncs with CRMs
Integrates with several platforms for emailing, video creation, and more
A team edition feature helps manage team projects
ringDNA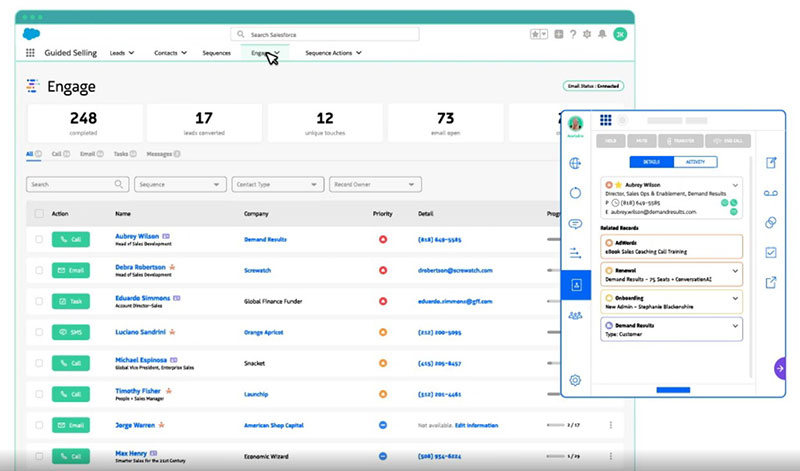 ringDNA provides guidance and insights through AI to help businesses grow their revenue. It comes recommended by several businesses and magazines. ringDNA facilitates sales coaching, eliminates busywork, and helps sales representatives be more productive. Here are some of its other features:
Guided selling helps sales representatives focus their attention on priority leads
Simultaneous guidance provides suggestions based on buyer behavior
Performance insights help sales representatives improve and grow revenue
AI also helps manage global teams
Marketo Sales Connect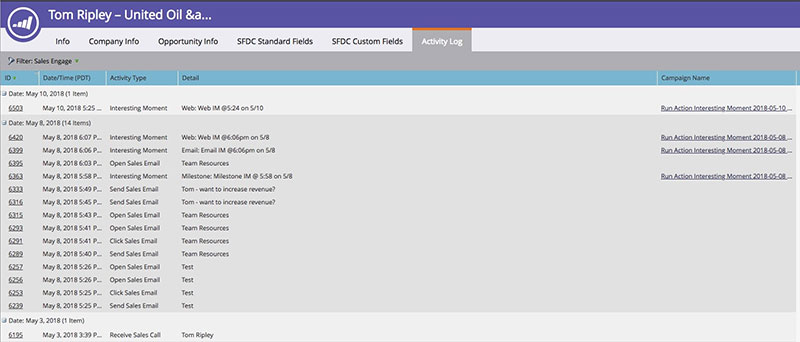 Marketo Sales Connect coordinates sales and marketing engagements to enhance and speed up the sales pipeline. It provides several tools for sales efforts to be efficient and worthwhile. Workflows and the sales pipeline can be customized according to need. Some tools and features offered in this platform include the following:
A single workflow gives salespeople more time to sell rather than spending time doing administrative tasks
Inbound and outbound communications can be personalized and automated
A prioritized lead list is provided
Digital sales playbooks help guide sales representatives in their outreach efforts
Marketing teams are provided with visibility into sales engagements to make informed decisions
Visibility and insights help sales and marketing leaders develop and drive consistent sales efforts
Mixmax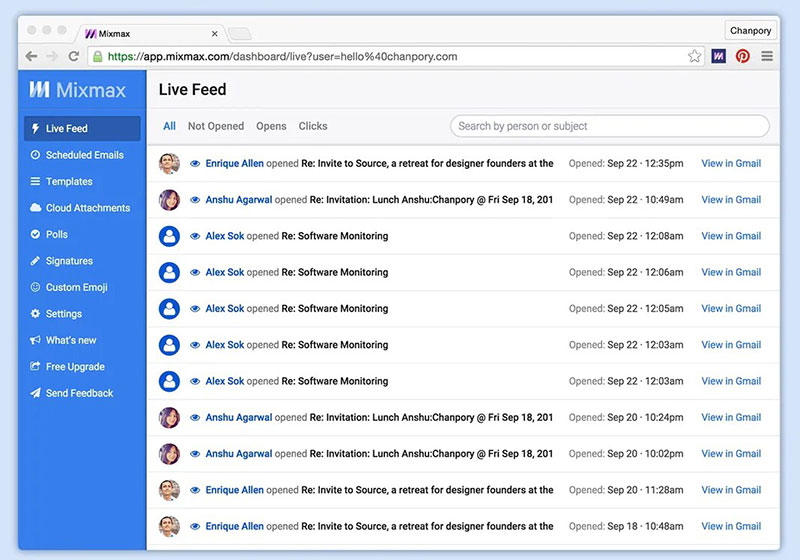 The last of these Outreach.io competitors is Mixmax. It is a platform built for Gmail users. Its main feature is that it embeds widgets within emails. The widgets include:
Survey widgets
Calendar widgets
Badges
Buttons
Other features include:
Email tracking and insights
Incorporated dialer
Automates scheduling, data entry, and alerts
Integrates with other platforms and services
Ending thoughts on these Outreach.io competitors
Sales engagement used to involve door to door sales. Businesses now use the technology available to reach more people and expand their business. Sales engagement platforms are an important tool for modern businesses as they help improve efficiency and quality.
Any of the above Outreach.io competitors will be an asset to a business, so keep in mind the specific needs of your business when deciding which one to use.
The best sales engagement platforms are intuitive, easy to navigate, and understand. They include modern outreach approaches like email, phone calls, text messages, and social media.
Further, a good sales engagement platform integrates with the tech that your company is already using. It should include many features that help sales teams work smarter not harder.
The platforms listed above include these key aspects and can help businesses advance.