Cold emailing is a type of unsolicited email sent to random prospects. It is a way to find potential leads, someone who may show interest in the products or services.
An efficient cold emailing campaign results in amazing ROI and growth. To achieve this though, you need cold email software.
The Benefits of Cold Email Software
Follow up potential leads
Enables personalized emails
Automate repetitive tasks
Another way to earn more leads is through collaborating with your team. There are lots of strategies to earn more prospects.
By using the cold email tools presented here, you can be sure that things will run smoothly.
The following are the best options available. Although similar, each has its unique features for different types of cold emailing techniques.
So, take the time to review the following list. Then, choose the software that meets your needs and preferences, and suits the nature of your campaign.
27 Effective and Efficient Cold Email Software
Salesloft
Here's a tool to help you close more deals and create more revenue in the long run. It has the power of sales automation, thus increasing the chance of converting leads.
Main Features
You can use CSV files to add contacts
Allows you to auto-import a lead, contact, or an account from Salesforce
Send personalized and follow-up emails to potential leads
Personalization Scores
Customize your emails by adding personal data, snippets, and videos. This software also enables users to detect replies, and measure the open, click, and bounce rates.
Another great feature is mail merge. This is essential for reaching large numbers of potential leads.
Prospect.io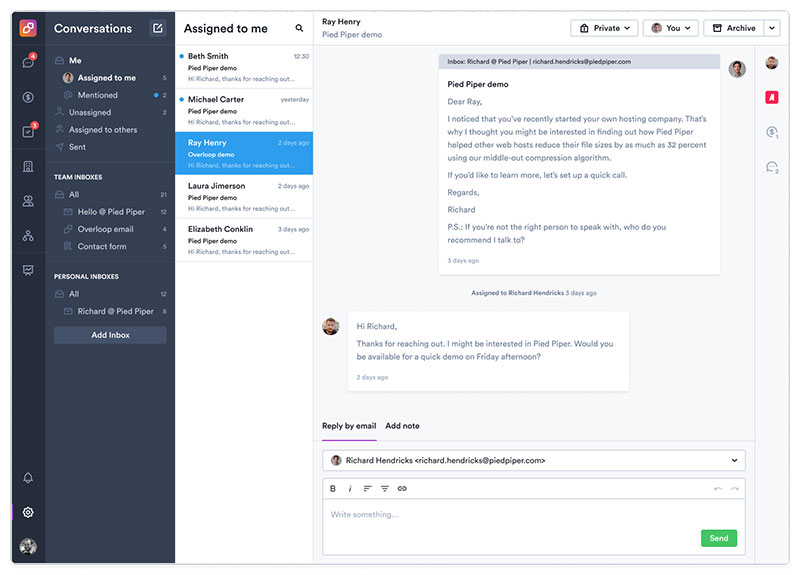 Whether you are a freelancer or business owner who wants to increase the number of potential leads, this email automation tool is a great help. With its great features, it enhances sales productivity and engages more potential customers.
You don't need to go through individual emails to see the status of your emails. This tool has a user interface showing all the stats and reports.
It also helps teams to work together by collaborating on their marketing ideas.
Main Features
Mail Tracking
Email Finding
Email verification
Provides stats and reports
Credit-based system for identifying email IDs
Mixmax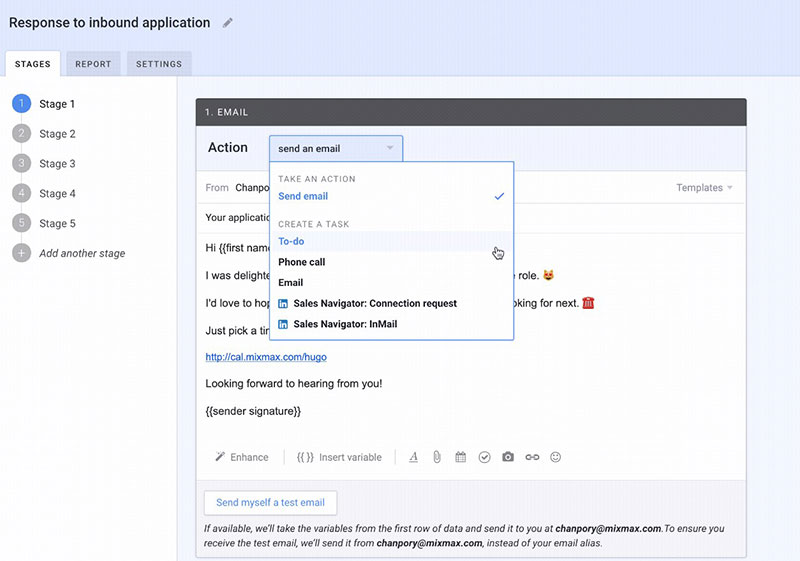 This tool is great for online entrepreneurs who want to leverage their careers in sales. The following features can create a well-organized flow of cold emailing.
It will also help you to be more organized, especially when keeping track of the emails you send.
Main Features
One-click meetings
Send later
Mix max sequences
Advanced embedding
Email tracking
Native integration with Pipedrive and Salesforce
Close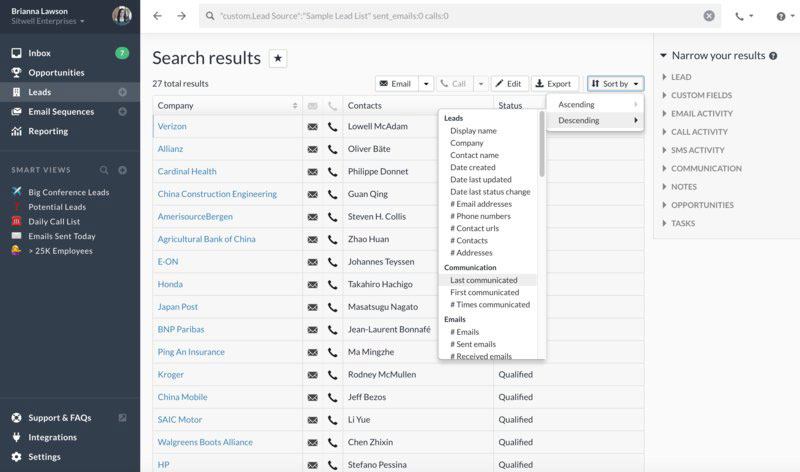 In this cold email software, you have almost everything you need to create tasks and emails fast. Personalized emails are also possible, enabling you to connect with prospects better.
You can schedule emails to create a more synchronized campaign and save time. This type of campaign is more effective as you can keep track of the changes and improvements.
Main Features
Send and manage emails
Create tasks
Cold call from the dashboard
Personalized email drip campaigns
Re-use email templates
Pause campaigns for any leads
Follow up email and task reminders
Metric tracker
Yesware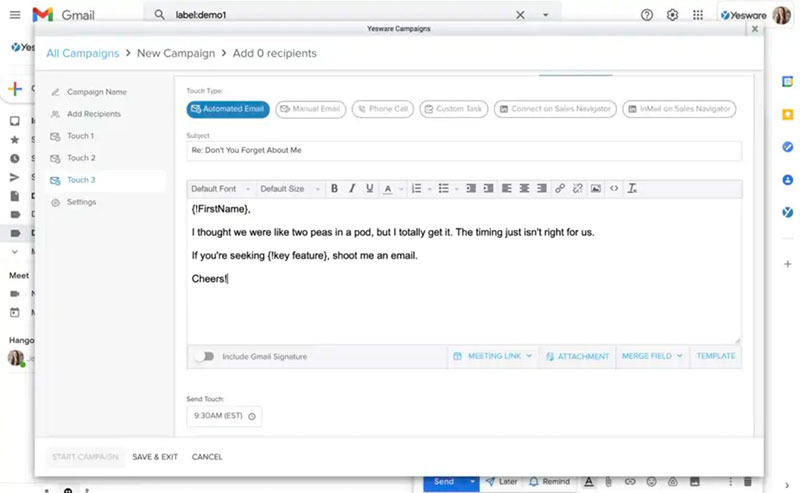 Here's another tried and tested cold email software. It is ideal for professional sales reps and email marketers.
It has all the components and features that you need for creating an effective cold email. Personalized emails are a great way to interact with people without making the email too salesy.
Main Features
Personalized cold email campaigns in Gmail and Outlook
Metric tracker
Email scheduling
Follow-up campaigns
Sendinblue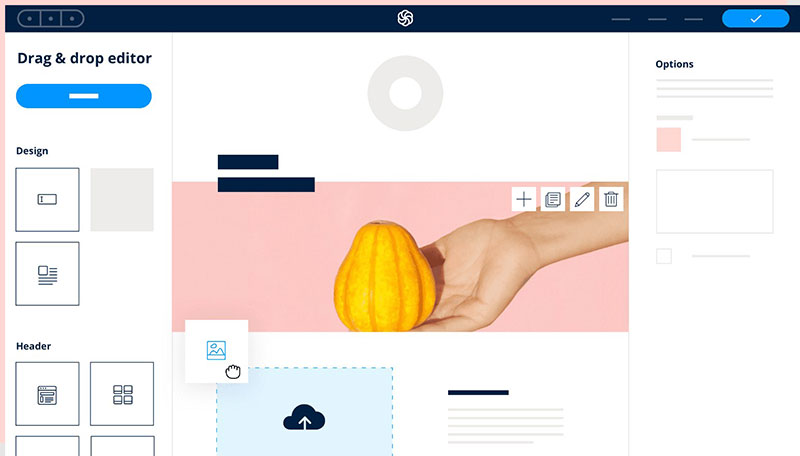 With this wonderful cold email software, creating a personalized email is easy. It is user-friendly, thanks to the drag and drop feature.
You can style the email any way you want. If you don't have time to create your own style, you can always use the premade templates.
What's more, you can categorize emails based on location, purchase history, and other criteria.
Main Features
Cold email campaigns customization
Drag and drop function
Pre-made email templates
Unlimited number of contacts
Rich segmentation criteria
Free subscription
Outreach.io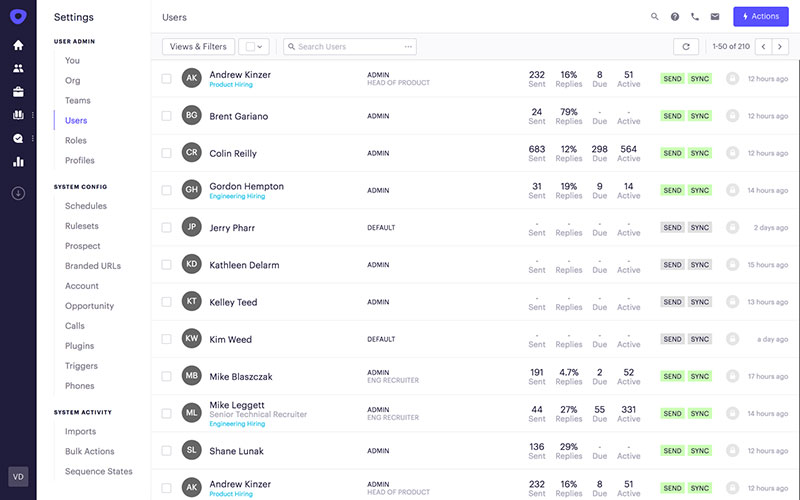 This software offers voice, email, and social features. Such extensive cold emailing features provide better results in generating leads.
Its comprehensive functionalities allow users to achieve their goal of increasing customer numbers.
The main focus of this tool is intelligent automation and reply detection. This allows you to see which prospect responds to your cold emails.
It helps you to monitor incoming emails and replies, ensuring that you never miss a lead conversion opportunity.
Personalization features enable you to speak right to your potential customers.
Main Features
Features cloud, web, and SaaS deployment
Focus on intelligent automation and reply detection
Deep personalization options
Reply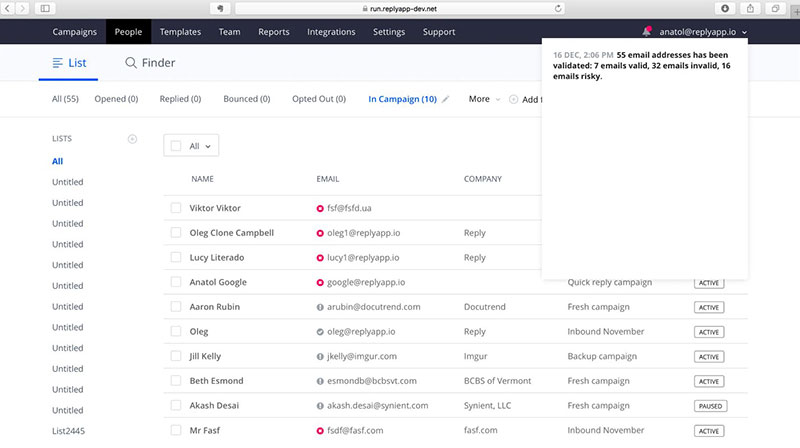 The purpose of this cold email software is to help you get email and call sales leads in no time.
One advantage of this software is that it allows users to personalize their messages. This helps to entice more people to show interest in the business proposal.
What's more,it enables you to test the email or approach first before sending it to the leads. So, it is adaptable to both teams and individuals who are creating emails.
Through client research, you can track their activities inside your platform. These strategies allow you to adapt your approach when necessary, creating greater efficiency.
Main Features
Gives access to in-depth campaign data
A/B tests of approach
Track metrics and activities
Saleshandy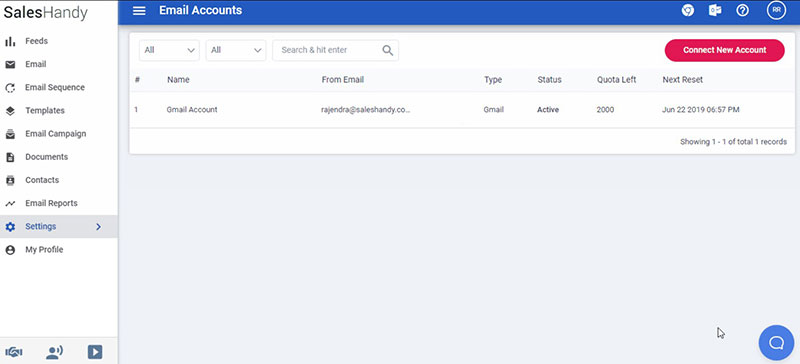 With all its features, this could be a standalone application to convert leads into sales. It can also serve as an extension to Gmail or Outlook.
It has all the essential functionalities to create wonderful cold emails. You will enjoy creating personalized emails for your clients.
One great advantage of this software is that you can see who clicks a specific link. You can then decide whether to send a follow-up email to build their trust in your brand or business.
Saleshandy sets daily limits on the emails you send. Thus, you avoid aggravating prospects with too many emails.
With its email verification tool, you can be sure that your messages are only going to legit addresses.
Main Features
Email tracking
Email automation
Follow up scheduling
Pre-made email templates
Tracking for individual links
Built-in send limiter
Email verification tool
Snov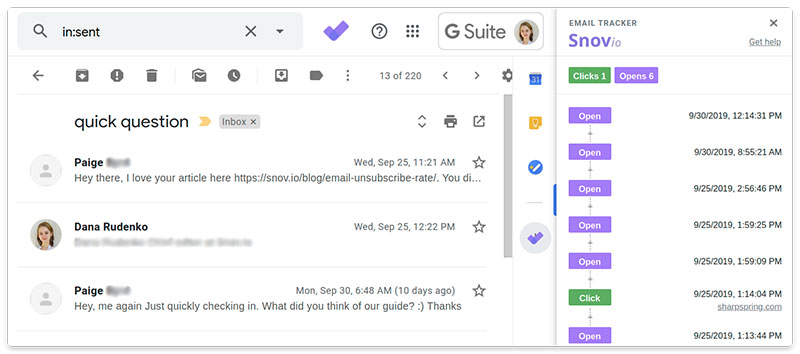 This software is specifically designed for cold emailing. It automates email campaigns and helps you to save time.
Through the Snov extension, it's hassle-free to find email addresses on the internet.
It also enables you to set triggers to notify you when someone opens the email you sent. If the recipient doesn't reply to the mail, it is easy to set up and send the follow-up email.
Main Features
Easy-to-use interface
Email campaigns automation
Enable Snov extension for Google Chrome
Follow up email
Domain Search Tool
PersistIQ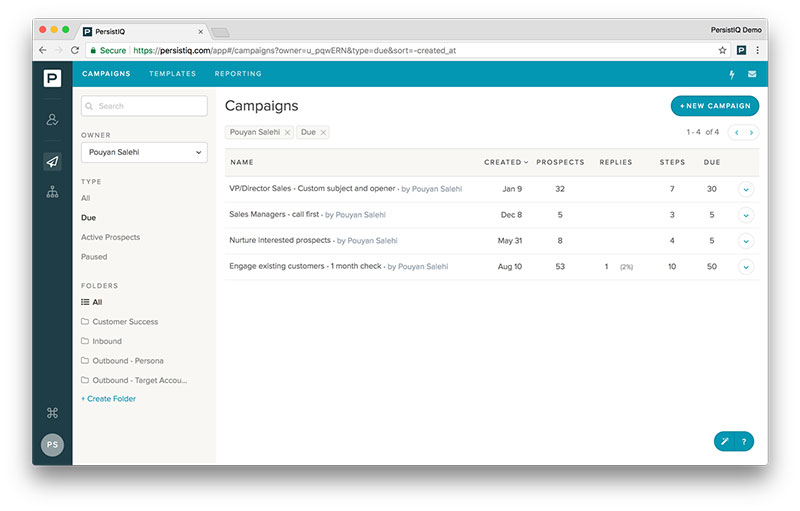 Here's another tool you can use to create personalized emails for potential leads. By importing CSV files, managing custom fields, lists, and tags is now hassle-free.
With all its features and functionalities, collecting more leads and turning them into sales is easier and more efficient.
Main Features
Personalized email campaigns
Import prospects via CSV files
Custom fields, lists, and tags for managing campaigns
A/B testing
Open and click rates
Reply detection
Auto reply and bounce detection
Delivery window
Default email signatures
Set time zone
Email thread
BCC emails to CRM
Customize unsubscribe links
Streak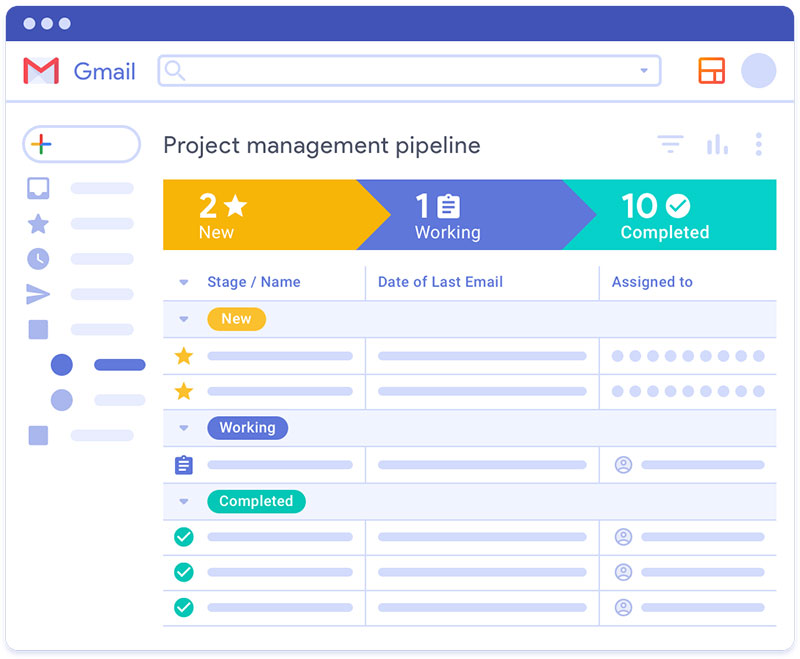 This tool transforms your inbox into a flexible CRM. That's what makes it so functional.
You don't need to integrate this tool with a third-party CRM, so it literally saves you effort and time.
Creating snippets is also possible with Streak. These help to eliminate repetitive tasks and speed up the process of replying to emails.
Main Features
Integrates directly into your Gmail account
Transform inbox into a flexible CRM
Enable snippets
ActiveCampaign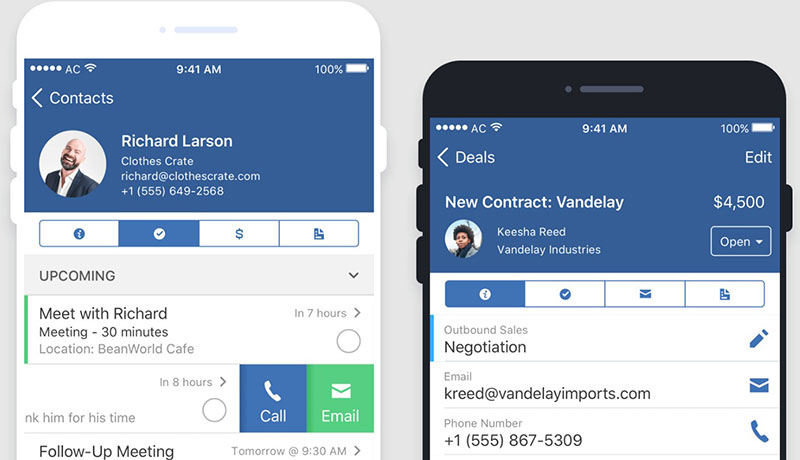 With this cold email software, you can run an effective campaign with minimum intervention.
Since it has an anti-spam function, it minimizes the number of emails going into spam folders. As a result, more people will receive your email in their main inbox.
With ActiveCampaign, you can reach out to leads and track their actions. This allows you to learn their behaviors.
By adapting your emails accordingly you can obtain higher open rates. It is possible to identify the leads' profiles and know which ranks best to see what to focus your campaign on.
Main Features
Anti-spam function
Powerful list segmentation
Lead tracker
Gmelius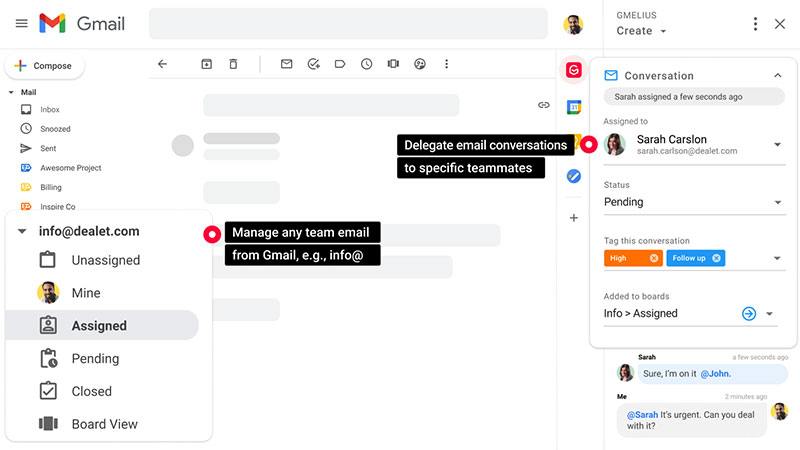 This tool allows you to turn Gmail into a company workspace. Since it integrates with tools like Trello and Slack, teams can work together wherever they are.
It makes it easy to keep track of each other's progress and see which cold email requires improvement. This cold email software also has sales reports, allowing you to see the team activity and sales pipelines.
Main Features
Integrates with main tools like Trello and Slack
Keep track of the team's sales effort
Sales reports and automation options
Autoklose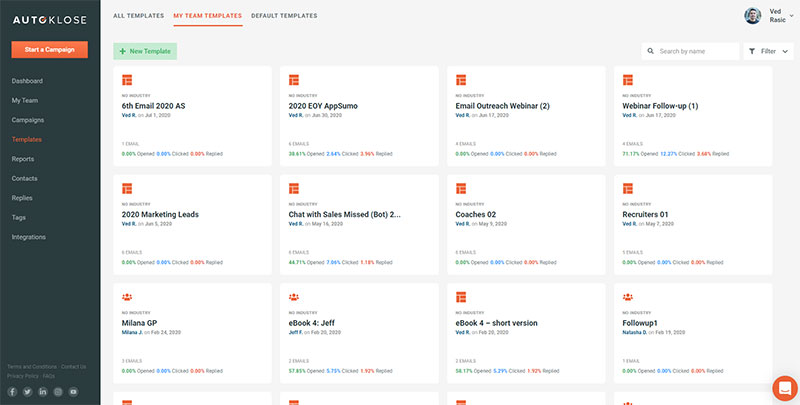 Here's an outbound sales platform. It provides in-depth solutions to identify and connect with the ideal B2B prospects.
As with other platforms, you can connect to Gmail using your primary email address. This feature prevents your emails from going to the recipient's spam folder.
You can also create sequences that go out at predetermined intervals. As a result, your cold contact may become a warm introduction.
Main Features
Enable Gmail integration
Anti-spam function
Email sequence creation
Lemlist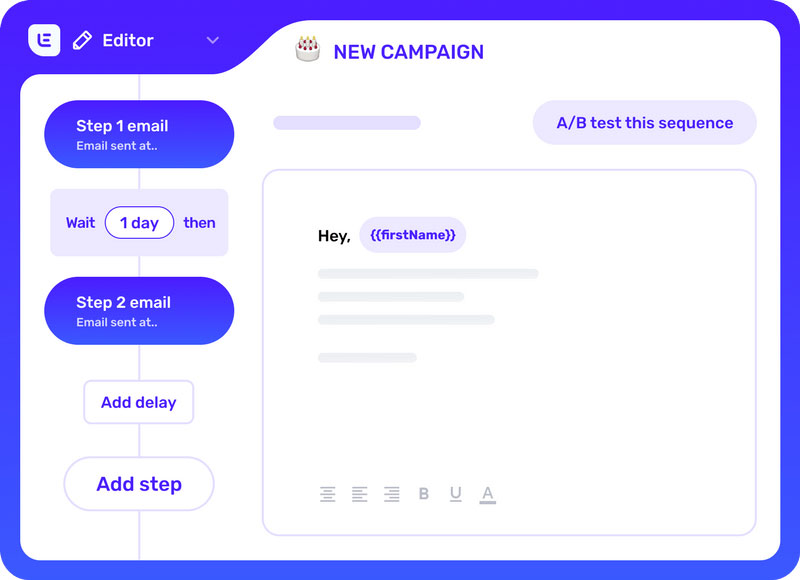 Creating personalized emails through this platform is easy. Whether you are going to send text, videos, or images, it's all possible with Lemlist email software.
Lemlist comes with a scheduling feature. So, based on your research, you can create personalized emails and send them at the best time.
Apart from that, you can set follow-up emails if the prospects only read the email and didn't respond.
You also have the option to design the email template according to your preferences. This will make your email stand out from the rest.
Main Features
Cold email personalization
Personalized email campaign scheduling
Add follow-up stages
Design customization options
HubSpot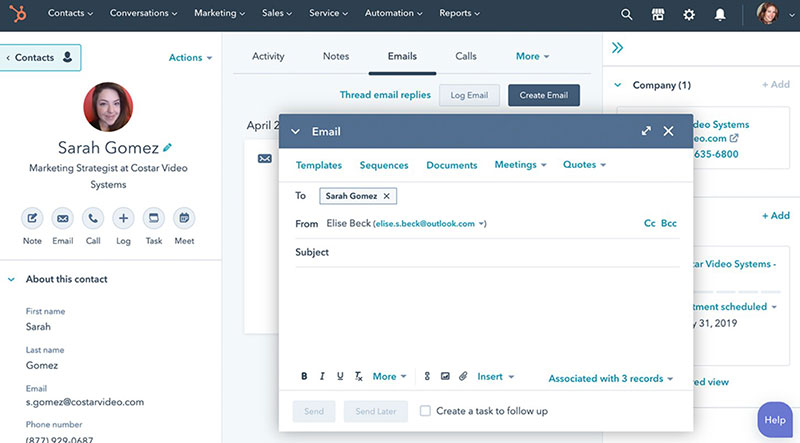 This is one of the most ideal email marketing and sales tools for cold email creators. Without a doubt, its comprehensive features help you to be efficient and effective in sales outreach.
If you don't want to create an email template from scratch, you can use their pre-made options. These allow you to edit and create an enticing cold email to send to prospects.
Since it has the appointment and meeting scheduler, organizing these is hassle-free.
Main Features
Offers robust software suites or "hubs"
Email templates
Call recording
Email tracking
Document management and tracking
Email automation
Appointment and meeting scheduler
Woodpecker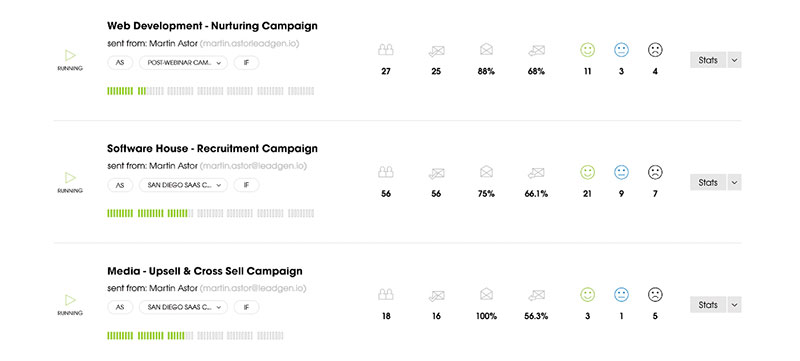 With this cold email software, it's possible to create automated personalized emails.
The creators made this specifically for cold emailing and follow-ups. That is why it contains all the essential features needed for this task.
It is safe and enables you to work as a team. Collaborate on campaign ideas, blacklist domains, and share lists of contacts with one another.
Its A/B testing feature allows you to test your email first before sending it to prospects. You will see how it looks and whether it will appear in the main inbox or in the spam folder.
More than that, you can check if the template you've chosen works for your current campaign.
Main Features
Cold email customization and follow-ups
Integrates with Gmail, Office 365, or Exchange
Secure software for automated campaigns
Team collaboration
A/B testing
Manual tasks
Snippet-based conditions
Constant Contact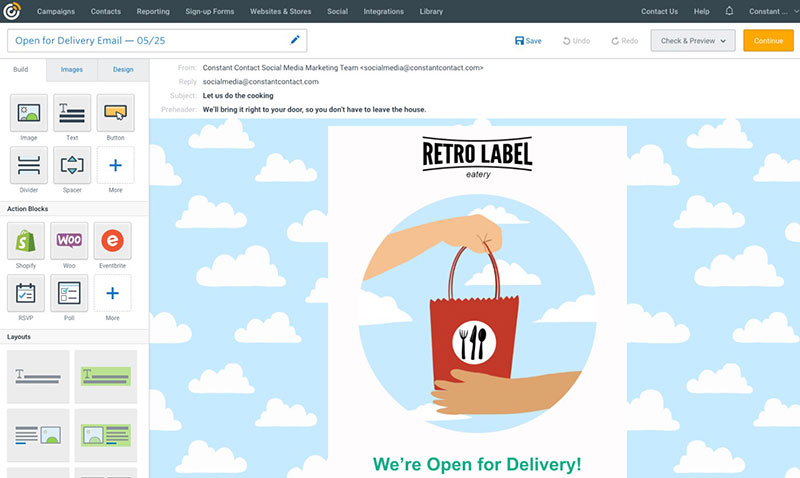 Through this tool, you can gather data and emails from various sources. What's more, you can integrate it with other platforms, such as Salesforce.
You can add CTAs according to your purposes. These could include social media campaigns, coupons, and surveys.
Main Features
400+ email templates
Gather emails from different sources
Easily add CTAs
Klenty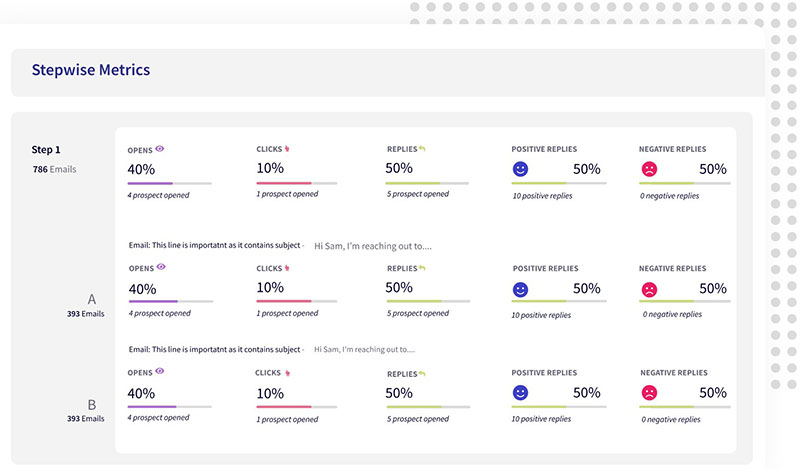 This tool is not only for creating a personalized email, but it also helps you keep track of your leads. This is ideal for those focused on making sales, rather than looking for potential leads alone.
It is hassle-free to auto-import prospects and connect them with a CRM or Google Sheet. You can create lists and tags to access these leads without a problem.
Main Features
Send personalized cold emails
Keep track of the leads
Powerful automation tools
Auto-import prospects
Create emails manually or through CSV files
Integrates with popular CRMs like Pipedrive, Soho, and Salesforce
QuickMail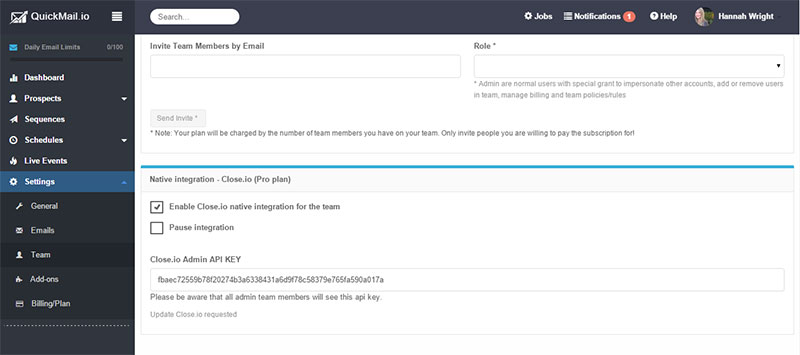 Running lead generation necessitates cold outreach automation tools. These help to produce more leads and generate sales fast.
QuickMail enables you to collaborate with your team to develop and manage campaigns.
Quickmail comes with a follow-up feature. This allows you to email recipients who show interest but don't reply to the emails you send them.
You can see the daily, weekly, monthly, and yearly metrics of your email campaigns. Monitor whether your strategies are working or if they need improvement.
Main Features
Automate email campaigns
Email follow-up scheduler
Metric and lead tracker
Integrates with Gmail and Outlook
Clearbit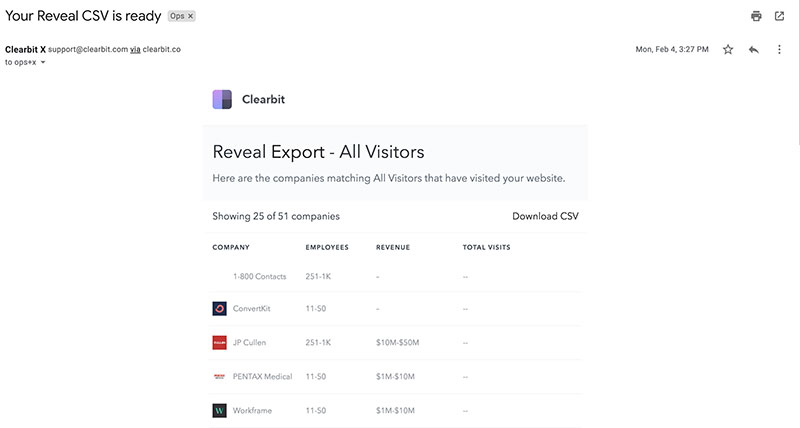 This cold email software helps you to run your business effectively.
It quickly aligns your marketing and sales efforts to your potential clients. It does this by using algorithms to understand customers based on their actions.
Main Features
A database of over 200 million contacts from 20 million companies
Integrates with Salesforce, Marketo, and Segment
Hunter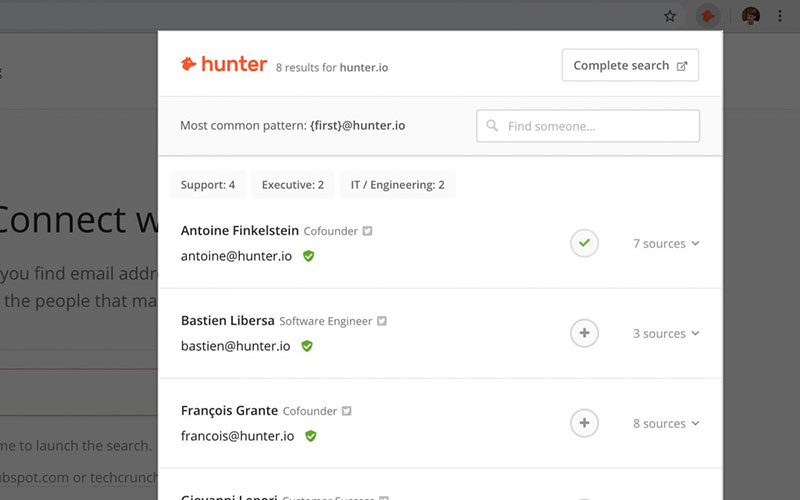 If you are looking for a tool that focuses on finding and verifying email addresses, then this one's for you. Once you enter a domain name, it displays a list of email addresses associated with that domain.
Since it doesn't rely on a single database, it is always updating. It crawls the web for new listings found on social media, forums, and other sites.
Main Features
Finding and verifying email addresses
Generate lists of email addresses through Chrome extension
Crawls different websites for email listings
ContactMonkey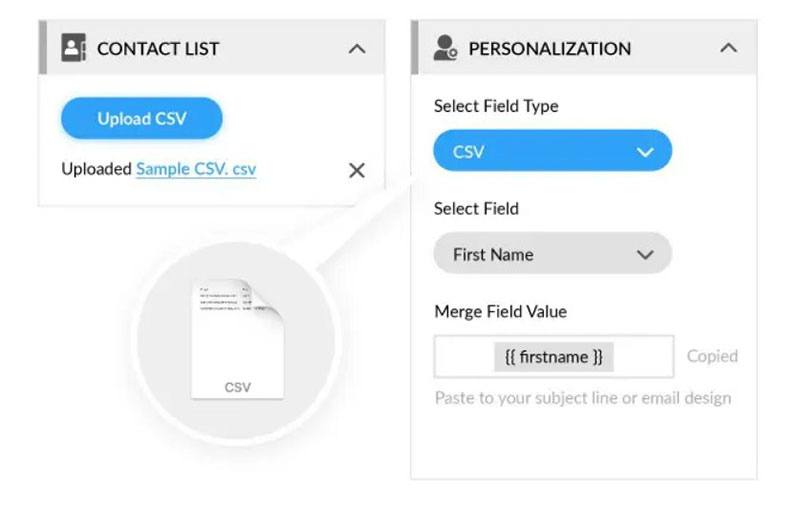 This tool helps you create, send, track, and measure all your internal messages.With its personalized engagement communication, you can create emails according to your business needs.
With this software, users enjoy easy email tracking. What's more, it offers smooth integration with Salesforce.
Further, it comes with the Mail Merge feature. You can also schedule when to send emails for a more organized cold emailing process.
Main Features
Conducts internal email tracking
Email and metric tracker
SalesForce integration
Cold emailing through the Mail Merge feature
Email scheduling via ContactMonkey
GMass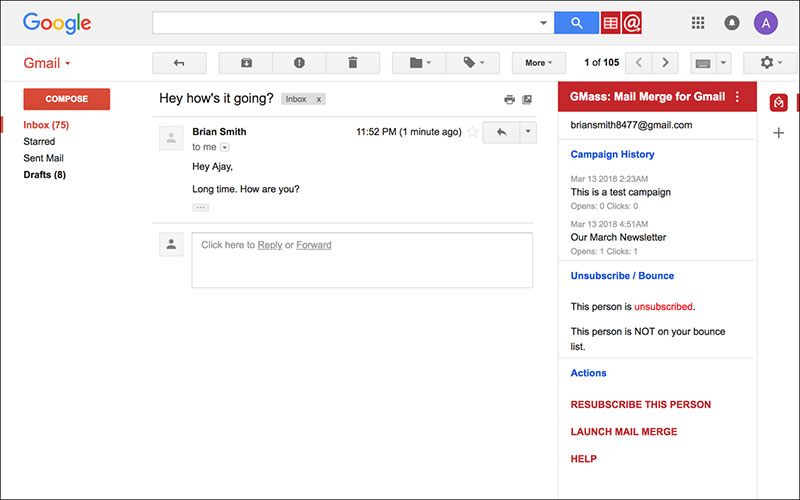 Here's another tool for running an email campaign right from your Gmail account. By using a personal account, there is a lower chance of getting your emails sent to the spam folder.
This software is regularly used by employees of LinkedIn, Twitter, Google, and Uber. It's also ideal for businessmen, freelancers, and solopreneurs who want to get more leads and generate more sales.
GMass is easy to use by downloading the Chrome extension and signing up with a Google account.
Main Features
Run sales and marketing campaigns via Gmail
Mail merge feature
Easy to use
Mailshake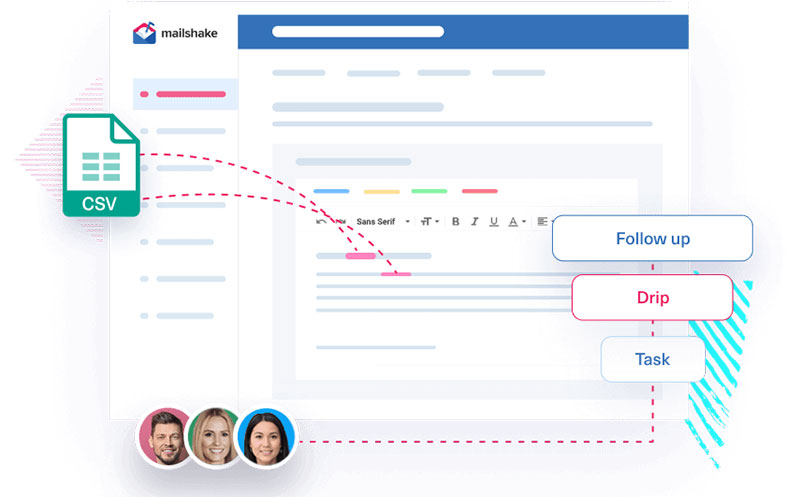 If you are searching for a cold email software to help improve your cold email outreach, this is for you. Mailshake allows you to send bulk personalized emails.
You can also set up the follow-up emails. These trigger whenever the recipients open the emails and read them.
Main Features
Sending personalized emails in bulk
Mail merge features
Schedule follow-up emails
Mailshake dashboard with Lead Catcher
A/B testing to optimize campaign performance
SmartReach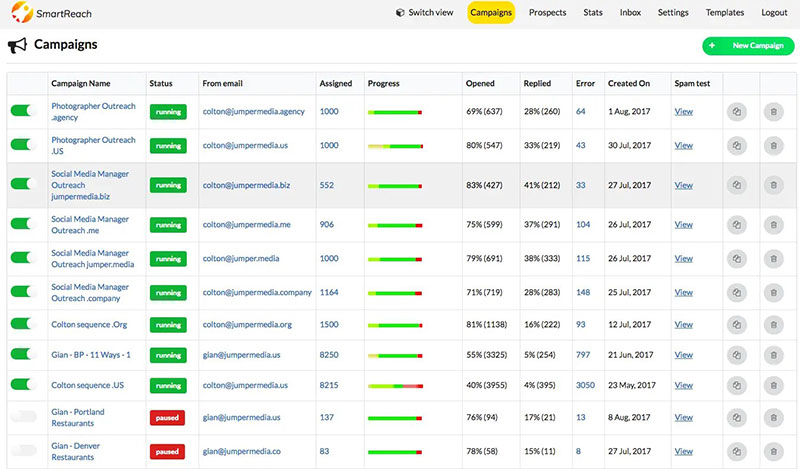 When creating cold emails, you want the most efficient and effective cold emailing software tool. With features like advanced scheduling and hyper-personalization, SmartReach may be what you need.
Such features make it more likely that recipients will read the email messages you send. It also has the tools and features to prevent emails from going into spam folders.
Smartreach is best for bigger businesses and entrepreneurs who manage thousands of emails every day.
Main Features
Advanced hyper-personalization
Advanced scheduling
Supports email clients, such as SendGrid, Mailgun, Outlook, Office365, and GSuite
List-cleaning (email validation)
Warm-ups
Spam tests
Conclusion on the best tried and tested cold email software for you
A cold email software can make things easier, and assist you in generating more leads and sales. However, take note that each tool has its own strengths, depending on its purpose and goals.
Ensure that its features suit your email marketing campaign and values. This will ensure that you create an enticing personalized email.
The cold email software presented in this list are all very helpful tools. They can help to skyrocket your sales in a short period.
If you enjoyed reading this article on cold email software, you should check out this one with email marketing funnel.
We also wrote about a few related subjects like product evangelists, social media lead generation, how to write a formal email, sales automation software, sales funnel examples, digital marketing campaigns, email marketing courses, email marketing automation, the best sales apps, best CRM for Gmail, useful elevator pitch examples, sales pipeline stages, email tracking software and sales automation tools.