Yesware is a software solution for email tracking and management that integrates with Outlook and Gmail. It is very popular with sales reps to maximize the effectiveness of their outreach efforts.
Although Yesware is used a lot and is a good email tracking platform, it has its flaws. For instance, the analytics it produces are not always accurate. Also, the basic plan does not include important email campaign features.
Yesware is ideal for small to midsize organizations with 11-1,000+ people. It offers a free trial, but the most basic package costs $15.00 per user per month. Most users like Yesware for the following features: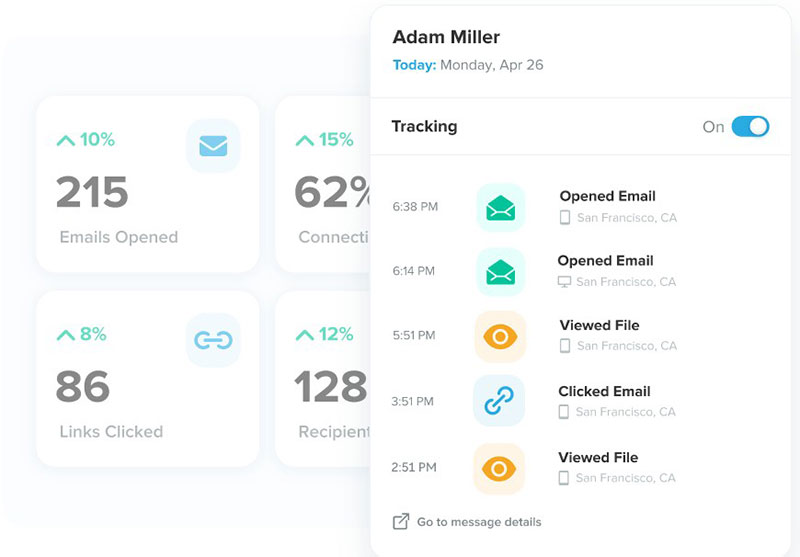 Email archiving
Email retention
Response templates
Data recovery
However, those features are not enough for all users. Yesware scores low on affordability, ease of use, user rating, and value despite these excellent features. There are many Yesware alternatives that may be a better match for your needs. This article is all about those alternatives for email management.
Best Yesware Alternative Examples
GMass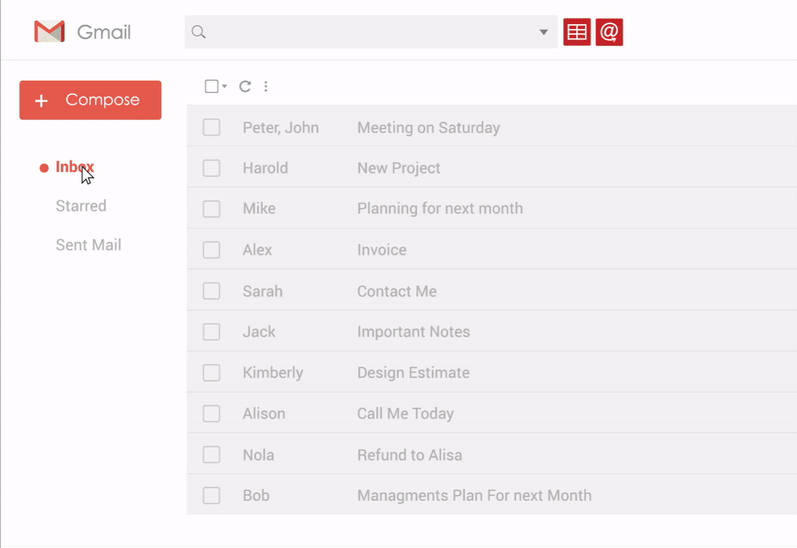 The first Yesware alternative is GMass. The Gmail outreach platform directly runs mail merge campaigns. Several large companies, like Google, LinkedIn, Twitter, and Uber, use it. It has an excellent sales toolkit with different outreach capabilities.
Other Yesware alternatives focus on large Saas companies and other big enterprises. Well-known names in this group include Bananatag and Boomerang. However, GMass also satisfies the needs of individuals, small companies, and institutions.
Getting started with GMass is very straightforward. Download the Chrome extensions, sign up with a Gmail account, and start using it.
Right Inbox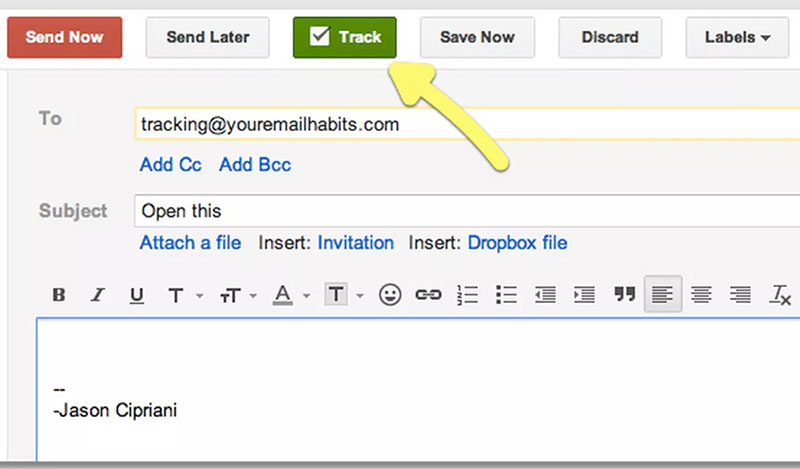 Right Inbox is one of the more economical Yesware alternatives. It is simple to use, and there are many satisfied customers. More than 250,000 users have downloaded it to manage their Gmail inboxes.
Besides basic email management, it also provides tools for email campaigns and unlimited tracking. You can see who opened an email and when. That helps determine the right time for sending follow-up emails.
Right Inbox offers deals starting at $5.95 per month for an annual subscription. The price goes up to $7.95 for monthly subscriptions. Either way, the cost is considerably lower than the $15.00 monthly fee that Yesware charges. A free version allows the user to test the basic features before upgrading.
These are some of the most sought-after features:
Email templates
Email tracking
Electronic signatures
Recurring emails
Scheduled sending
HubSpot Sales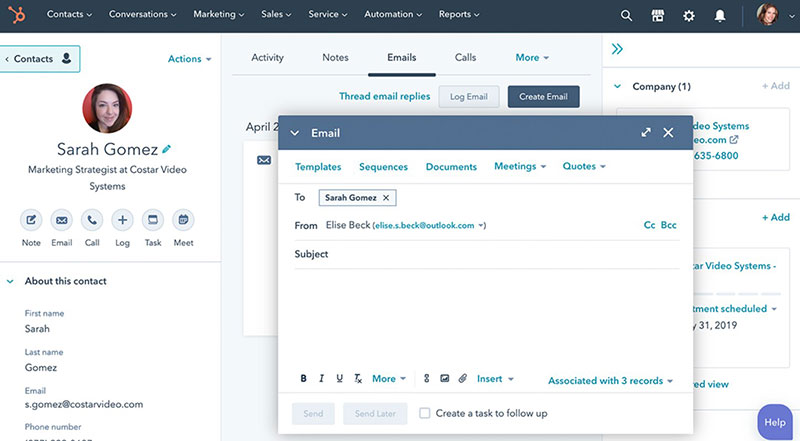 HubSpot Sales is a free Yesware alternative and is also known as Sidekick. It can track emails by providing information on email and attachment opening rates and when they were opened. It has gained a lot of popularity in recent times, and the features are reliable.
The fact that HubSpot is free does not mean that it is not as good as other email trackers. It is actually more robust than other options and even includes lead management options. It is compatible with many other apps, like Gmail, Outlook, and Zapier.
The free version shows the 200 most recently opened emails. Some other interesting free features are:
VoIP calling
Meeting system
Ready-made email responses
Email templates
Optional access to HubSpot's CRM
Besides the free options, there are additional paid features. Paid features include email sequences, live chat, and much more.
SalesHandy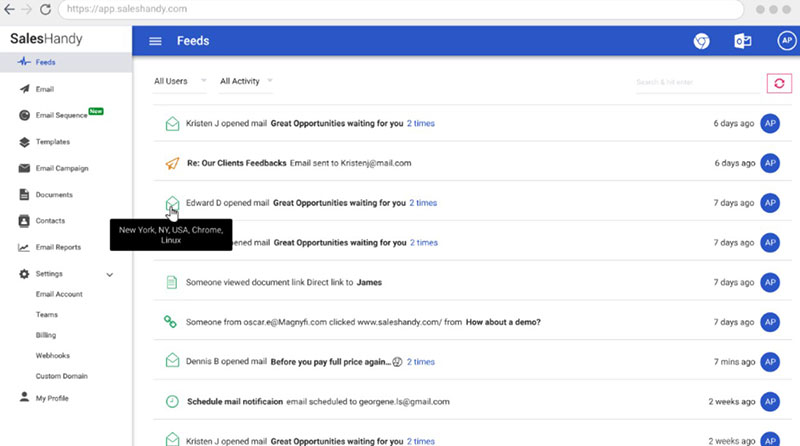 Like YesWare, SalesHandy is a software solution for email outreach campaigns. It integrates with Gmail, GSuite, and Outlook to make email marketing more engaging and effective.
You can schedule personalized email campaigns and automate follow-ups. The email tracking allows users to measure the success of their outreach efforts. SalesHandy tracks email openings and clicks.
SalesHandy outperforms Yesware on many fronts. Especially in Outlook, it offers its users a significant number of extra features. All things considered, SalesHandy is the perfect choice for smaller businesses.
More key features are:
Customized mail merging
Email scheduling
Free email tracking
Unlimited notifications
Groove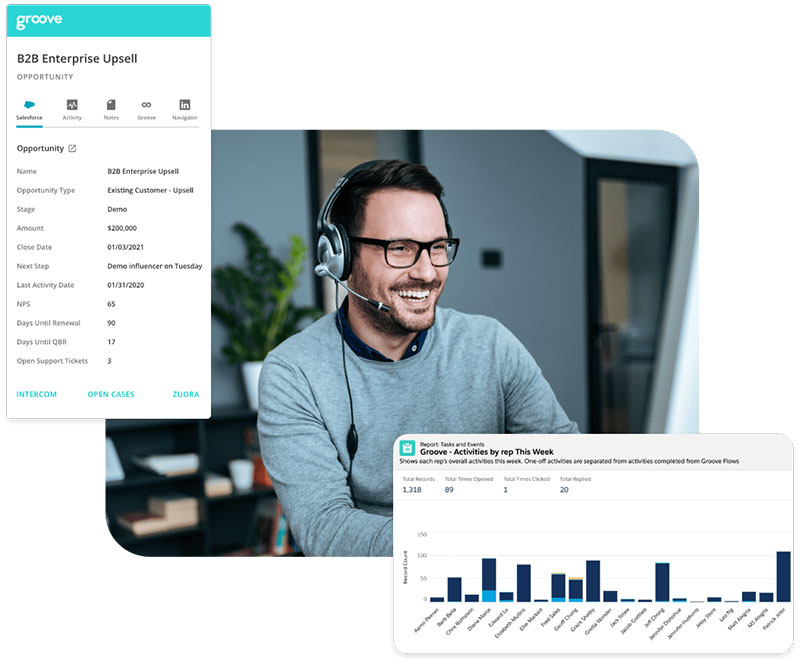 Groove is a sales engagement platform that has similar features as Yesware. Like Yesware, Groove integrates Salesforce with Gmail and Outlook. Groove offers valuable features, such as managing teams within Gmail and Outlook. Mail merge for email campaigns is a paid option in premium and higher plans.
Groove is a Yesware alternative for large companies that also integrates Gmail, Outlook, and Salesforce. But it also offers other integrations, for example, Sales Navigator and LinkedIn.
It also offers these features:
Automated multi-channel, multi-step campaigns with Groove Flow
Time management sales teams
Direct use of Salesforce email templates
Monthly pricing details available on request
Straightforward mail merge
Sync contacts, meetings, and more between Salesforce and email clients
Mailshake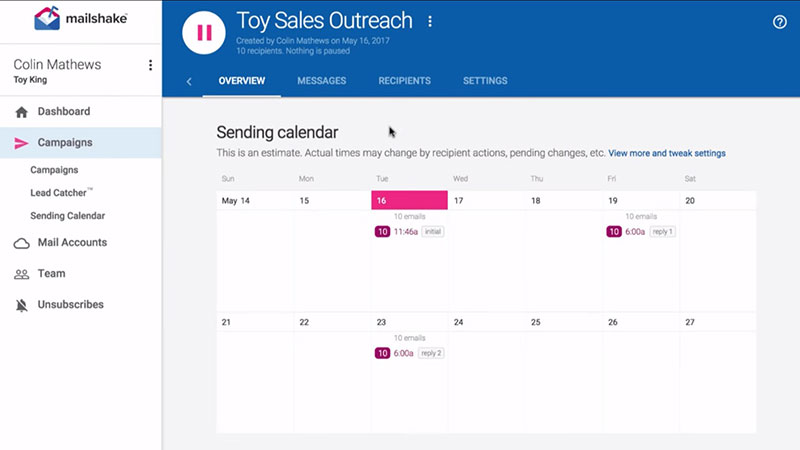 Mailshake is a platform for managing email marketing that many sales teams take advantage of. It automates various processes, like email outreach programs. It is similar to Cirrus Insight and Yesware. A helpful feature sends personalized marketing to prospective clients and tracks their engagement.
Its mail merge feature is very robust but keeps things simple. Automated follow-up further simplifies the work of many sales teams. With the in-browser phone dialer, there is no more need to switch to another device.
Some other exciting features of Mailshake are:
Email sequences and marketing campaigns
Email scheduling
Supports follow-up email automation
Native phone dialer for outbound sales
All the tools mentioned above make Mailshake one of the most popular Yesware alternatives. It automates and saves a lot of valuable time. The tracking option makes email campaigns more effective and increases revenue.
Docsify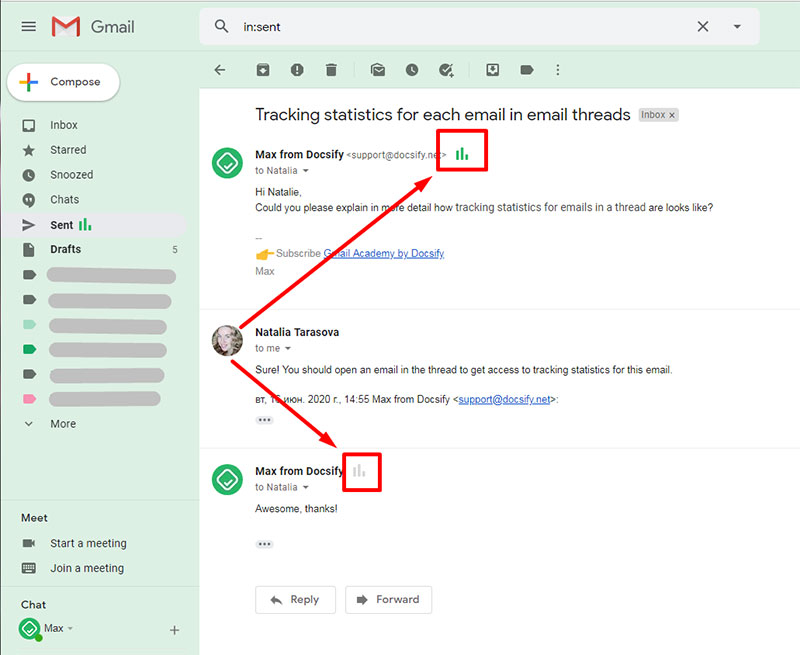 Docsify aims to automate and increase email productivity. It helps to set and achieve sales and marketing goals.
Docsify is a Chrome extension and is thus easy to install and get started. It coordinates with Gmail to track emails and attachments. Furthermore, it has a range of features that allows PDF tracking. In terms of page-wise analytics, Docsify is the best Yesware alternative on the market.
The cost of Docsify is $12 per month. This price includes email tracking for multiple clients. That ensures that leads are identified at a personal level, and that follow-up is most effective.
The features that Docsify boasts are:
Attachment tracking
Email tracking
Custom domains
Integrations
Team analytics
Text shortcuts
MixMax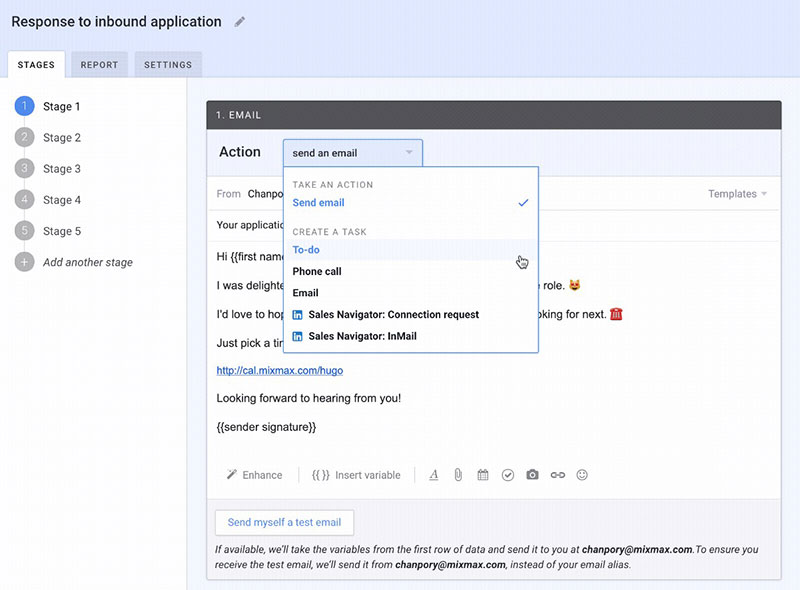 The popularity of MixMax has increased tremendously over the last couple of years. It has turned itself into a viable alternative to Yesware. The practicality for anyone in marketing, PR, or sales is impressive.
A true timesaver is MixMax's email tracking feature. A few clicks give the statistics of when an email was opened and how many times. It provides even more detailed statistics by showing who opened it and downloaded a tracked attachment.
That makes follow-up selection much easier. MixMax has a follow-up scheduler, so there is no need to be online at the exact hour.
A selection of this Yesware alternatives features is:
Email tracking
Notifications
One-click meetings
Phone dialer
Reminders
Send later
Team chat
Templates
MixMax integrates with many other useful management tools, such as:
Box
Google Calendar
Pipedrive
Salesforce
Slack
Twitter
Typeform
Outreach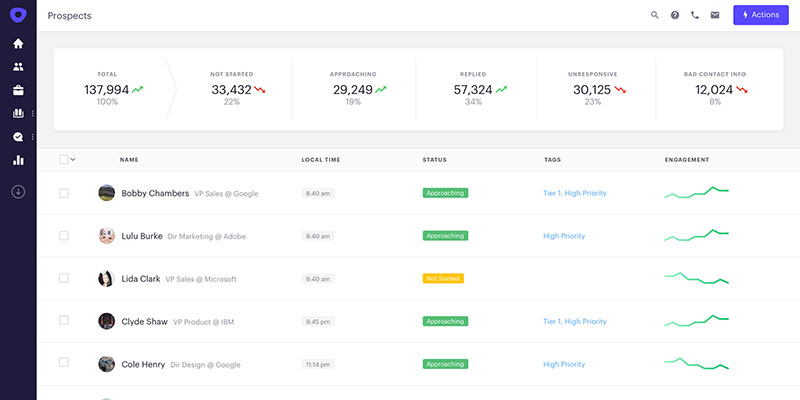 Outreach has basic Yesware features, such as open rates and link clicks. But Outreach goes much further. It gives suggestions as to how to proceed after the initial email campaign.
It advises what to do and what the optimal channels are to do it. Sometimes a call or text would be much more effective. It also suggests the most productive time to do it.
A closer look at Outreach reveals the following features as well:
Monthly pricing per user on request
Sequences keep the flow going across devices and platforms. These include (auto) emails, phone, text, and InMail
Multi-channel communication platform
Create and schedule emails and other communication channels at different scales
Gmelius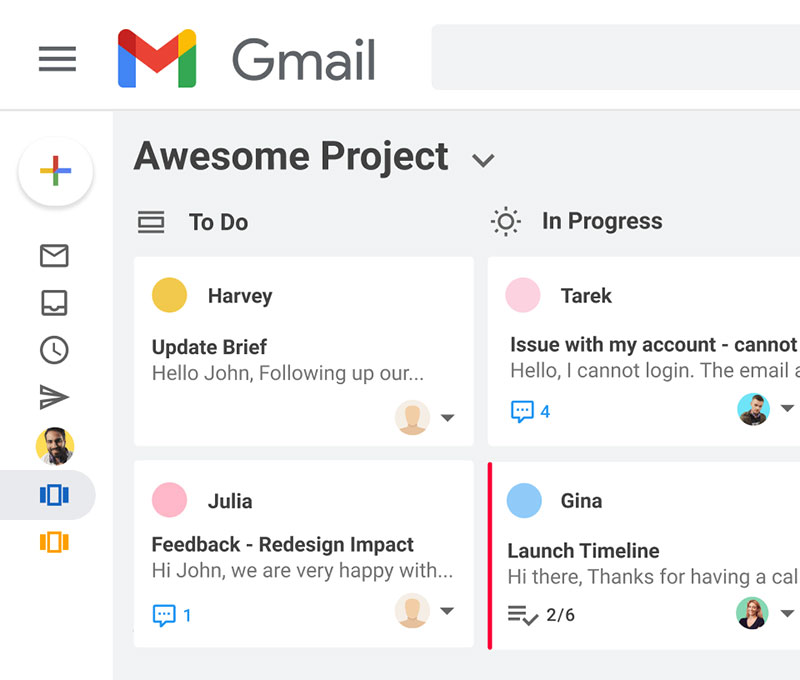 From the way Gmelius looks, it is evident that it found its inspiration in Gmail. This email CRM thus integrates not only into Gmail but also Google Suite and Inbox. On the downside, it does not integrate into Outlook, so using Gmail is a must.
That said, the Gmelius email tracking is very powerful. It shows which leads engaged most with the email and can set the most effective follow-up time. It does this based on the individual's behavior.
Gmelius sends a notification when a message is opened and when the follow-up email should go out. It provides general statistics and real-time activity streams.
Compared to Yesware pricing, Gmelius is much more economical while offering the same features. It offers the option of sharing commonly used inboxes, like sales@ and info@. Proper management of these inboxes will achieve higher team productivity.
Other productivity-enhancing features Gmelius offers are:
Email templates
Email tracking
Kanban boards
Shared inbox
Workflow automation
MailTrack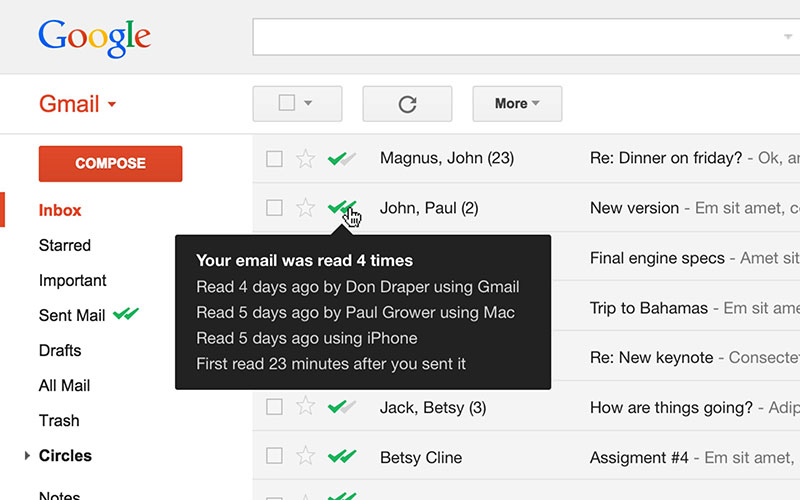 The last Yesware alternative is MailTrack. Like Gmelius, it is limited to Gmail users, but it does work in different browsers. It is lightweight and offers the simplest features. It does not bother its clients with an excess of information that is hard to interpret.
It simply shows a green check mark next to the email as soon as the recipient has read it. When the recipient opens it again, a second green check mark appears. That is really all that it does.
Ending thoughts on these Yesware alternative options
Choosing the right marketing tools may seem daunting, but it does not have to be. This article discussed various Yesware alternative platforms. These are the best options that are currently on the market.
If you need to make changes in email marketing and improve sales engagement, you can pick one of the suggestions on this list. The alternatives all have different pricing. Check out the offers and look at the key features, then compare them with your needs. That way, you choose the one that matches your budget.
If you enjoyed reading this article on Yesware alternatives, you should check out this one with lead generation techniques.
We also wrote about a few related subjects like email marketing strategy, email marketing best practices, sales automation software, email marketing courses, email marketing automation, the best sales apps, best CRM for Gmail, useful elevator pitch examples, sales pipeline stages, email tracking software, and sales automation tools.