When it comes to email marketing, there are lots of advantages that are helpful to businesses. An email marketing strategy can reach a wider audience, generate more sales, recover abandoned carts, and make better connections.
Many people wonder about the procedure and key to an email marketing strategy campaign's success. The following will show the workflows and processes that make it happen.
Yet, it is a challenge to make it all work together seamlessly. And not everyone knows how to do it right. Thus, this article will go step by step through all the procedures to create a successful email marketing strategy.
The Real Meaning of Email Marketing Strategy
Email marketing is simply a strategy of sending messages by email to potential leads. But it's not just about getting leads. It's also about turning them into customers, then keeping them over the long run.
The goal is to communicate and make connections with the users through their inboxes. That said, it is important to get the recipient's consent through signing up for newsletters or other offers of information.
Knowing that the business will give the reader something of value creates anticipation for each email.
There is a fundamental factor to keep in mind before an email marketing campaign can be successful—create strategies. Three elements in this step-by-step guide to run successful email campaigns are:
Definition
Structure
Coherence
An effective email marketing strategy utilizes all the following plans and tactics to reach the ultimate goal. This will improve the businesses' connection with their clients and create potential leads.
Here are the common email marketing strategies:
Building connections and long-lasting relationships with customers through personalized social engagements
Building brand awareness
Bringing valuable content to potential leads
Creating leads and promoting products or services
Turning leads into conversions or real customers
The 16 Email Marketing Strategies that Every Business Should Utilize:
Examine the Campaign's Goals
Knowing the "what" and "why" is crucial in email marketing strategy. It is essential to start the journey with a clear route in mind. Once a specific goal is defined, knowing the next step will be straightforward.
Then, planning sales copy, visual, and newsletter templates will be much easier
Think about email marketing strategy's goals. They could be:
Increase the number of subscribers
Aim to reach as many people as possible because no one knows how many email recipients will take action and convert—the more, the better. For example, one goal could be reaching 1,000 subscribers in a week.
Increase potential leads by improving the open rate
Without actually getting the attention of potential clients, efforts are wasted. So, one of the main goals is to increase the open rate by improving the quality of emails and newsletters.
Improve the click-through rate
This is the ultimate goal. The purpose of an email is to reach potential clients. But this can only happen when readers click on the call to action links.
Experiment with the newsletter tactics. What works for some might not work for others. Keep in mind that different newsletter email marketing strategies might have varying results. Don't stick to just one tactic. Be creative and observant of potential customer behavior.
Know the Target Market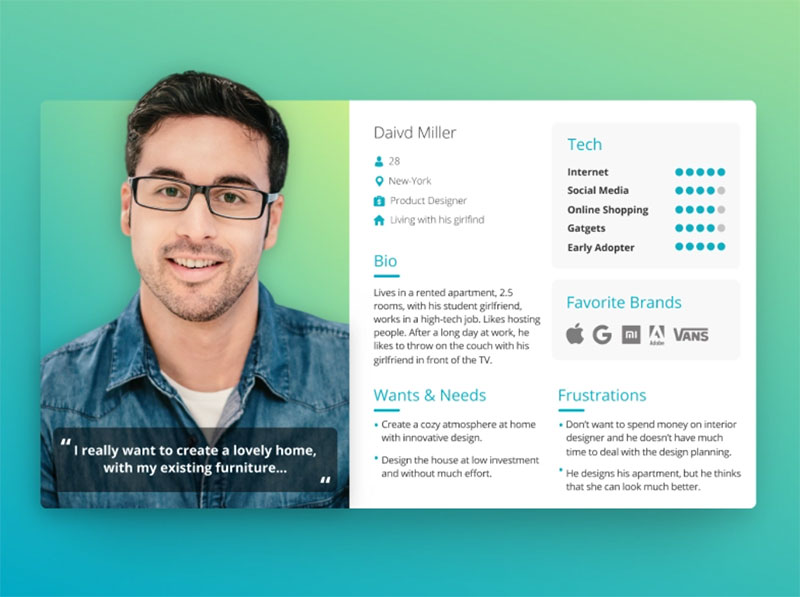 Applicable sayings are, "jack of all trades, master of none" or "when you speak to everyone, you speak to no one."
These two popular sayings indicate that it is almost impossible to land conversions without a specific marketing target. When the message is generalized for an entire audience, those who might respond may not catch the significance and miss the relevant, high-value, and specific content meant for them.
Analyze the target audience by thinking like a buyer. Ask yourself, "Why should I buy this?" or "How would I benefit from this?". These questions will make it easier for marketers to zero in on the potential market.
Factors to analyze about the specific markets:
Devices potential leads use
The time they are most active on the internet
The email clients markets use
The main goal is to entice users and convert potential leads into customers. Research the target groups' common denominators and focus on those.
Common Demographic Information
Marital status
Education
Income
Occupation
Location
Gender
Age
This email marketing strategy is also known as segmentation. It offers several advantages, such as boosting click-through rates and increasing email open rates. It can also decrease the unsubscribe rate.
Create an Organic Email List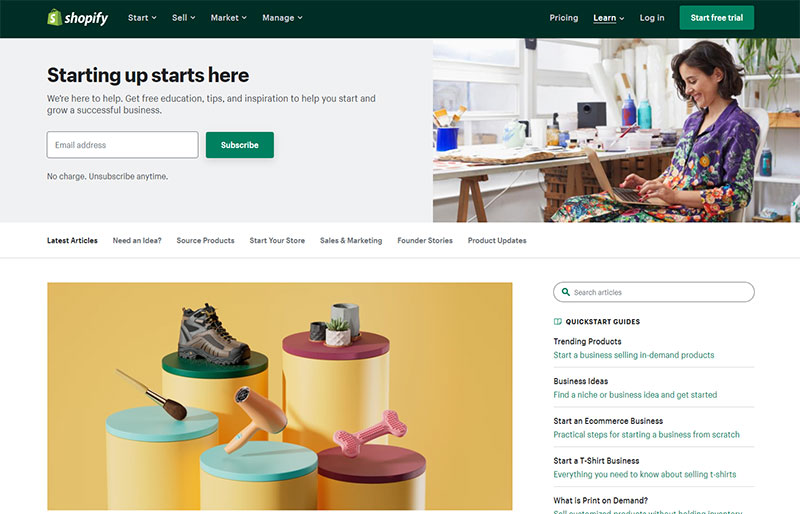 Gathering information from potential clients can help in building a list of subscribers. However, the strategy must include customers consenting to receive emails from the company, or the emails will go directly to spam.
That's why it is crucial to entice them organically, connect with them, and build their trust. Accomplishing these three factors will encourage them to keep reading the emails.
The Top Five Strategies to Create Organic Email Lists
In the sign-up or checkout section, ask for the client's basic information and consent to use it.
Take advantage of live business events by asking for the leads' business cards and get them to sign up for the newsletter.
Use sign-up and pop-up forms on the website's landing page and ask for the visitors' email addresses.
Offer a great perk in exchange for potential customers' email addresses and consent.
Write relevant blog articles that will entice readers to learn more about the business or website. That will also build trust and connection with the readers.
Decide Which Type of Emails to Send
The type of lists to use as an email marketing strategy depends on the business type and target market. Choose one of the following or tweak it a little based on the business's best judgment.
Promotional or Seasonal Emails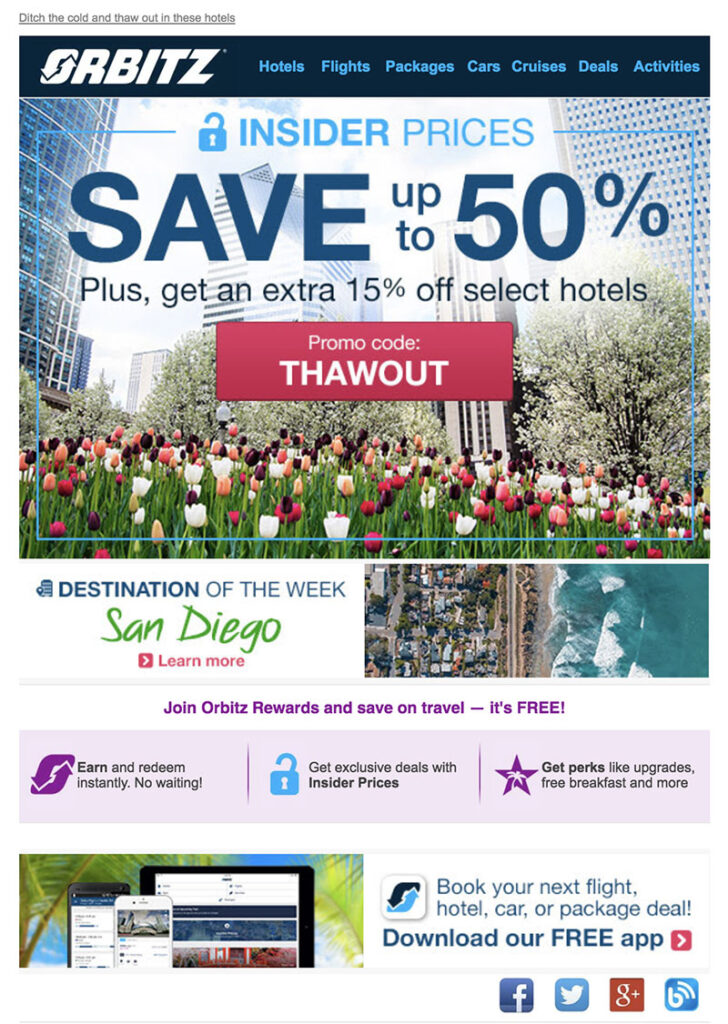 During holiday seasons, promotional emails are rampant. It is also the best time to increase the business's revenue. This is when entrepreneurs offer big deals and discounts on their products.
Business marketers send seasonal and promotional emails at scheduled times.
Automated Drip Emails
Marketers send drip emails to users based on their interaction with the website and other platforms that advertise their products and services. This type of email is also helpful to move users to the marketing funnel as potential leads.
One example where this type of email comes in handy is if a user puts something on the cart but forgets to checkout or intentionally doesn't check out because of being hesitant to buy the product.
Newsletters
This type of email is the most common email marketing strategy. It is still effective. The receiver subscribes to a newsletter offered on the website or other platform.
By subscribing, potential customers give consent to use their information. They are also expressing willingness to receive emails from the company or website.
3 Types of Newsletters
Informational
This is the email where Terms and Conditions and CEO updates go.
Behavioral
This type of newsletter contains messages to encourage the leads to consider purchasing by sending we miss you, welcome, and cart abandonment emails.
Promotional
Promotional newsletters are mostly about webinar invitations, new product announcements, and sales on products or services.
Delete Inactive Subscribers from the Email List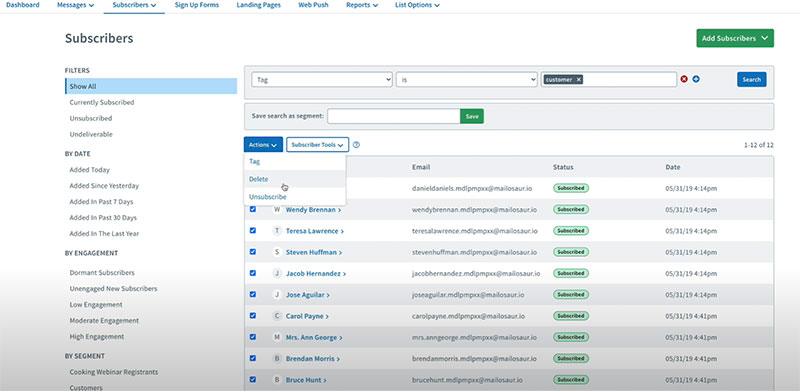 The subscriber list is one of the email marketing strategies' most significant assets. That's why it is necessary to keep track of it daily, weekly, and monthly to know how effective it is.
Don't forget to update the subscriber list with new emails. However, it's also important to delete inactive ones. Some subscribers change their email accounts or lose interest.
Deleting subscribers that have not clicked or read an email for six months or more keeps the list clean. However, don't delete them before trying other techniques to keep them engaged. An email campaign can be created to regain the attention of subscribers that seem to have lost interest.
Create an interest-catching email's subject, such as "Are you still interested?." Then the body of the letter can ask readers whether they want to stay subscribed. Who knows? They might change their mind.
Create Schedules When Running a Campaign
Running a campaign without a plan would be useless. A good schedule is as important as the email's message. The best thing to do is to research which times are best for sending emails.
In email marketing strategy, the sender should receive a report on when a reader opens the email—experiment by sending them at different times. After discovering time with the best open rate, mark it down and stick to that schedule.
Marketers have different reasons for sending emails to subscribers. These could be running a promotional message for a special season or holiday or building a long-term campaign to increase leads. Take the time to ensure the right message is delivered at the right time.
A word of warning! Never send too many emails because it will annoy even those who have shown much interest and lead them to unsubscribe to the newsletter.
Set the right schedule, and send emails only at that moment. It is up to the marketer or entrepreneur to decide the email frequency depending on the business campaign.
Consider Email Automation, but with Caution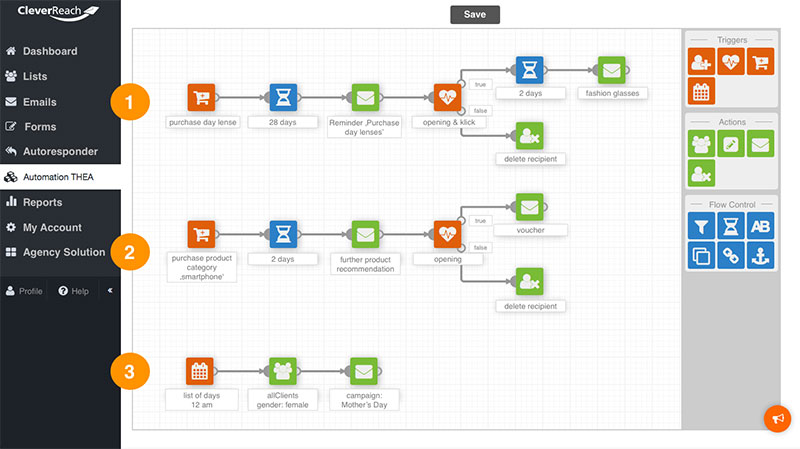 When a business is still new, it is easy to keep up with messages and reply to emails. However, when the leads start growing, it is a challenge to respond to them.
Some marketers decide to get a little help. Their secret is email automation. A good schedule and compelling pre-email message based on user behavior result in a positive impact.
Marketing automation is a great way to build more leads. A successful campaign is possible through behavioral targeting, analysis, measurement, and segmentation. This email marketing strategy frees up marketers so they can focus on more pressing tasks.
However, when a subscriber asks a question, marketers should personally respond.
Use An Enticing Subject Line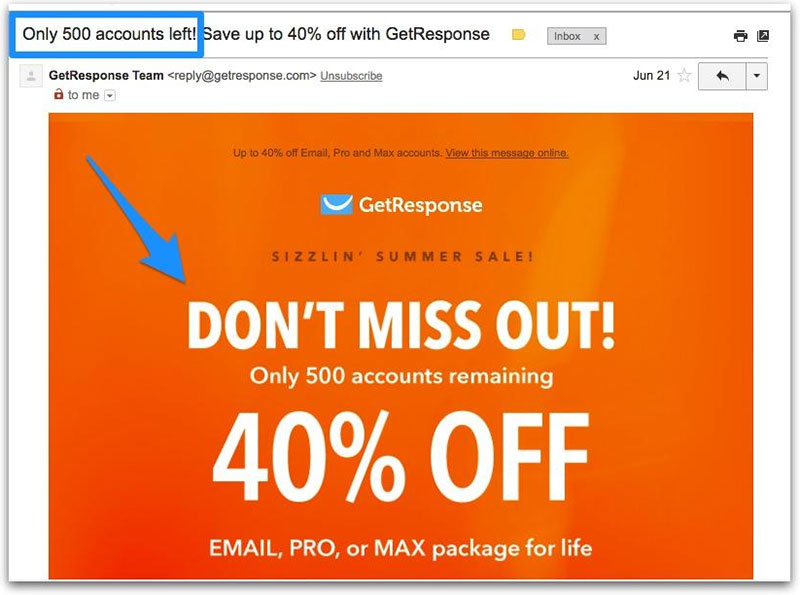 The reality is that there is a high possibility that an email will be sent directly to the trash. An attention-grabbing subject line will reduce the number of times this happens.
The following will discuss techniques to make subject lines more compelling.
How to Create Hard-To-Ignore Subject Lines
Include the recipient's name
Start with the phrase as if asking a question to wake curiosity, and make it conversational and engaging
Start the conversation with a unique voice
Start with a loop and close it in the email body
Avoid spammy words such as "free" and "earn money."
Present value
Use numbers
Personalize the subject line instead of using a subject line template
Always use active voice
Keep it short
Use relevant keywords
Create a High-Quality Email Content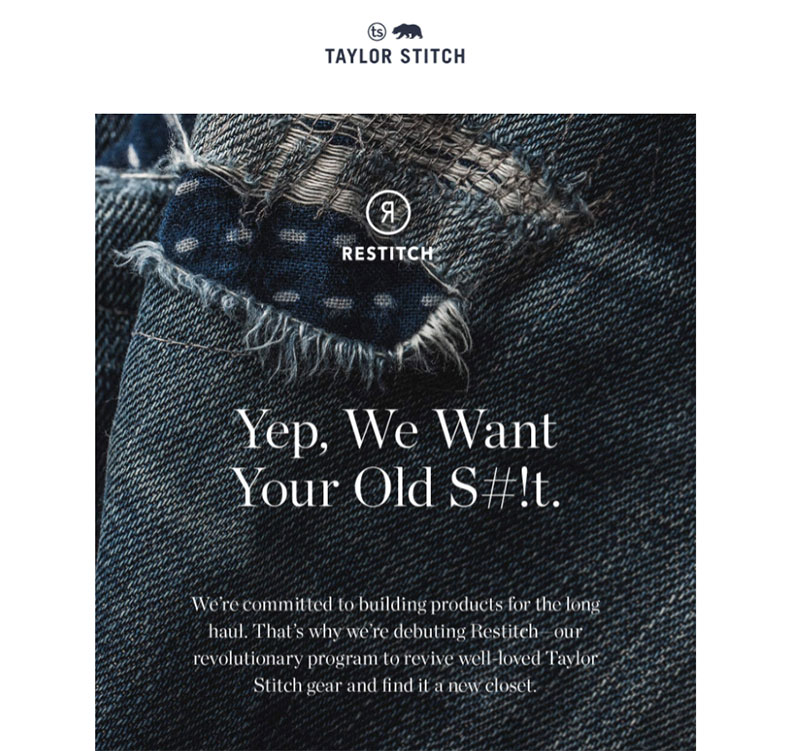 The email doesn't end on the subject line. Subscribers might feel excitement after reading it, but the entire email content should keep their interest. So, that means marketers should write relevant and high-quality messages.
Stay true to the brand's voice when writing email content. When the subscribers are happy with the email and its actual value, they will be glad to read more. On the other hand, if they are not satisfied with it, they will probably unsubscribe.
Set up expectations when writing email content and prepare readers for what's next by adding value to it. With a strong call to action and consistent follow-up, this email marketing strategy campaign will improve results.
It's good to keep in mind that marketers should keep their word. When they promise to send one email per week, that's what they need to do, or subscribers will think it's spam.
On the other hand, when the subscribers expect daily emails but don't receive them, they may feel disappointed.
The secret to this email marketing strategy is to deliver real value and send it as promised. When marketers focus on creating high-quality content, more subscribers stay longer.
Design an Eye-Catching Email Background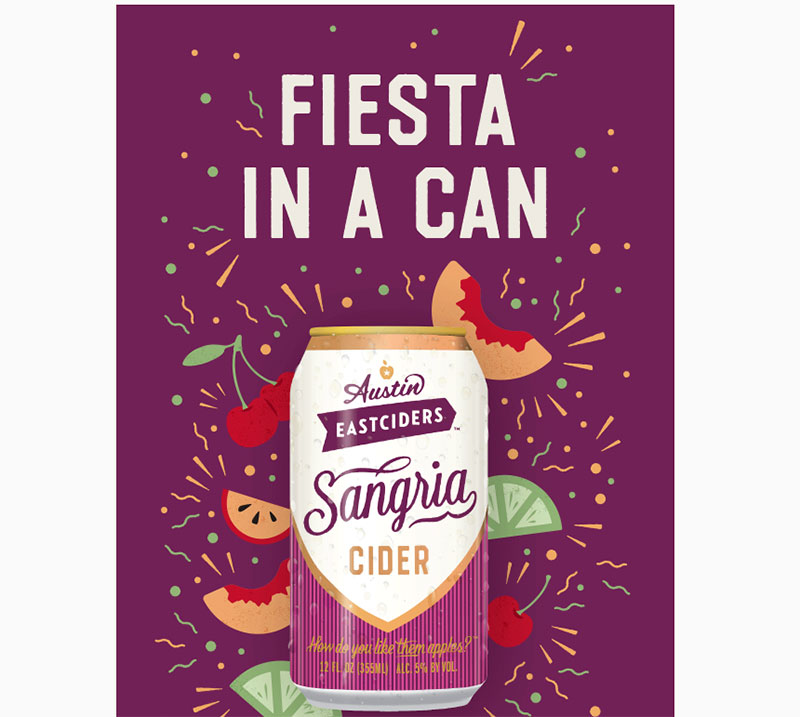 Although the design is not everything in an email campaign, it can still create a good impression on the subscribers. It is important to improve the visuals and catch the attention of potential leads.
Factors in Designing Email Templates
Simplicity and Responsiveness
Asymmetric or fancy email designs that are too busy for the viewers' eyes compromise its mobile-friendly features. It's much better to go with an eye-catching but simple template design.
High-Quality Company Logo
It is vital to include the company logo in every email. If the business doesn't have one yet, it's best to prioritize that before launching an email marketing strategy campaign.
Focus on One, Two, or Three Blocks of Content
Three content blocks are the most an email should have. Adding too much content makes the email confusing and hard to read. Define sections by using correct spacing between lines.
Email Elements Should be Properly Spaced
When there is enough space between paragraphs in an email, readers can skim the content easier.
High-Quality Images
Newsletters should always have clear images that are not pixelated. The image style used in the website's product listing should be the same as the one in the email.
Typography
Beautiful typography can replace images. It is simple and eye-catching.
Fonts and Colors
Aim to be as simple as possible. Too many fonts and colors can distract from the email's message.
Brand Color
Neutral colors help readers focus on the message. Also, use the brand color when creating emails. It will allow people to identify the email with the brand.
CTA Buttons
Clickable buttons are more effective than hyperlinks. They are easier to see and more convenient to click.
Don't Forget Adding a Call to Action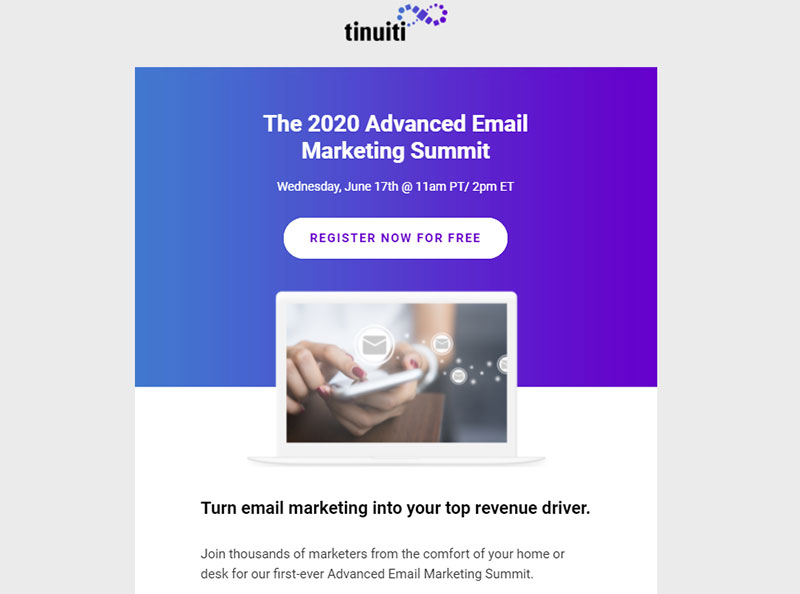 The call to action is crucial. Without it, the campaign would be useless. When done right, calls to action have a significant impact on the click-through and conversion rates.
As everyone knows, the subject line catches the reader's attention, but the call to action turns these leads into real conversions.
When creating CTAs, make sure to use a combination of attention-getting text and visuals. Buttons and images catch the customer's attention. However, powerful words encourage them to take action.
Buy or shop are the usual words that marketers use. But it doesn't have to end there. Combine irresistible offers for a better conversion rate.
Having a single option for the recipients (just one call to action) avoids confusion. It also ensures understandable instructions on taking that final action and sets clear expectations on what will happen next.
The procedures or factors affecting CTAs depend on the audience and the purpose of the email marketing strategy campaign.
Allow People to Unsubscribe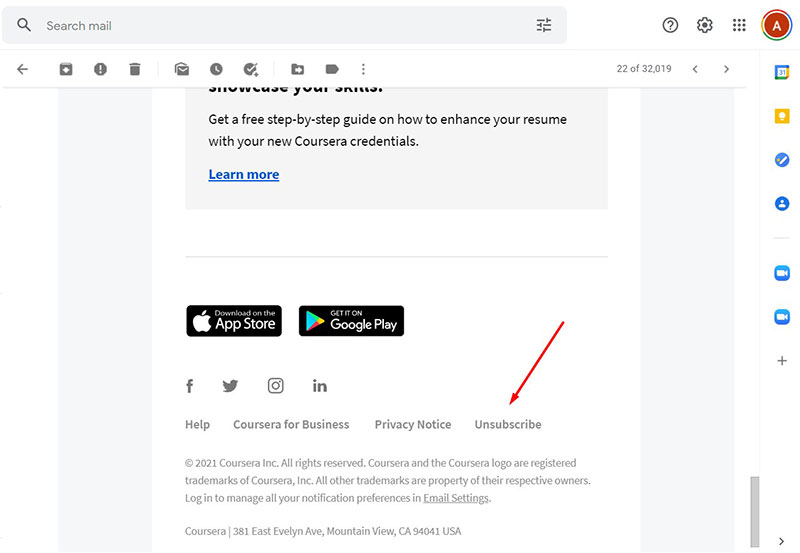 The number of people that unsubscribe might reduce the list of business subscribers. It can affect the business negatively, but it can also positively impact it in the long run.
People who can't unsubscribe will send unopened emails straight to spam. Unfortunately, that hurts the business's reputation. The CAN-SPAM guidelines reveal that marketers should allow subscribers to unsubscribe, or it will damage the email record.
The unsubscribe button is usually available at the bottom of the page.
Mobile-Friendly Features
Most internet users are now checking emails on their phones. According to statistics, more than 60% of emails are opened on mobile phones.
That's why opting the emails with a mobile-friendly feature is crucial in email marketing strategy. It increases the email's open rate and possible revenues.
Strategies to Make Emails Mobile-Friendly
Use smaller images for faster loading
Use contrasting colors for CTA buttons
Opt for single-column format, under 600px wide
Optimize the email without using images since Android turns off images
Test or preview the email using a mobile phone
Place links separately
Use larger fonts
Break up texts and phrases, making them concise
Know the Legal Requirements
Ensure that the business email marketing strategy follows GDPR. Know the rules before starting any marketing techniques.
Some Facts about GDPR Rules
A breach of GDPR results in a fine of €20 million or 4% of annual global turnover.
GDPR rules state there should be an opt-out functionality to newsletters and a complete address of the physical locator.
GDPR doesn't allow unsolicited commercial email. So, purchasing email lists is a no-no.
It is necessary to get the users' consent before sending emails. Make sure to use double opt-in for this.
It is imperative to ask permission to use a potential customer's personal information and schedule emails or newsletters.
It's acceptable to send promotional emails to active members or customers since they already consented.
Run A/B Tests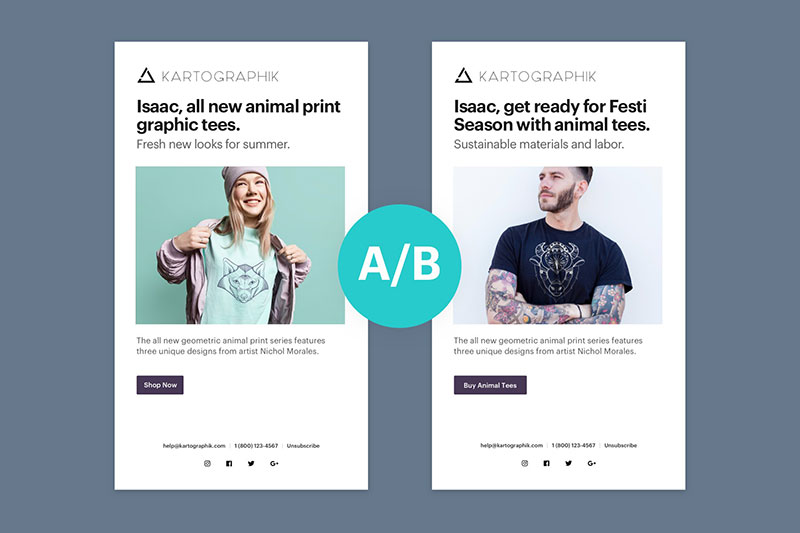 A/B testing is crucial in email marketing strategy. It allows marketers to test everything and see what works best.
They can test the sender's address, sender's email, and subject lines. They can also experiment and make adjustments as needed.
In A/B testing, marketing teams exchange ideas by swapping different parts of emails, enabling them to see which is the most efficient. They work together to entice more customers and create more leads.
Here are the email parts used to run A/B testing:
Specific offers
Headlines
Images
Testimonials
Calls to action
Popular subject line
Always Review The Metrics
Last but not least, the email marketing strategy keeps an eye on the email campaign performance and makes changes if needed. It enables marketers to see the data and which tactics work best.
Define and Track Key Performance Indicators (KPIs) Below:
Click-Through Rates
This is the number of people who took action and clicked on the CTA button. Many subscribers open emails but then close them without clicking the profitable part of the email. Meaning that the emails are not enticing enough or not targeting the right people.
Open Rates
If the open rates are low, there may be underlying problems. Maybe the autoresponder isn't relevant enough to the list, or the subject lines aren't enticing enough.
Another reason might be the time marketers send emails. Adjust the timing, and see if it improves.
Unsubscribe Rates
If the unsubscription rate is higher than the new subscription rate, the reason needs to be investigated. It's normal to lose some subscribers since not all of them will convert into real clients. But marketers should tweak the content and improve it if the opt-out rate is too high.
Examples of Email Marketing Strategy Campaigns
Uber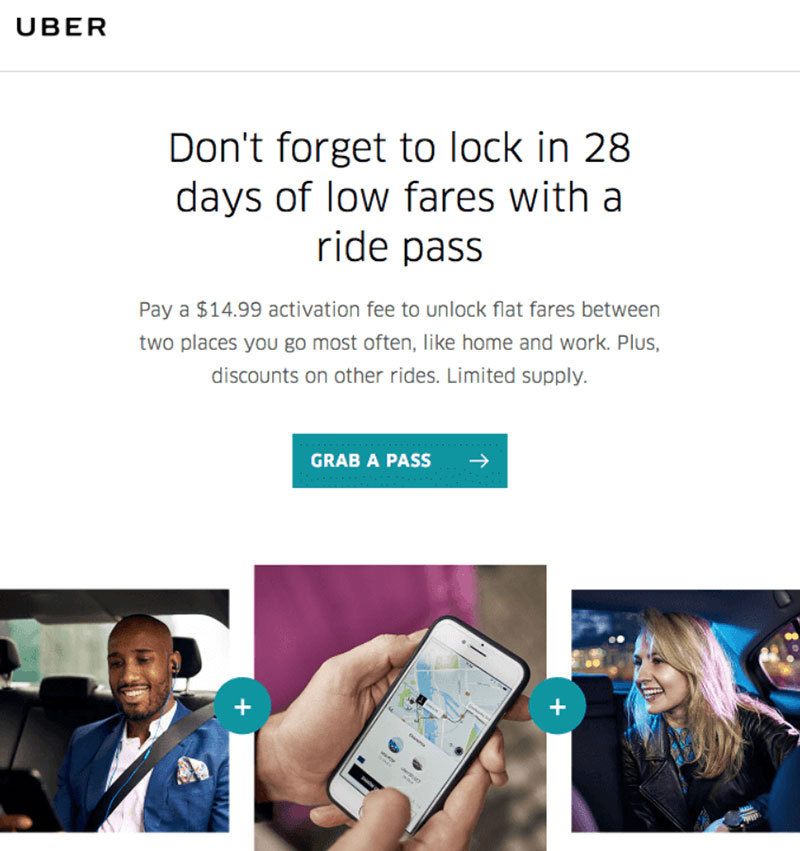 The great thing about Uber's email marketing strategy is that they opt for simplicity. Their content is concise and straight to the point.
Uber's marketing campaign is for busy people. Their email comes with a catchy title, concise description, and straight to a point call to action.
Sephora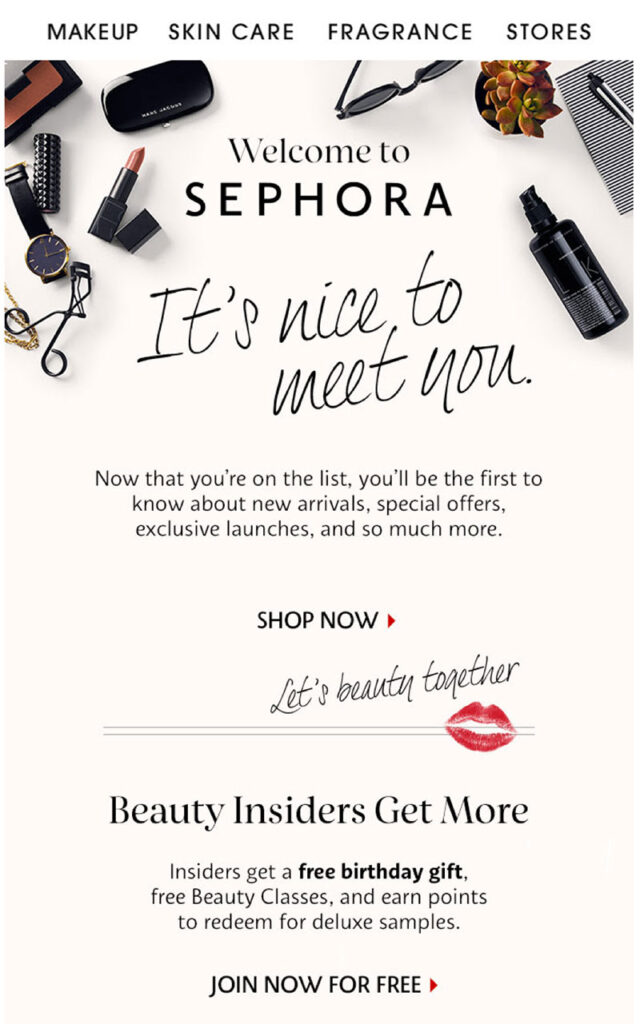 The email marketing strategy used by Sephora is segmentation for customer retention rate. This helps the company calculate how long a product will last the customer. Shortly before they estimate the customer will run out, they email them to remind them to restock.
The segmentation process lets them know how many customers want to repurchase. By sending customers an email that it's time to restock, the company is maximizing the chance of more clicks.
Teaonic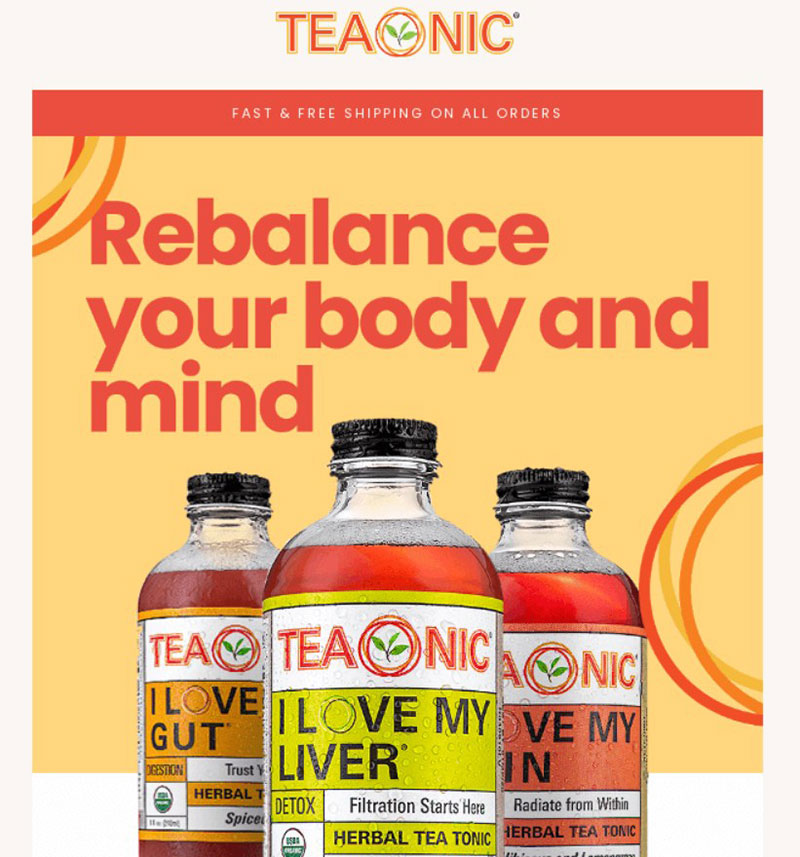 This company's product revolves around organic and healthy teas. The highlight of their email marketing strategy is the great subject line. They focus on the main point or benefit of the product—to improve one's health.
Their email marketing campaign uses bright colors to trigger ideas of health and feelings of happiness.
Teaonic's goal is to send emails to subscribers at just the right time when they need to restock more products.
Dropbox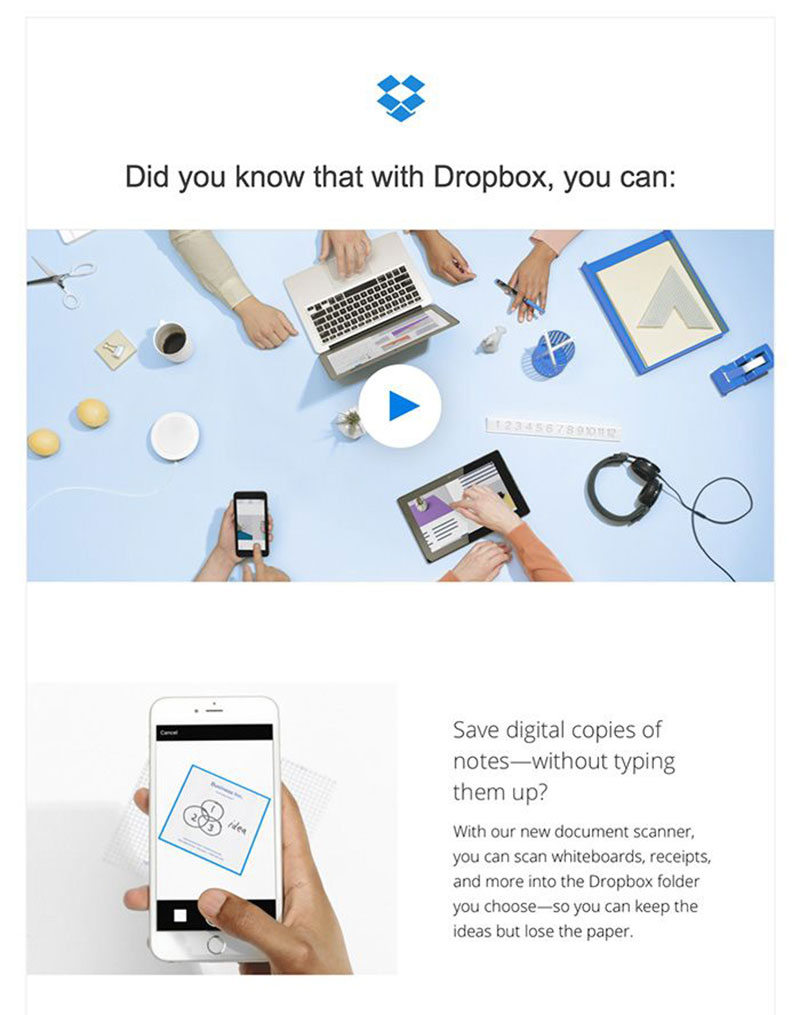 The email marketing strategy of Dropbox is re-engagement. Not all people use Dropbox or show interest in it. But this company proves everyone wrong.
This company uses concise sweet messages with cute images that look non-intrusive.
Some marketers use the same tactic but add more techniques. An effective strategy is the scarcity technique, telling people that the offer is for a limited time. It will end in about an hour or just 24 hours.
ModCloth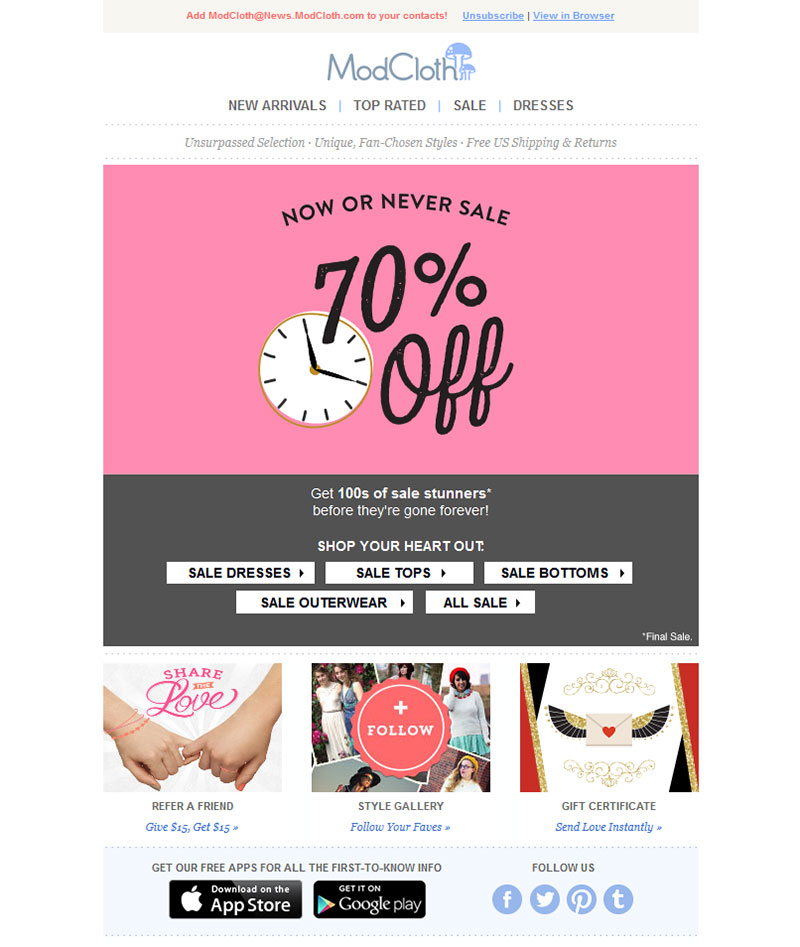 As time goes by, email marketing strategies change. So, companies and online businesses should keep up with them. Customers also take action according to the trend. However, many companies are still using the old email marketing strategy leading to a poor conversion rate.
Modcloth has made some changes in their techniques, and they have given a heads up to their clients or customers.
They made things clear before anything else.  Informing customers and reminding them about the changes sets expectations for them and avoids frustration in the future.
Brooks Running

Miro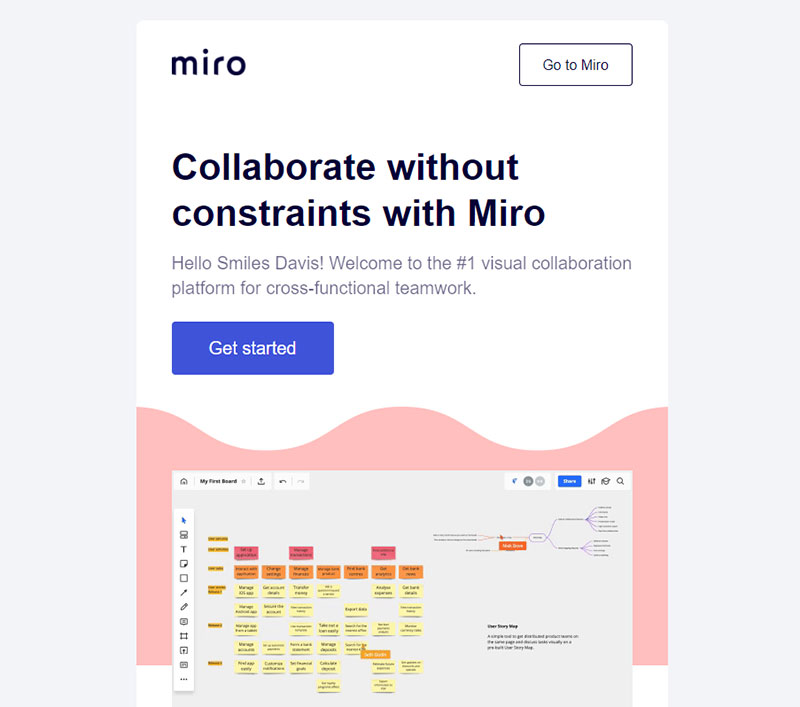 Reevaluating Email Marketing Strategy
A plan is crucial before diving into any email marketing strategy. It involves a lot of factors. Keeping track of emails, planning new campaigns, testing them, and running them are arduous tasks. But, with the right techniques and planning, everything is possible.
Trust and connection with the clients are vital for any business or company to get leads and conversion rates. They have to trust the brand and feel connected to take action.
The email marketing strategy in this article helps make these techniques work. Just as the insights about building brand awareness and nurturing the relationship with subscribers and clients.
If you enjoyed reading this article on email marketing strategy, you should check out this one with sales automation software.
We also wrote about a few related subjects like email marketing best practices, email marketing courses, email marketing automation, the best sales apps, best CRM for Gmail, useful elevator pitch examples, sales pipeline stages, email tracking software and sales automation tools.