Getting leads is the first and foremost step if you want to make sales. There's no way around it.
Sales and marketing today are built around the amount and the quality of data you have. A large number of leads allows you to make a lot of calls or send many emails. It is the data quality, though, that determines the level of effectiveness of your campaigns. Still, many B2B marketing and sales professionals are reluctant to use a B2B database.
Conducting a manual search for any numbers and email addresses of potential leads on the internet is time-consuming and highly inefficient. The best way to get a large pile of leads fast is to use a good lead provider.
How do you choose the best source of leads? This article compares prices, features, ease of use, as well as help and support, and provides a list of 19 best leads providers. Take a look and choose the one that suits your needs well.
A B2B Marketing Database - What Is It?
A B2B database is a collection of contact information of prospects. It serves as an important tool for building and improving customer engagement. The main focus of a B2B database is the firmographic data of your target group. Firmographics are descriptive attributes of organizations and companies used to segment and target potential prospects.
A good B2B data provider will enable you to connect not only to the right companies but also to the right people within them - those who might be interested in your offer and/or those who have already been searching for what you sell or provide. Moreover, the best data providers keep an eye on the changes in the market trends and your target audience's preferences. They also maintain the customer base up-to-date and become a bridge, between the prospects' needs and what you offer.
Having accurate and up-to-date contact information plays a huge role in targeting the right people at the right organizations that meet your ICPs. It also allows your sales team to find new connections, personalize messages according to the data they have, and saves time otherwise wasted on calling wrong numbers and updating the CMR.
The main difference between different lead providers is the origin of the databases they use.
The list below comprises short descriptions of the 19 best lead providers you can select from to integrate into your sales pipeline. 
B2B database providers to check out
UpLead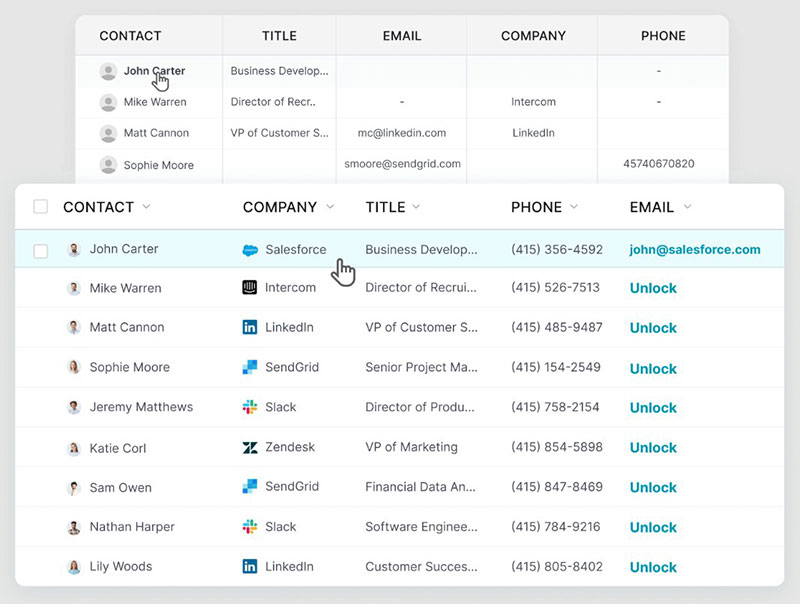 UpLeads means quality. The B2B database of leads is not only large but provides a wealth of details, in addition to names and contact information.
The database consists of over 54 million contacts and more than 13 million company profiles. The data accuracy is high and the pricing is quite appealing, although there are some lead providers with a larger size database and breadth of data points.
There is no contract or annual subscription. You pay monthly, which is great for small companies or businesses that are just starting their adventure with sales intelligence.
Learning more about your lead is an important part of the marketing/sales process. UpLeads allows you to find out some things about your prospect before the initial contact. Data enrichment enables you to learn even more before sending the first message.
InsideView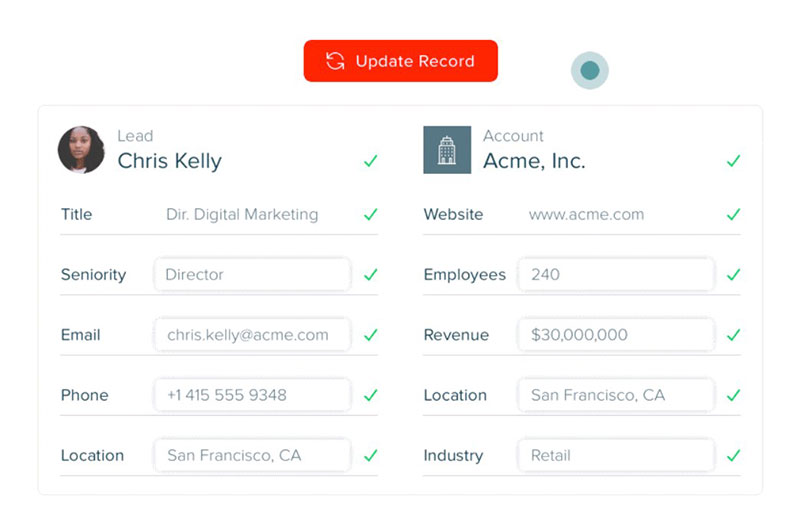 InsideView is a top-shelf leads database provider. It delivers accurate, clean, and carefully chosen and organized leads info.
If you are aiming to expand your company internationally, InsideView can help you by providing global company data. This B2B database provider cleans and enriches new leads as well as the accounts and contacts you already have in your database.  It enables you to find new markets to target, discover fresh prospects that meet your ICP, and gain access to the company's data and insights. 
It comes with a user-friendly interface. Database management eliminates data conflict by giving your team members access to identical data.
BinaryClues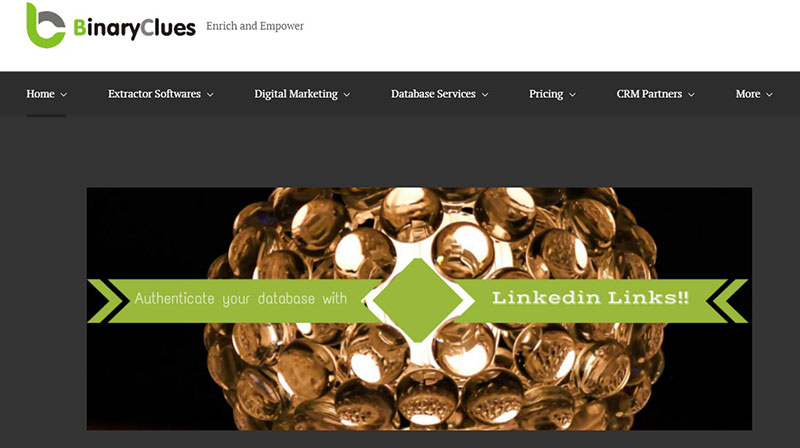 Thanks to years of experience, BinaryClues can help you increase your sales in various ways. It provides detailed global mailing lists for many industries, including the aerospace and defense sector, automobile and automotive sector, aviation industry, chemical industry, ERP users, HR executives, IT decision-makers, metal and mining industry, pharmaceutical and biotechnology sector, printing and publishing sector, retail industry, and so on.
It also has a team of experienced marketing specialists who use their lead generation, marketing, and sales skills. BinaryClues also has a reseller program for businesses interested in selling data.
Adapt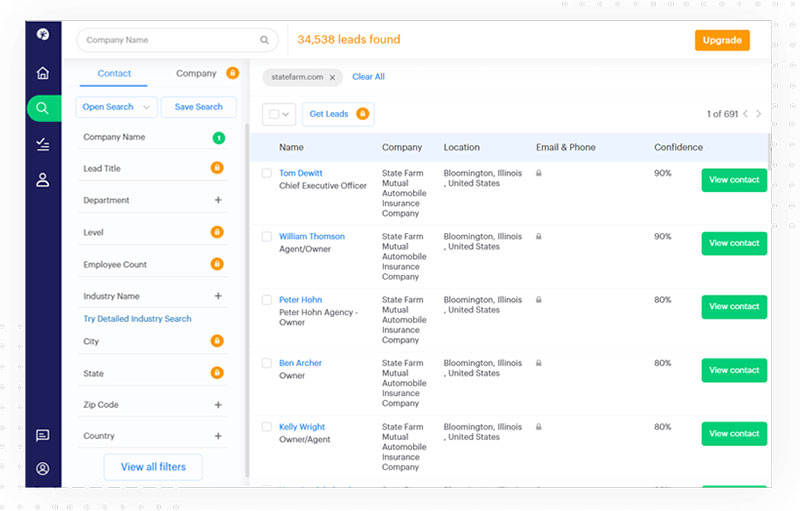 Adapt is another one of these B2B database providers from this article. It provides a B2B database of some 100 million business contacts for multiple industries, such as Financial Services, Software and Internet, Telecommunications, Transportation and Storage, and more. All the information is human-verified to ensure accuracy and currency. The database is constantly updated from crawlers, social media, and the community of more than 300,000 users.
Adapt's Lead Builder enables you to build your target ICP using various filters, including department, employee count, geography, industry, revenue, and so on.
Adapt also integrates with LinkedIn and looks for associated email addresses. There is also a Chrome extension that gives you quick and easy access to contact info.
The pricing options are suitable for all, including individuals and small businesses.
1StopData Oscar
1StopData has existed for 20 years now. It was created to provide global postal and telephone list services to marketers around the world.
They have since become one of the top lead database providers in the world. Their B2B Live provides detailed information including decision makers' contact info and opt-in personal B2B email addresses.
It also allows you to find the companies and contact information for ADM, business intelligence, marketing campaigns, and sales. You can search companies by contact's role, industry, location, and size.
OSCAR (One Stop Counts and Reporting) is cloud-based and allows you to access and run counts on multiple devices.
Salesfully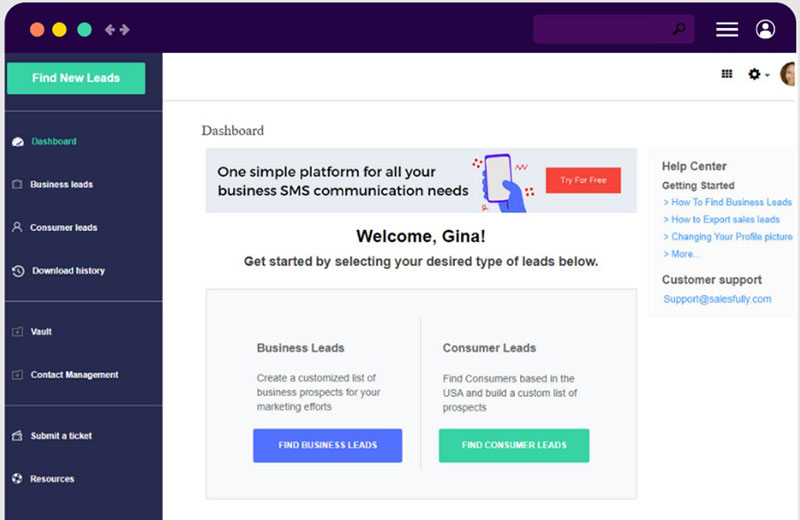 Salesfully is an uncomplicated lead database that provides both B2B and consumer lead information. It has a straightforward search feature that updates the number of leads that match your search requirements in real-time. It is an affordable tool that B2B sales teams can use to get their hands on a great number of leads.
Salesfully provides good value for money and the leads are of high quality. The B2B database comprises more than 200 million business and consumer leads. Many public and professional databases are used to regularly verify lead accuracy.
Leadspace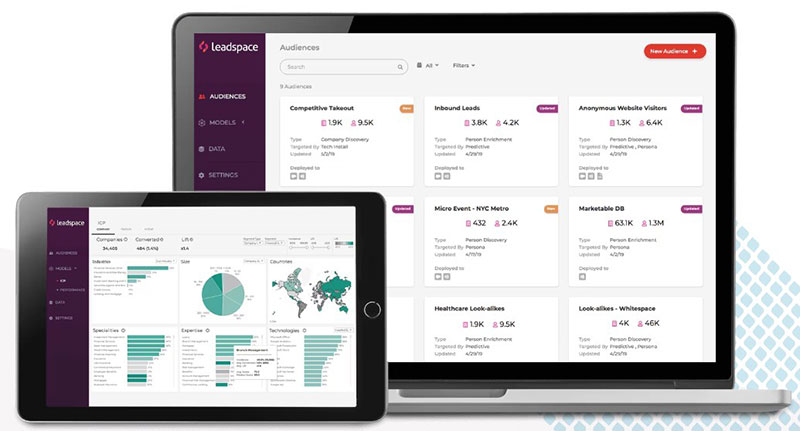 Leadspace is a Customer Data Platform for B2B Sales and Marketing. It provides accurate and real-time data you need to understand your customers. The AI transforms that data into clear next-step recommendations. It tells you not only who to target but also how and when. It also ensures multi-channel execution and alignment via turnkey integrations into Sales, Marketing, and Digital Ad platforms.
It combines data management with integrated 1st, 2nd, and 3rd party B2B data sources and AI to help you understand your ICP using ICP Analytics.
DiscoverOrg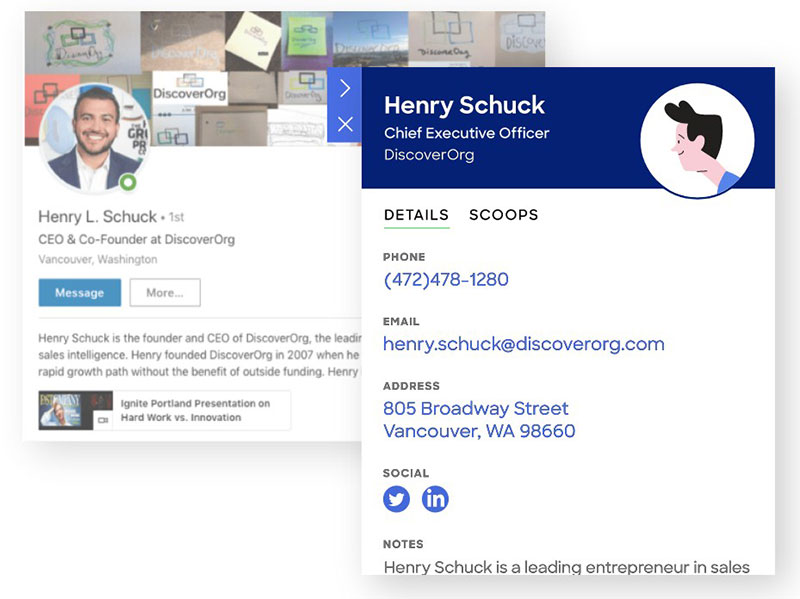 DiscoverOrg provides above-average quality when it comes to accuracy, organizational charts, account data, and sales intelligence. Since the beginning of its existence, DiscoverOrg has excelled at offering great accuracy and breadth of data of both accounts and contacts. While LinkedIn is great for one-on-one relationship building, DiscoverOrg is a fantastic tool for prospecting for B2B sales leads at scale. That is particularly true for enterprise-level accounts.
DiscoverOrg provides information-rich profiles that allow you to find out more about each prospect before sending the first email or making the first phone call. The database can be used for marketing, sales, and recruitment purposes.
LinkedIn Sales Navigator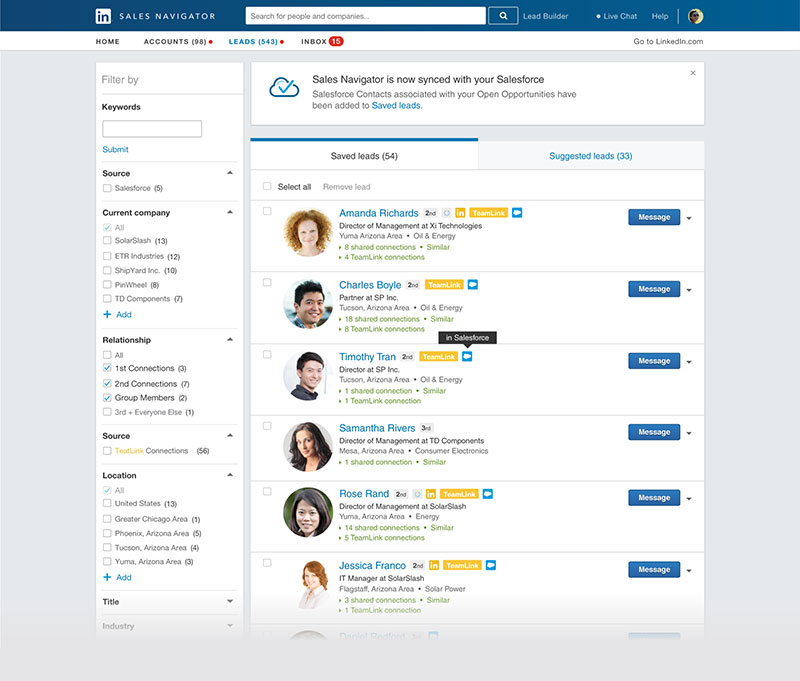 Everyone knows LinkedIn, as the most popular business networking platform. The Sales Navigator allows you to use an advanced filter to access leads and accounts' information and send private messages. Companies update their own data so you have a great reason to trust it.
LinkedIn Sales Navigator provides regular updates on job changes for organizations and people you follow. There are currently over 500 million members on LinkedIn.
The disadvantages of LinkedIn Sales Navigator are their less than extensive outreach capabilities and no list export option.
D&B Hoovers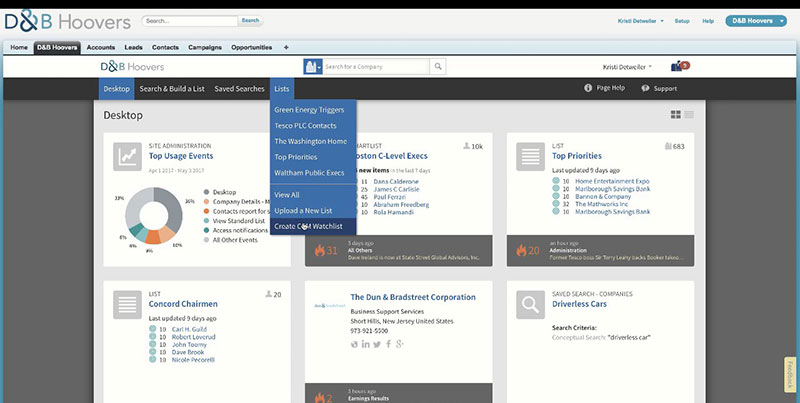 Dun & Bradstreet is the industry's leading business intelligence service. D&B Hoovers is powered by the Dun and Bradstreet database and allows you to purchase verified leads.
Advanced search criteria include industry, location, location radius, SIC codes, revenue, and many variables like a fiscal year, IPO status, and legal entity. It is ideal for businesses that are focused on looking for territory-based B2B leads.
The sales lead database is the most comprehensive one on this list and it is made up of more than 170 million business records across 1,000 industries in 190 countries. This makes it a perfect option for businesses looking for verified leads across the globe.
Infos B4B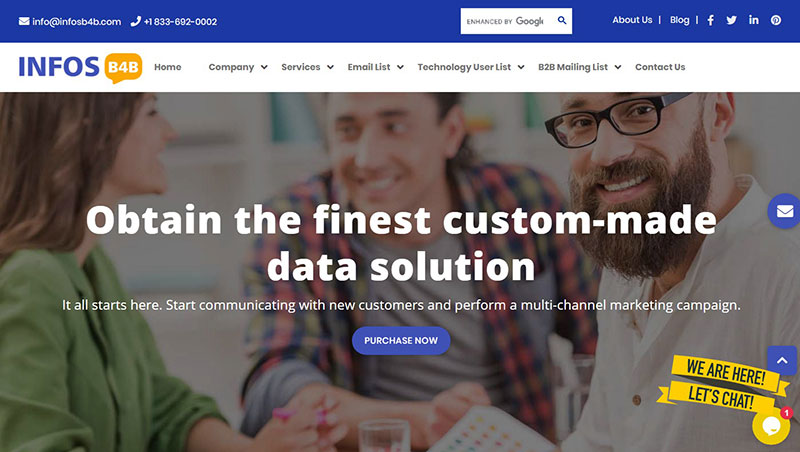 Infos B4B tempts with more than 86 million entries in their database. Apart from providing information it also offers data appending and cleansing, data hygiene, email appending, and reverse email appending.
Infos B4B also offers ready-made C-level mailing lists. It stands out among the competitors by providing carefully chosen and thoughtfully organized technology user lists, including AWS user lists, Nextmark user lists, PeopleSoft user lists, Salesforce user lists, and many more.
RocketReach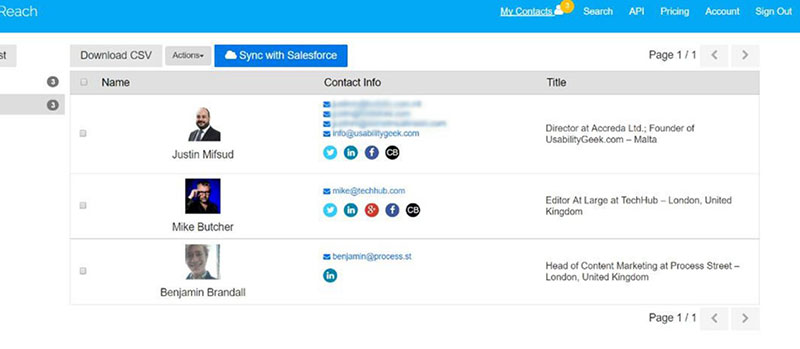 RocketReach enables you to find your prospects' personal and work email addresses, phone numbers, and social media profiles.
The Chrome extension allows you to see email addresses directly in search results and profile pages. Bulk lookups let you attach email addresses, phone numbers, and profile info to spreadsheets. The advanced search feature enables you to create pinpoint lead lists based on more than 18 filters. It integrates with CRMs and ATS (Hubspot, SalesForce, etc).
Clearbit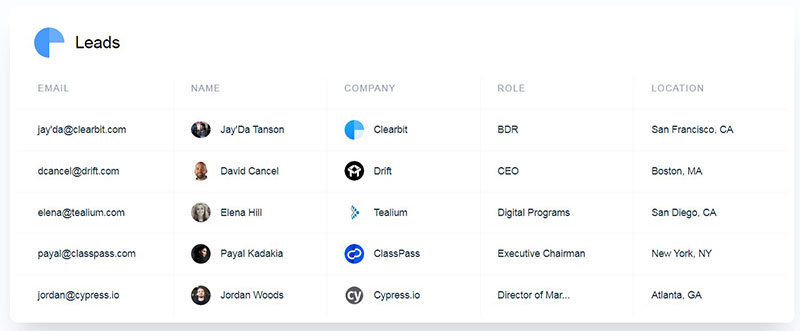 Clearbit offers information for 200 million people at 20 million companies. It allows your sales reps to target the right people at the right companies according to your ICP.
Clearbit lets you see who visits your company website. It also helps you get more responses thanks to personalized messages.
The data it provides comes from more than 250 public and private data sources and is constantly refreshed. Clearbit works seamlessly with your current technology stack across your analytics, marketing, and sales teams.
AeroLeads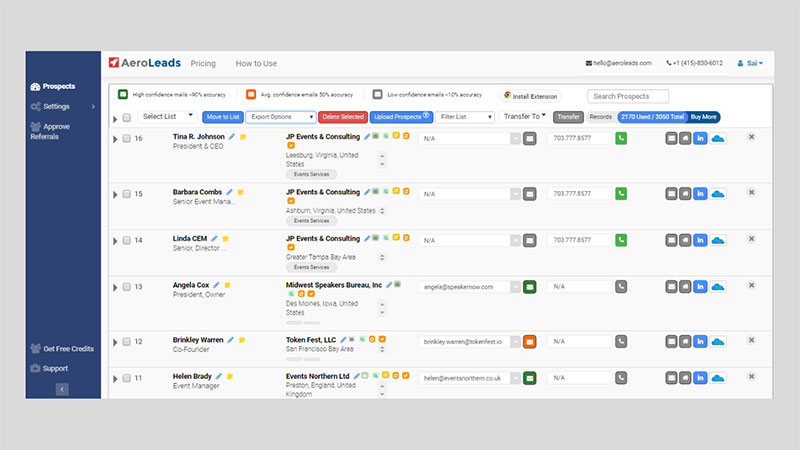 Aeroleads is an intelligent SaaS-based prospect and lead generation tool that allows you to automate your sales processes including the process of searching for pertinent data associated with a business.
It is a lead generation and lead mining solution that provides business leads' info from Google, Yahoo Local, and Yello Pages. Moreover, it offers an intelligent, cloud-based data-gathering feature, making it one of the top B2B database providers.
FindEmails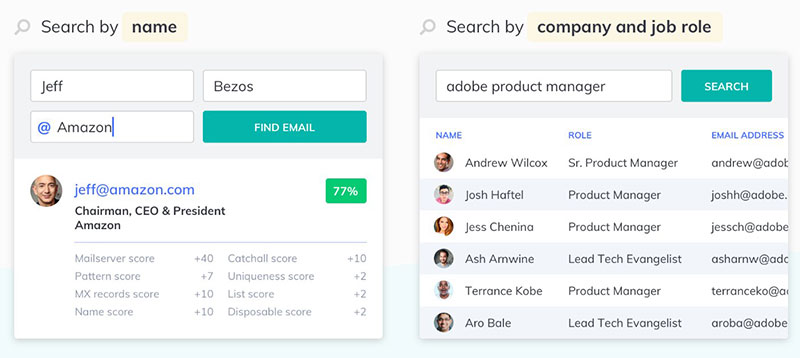 FindEmails allows you to purchase business leads in the form of validated email lists. You can buy predefined email lists or create your own lists based on specific criteria chosen by you. It is a good and affordable solution for small businesses looking for a straightforward way to purchase business leads.
FindEmails allows you to not only look for and verify leads but also upload your own lists to verify the email addresses of your existing leads.
It is a simple tool that allows you to search for prospects based on their company name and job title. It also lets you download the leads you buy into a CSV format that you can then import into your CRM or email marketing software.
Book Your Data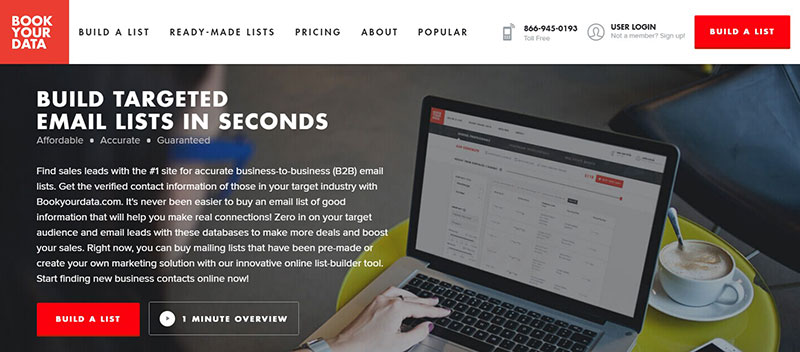 Book Your Data provides curated and verified contact info and mailing lists. Their huge database can be filtered and sorted by job functions, job levels, and job titles.
Book Your Data offers reliable mailing lists in a wide variety of industries and sectors including construction, food and restaurants, healthcare and medical equipment, clothing, wholesale, real estate, universities, and many more.
The files provided can be easily fed and collaborated in your CRM. Book Your Data also claims a 95% deliverability rate for their customer contact base.
ZoomInfo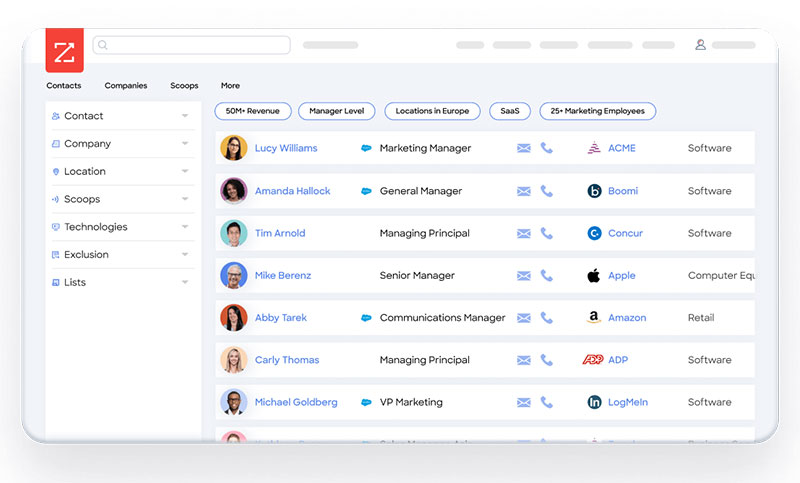 ZoomInfo's always-growing database consists of over 100 million contacts. It is currently one of the most popular sales leads databases. It uses its own web crawler to grow the database.
The profile details provided by ZoomInfo include additional information such as certifications, job responsibilities, social media link, work experience, web mentions, and more.
With ZoomInfo prospecting at scale is quite straightforward and includes extra features like organizational charts and projects and pulling intent signals from several sources directly into the platform.
Datanyze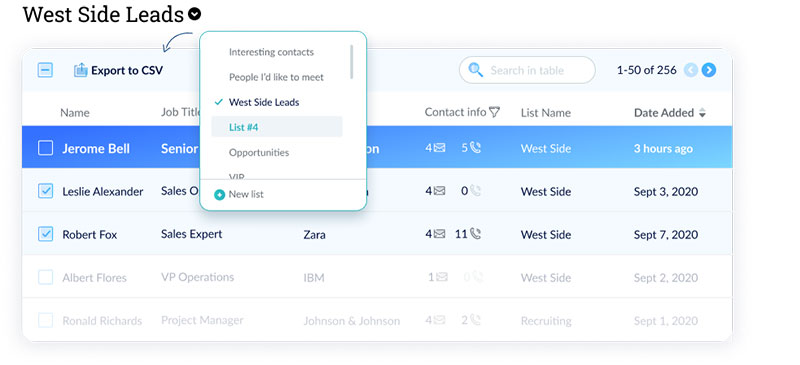 The database from Datanyze comprises 63 million direct phone numbers, 84 million email addresses, and 120 million people. The Chrome extension allows you to access contact and company information directly from where you are prospecting, like a business website or LinkedIn, instantaneously.
You can also see a list of employees together with each employee's contact data for any company listed on LinkedIn directly on the page.
Blue Mail Media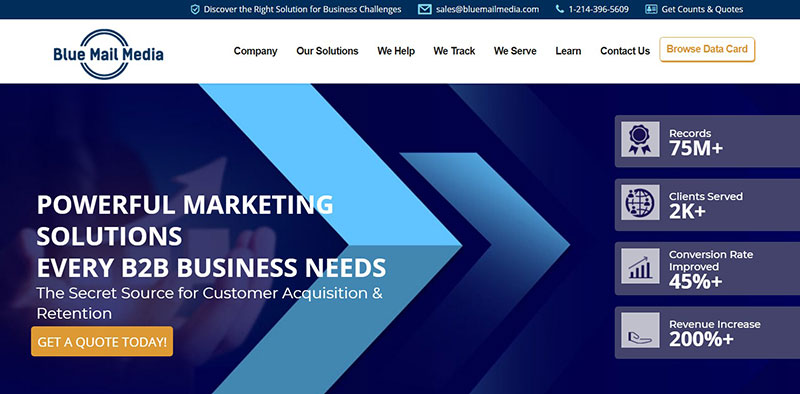 The last of these B2B database providers is Blue Mail Media. It provides database lists that can be useful for anyone, including B2B marketers, healthcare marketers, IT marketers, technology marketers, or even event organizers. Blue Mail Media lists are carefully researched, assorted, and verified. They are also categorized by region: Asia-Pacific, Europe, Canada, and the USA.
They specialize in account intelligence, CRM data enrichment, data hygiene, data licensing, and email campaigns.
They also offer a Data Reseller Partnership Program for data resellers.
Final thoughts on these B2B database providers
The B2B database providers on this list have been carefully chosen based on reviews, service quality, and the amount of time needed to generate revenue for users. 
Buying a mailing list can be a time-saver and it can provide more accurate results as compared to manually searching for email addresses. It also allows businesses to carry out email campaigns to thousands of prospects in one go without worrying about bounce backs.
Purchasing leads can boost your current sales processes and help you create fresh sales opportunities. It is also an affordable solution for small businesses to increase the number of prospects within their target market.
If you enjoyed reading this article on B2B database providers, you should check out this one about email tracking software.
We also wrote about a few related subjects like sales automation software, best CRM for Gmail, useful elevator pitch examples. sales pipeline stages, Cold Calling vs. Warm Calling and sample LinkedIn connection requests and templates