Many dream of spending less time in their inbox but worry that it will have a negative effect on communication. However, this dream is achievable by utilizing the right tool.
Email management tools allow users to remove unnecessary information and prioritize inbox content. They help to make the email workflow as efficient as possible.
Email management software carries out many automated jobs for the user. This facilitates the user's job and improves their work pace.
A good email management tool enables multiple users to work together. Such a united workforce makes for increased productivity.
Below is a comprehensive list of the best email management software. These fulfill both the productivity and email marketing needs of your business.
There are many elements to take into account when choosing a tool. The list below includes a variety of tools, helping users to find one that best suits their needs.
Email Management Software and Tools - What Are They and What Do They Do?
Email management tools are apps or programs that assist with email management. They add extra useful features to the regular email software.
They serve at least one of the following purposes:
Increase your efficiency. The first goal of email management software is to reduce the number of emails received. It does this by removing unnecessary ones automatically.
A good email management tool will help users to get more done in a day. Opening each email will have a purpose, thus increasing your efficiency.
Analyze your outbox behavior and results. You send emails to colleagues, clients, and prospects every day. With email management software, users can measure how effective their emails are.
For example, are outreach and marketing emails reaching the target audience and affecting them? Such an analysis can highlight areas needing improvement.
Elevate customer satisfaction. Users can enhance customer experience with automated workflows and improved productivity. Email management software allows users to respond to customers in a timely manner.
This in turn helps customers feel content and valued.
Sift and sort emails. It can be a daunting task trying to prioritize messages. Or trying to find that one important email when the inbox is overflowing.
This problem disappears with an email management tool. It can sift through and organize the inbox appropriately.
Provide flawless integration. A crucial feature of any tool is its flexibility and integration with other software. An email management tool must integrate with other apps and tools the team is already using.
The Best Email Management Tools
SalesHandy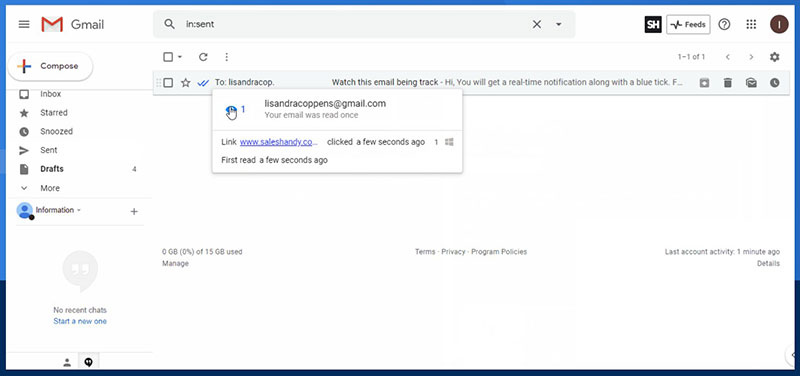 This tool was designed with salespeople and teams in mind.
This email management software allows users to schedule and keep track of unlimited emails without cost. It also offers instantaneous desktop notifications.
Users can set up and send email campaigns with automated follow-up emails up to 9 stages. Keep tabs on documents, build email templates, and share them with team members.
The software also provides users with comprehensive analytics.
SalesHandy works best for sales managers, marketers, HR recruiters, freelancers, and bloggers. The tool integrates with any email service provider, including Gmail and Outlook.
Boomerang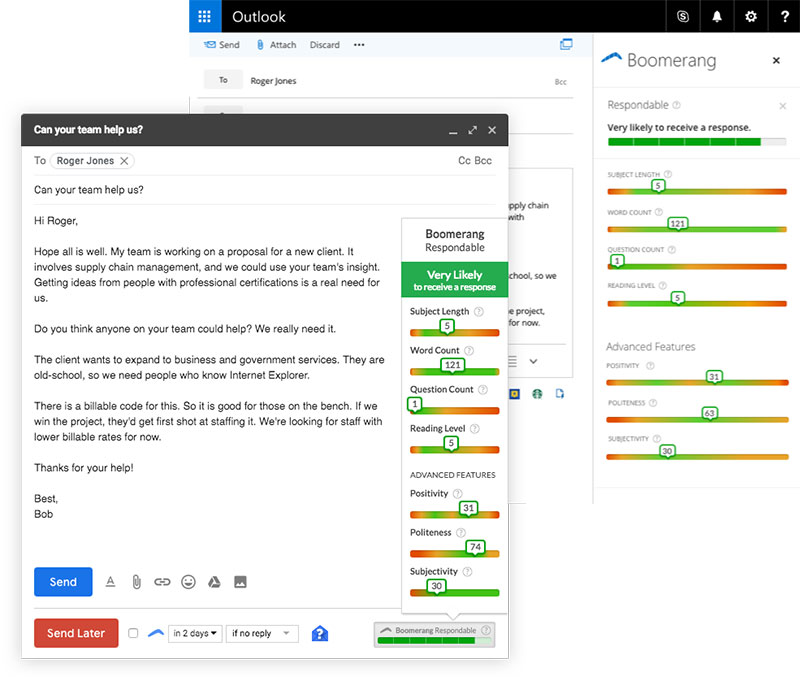 Boomerang speeds up the process of sending and receiving emails. Its purpose is to increase productivity by decreasing the time spent in the inbox.
There is an option to set reminders for follow-up emails. This email management software automatically removes unnecessary emails from the inbox.
Users can schedule to see them again. Until then the messages remain archived.
The tool allows users to change the frequency of reminder alerts. Opt to get reminders only if a reply is not received after a set amount of time.
Users can also create calendar events directly from their email with only one click.
Clean Email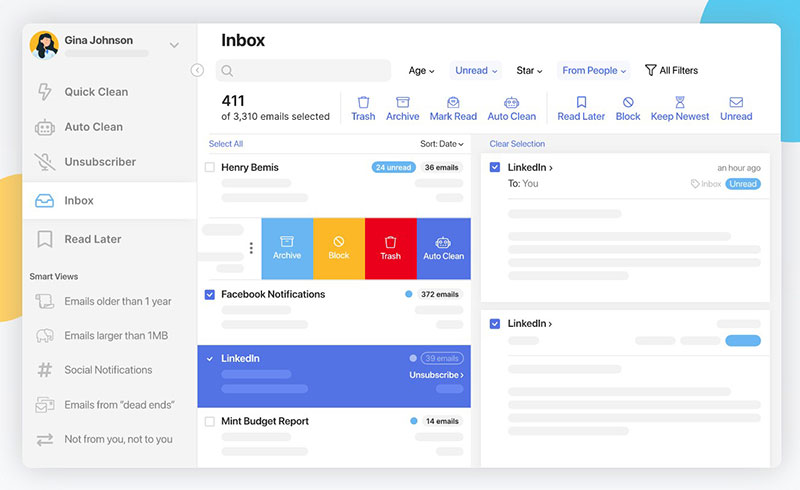 Clean Email is a bulk email cleaner that declutters inboxes and removes unwanted and unnecessary emails. It helps to keep emails organized by grouping messages into relevant bundles.
This allows users to manage large numbers of emails with just a few clicks.
It comes with a cool feature called Smart Unsubscriber. It gathers all the newsletters and lets users unsubscribe from those they do not want or need anymore.
The software values your privacy. It does not store, sell or analyze any of your data in any way that goes beyond the tool's public functions.
Sendinblue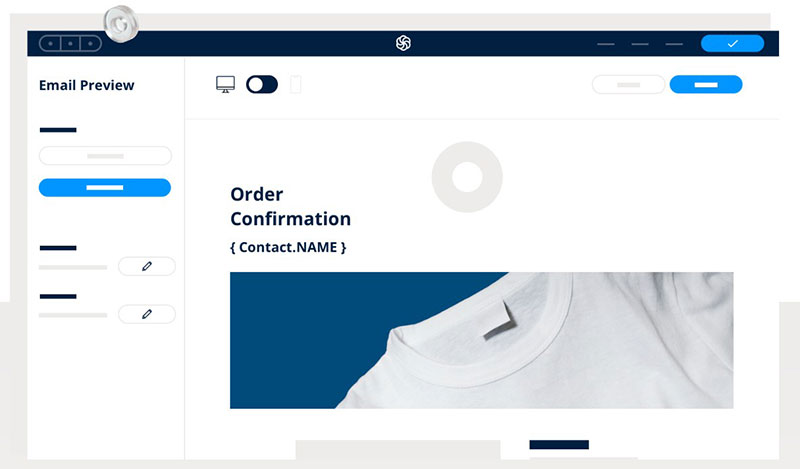 Sendinblue enables users to engage customers and promote loyalty. It can create a sense of belonging between your business and customers.
For all these reasons it is suitable for businesses of all sizes. It is, however, an especially useful marketing tool for startups.
This email management software focuses on marketing campaigns. The SMS marketing campaign feature is based on data analytics and is very intuitive.
Users can set up message triggers, such as a visit to their website, previous interaction, or a new inquiry. It also helps to easily create attractive newsletters using ready-to-use design blocks.
MailChimp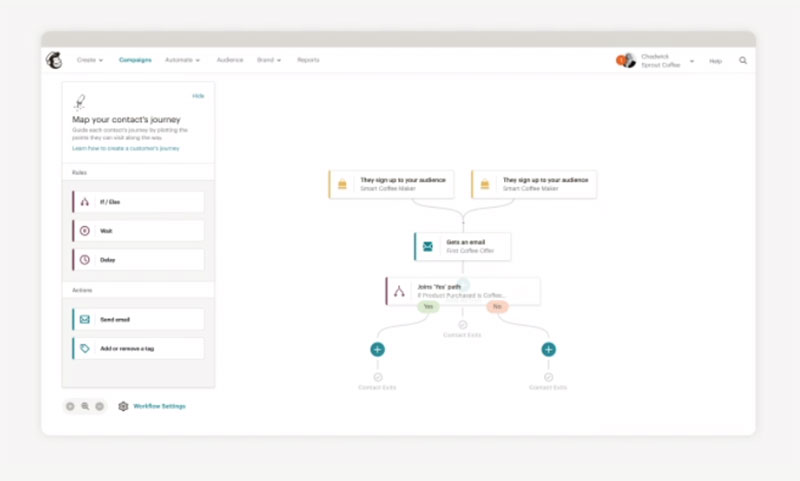 Customer relationship management isn't just for big businesses. Create stronger connections from day 1 with our Marketing CRM tools, and find everything you need to have relevant conversations with your people - whether you're building a brand new audience or you have thousands of contacts already.
Mailbird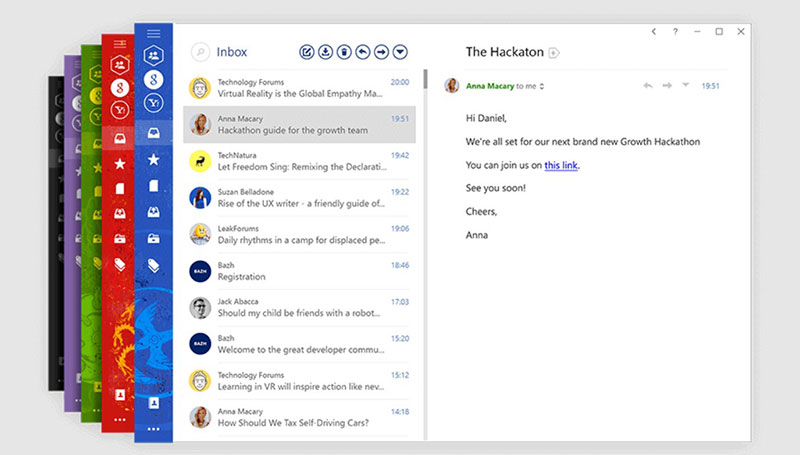 Many people use two or more email services. Mailbird is Windows-based and enables businesses to manage email accounts in one place. It's a great tool if you want to be using Gmail as a mail client.
Users can operate multiple email accounts and contacts from one inbox. It integrates with Asana, Dropbox, Facebook, Google Calendar, Todoist, Twitter, Whatsapp, and others. BeeFree
BeeFree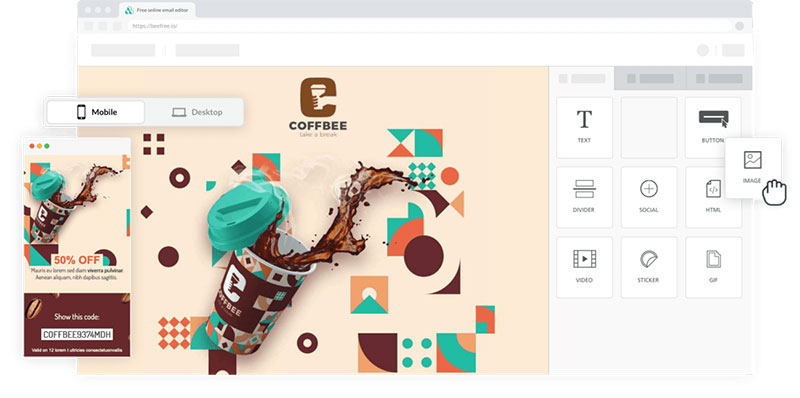 This is a perfect tool for smaller businesses that need help to manage their inbox better. It is simple and straightforward to use.
Users can select a layout and customize it to fit their marketing requirements.
After creating an email, hit the "Send Test" button and type in your business email address. Then forward the message to chosen contacts or addresses.
Remember to delete the "Forwarded Message:" part before clicking on Send.
Unroll.me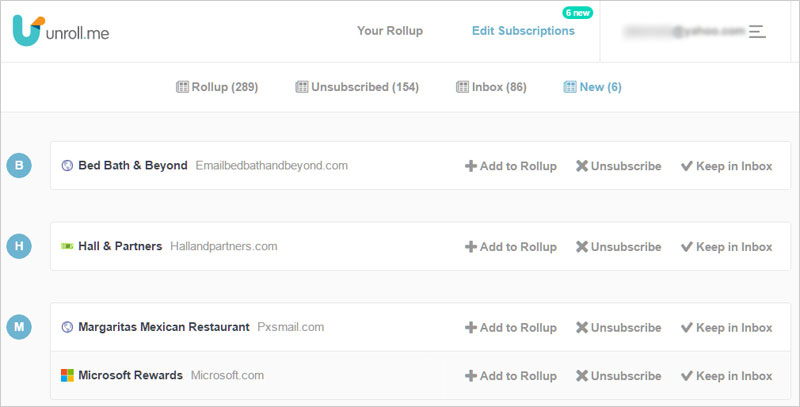 Unroll.me enables users to unsubscribe from newsletters and email lists in bulk. Many people use a separate, temporary email account to register on different websites.
However, those using their work email address may find themselves overwhelmed with messages.
This slows them down and decreases productivity. Unroll.me compiles a list of subscriptions that allows users to choose which ones to opt-out from. They can then do this in bulk.
Shift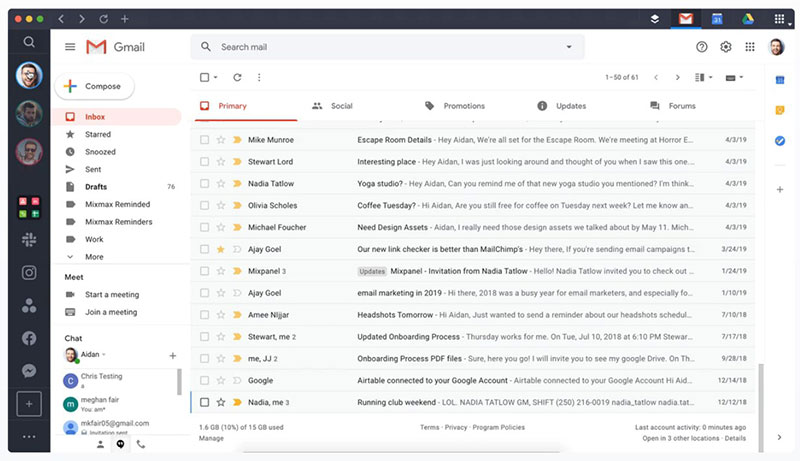 Users can manage all their email accounts from one simple desktop app. They can also access other apps and extensions such as Asana, Grammarly, HubSpot Sales, and Whatsapp.
Another useful feature is the search option. Users can search for specific messages across all accounts.
With Shift, there's no need to switch from one account or app to another. Keeping all work and email workflows in one, convenient place saves a lot of time and makes your job simpler.
Microsoft Dynamics 365 Marketing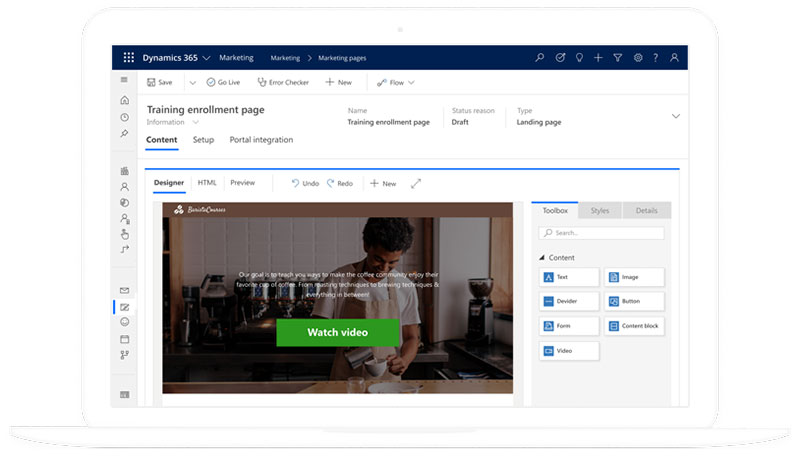 This email management tool helps users maintain customized communication with their contacts. It has customizable email templates, pre-built content blocks, as well as a modern digital content designer.
Useful features include customer segmentation and AI-driven analysis. These reveal customer preferences and previous interactions with the business.
This enables users to send emails containing only relevant messages and information.
SaneBox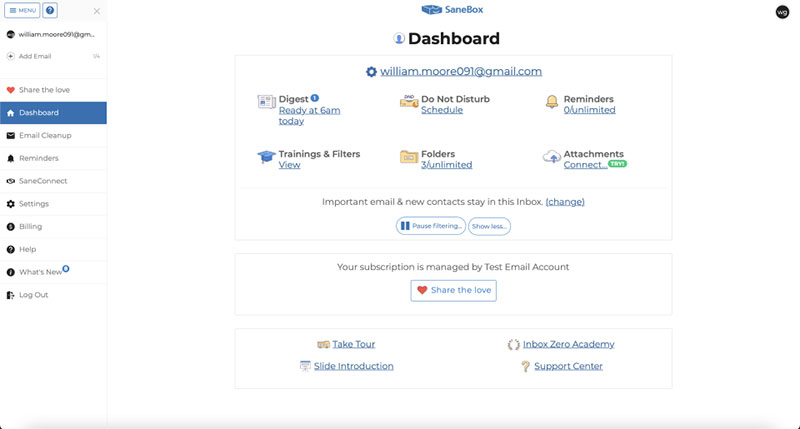 SaneBox uses AI to go through emails, sort them, and help users to find and select the important ones. It also has the option to hide emails from unwanted senders.
It stores the undesired and unimportant messages in the SaneLater folder. The AI learns which emails are important and moves them to appropriate folders.
There are do-not-disturb features provided, for when distractions are not allowed. SaneBox also allows users to track emails that nobody has replied to.
The software works with Google, Microsoft Office 365, and iCloud accounts.
Mailstrom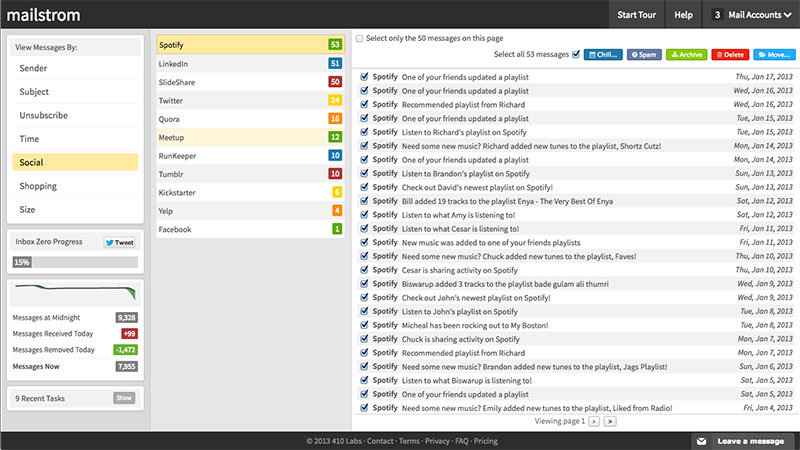 Mailstrom is a perfect choice if the goal is to thoroughly declutter and clean the inbox. It offers multiple filters with which to organize and group messages.
This can be by sent, sender, recipient, attachment size, and others.
Users can access each group and remove the unwanted or irrelevant messages. Organize the remaining messages into appropriate folders.
Front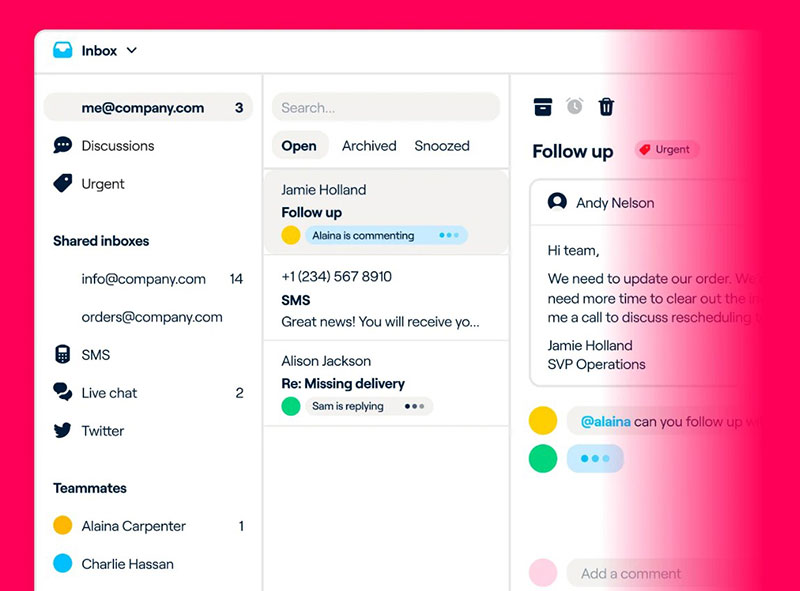 This email management software is great for team collaboration. It's a useful addition to CRM for agencies, e-commerce stores, financial service providers, hotels, marketing specialists, logistic companies, technology businesses, and travel companies.
The tool provides useful analytics and full automation of email experience. It enables teams to have transparent and fast communication with customers.
All team members can access customer emails. They also receive notification when an email is opened.
MailMate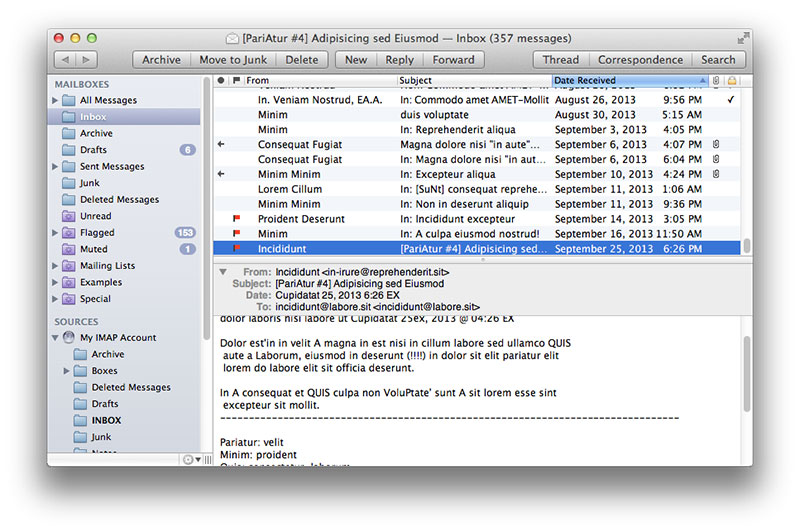 This email management tool provides extensive keyboard controls and markdown integration. It minimizes the need to use a mouse.
Other features include automatic signatures and cryptographic encryption/signing (OpenPGP and S/MIME). It also offers multiple message viewer layouts (including a widescreen layout), several notification methods, and tagging.
Gmelius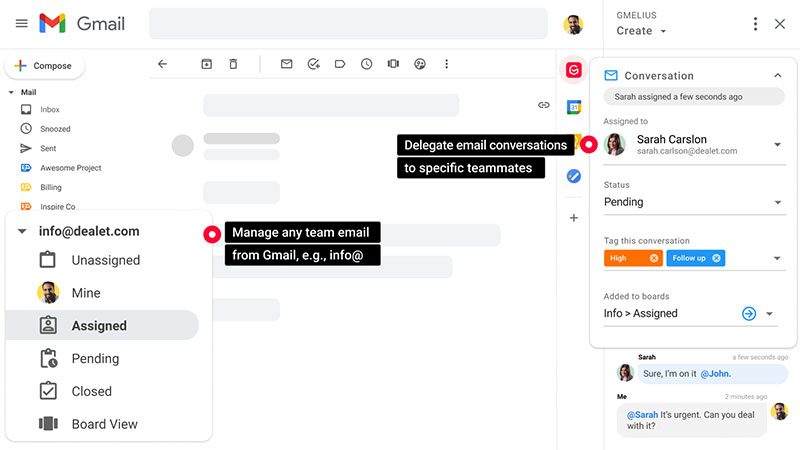 This email management software allows for effective team collaboration on one unified platform. Gmelius enables users to keep tabs on customer service, pipelines, and projects.
It streamlines processes, allowing access to different apps and tools without leaving Gmail. It integrates with Google Workspace, Slack, Trello, and Zapier.
ProProfs Help Desk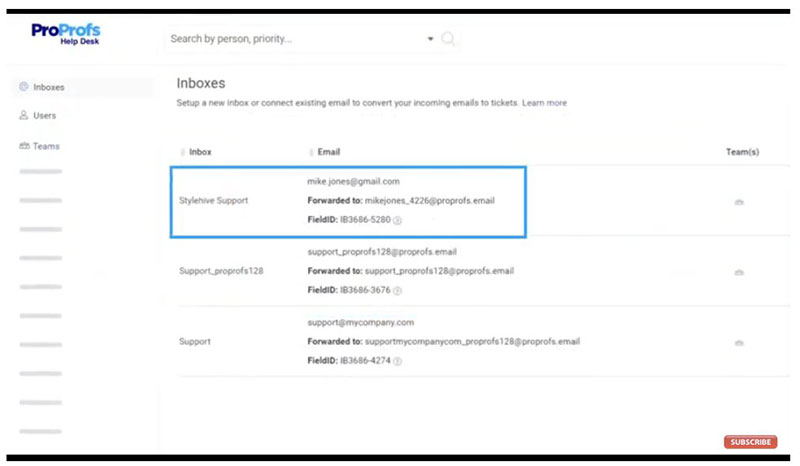 This email management tool allows businesses to capture all emails as tickets. Users can add an unlimited number of inboxes and manage them all from one dashboard.
It captures all incidents recorded via email and teams can collaborate in one place. Team members can work together on different tickets using features like notes and child tickets.
Functions like auto-routing, canned responses, labels and priority, and ticket notifications improve productivity.
Hiver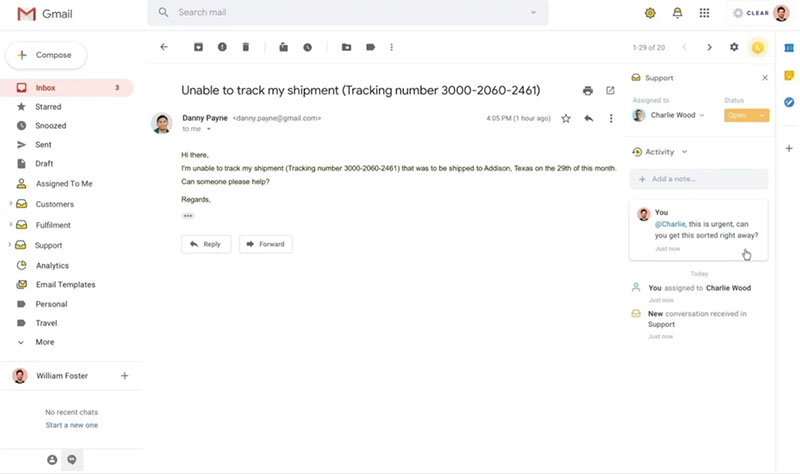 Hiver is a very useful customer service software. It allows agents to assist customers directly within Gmail.
Team collaboration is easy thanks to a shared inbox. The team leader can delegate emails to individual agents without forwarding them.
Users can group emails using tags and @mention coworkers. Team members can add notes to emails to give more information about the situation.
A cool feature is the collision alert which prevents more than one agent from working on the same email.
Hiver takes care of repetitive tasks and helps to set up smart workflow automation rules.
FollowUpThen

This tool enables users to set reminders to follow up on selected emails using a very simple method.
For example, to get a reminder to follow up on an email in three days type 3days@followupthen.com in the BCC address field. When three days have passed, the user receives a reminder to follow up on this specific email.
It's possible to use this to batch and forward several messages to read them at a later time.
Yesware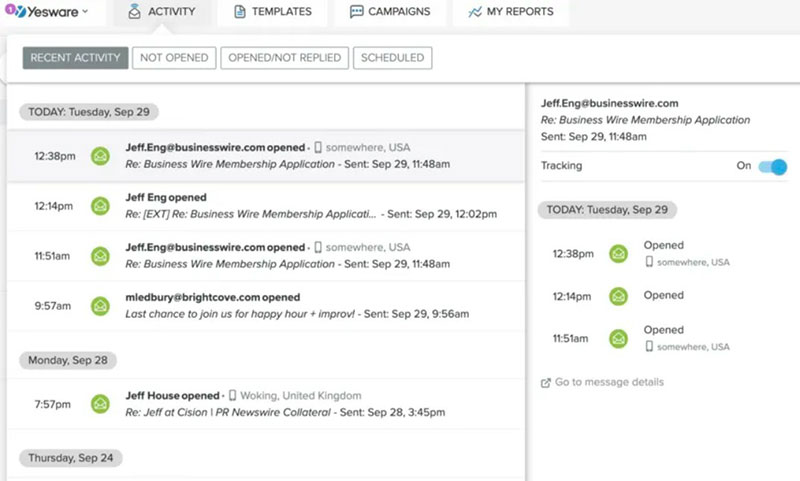 Yesware is a comprehensive, data-driven email management software. It's used by businesses of all sizes that want to improve sales using data analytics.
The software tracks sent emails and analyzes their productivity and email campaign results. Productivity features include analytics, attachment tracking, personal templates and reports, and scheduled emails.
Yesware is also great for team collaboration. Users can create several team channels with role-based permissions and centralized billing.
They can also create multi-channel campaigns and receive performance reports.
EmailAnalytics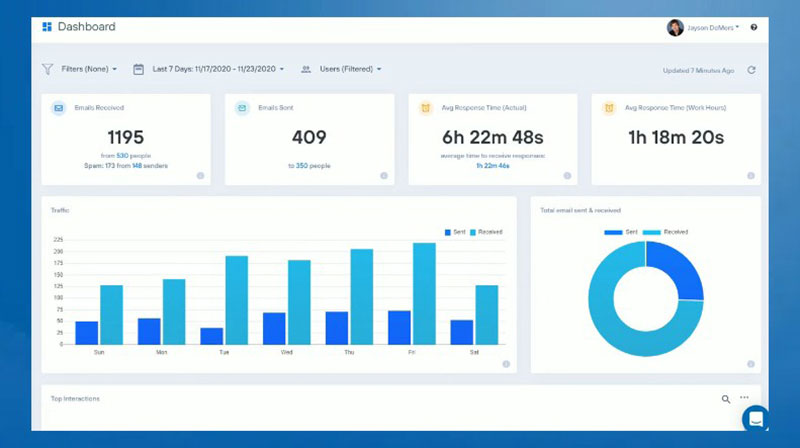 EmailAnalytics is an email management tool created specifically for Gmail accounts. It presents your email activity utilizing various types of charts, graphs, and tables.
It is especially useful for sales and customer service teams. They can improve productivity by keeping tabs on important KPIs.
This includes average email response time, emails sent, emails received, adjusting workloads, and identifying best performers.
One of the best features is an automatic daily email report. This sums up the team's activity for the previous day or week.
Leave Me Alone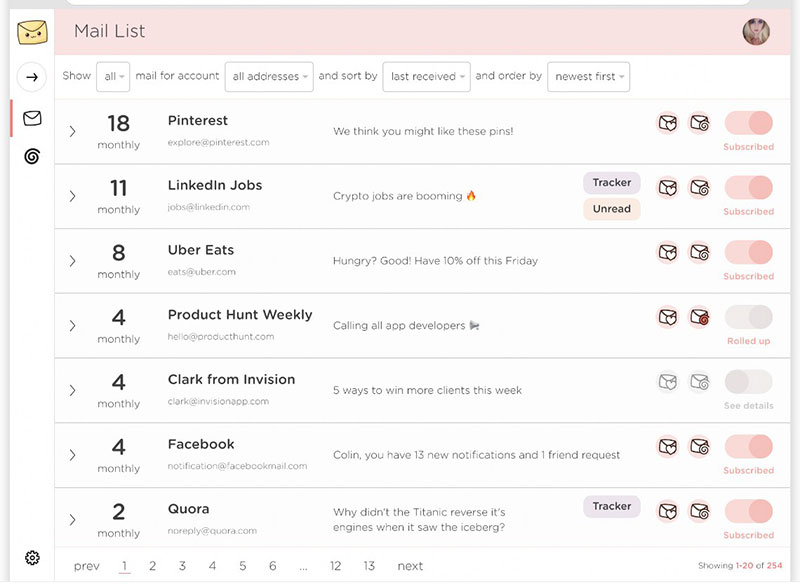 This is an email management tool to unsubscribe from newsletters and email lists.
There are a few things that make this app stand out. It applies modern user experience principles and best email management practices.
The app has a fantastic design. It automatically displays emails grouped by sender and organized chronologically.
It ranks each subscription by gauging its "spamminess". Users can then unsubscribe with one click.
Suppressionlist.app

This email management software is ideal for businesses of all sizes. It is useful for mailers, brands, agencies, and networks that send bulk email daily.
It provides fully-automated suppression list management. It allows users to track, monitor, and get analytics about their opt-out lists.
It is a highly secured, law-compliant tool. It complies with international privacy laws about opt-out requests.
Businesses can ensure that their email campaigns follow the law and are not associated with spamming.
BatchedInbox
Emails help people to communicate effectively but can also be a source of distraction. The latter is especially true if receiving hundreds of notifications each day.
With BatchedInbox, users set time restrictions, deciding at what times to receive notifications. This helps users to maintain a high level of concentration for their work.
Checker Plus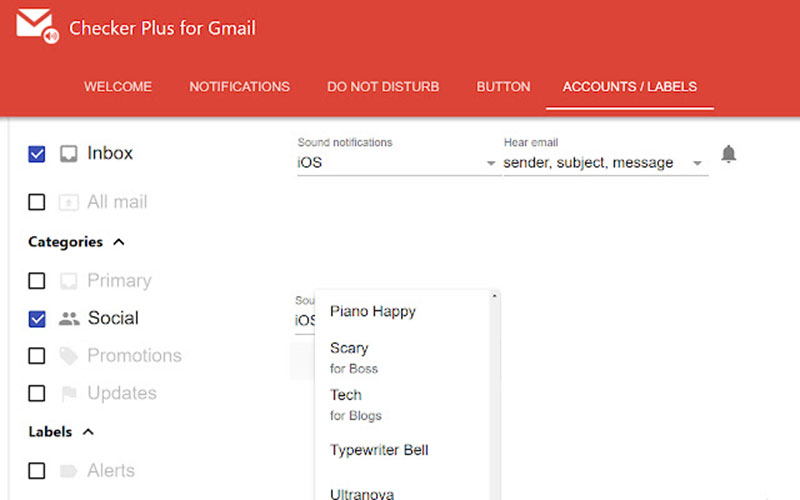 This is a Chrome extension for Gmail that handles several email accounts in one place. It offers real-time email tracking.
Checker Plus notifies users as soon as they receive a new email, even when Gmail is closed. Then read, listen to, or delete it right from the desktop without opening Gmail.
Final thoughts on email management software
It is not possible to say which email management software is the best. It is an individual choice depending on how well a tool can fill your needs.
The list above provides examples of secure and comprehensive software. These provide automation and multiple integrations at a fair price.
There are also many other useful tools like browser plugins.
Some can help to increase productivity by providing useful shortcuts. Others intercept spelling and grammatical mistakes in emails and give improved phrasing suggestions.
If you enjoyed reading this article on email management software and tools, you should check out this one about Lead Generation Software and Tools.
We also wrote about a few related subjects like useful elevator pitch examples. sales pipeline stages, best CRM for Gmail and sample LinkedIn connection requests and templates