Every professional, whether working in marketing, sales, or any other industry, knows the value of email. Even one simple email can change your career. It's not only what's in the email that's important, but also knowing where to send it.
Finding the right email address can be a game-changer. It's often the last piece of a business email masterpiece that is missing.
Some email addresses are very easy to find - they are right there in a prospects' online profile. When that's not the case, a little bit of detective work may be necessary to find the correct address.
This article created by our team at Eserto reviews some of the best email finding tools that can save you time and prevent frustration. They can help to find and verify a prospects' email address.
Top email finder tools to try
Hunter.io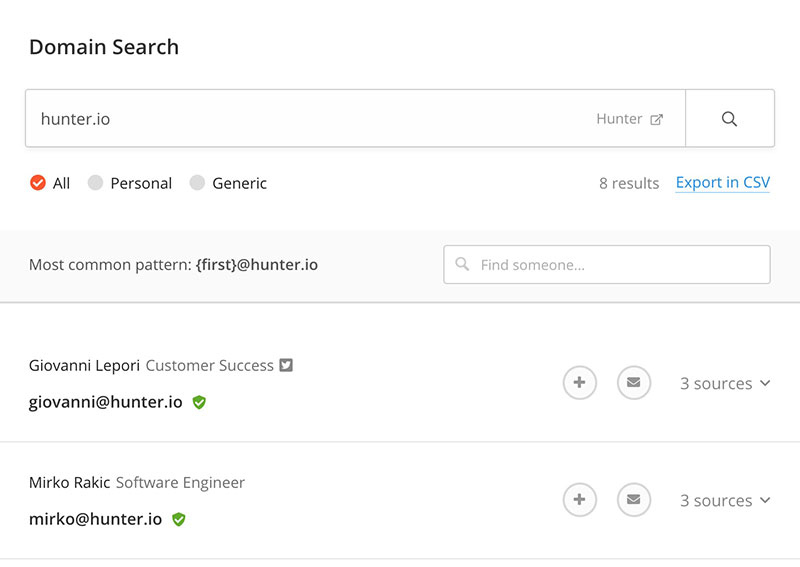 The first of these email finder tools is Hunter. It lets users find email addresses in seconds, connecting with the people that matter to their business. Find the email addresses one by one or in bulk to enrich your database. Users type in a company domain and receive a list of email addresses using that domain.
The free version of Hunter gives users up to 25 requests a month (used to be 100). These include a domain search, an email finder, and email verification.
The Starter tier provides 1,000 requests for $39 per month. It also allows the download of search results using the CSV export function.
The Email Verifier does a complete check of the email address. This allows users to send their emails with complete confidence. 95% of verified emails are deliverable.
By using these features it's possible to create a separate mailing list for each project.
Uplead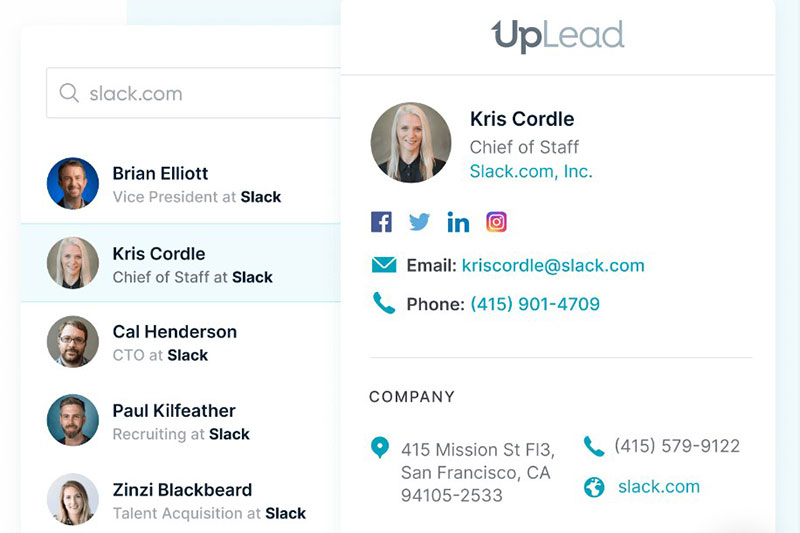 The second of these email finder tools that we're featuring in this article is UpLead. It is a B2B database and business contact data provider.
Users can search through 56 million contacts using 50 filter options to generate leads. Download the results, verify the email addresses, and add them to a prospects' contact info.
Toofr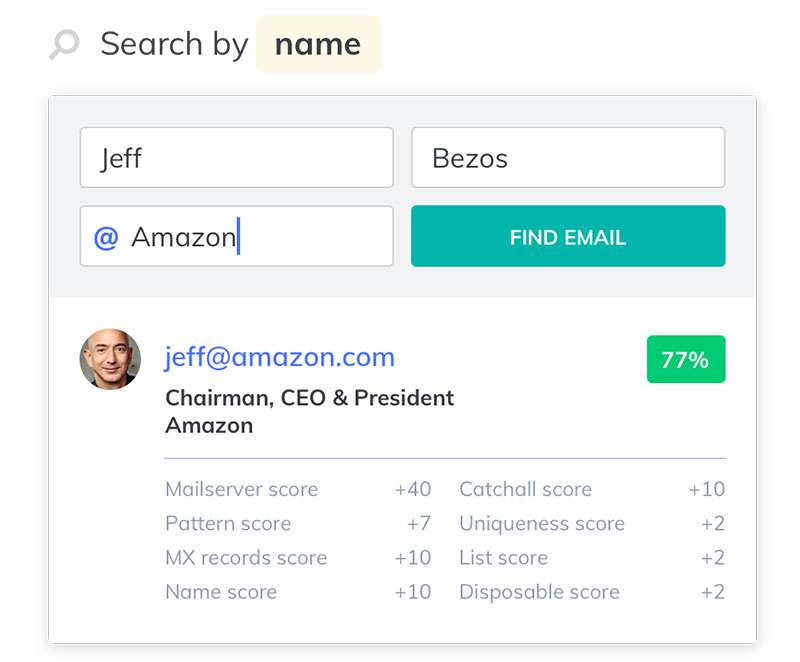 Toofr is an email finder and email verification tool. It allows you to search by company and role or find contact details for specific people of interest.
Find a specific email address using a person's first and last names, a company's name, or a website address. The results appear in the order of confidence. The Confidence Meter shows the probability of the accuracy of each email address.
The free trial offers 30 credits. Each search costs one credit. And for one extra credit, view the prospect's title, headshot, and profile URL.
Snov.io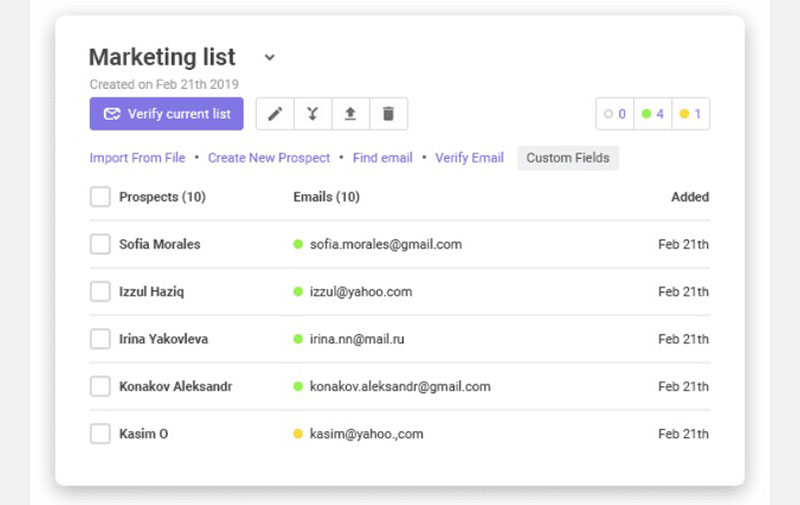 Snov.io is one of the best tools for finding emails in bulk. It contains a powerful inbuilt search algorithm. The accuracy drops, however, if LinkedIn users don't update their profiles regularly.
Improve the quality of new and existing contacts with Snov.io's 7-tier verification. This results in deliverability as high as 98%. It charges only for verified email addresses.
Users can create personalized triggered email drip campaigns. It can accelerate their cold outreach, and nurture leads to boost conversions. Snov will schedule campaigns for existing clients, automate follow-ups, and track email engagement.
The app is also available as a Chrome extension.
Leadfuze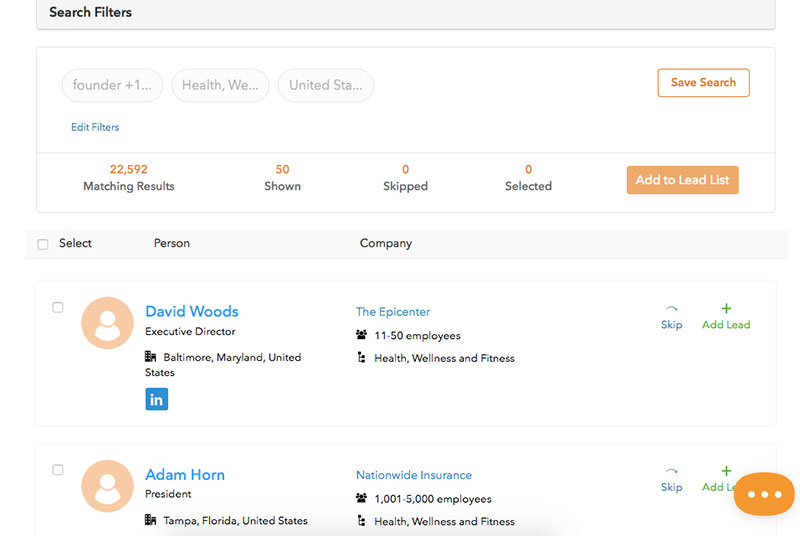 The LeadFuze database contains verified emails of over 300 million individuals. It also contains verified addresses for 14 million businesses globally.
Leadfuze uses AI to build, clean, and double verify leads in real-time. It can create mailing lists and send added email to third-party apps.
It's possible to search by prospects' names, company names, or website. The advanced search feature can further search by job positions, industry, keywords, country, or university name.
Clearbit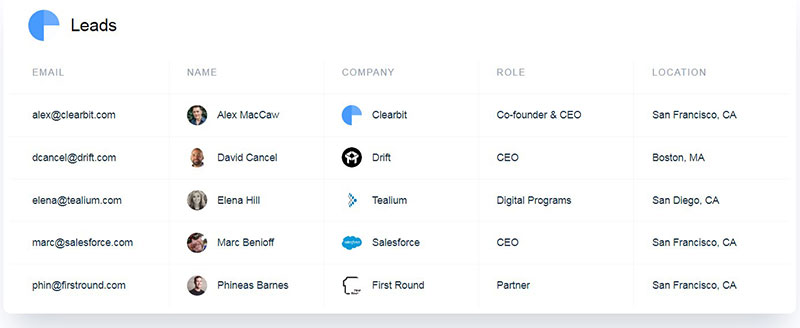 Clearbit is yet another one of these email finder tools. It enables users to obtain more than the desired email addresses.
Clearbit provides company attributes like employee count, technologies used, and industry classification. It will also supply employee details like role, seniority, and even job change notifications.
Their free plugin (called Clearbit Connect) integrates with Gmail. This allows users to search for email addresses by company domain names.
For this option, users must install the plugin and connect it with their Gmail account. Then, click the Clearbit option in the top right corner of the inbox and type in the domain name.
Hiretual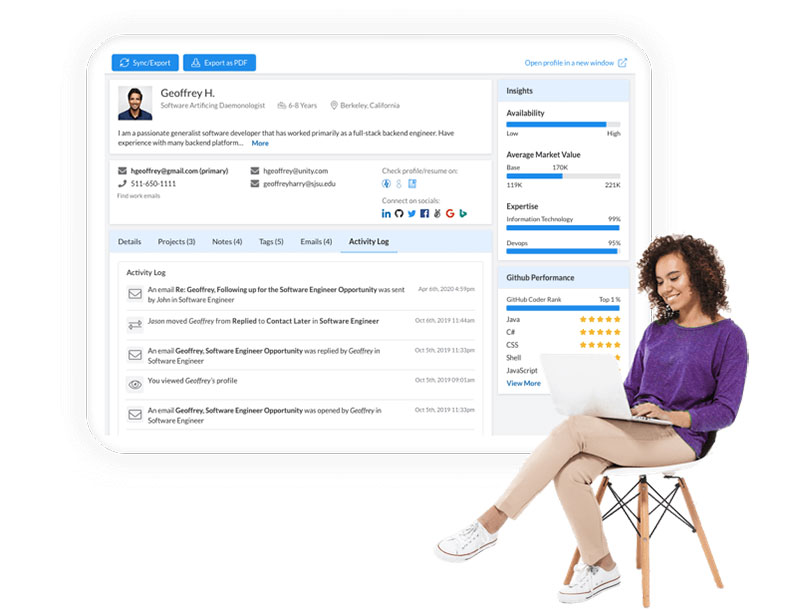 Hiretual is an AI-powered sourcing tool. It searches through LinkedIn, Twitter, and Facebook saving valuable time.
Use the Chrome extension to get email addresses and extra information like experience, seniority level, and salary range.
Anymail Finder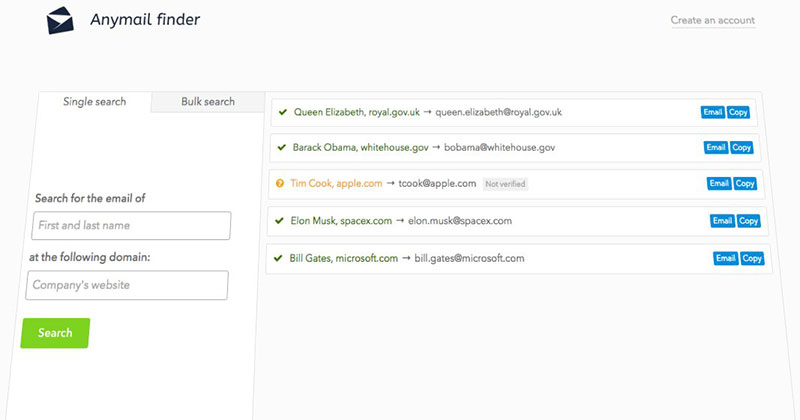 The company claims on its website that it is the number one email finder for emails that don't bounce. And if an address happens to be incorrect and the email does bounce, Anymail Finder will issue a refund.
Search for individual email addresses or hunt down multiple prospects in bulk.
There is also an option to upload a CSV file with names and companies to the software. The software will then return it, complete with matching email addresses.
Vocus.io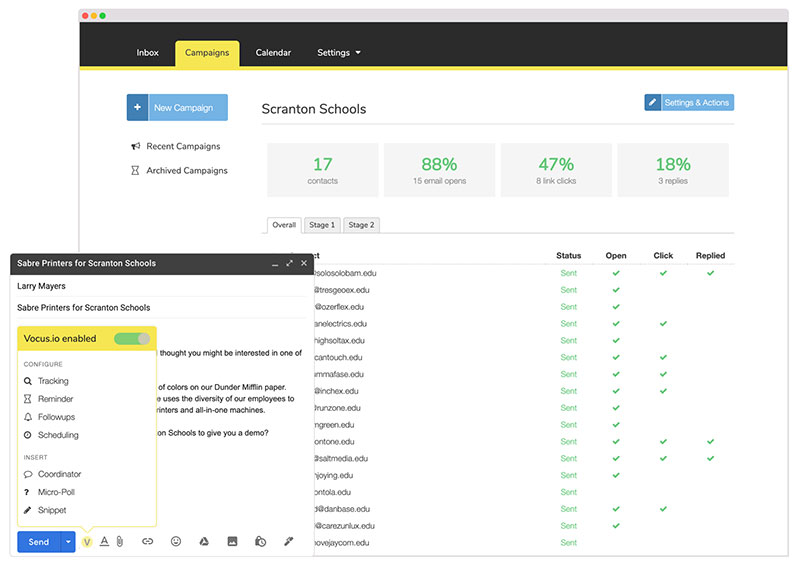 While this isn't your typical email finder tool, this is a Gmail extension searches for email addresses using names and domain names. It creates a list of possible email addresses and runs each combination through the verification system. Users then receive the correct address.
Users can send mass emails from their own domain and track email opens and link clicks (per recipient). They can also automate follow-ups, set reminders, share templates with team members, and log to CRM.
Findthat.email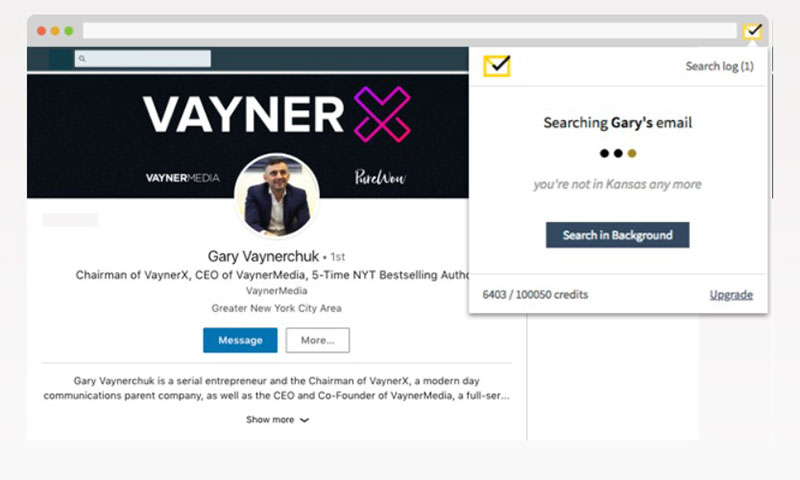 Findthat.email calls itself the Yellow Pages of emails. Use it to find the email address of professionals in millions of companies worldwide.
The Chrome extension can search for addresses via social networks like Linkedin, Facebook, and Twitter. It will supply the email address together with the source it was taken from.
Users can clean lists to eliminate hard bounces. This also improves their email marketing campaign performance.
The ranking of search results is by confidence.
Skrapp

This B2B email finder/lead extractor uses data matching algorithms and email verification methods to index public web pages and duplicate emails based on companies' email patterns. It interacts with email servers to confirm the existence of email addresses.
Using the company's name, website, and the name of the prospect, search for single and bulk email addresses. The Domain Search feature finds verified emails of people working in any organization.
SignalHire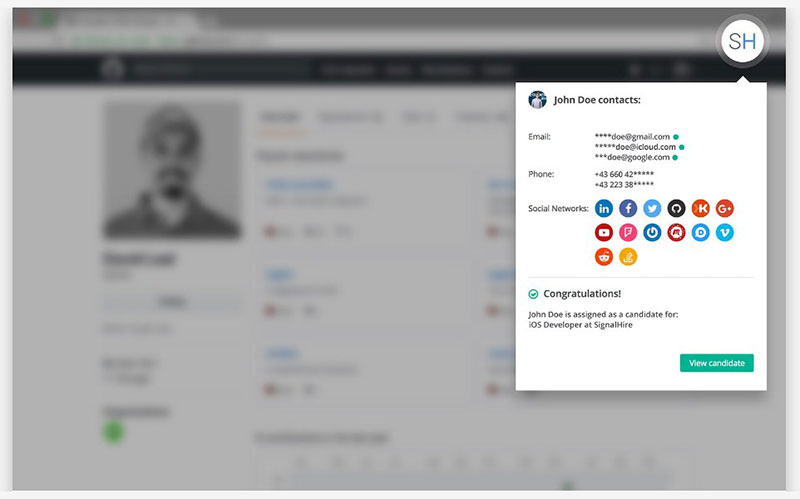 SignalHire is a great tool for talent sourcing. Use it to find verified data and information by name. Locate email, phone number, social profiles on LinkedIn, Facebook, Twitter, GitHub, MeetUp, and more.
Find email addresses in real-time mode. All information is verified via 3rd-party verification tools.
It's claimed that the supplied email addresses are 100% correct. Users also get social media links, phone numbers, Skype ID, and other contact info.
It's possible to search in bulk for up to 1000 people at a time. Or use search filters to find the email addresses by title, location, or postal code.
SignalHire can also export contacts to CSV and export candidates to a user's ATS.
Voila Norbert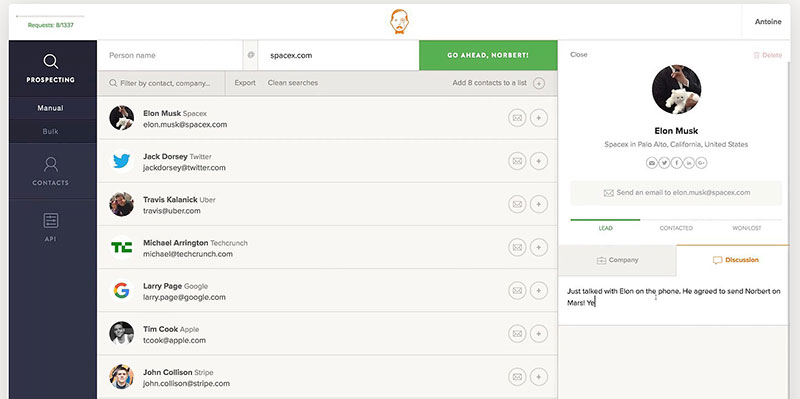 Voila Norbert offers 50 leads for free. Use the prospect's name and company domain to search for their email address. Only the email addresses that are found will be charged as leads.
This assistant integrates with Chrome, Zapler, Salesforce, Pipedrive, Mailshake, Hubspot, and more.
The software limits the number of available requests. This is because it doesn't check for catch-all addresses (SMTP servers can block the service if sent too often).
Reply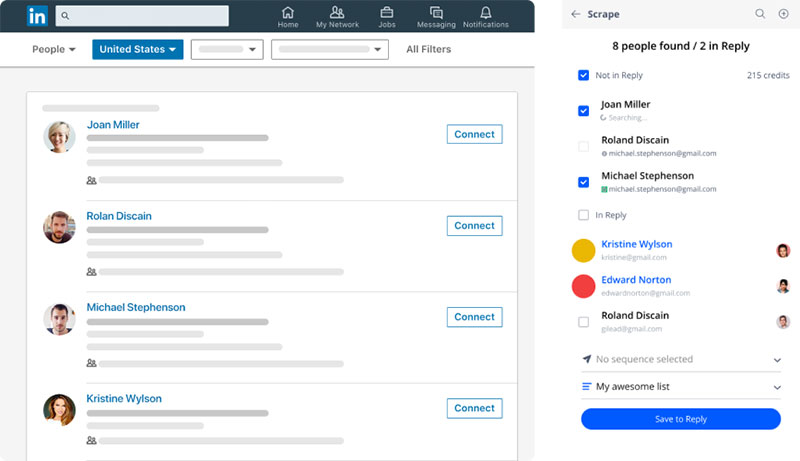 Reply is a LinkedIn email finder and outreach extension. It uses LinkedIn to search for prospects while the extension finds the addresses. The addresses are verified so users only get current and accurate contact info.
It can synchronize the email list with your CRM by native integrations. Other options are pushing the contacts to a sequence in Reply or exporting them to a CSV file.
Reach out to prospects by sending them messages on LinkedIn, personal emails, or make calls via the in-built dialer.
Leadfeeder – Email Finder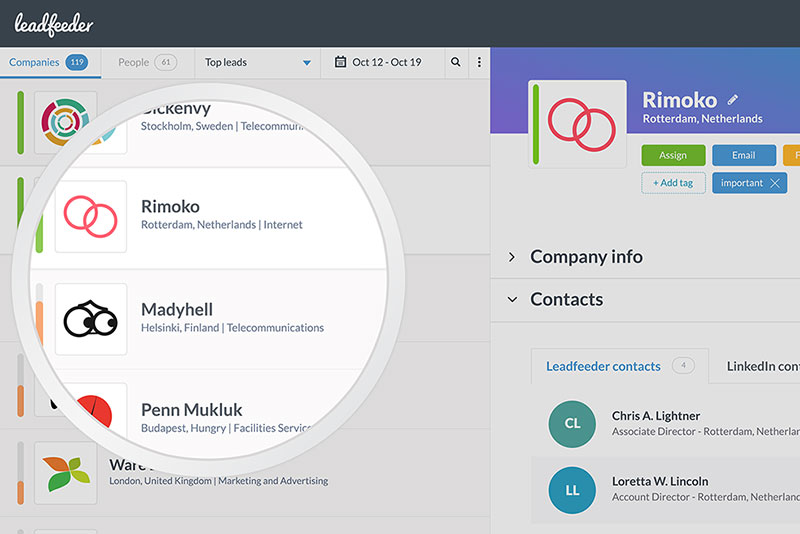 This is a website visitor tracking software. Users can find out where the visitors are, how they found you, and what they are looking for. This is helpful for lead generating and gives the process the right direction.
The free Lite version shows only the last 3 days' worth of leads. The premium option ($55 per month) unlocks all available features and a credit card is not required to start a free trial.
Sellhack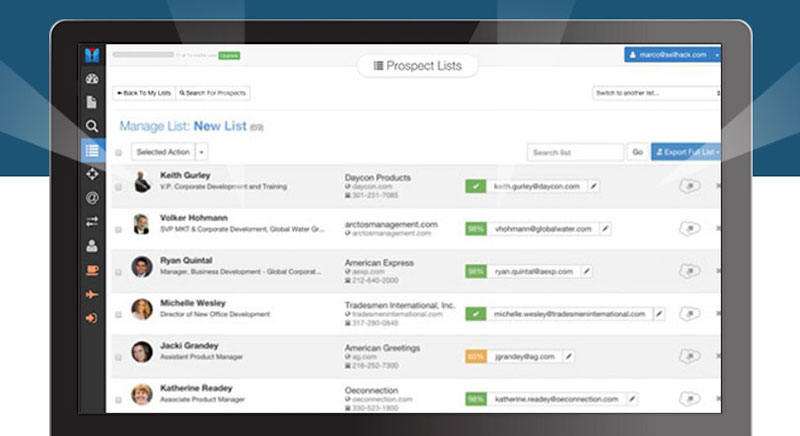 Sellhack is a tool designed for salespeople. It helps them find leads, build lead lists, verify email addresses, and send cold emails. The software uses a 12-step, real-time verification process.
One-click email integration allows users to send personalized cold emails and follow-ups from their inbox. Another good feature is drip marketing built exclusively for sales.
Anyone can make use of Sellhack including freelancers, marketing professionals, and big enterprises.
GetProspect.io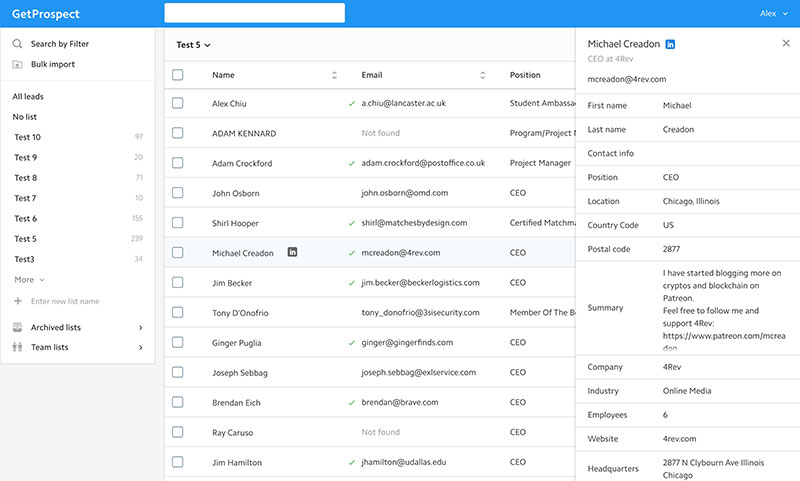 Input the search criteria and GetProspect email extractor will provide a list of names with corporate emails, position, LinkedIn profile URL, company name, industry, website, and much more.
It can group extracted profiles into lists and order them by name, company, position, and so forth. Users can import or export prospects to different apps such as Linkedin, Salesforce, Pipedrive, and Gmail. It also provides the option to export found contacts to an XLS file.
The free version offers 50 credits a month.
AeroLeads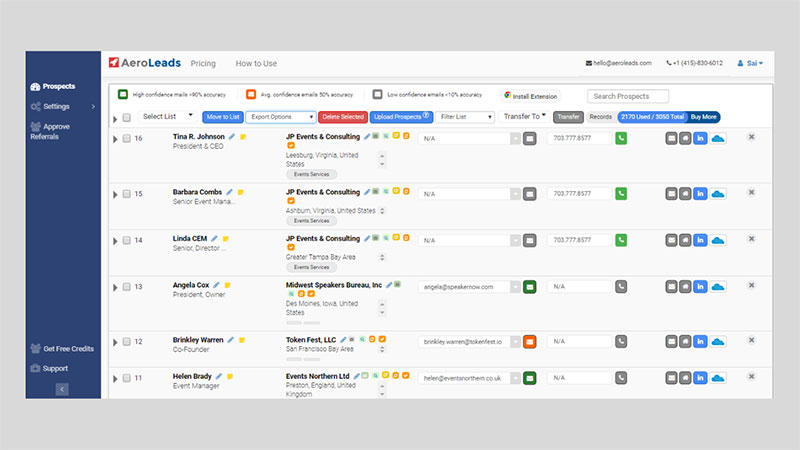 AeroLeads searches for business email addresses on websites like LinkedIn, CrunchBase, and AngelList. It works in real-time and the results are 95% accurate.
Install the Chrome plugin and add the relevant leads and prospects using the widget. The software will find as many as 15 data points. These include business emails, business phone numbers, company name, company URL, job title, and location.
Users can export the data to CSV or transfer it to Salesforce, HubSpot CMR, Pipedrive, Zoho CMR, Zapier.
ContactOut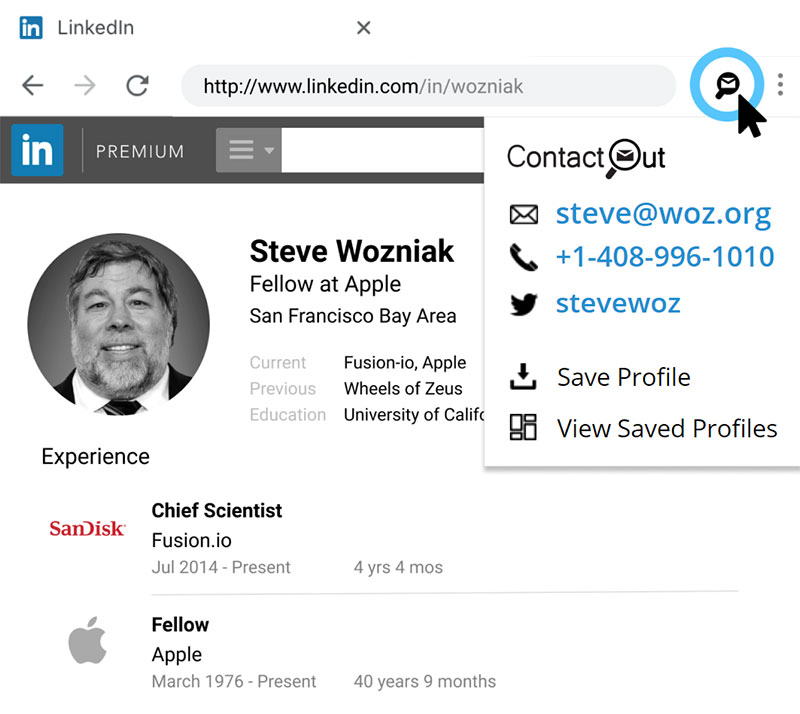 ContactOut is often used by recruiters to find email addresses for potential candidates. It claims a 97% accuracy rate.
The software's AI engine can find business email addresses for 75% of the western world. This is two times more than any competitor. It is also able to find phone numbers and personal email addresses.
It is easy to save profiles and export them to Google Sheets.
LeadGibbon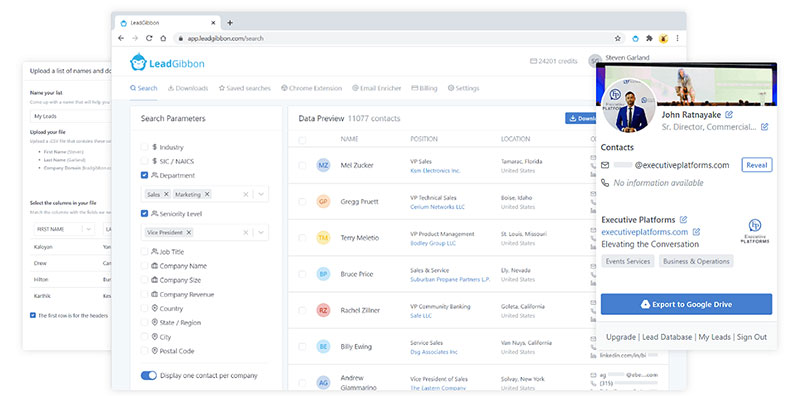 LeadGibbon provides a way to find emails from a LinkedIn profile or LinkedIn search. Their Chrome Extension is one of the best LinkedIn email finders for building a clean contact list. It uses a built-in email verifier that checks the deliverability status.
This powerful software can locate 20 million verified email addresses and phone numbers. Users include Google, PayPal, Airbnb, and other respectable companies.
Prospect.io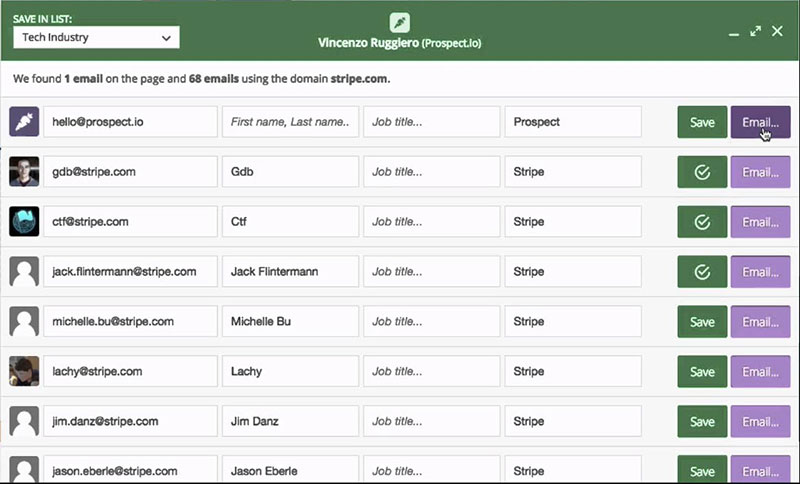 This multichannel sales automation platform helps to find publicly available email addresses. It extracts and verifies contact information such as email address, job title, and company.
Users can conduct a single or bulk email search based on the person's name and the company's domain. It's possible to export lists to CSV and Google Sheets.
Datanyze Insider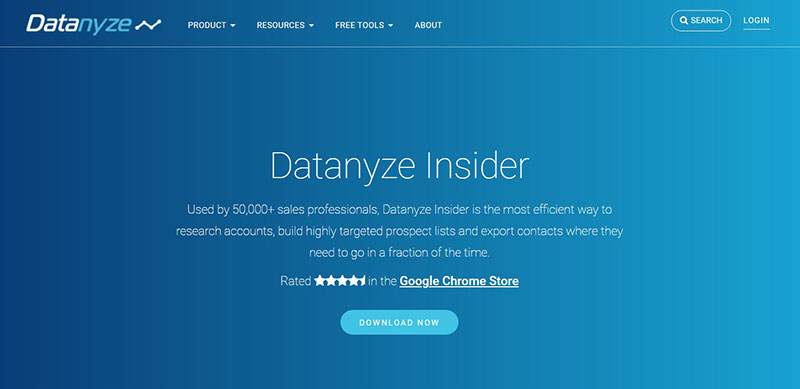 This browser plugin will search for email addresses when users highlight a prospect's name on any website.
The list-builder window adds new contacts to Salesforce or a Datanyze list in one click. Datanyze will pull in a contact's social and lead information. It then runs a search to pinpoint their most likely email address.
It can export contacts to a CRM, spreadsheet, or preferred sales automation tool. Users can then enroll them in a targeted outbound campaign.
See technologies, find emails, and build prospect lists with the free Chrome extension.
FindThatLead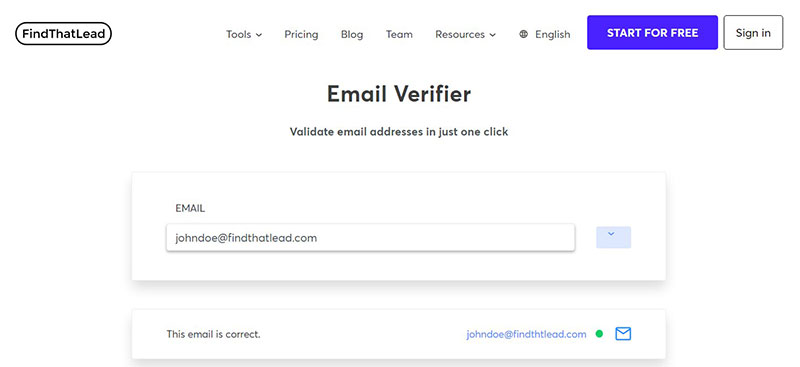 Find genuine business email addresses of new leads using their first name, last name, and website name. FindThatLead uses an advanced algorithm to verify an email address and minimize the possibility of an email bouncing.
To find prospects users can choose from audience segments like location and keywords. The free version offers 300 credits per month (divided into 10 credits a day).
Lusha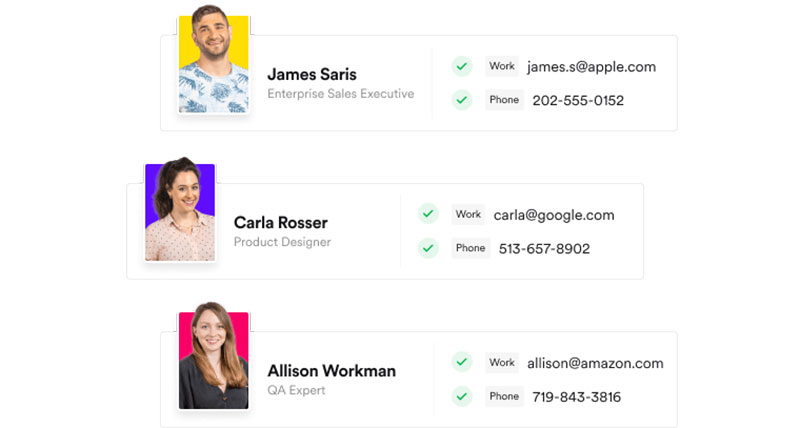 Lusha was created with salespeople and recruiters in mind. It focuses on finding personal email addresses, which is of great assistance especially to recruiters. It also helps salespeople reach decision-making individuals at specific companies.
Lusha Plugin works well with LinkedIn, Gmail, and Salesforce. The Chrome extension is easy to use and supports Twitter and LinkedIn.
There is an API version available for those who are more tech-savvy. This version can find contact details from additional online sources.
RocketReach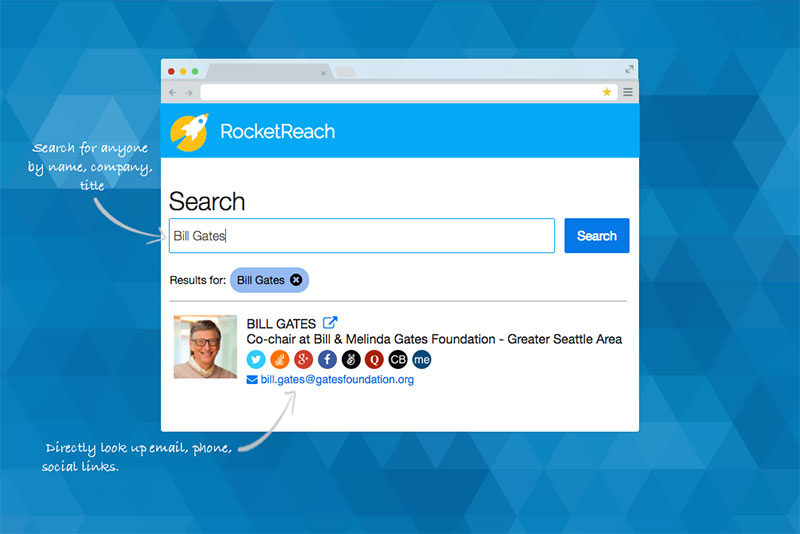 RocketReach promises to "rocket fuel your growth" by providing real-time verified data for 430 million professionals across 20 million companies around the world.
Best features include:
advanced search using different criteria to narrow the search
Chrome extension for looking up contact information on Google, AngelList, Crunchbase, and LinkedIn
bulk lookups
lightweight, intuitive REST API to help automate the search
integration with Salesforce, HubSpot, and many CRMs
Adapt.io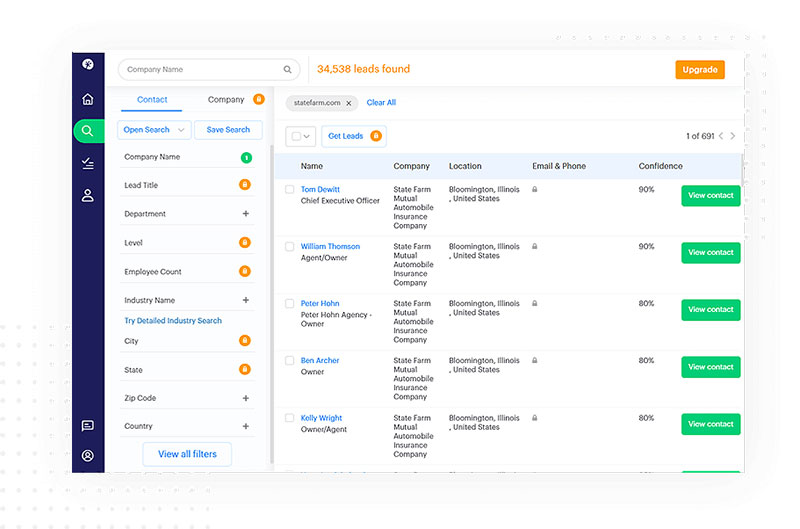 The last one of these email finder tools is Adapt.io. Their Chrome extension will find contact details on LinkedIn or Sales Navigator. Simply install the extension, go to a prospect's profile and a "Get Email" option appears.
The platform enables users to build "Prospecting Lists" and export them as a CSV file to any CRM, including Salesforce, Zoho, and Pipedrive.
Ending thoughts on the very best email finder tools for your company
Finding the email addresses of leads is a necessary job. But it can be tedious without one of the best email finder tools that are available.
By using them, businesses can scale their lead generation and accelerate sales. They are easy to use and provide great results.
Finding the right tool can be time-consuming. To help with this choice, this article listed some of the best options available.
After reading this article, we hope it is easier for you to to choose an email finder tool to suit your specific needs.