Sales Engagement platforms such as SalesLoft help to accelerate the sales processes.
Account-based sales teams especially notice the benefit. They can save time, stay organized, and increase productivity across all selling activities.
While SalesLoft is one of the most popular platforms, it may not always fulfill the specific needs of your enterprise or industry. Fortunately, there are many other SalesLoft competitors to choose from.
This article offers a comprehensive comparison of SalesLoft competitors, outlining their features. This can help you to choose an alternative that best suits your business needs.
SalesLoft Competitors To Check Out
Outreach.io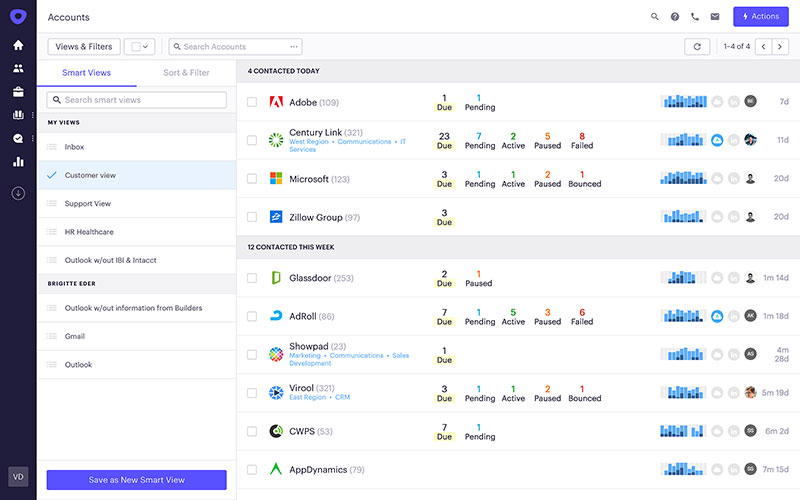 The first of these SalesLoft competitors is Outreach.io. It is a system of action for sales teams. It puts all actionable prospect-related information in one integrated view.
This provides valuable intelligence and insights. With this information, it's possible to optimize customer engagement throughout the customer lifecycle.
It automates and prioritizes all customer touchpoints. This helps to drive efficiency and effectiveness for all teams.
It enables a sales team to drive more pipeline, get more meetings booked, and surpass profit goals.
Gong.io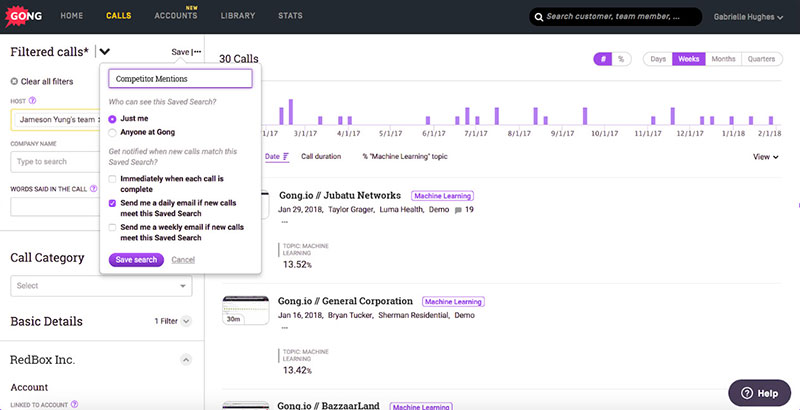 The next of these SalesLoft competitors that we're looking at is Gong. This is a Revenue Intelligence platform that provides complete coaching for sales teams.
Sales managers get direct insight into sales conversations. This enables them to provide direct feedback on pricing, messaging, product rollouts, and more.
It allows them to recognize the best sales practices and spread them across sales teams. It also helps to minimize ramp-up times for fresh hires.
Gong integrates with all popular web and video conferencing software. Users can join meetings and record their conversations.
The AI transcribes calls and identifies teachable moments for upselling, cross-sell, etc.
Seismic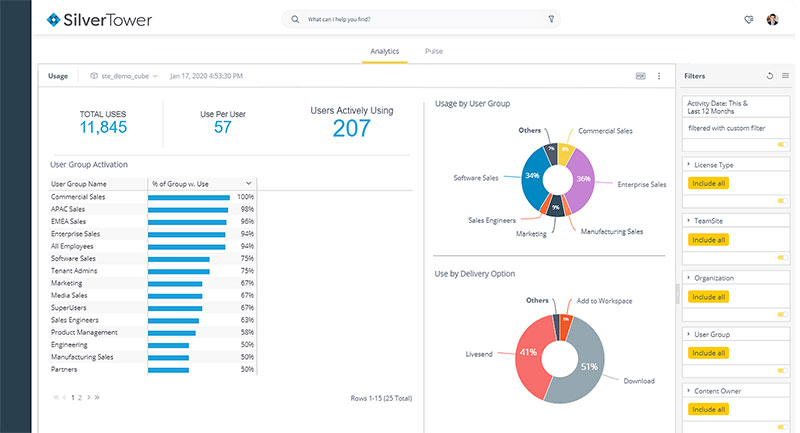 The modern buyer expects a personalized experience supported by relevant content.
Seismic's platform helps users to deliver what their customers want. It aligns people and technology, allowing sellers to move faster and win bigger.
It provides a powerful storytelling platform and delivers industry-leading tools. With this combination, it's possible to orchestrate engaging buying experiences at scale.
From the ground up, the customer experience is optimized for success. It is a cloud-based software that is available on any device allowing users to create and deliver customized content.
It provides data and insights that help teams see how and when to share content.
Users can set permissions for content and include instructions and descriptions. This can help fellow team members locate the content quicker.
Companies like IBM, American Express, and PayPal use Seismic.
Highspot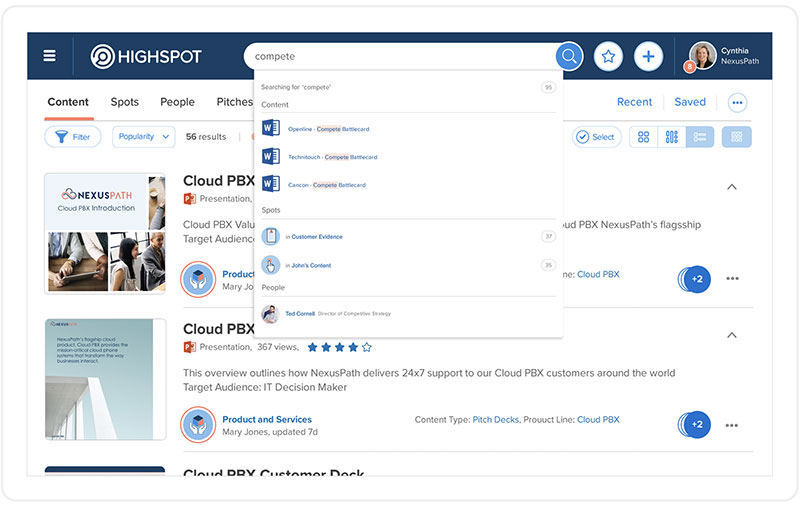 Highspot is not only one of the SalesLoft competitors you should know but an advanced sales enablement platform. It can organize marketing content, drive sales enablement impact, and improve sales performance.
It enables sales reps to find the most impactful content using semantic search. It also offers flexible content management and integration with CRM.
Users can track results through its engagement analytics and intelligent recommendations. The analytics engine helps to optimize content, boost best practices, and polish up sales pitches.
Highspot helps users ensure that reps have the expertise needed for each customer conversation. It provides virtual enablement, training, and coaching.
SalesScreen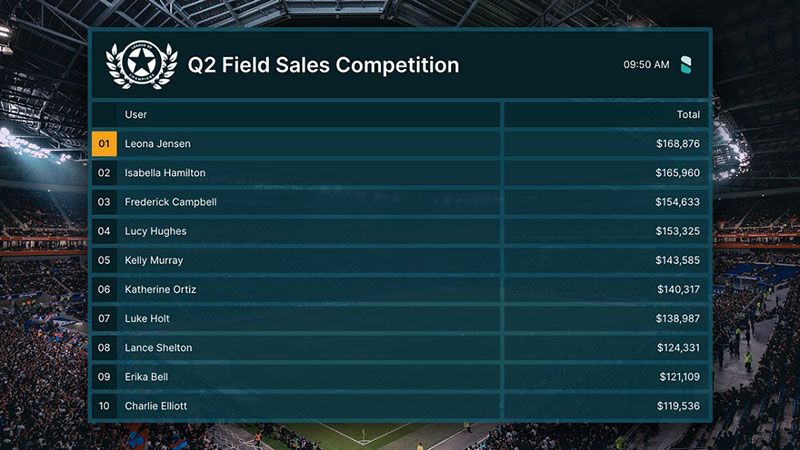 SalesScreen can provide the needed motivation for a sales team. It helps to ignite sales with proven gamification.
Unlike any other platform, SalesScreen is thoughtfully designed to work globally.
Users can mentor their staff by means of real-time insights on individual performance. It also provides the accountability tools needed to guarantee success.
SalesScreen integrates with any CRM.
Users can set up customized competitions, games, and blitzes to motivate teams towards specific goals. And when teams play, they're fully engaged and participating.
Sales teams can create customizable YouTube animations to celebrate sales and victories. Likes and comments allow teams to give and receive feedback from anywhere.
The mobile app keeps the buzz of the sales floor alive for remote teams. This results in a stronger sales culture, lower turnover, and increased goal awareness.
It also produces higher activity on the revenue growth driving metrics.
Mailshake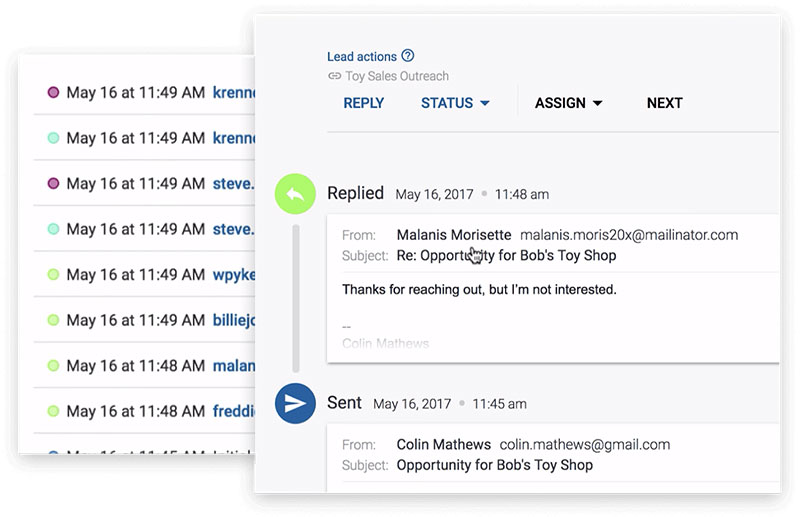 Mailshake is a sales engagement and automation software. It helps users to acquire customers and increase sales and revenue.
Users can obtain more conversations, qualify more leads, and close more deals. This can occur through various methods including phone, email, and social media.
Remove inactive and spam email addresses using the "list-cleaning credits" available in each package. This will maximize email deliverability.
Mailshake is a good option for teams that are new to sales enablement.
LeadBoxer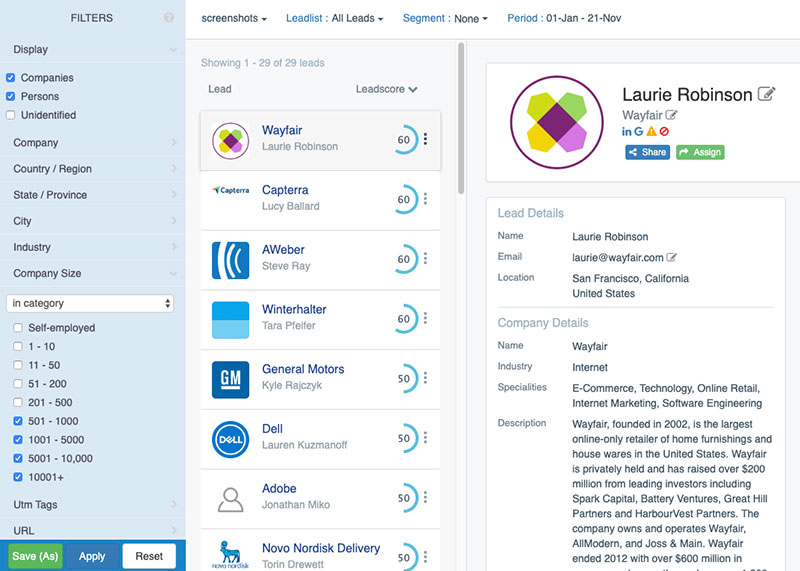 LeadBoxer is great for lead generation. It enables users to grow their business and its revenue by increasing leads and creating more B2B sales opportunities.
It provides reliable, real-time data about who visits the website and their actions.
Its algorithms and data sources provide advanced insights that streamline the qualification process. This produces high-value, high-quality leads.
ConnectLeader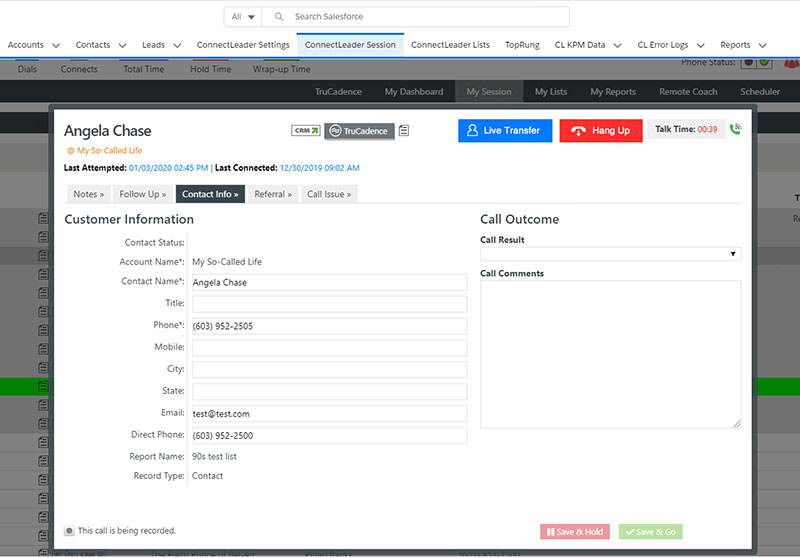 ConnectLeader is another of these SalesLoft competitors aimed at acquiring customers and increasing sales and revenue. This B2B sales engagement platform increases B2B sales revenue through customizable sales cadence software, phone dialers, predictive intelligence, and data enrichment.
The software prioritizes the best prospects for you to connect with at the right time. It also improves multi-channel communications (phone, email, video, text, and social).
It minimizes the number of leads that fall through cracks in the sales pipeline. It enables users to monitor every interaction with leads across all channels.
ConnectLeader delivers detailed reports on sales performance. It helps to improve processes based on real insights.
Mediafly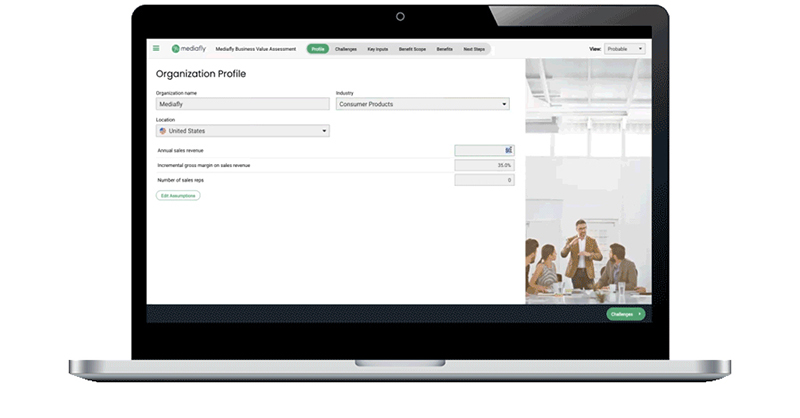 Mediafly is an easy-to-use software employed by many Fortune-ranked businesses around the world.
It offers a simple and effective way to access, create, and deliver engaging sales content and presentations. This provides insights that help the buyers make decisions on their purchases.
The interface is simple yet elegant, and it integrates with asset management software.
Using performance analytics and reporting, users can identify what kind of content works. They can also optimize and close deals using data to improve customer engagement.
Groove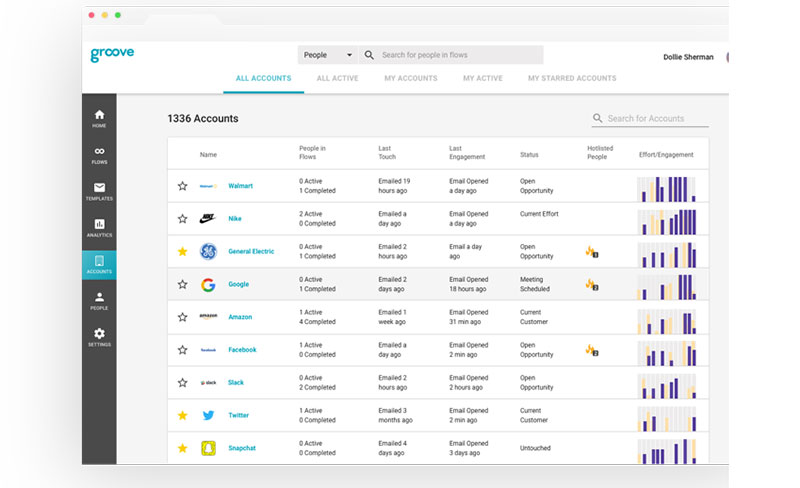 Groove is a sales engagement platform.
Groove helps revenue teams foster productive and profitable relationships with prospects and customers. It allows users to nurture relationships with valuable clients.
Groove focuses on improving efficiency, getting actionable insights, and driving revenue. It streamlines the entire sales process.
Configure Groove to meet the needs of any organization, division, or team. It is suitable for sales leaders, sales ops, and sales reps.
Groove provides data-driven insights and actionable analytics. This allows users to improve sales processes and increase productivity.
It provides email sync, calendar sync, multichannel campaign automation, built-in dialer, and online scheduler. The platform requires at least five users in a sales team.
Lusha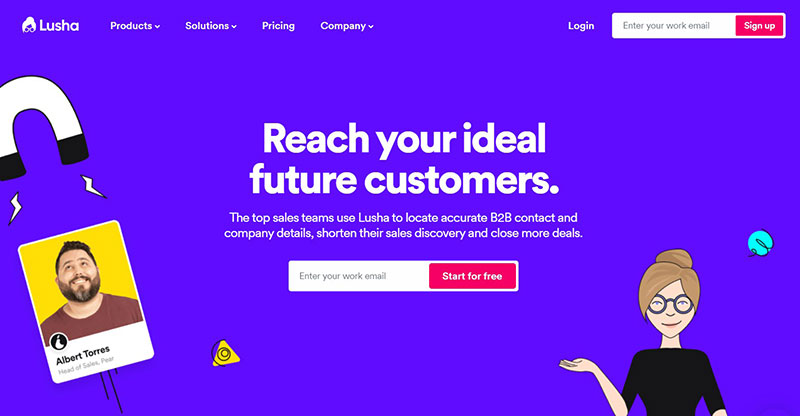 Lusha is a B2B lead enrichment platform made with sales and recruiters in mind.
Lusha enables users to reach their ideal future customers by locating accurate B2B contact and company details. Or reach top candidates with accurate phone numbers and email addresses.
Its simple tools can enrich and verify business profiles on social networks, Gmail, and Salesforce. It also provides easy access to contact information.
The vendor can define their customer range. This can scale from small and medium companies to huge enterprises such as Google, Amazon, and Apple.
Freshworks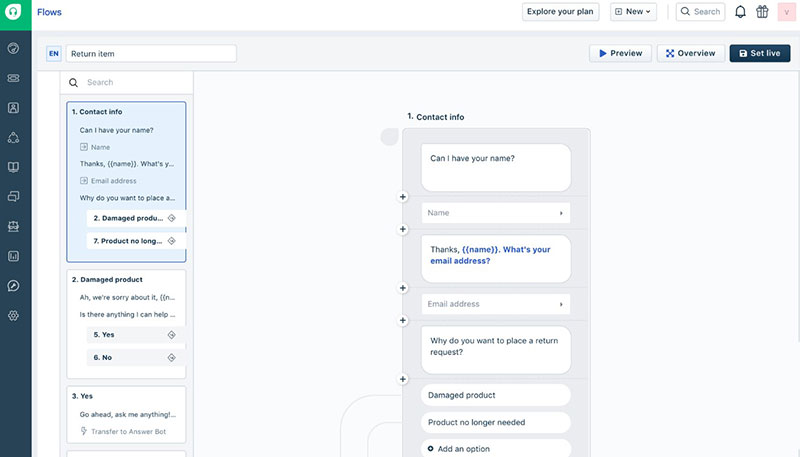 Freshworks claims to offer a fresh approach to customer engagement.
Their new AI-powered CRM gives a complete view of prospects and customers. This combines with the power of salesforce automation, marketing automation, chat, and telephony.
It provides customer support and messaging software for engaging with website visitors and product users
All-in-one CMR software for aligning your sales and marketing teams
IT service management software for streamlining your IT services and managing internal requests
Call center software for optimizing and reimagining your cloud-based phone system
HR management software.
Nutshell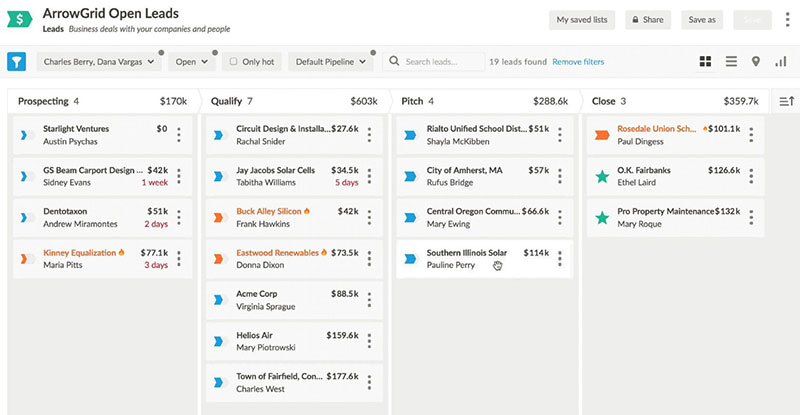 Nutshell is a sales automation CMR and pipeline management tool for B2B teams. It claims to be simple enough for any team and sophisticated enough for any business.
Along with pipeline management, Nutshell also provides sales automation and team collaboration. It offers features such as reporting, performance tracking, and contact management tools.
Nutshell Pro grants access to personal email sequences that speed up outreach efforts. It sends a series of cold emails from the initial contact to the final follow-up.
Nutshell can produce Sales Reports, Forecast Reports, Loss Reports, Sales Funnels, and Activity Reports. Users can also create Downloadable Charts.
Salesforce High Velocity Sales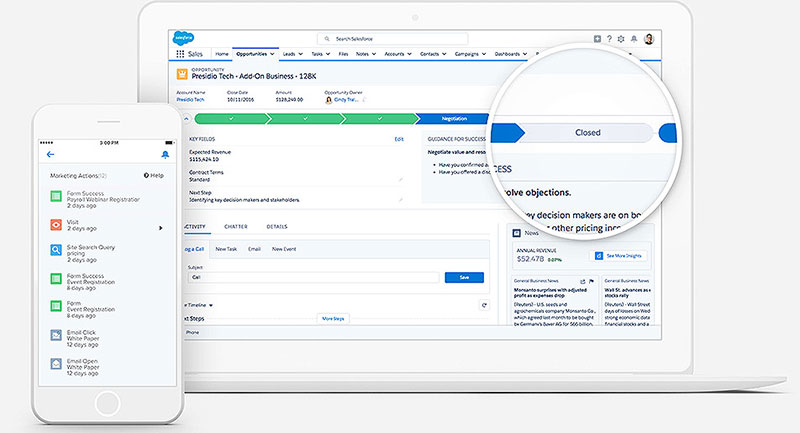 Salesforce High Velocity Sales (HVS) is a sales Cloud add-on product. It has been designed with inside sales teams in mind, and it streamlines sales processes and boosts productivity.
Sales Cadences (sequences of sales activities) help to set the pace and lead the way. Insights and automation help a rep find the right next step to take with a lead.
Lightning Dialer raises productivity by putting click-to-call right in the console. It saves hours thanks to automatic call logging, multiple voicemail drops, and more.
Einstein Lead Scoring prioritizes leads to help reps convert.
The AI-powered Einstein Activity Capture reduces manual data entry. It does this by associating relevant emails and meetings with the right records.
Reply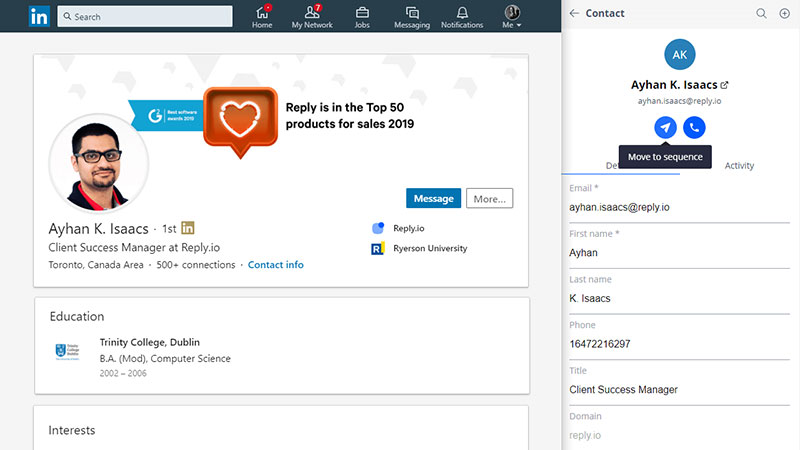 Reply is a sales automation and sales engagement platform. The Chrome extension automates email search, LinkedIn outreach, personal emails, SMS and WhatsApp messages, calls, and tasks.
Reply combines personal emails, follow-ups, calls, social touches, and tasks into a multichannel sequence to reach prospects wherever they are.
It generates a list of tasks and calls for users every day within multichannel sequences. Users follow the list and make the most out of their sales efforts.
Once a sequence is live, a user can view reports and adjust their prospecting process.
Yesware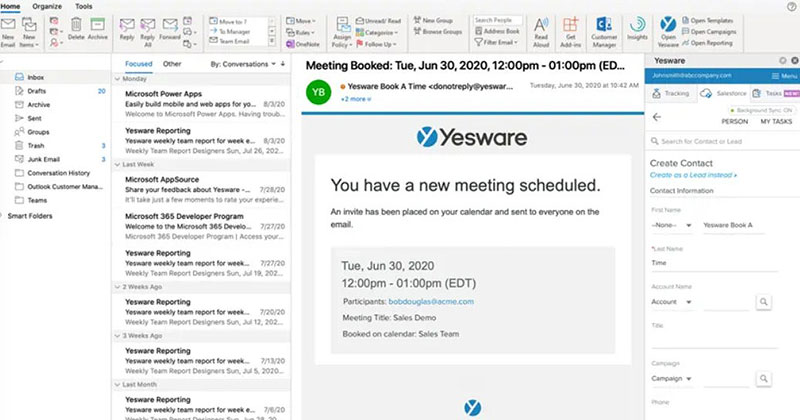 Yesware is an all-in-one toolkit for sales professionals. It allows them to prospect, schedule meetings, and follow up to close deals, right from their inbox.
Track emails from the real-time activity feed. Users can see who's opening the email, clicking on links, or viewing attachments.
It provides email templates to use to follow up at each stage in the sales process.
Reporting and analytics supply valuable insights into what engages buyers. This enables users to move buyers through the sales process faster.
One-click integrations eliminate the need for manual admin work. All engagement activity is automatically synchronized.
Hubspot Sales Hub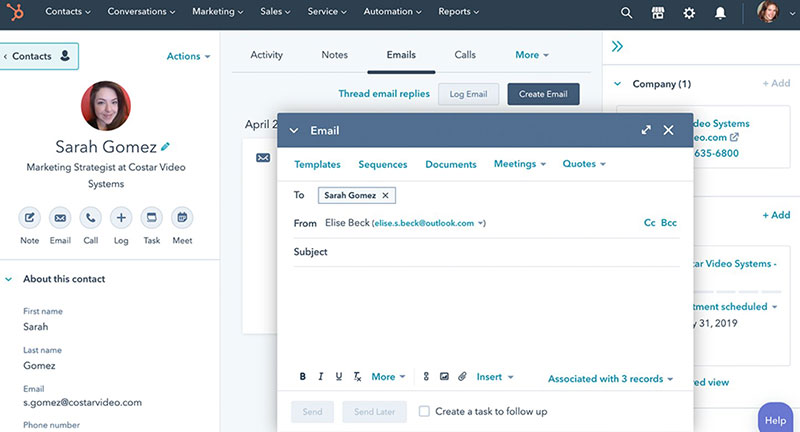 Sales Hub brings tools and data together on one easy-to-use, powerful platform. It helps start conversations, deepen relationships, manage the pipeline, and connect from anywhere.
It provides sales engagement tools, configure-price-quote (CPQ) functionality, insights, and analytics.
Hubspot Sales Hub automates sales processes at each stage of the funnel. It can automate reminders and follow-up emails and turns best-performing emails into templates.
It alerts users when a lead opens an email. This eliminates guesswork and improves follow-up.
Jiminny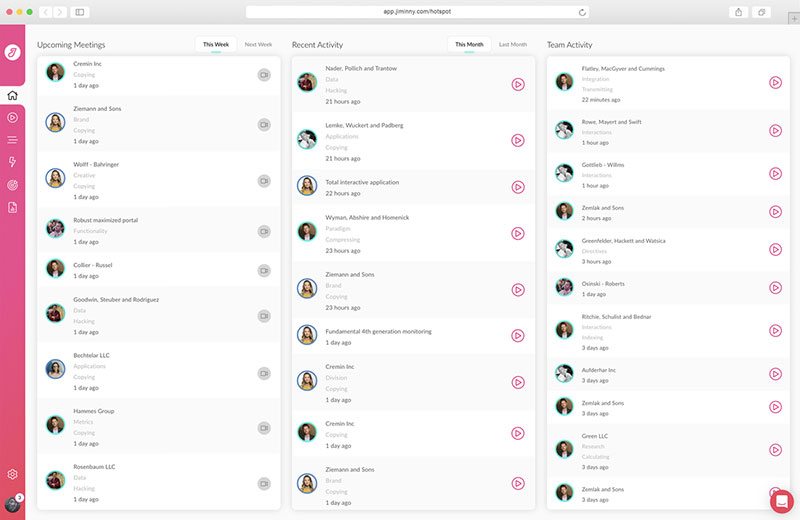 Jiminny uses conversational AI, sales coaching, and call tracking to help increase the sales team's conversion rates.
Easy coaching, team collaboration, enhanced productivity, better customer relationships, and communication tools. These are some features that users can enjoy with Jiminny.
It also offers video conferencing, dialer, and SMS capabilities.
It allows you to use automation & AI to record, transcribe & analyze team meetings. It even enables users to search for a specific moment in a call.
It integrates with CRM, can create playlists, and provides a 'follow' feature. Users can highlight important parts of a call and share them with team members.
Brainshark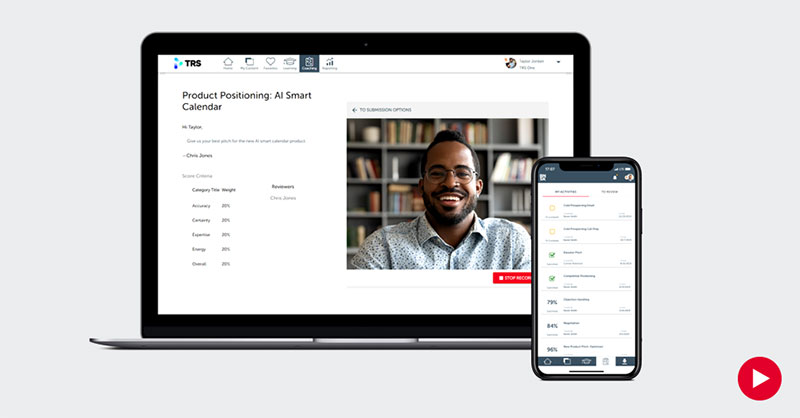 Brainshark is a data-driven readiness and training platform.
It equips businesses with the training that will empower all their client-facing teams. Teams receive the knowledge, skills, and insights they need to perform at the highest level.
Users can diagnose performance issues and create dynamic content. They can train and upskill their team via coaching and practice.
Share content with clients and influencers. This provides an alternative perspective on how to improve the sales training process.
SalesHandy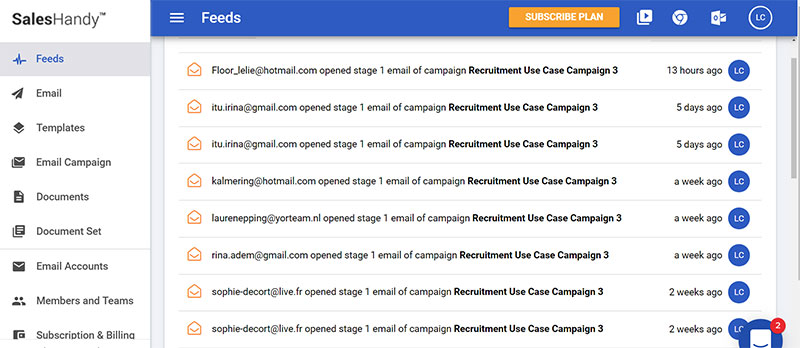 SalesHandy promises to turn emails into a growth engine. Over 100,000 businesses use it to automate and track their email outreach.
SalesHandy accelerates growth by empowering teams to rapidly achieve their set targets.
It helps to increase the efficiency and effectiveness of emails and business collaterals. It achieves this by giving them an exceptional reach.
It also provides detailed engagement information about each prospect. This enables users to focus on the right opportunities and close more deals.
Key features include email tracking via Gmail and Outlook extensions, templatizing common pitches, and outreaches, tracking and managing collateral engagement.
Playbooks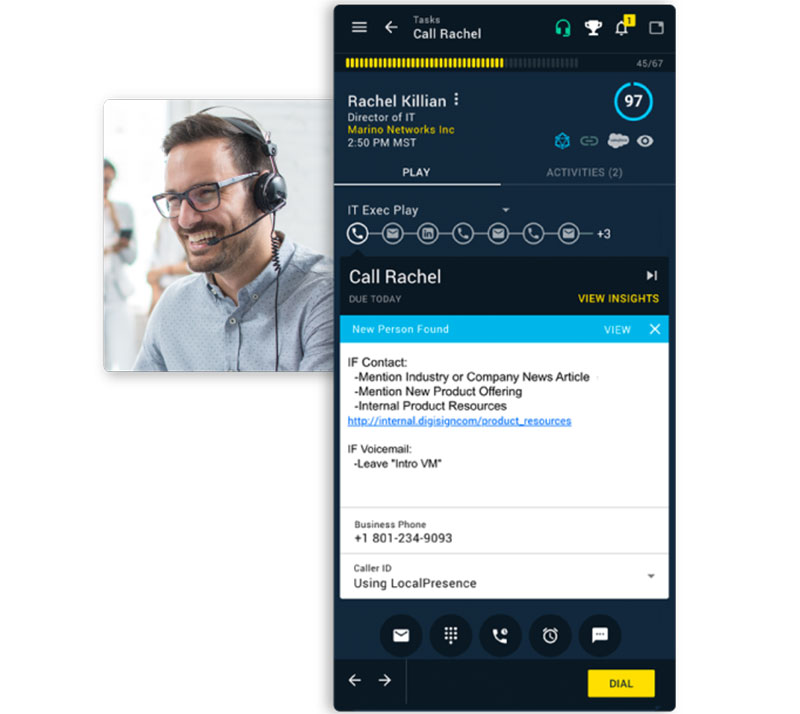 The last of these SalesLoft competitors is Playbooks. It manages lead follow-up and prospecting cadences. It automates administrative tasks and uses data to predict who, when, and how to engage buyers for the best outcome.
It makes it easy to go through the whole cadence with every account. It enables users to see which accounts to call or email each day.
Best Tips to Enhance Your Automated Outreach Efforts
To make sales engagement software beneficial, it's essential to know how to use it well. Follow these practices to get the best out of your chosen sales engagement tool:
Quality over quantity - make it personal.
Others can sense insincerity - make it sincere.
Continue to train employees to help them grow and improve.
Remember that prospective clients receive tons of emails every day - try to be different.
Optimize the follow-up processes.
Personalize as much as possible.
If you enjoyed reading this article about salesloft competitors, you should read these as well: