You're looking for the best CRM that integrates with QuickBooks. And you're not the only one. A lot of people are doing this and it isn't a surprise.
QuickBooks is an accounting software platform built for the convenience of millions of small and medium-sized businesses (SMBs). It helps to create invoices for customers, receiving payments, settling bills, generating reports for planning, and tax filing.
Quickbooks presents a simple method of managing marketing, sales, and expenses.
While this is true about Quickbooks, it still relies on other software for other business functions such as customer relationship management (CRM). Thus, Quickbooks integrates with CRM solutions to further improve business performance and increase profits.
Quickbooks integrations are included in almost every CRM platform, however some CRM for Quickbooks operate at a one-click installation, some are much more complex.
There is a wide variety of options for selecting CRM that integrates with Quickbooks, thus this article created by our team at Eserto, provides a list of leading CRM platforms that integrates with Quickbooks, works effectively, and sends alerts and notifications to clients.
The Most Recommended CRM That Integrates With Quickbooks
Method:CRM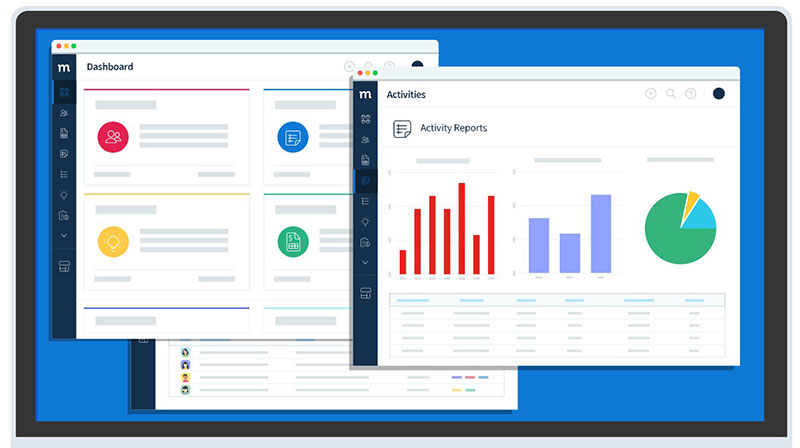 Method:CRM is a popular CRM that integrates with QuickBooks and provides customizable management solutions for businesses at any scale.
MethodCRM synchronizes data such as customer information, invoices, transaction details with Quickbooks Online, Desktop Pro and Premier, Quickbooks Enterprise, and other versions.
It has a broad set of Quickbooks integration features that makes it an ideal choice for improving sales processes powered by Quickbooks.
MethodCRM offers affordable subscription plans, starting at $25 per month for every user for contact management features. For Quickbooks integration, a subscription to the Pro plan costs $44 per month for each user.
Freshworks CRM
Formerly Freshsales, Freshworks CRM is an AI-powered CRM solution that helps its clients automate their business processes and marketing efforts using Freshmarketer automation software.
It helps salespeople amplify their productivity through task management. Freshworks CRM creates tasks, appointments, and notifications to remind the team of the upcoming activities. It also creates automated workflows and sales sequences.
Moreover, this CRM platform enables users to connect invoices to contacts, a helpful feature in identifying billing issues with customers.
Freshworks CRM offers monthly payment plans starting from $29 to $125 for every user.
SugarCRM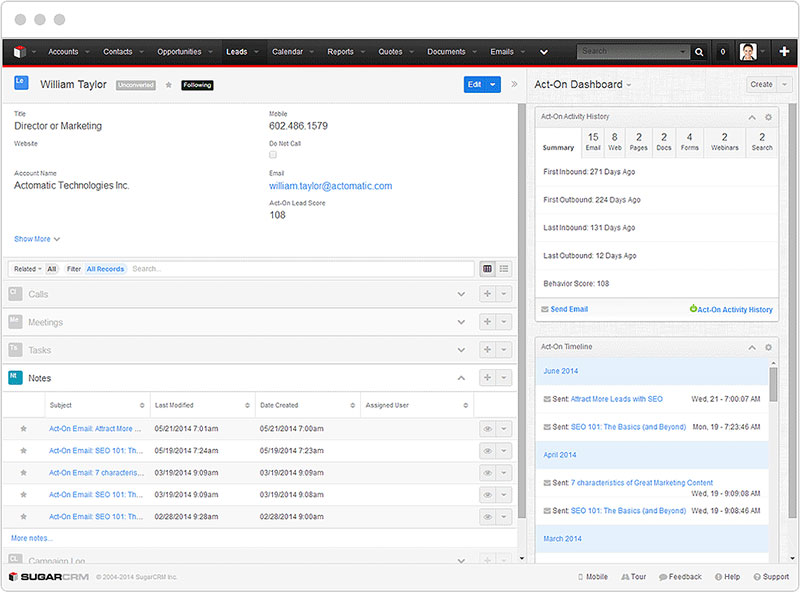 SugarCRM is a customer relationship management platform that offers businesses advanced features to improve their marketing, sales, and services. It integrates with various third-party platforms.
SugarCRM also synchronizes business data such as customer information, inventory and non-inventory items, service items, invoices, sales receipts, and estimates. The synchronization runs every after 10 minutes by default.
Their payment plans are billed annually, and they start at the price of $1,000 per month for 10,000 contacts.
Agile CRM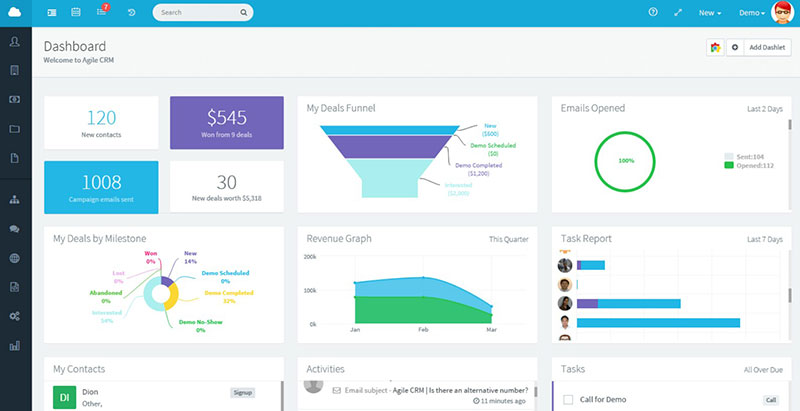 Agile CRM is an integrated CRM software that helps businesses automate their sales, accounting, and marketing initiatives.
It offers various advanced CRM features in one platform such as single-page contact management, appointment scheduling, project management with drag-and-drop task lists, and more. It also lets businesses keep track of sales processes and close more deals.
Agile CRM comes with Quickbooks integration that enables them to create invoices and receive payments.
One of the top three reasons to choose Agile CRM is their affordability. They offer a free version for a limited number of users. Their premium plans are billed annually with prices that range from $8.99 to $47.99 per user, per month.
ActiveCampaign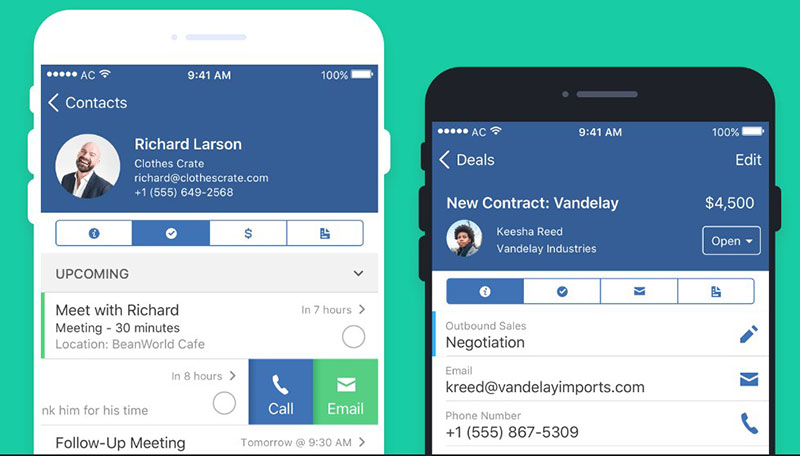 This is a customer experience and marketing automation platform that optimizes personalized email marketing and sales automation to improve customer experience.
ActiveCampaign also features eCommerce marketing automation that helps reduce abandoned carts and win back customers. It also lets users share their product details in emails.
Relative to other leading CRM software, their affordable pricing makes an ideal option especially for SMBs, which starts at $9 per month and billed annually.
Zendesk Sell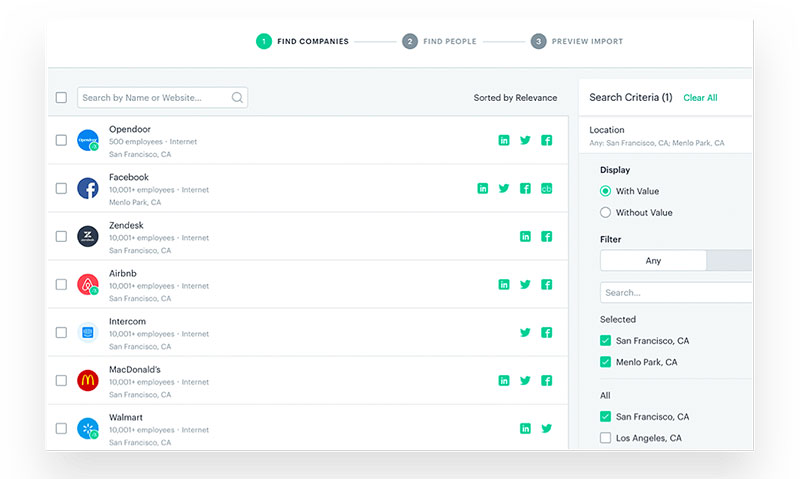 Formerly Base CRM, Zendesk Sell, is an intuitive CRM software and sales force automation tool that is part of Zendesk's extensive customer service, marketing, and sales solutions.
Zendesk Sell helps sustain sales by converting leads and improving sales productivity. It automates data capture which keeps sales reps and agents on track of conversations.
It also provides a centralized platform where users can create calls, send emails, schedule appointments, browse the deal history, and filter leads in real-time.
Compared to the previous version, Sell offers more advanced CRM features that answer to complex business needs. Sell's paid plans start from $19 per seat.
Keap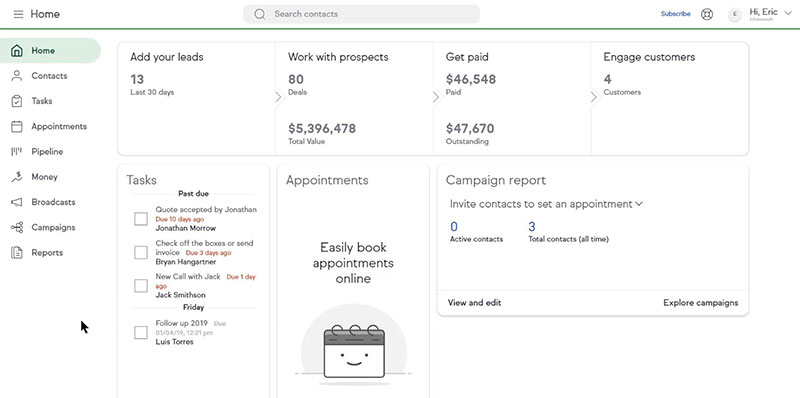 Keap is a CRM, sales, and marketing automation software that provides an effective client management system for small businesses. Its client database software improves data organization, increases productivity, and improves customer experience.
Keap supports sales and marketing teams with its contact features like data points, form submissions, and records of campaigns. It helps bridge gaps in communication and action, and it manages sales tasks through the automated sales correspondence.
Keap has three monthly subscription plans that offer different sets of features. The price of the basic plan starts at $64 per month for every user license.
iEnterprise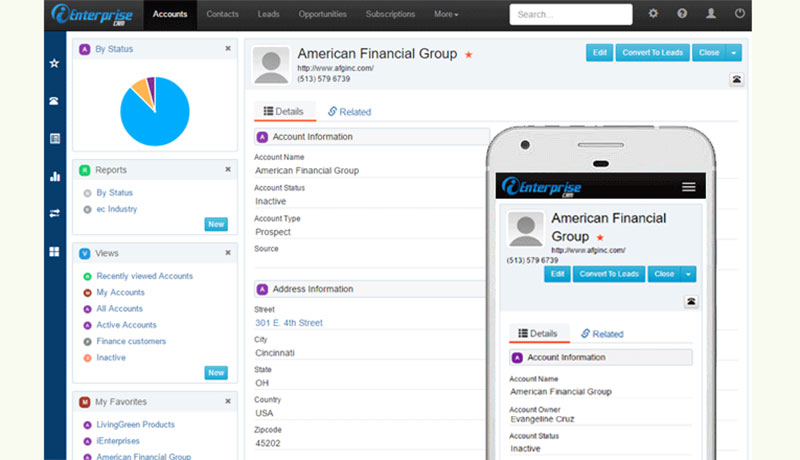 iEnterprise CRM is a cloud-based and configurable CRM for Quickbooks that integrates with the email system to manage salesforce, boost sales, and avoid manual entry of data.
It also generates insights to develop and implement a plan to improve sales productivity. iEnterprise analyzes every step of the sales process to determine factors for poor sales. It consolidates data from previous complaints to recalibrate strategies for customer retention.
iEnterprise can be used as a QuickBooks integration for a maximum of two users, free of charge. Paid plans are billed annually, and the price starts from $29.95 per month for every user.
Microsoft Dynamics 365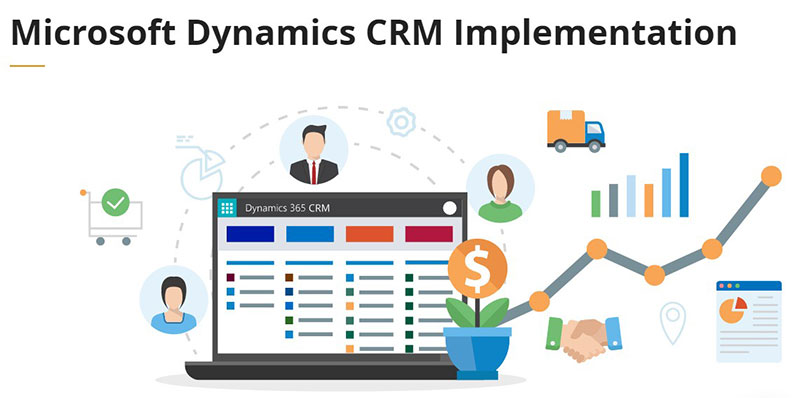 Microsoft Dynamics CRM is a collection of applications with functionalities that help with business process automation. It optimizes sales processes, personalized marketing campaigns, and customer support to improve client relationships.
This CRM solution provides sales teams with wider access and control over the sales pipeline and leads. It centralizes account and contract information, schedules activities, monitors sales performance, and streamlines other tasks in the sales process.
Microsoft Dynamics 365 integrates with Quickbooks through third-party plugins like InoLink and Zapier. It also has other custom integrations to create comprehensive customer profiles, align sales and marketing activities, enhance customer support, and more.
Dynamics 365 has several suites featuring applications with specific functionalities. Prices start from $65 per month for each user.
Nimble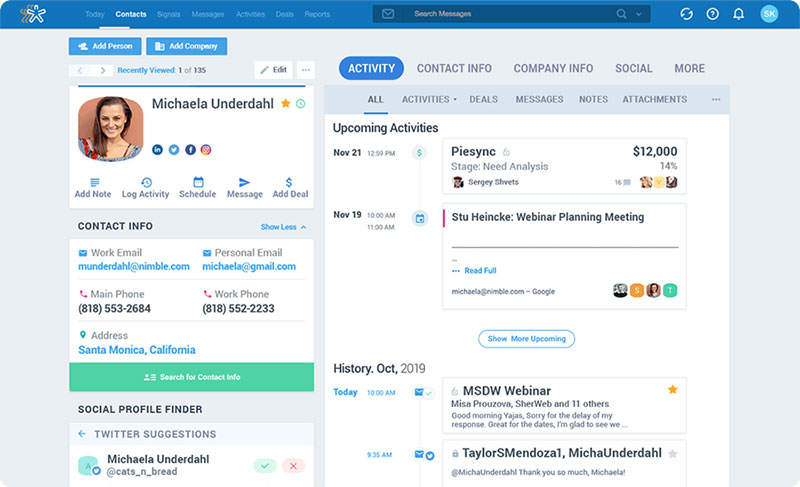 Nimble is an online contact management software that allows users to organize their contacts into segmented lists, send group messages, and set follow-up tasks.
It connects emails and social media accounts for easier monitoring of feeds and interaction with contacts. It creates a contact record containing business information including areas of influence.
Nimble also allows users to insert notes to a record, update deal status, and access social media handles. It features an activity tracking dashboard which keeps the team updated with all tasks, events, and calls.
Nimble's paid plans start from $19 which includes 25 prospector credits per month for every user. It charges $10 for additional 100 credits.
Insightly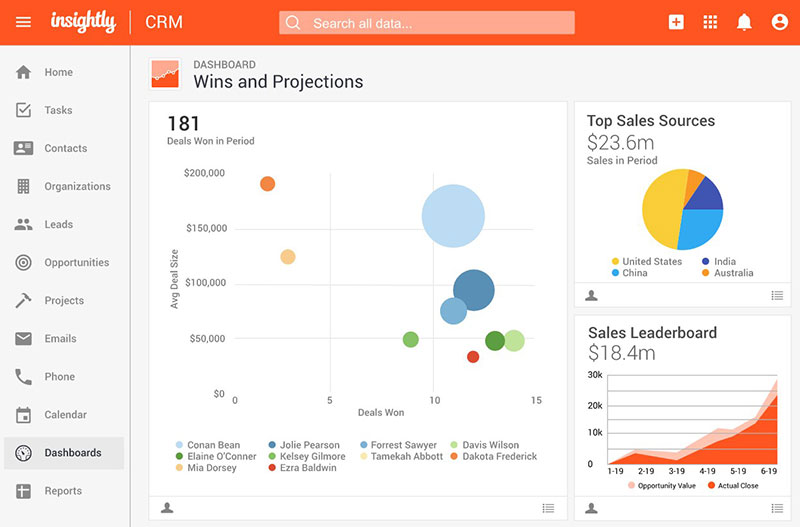 Insightly is a centralized CRM platform that has Quickbooks online integration, project management features, and prospecting tools like business card scanner.
It also includes project management functionalities that streamline pipeline and customer support, which makes it ideal for IT service providers and other project-oriented businesses.
Insightly features a marketing engine and custom email templates that help sales teams build more pipeline and close more deals. It tracks relevant leads and integrates with major applications like Gmail, Mailchimp, Microsoft 365, Quickbooks, and more.
Insightly offers paid plans that are billed annually. Prices start from $29 to $99 per month for every user.
Bitrix24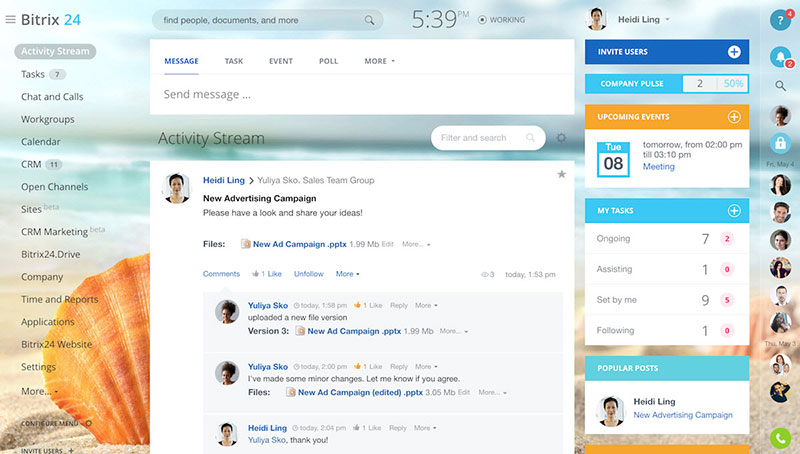 Bitrix24 is a leading free and cloud-based CRM software that supports businesses with pipeline and lead management, sales automation, email marketing, and more. Its features include unlimited leads, deals, contacts, quotes and invoices, and appointment scheduling.
It provides free access to client management tools such as chat and video, calendars, social intranet, and more for effective internal and external communications, customer support, and eCommerce.
Bitrix24 offers a free plan that comes with email marketing and telephony features. Paid plans start from $19 per month for two users, up to $159 per month for an unlimited number of users.
PipelineDeals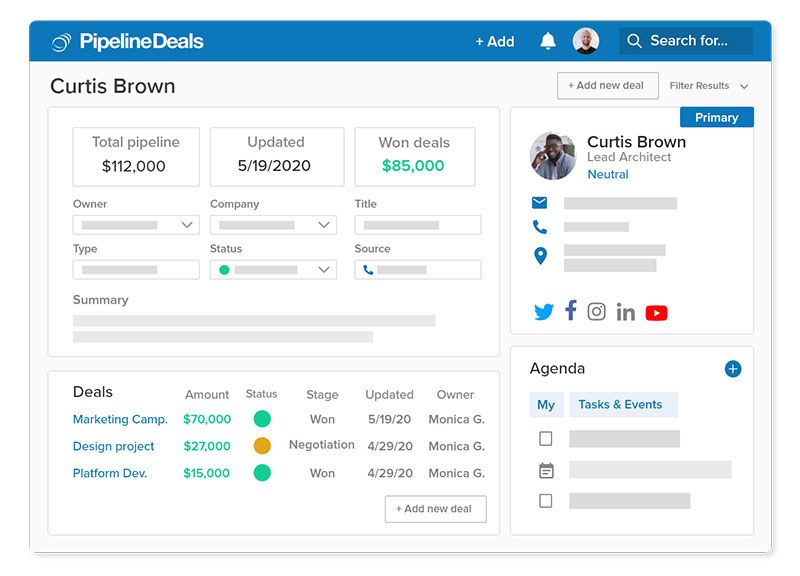 PipelineDeals is a Quickbooks CRM and sales platform built for businesses from competitive industries. This QuickBooks integration automates workflow to manage teams and boost productivity.
It features a customizable customer health score that allows users to define and communicate the health score of relationships with clients. It also improves team management by automating the repetitive tasks of the sales group and setting up users by role.
This sales database software integrates with major web platforms like Microsoft 365 and Gmail to synchronize data in all accounts and reduce data entry.
PipelineDeals offers three paid plans that are billed annually. Prices range from $25 to $29 per month for every user.
HoneyBook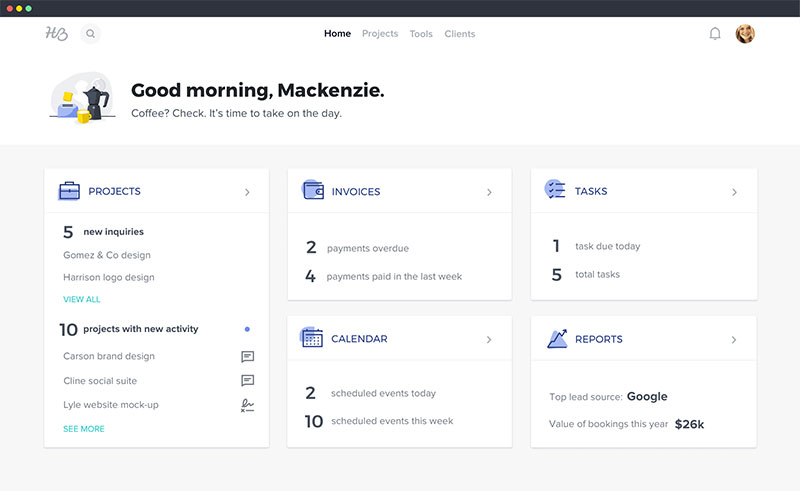 HoneyBook is a cloud-based CRM software that provides small businesses with end-to-end project tracking which helps them manage business processes from inquiries to invoices. It also helps them with client bookings, contract signing, and payment transactions.
Honeybook offers an integrated solution where users can monitor the stages of a project through task management features, and store business documents like invoices, customer information, and contracts.
The software also features automated appointment requests and custom templates and notifications, which allows users to respond to clients and conduct follow-ups. Its integrations include QuickBooks, Calendly, Zapier, Gmail, and Google Calendar.
HoneyBook provides its services on a monthly subscription basis, at $34 per month, billed annually.
Zoho CRM
Zoho CRM is a popular CRM platform that has helped over 150,000 businesses convert leads and grow their revenue. It improves team collaboration by providing a common feed where members can share insights, send inquiries, and answer queries.
Zoho CRM helps track communication with customers across multiple channels such as emails, phone calls, social media accounts, and even live chat to measure productivity. It also helps to choose the most effective time and channel for communicating with clients.
Thsi CRM generates real-time reports for creating smart and powerful decisions. Business owners can monitor and manage their sales performance anytime and anywhere.
Zoho CRM offers four pricing plans that are billed annually, starting from €12 to €45 every month per user.
Apptivo CRM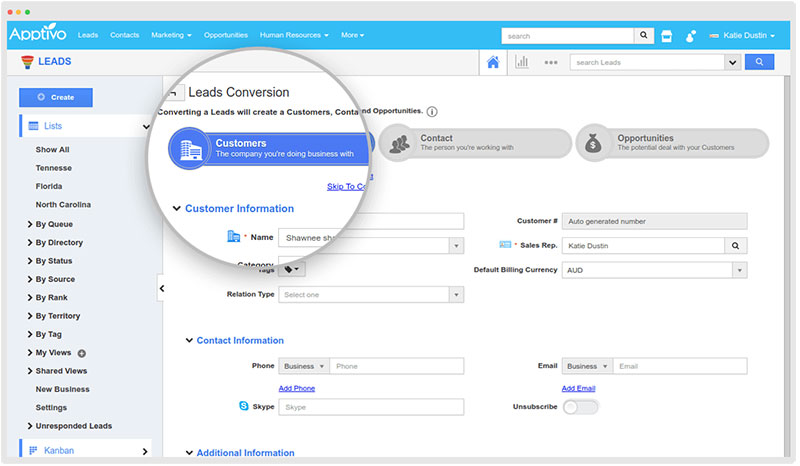 Apptivo is a customizable CRM platform that makes an ideal option for businesses in capturing leads, increasing productivity, sales tracking and planning, and customizing applications.
Its integrations with major web platforms include G Suite, Quickbooks, Office 365, and Slack. It also works well on mobile devices.
Apptivo CRM stands out among the leading and award-winning CRM software like Salesforce Sales Cloud and Zoho CRM as one of the most robust, intuitive, and affordable CRM platforms suitable for small to medium-sized businesses.
The software provides a free Starter plan and two premium plans that are billed annually. Paid plans start at $8 per month for every user.
Nutshell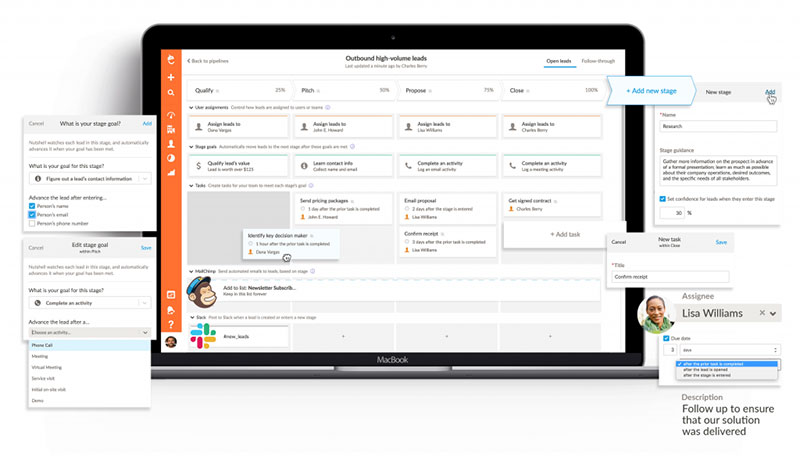 Nutshell is a sales automation CRM and pipeline management for B2B teams designed to help businesses with sales automation, team collaboration, pipeline management, reporting, and performance tracking. It is very simple to use and affordable.
Its pipeline management feature offers different types of display views such as a board view, a list, and a map view, to track leads and evaluate marketing efforts.
It allows users to customize settings for stage probability and criteria for assigning leads. They can classify leads that have remained in a stage for a period of days as overdue or closed. This also helps generate leads when sales representatives are inactive.
Its integrations include Constant Contact, Gmail, Intercom, MailChimp, Quickbooks, and more. Also, Nutshell's paid plans start from $19 per month for every user.
Salesforce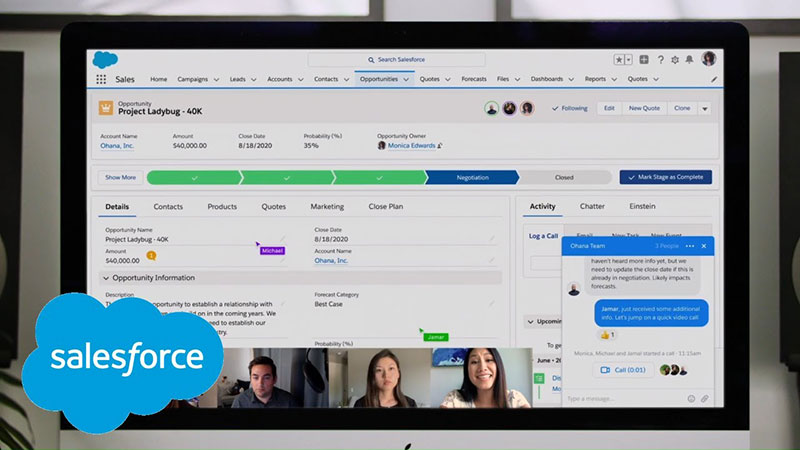 Salesforce, a leading sales software tool, has one of the most complete CRM packages in the market. It is built to support small to medium-sized businesses, startups, and large enterprises in managing their sales.
Salesforce previously featured Salesforce for Quickbooks among its special integrations. Now, it offers Sales Cloud 360, which enables users to synchronize invoices from multiple lines, Salesforce objects, deposits, and other requirements.
Salesforce also supports sales processes of businesses from various industries like retail, real estate, financial services, supply-chain, healthcare and life sciences, and more.
Its price starts from $25 per month for every user, and it is billed annually.
HubSpot CRM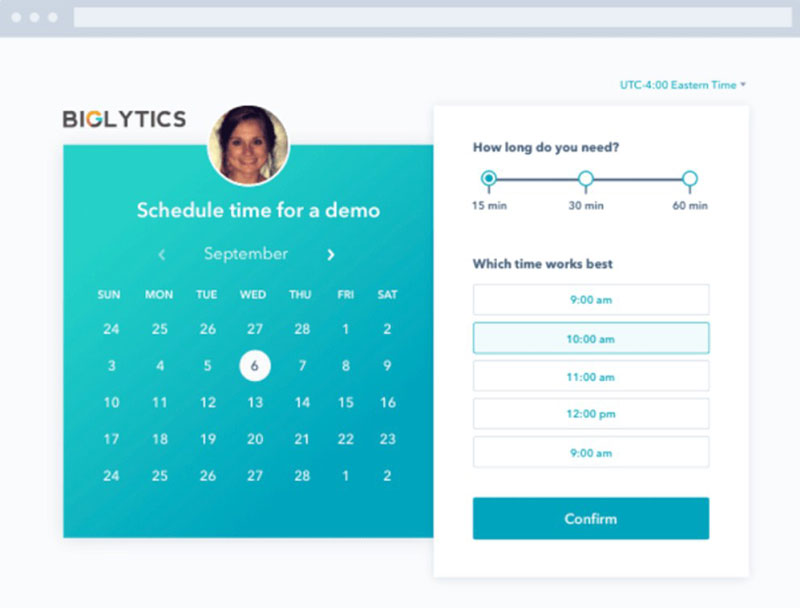 HubSpot CRM is a free and popular CRM platform that offers advanced features to support salespeople, marketers, customer service teams, business owners, and more. It provides the key analytics necessary to expand client reach and strike major deals.
HubSpot displays transactions, invoices, payments, and estimates without accessing Quickbooks. It also includes other features such as creating new records for both sellers and customers, purchase orders, and more.
Hubspot CRM enables you to view all the QuickBooks transactions, including invoices, payments, and estimates in HubSpot, with no need for the sales team to access QuickBooks.
You can also create new records for vendors, customers, purchase orders, and more from HubSpot itself.
These data are synced with QuickBooks and vice versa, thus creating a two-way system resulting in improved accounting data management.
The payment for HubSpot is billed annually starting from $45 per user every month.
Vtiger Cloud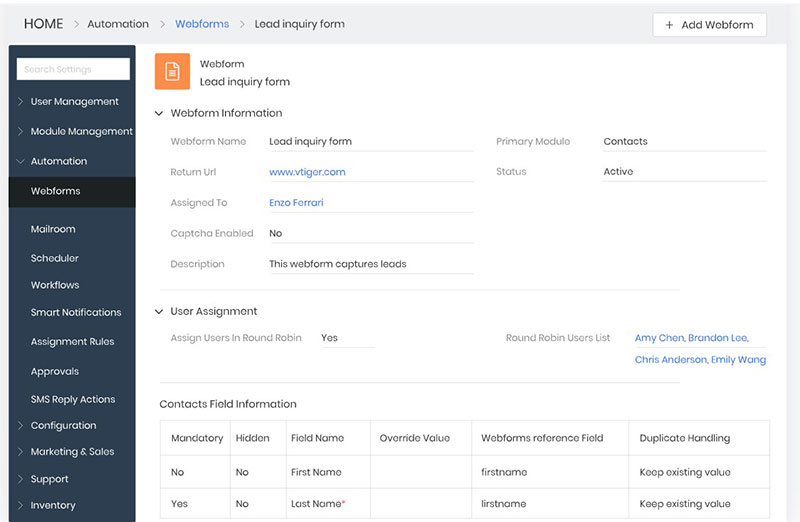 Vtiger offers a cloud-based CRM and an open-source desktop CRM. We chose the cloud version for this article because it's easier to use and manage and comes with QuickBooks integration.
Its CRM features consist of profile scoring, email marketing, and call activity recording. Suitable for businesses with ongoing post-sale support, Vtiger Cloud also has a Kanban-inspired display view of deals and a help desk plan.
Vtiger has three payment plans that are billed annually. Its price ranges from $30 to $42 per month for every user.
Ending thoughts on these options of CRM that integrates with Quickbooks
CRM integrations for Quickbooks aim to amplify sales productivity and overall efficiency of small to medium-sized businesses, thus, having CRM for Quickbooks is indispensable.
It streamlines the entire business processes which help drive more sales, enhance business performance, and improve customer experience.
Most CRMs on the market have stepped up to the plate and offered some way to integrate QuickBooks into their system. Choose the platform that's right for you and put these benefits to work right away.